Top 3 Ways to Backup Samsung Files to Galaxy S8
Everyone desires to have a smartphone that comes with a greater specification. Therefore, when it comes to the Samsung S8, the device comes up with powerful features as compared to the other Samsung phones. So these features make the S8 phone stand out in a market. There are data and files on our phones that are valuable to us and we do not want to lose them. So the best way to store the data is to take the backup of your Suamsung.
For instance, the photos remind us of memorable events, people and places which are very close to us. Similarly, the music files are a source that will give us entertainment and so you can listen to different music at different times. Contacts are the key to your communication which can help us to reach out to people whenever we are in need. You really need this phone transfer if you're switching from one mobile device to other. Keeping this bunch of data is one of the most important things and so you need to take the backups of them to ensure that you export your valuable data from old Samsung device to new Samsung S8.
Part 1. Best Way to Backup Samsung Files to Galaxy S8
We recommend the best tool dr.fone - Phone Transfer to take the backup Samsung to Galaxy S8. The launching of Samsung S8 has proved to be the most beneficial and comes with various features so don't wait in thinking of how to backup Samsung to Galaxy S8 as it is one of the toughest tasks. Well, the problem is resolved as people are buying Samsung S8 in exchange for their old phone. Yes! dr.fone comes with a promise that no matter how many times you change your phones but this tool will be ready to take Backup Samsung to Galaxy S8 and also other devices whenever required. There are two ways to backup your old Samsung to the new Samsung Galaxy S8. One is to transfer to Galaxy S8 directly, and the other is to backup to computer and then restore to Samsung S8.
Transfer Old Samsung Data to Galaxy S8 in 1 Click Direcly!
Easily transfer every type of data from

old Samsung

to

Galaxy S8

including apps, music, videos, photos, contacts, messages, apps data, call logs etc.
Works directly and transfer data between two cross operating system devices in real time.
Works perfectly with Apple, Samsung, HTC, LG, Sony, Google, HUAWEI, Motorola, ZTE, Nokia and more smartphones and tablets.
Fully compatible with major providers like AT&T, Verizon, Sprint and T-Mobile.
Fully compatible with iOS 11 and Android 8.0
Fully compatible with Windows 10 and Mac 10.13.
3981454 people have downloaded it
Methord 1: How to Transfer Old Samsung Data to Galaxy S8 in 1 Click Direcly
Step 1. To back up your phone you need to install dr.fone on your PC. Click "Phone Transfer" solution.
Step 2. Connect both of your Samsung Phones. Check your files which you want to transfer or backup to S8. Then click the blue Start Transfer button.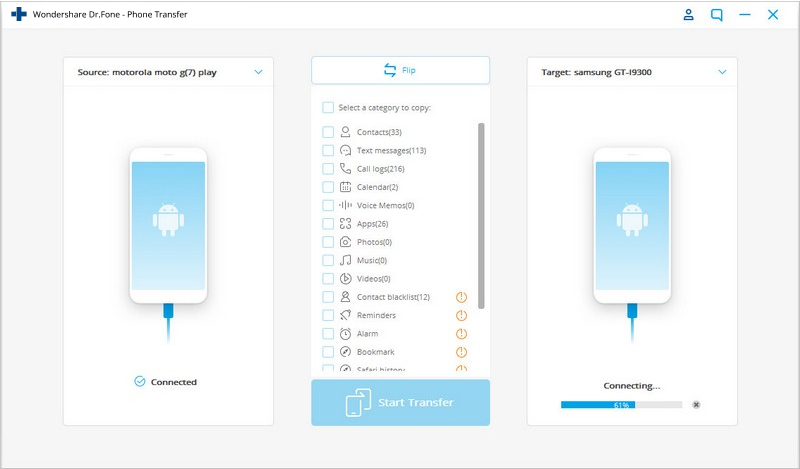 Step 3. Then you will see the process of transferring.
Methord 2: How to backup and restore Samsung to Galaxy S8
Flexibly Backup and Restore Samsung to Galaxy S8
Selectively backup Android data to computer with one click.
Preview and restore backup to any Android devices.
Supports 8000+ Android devices.
There is no data lost during backup, export or restore.
3981454 people have downloaded it
Backup Samsung to PC or Mac
Step 1.

Select dr.fone - WhatsApp Transfer

Choose dr.fone - WhatsApp Transfer feature after connecting your Samsung device to PC. When the program will detect your device.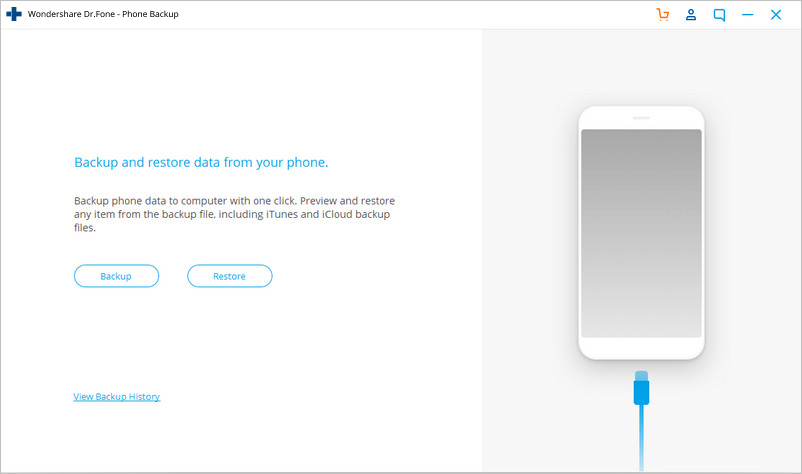 Step 2.

Choose the file and start backup

Select the file and then click on to start backup and wait until it is finished.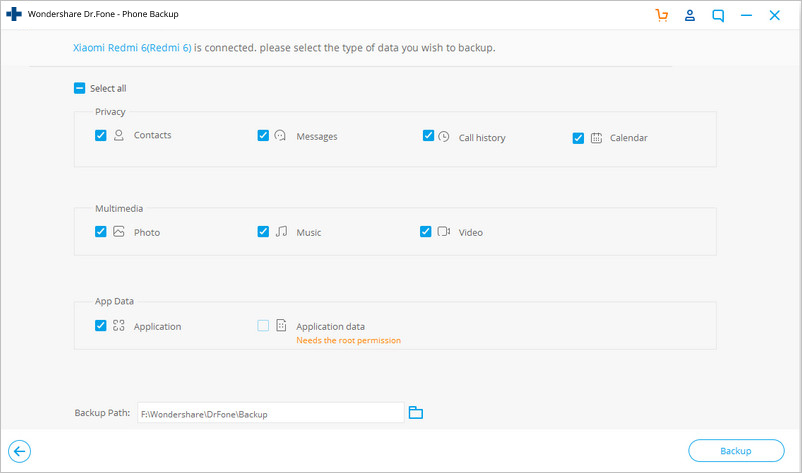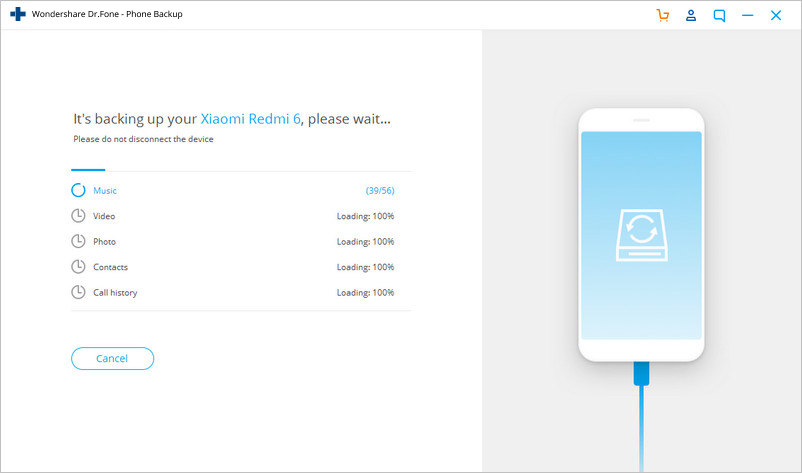 Restore the backup to Samsung S8
To restore the backup in new Samsung S8 device, connect it with the dr.fone - Backup & Restore tool and choose on the Restore from Backups option.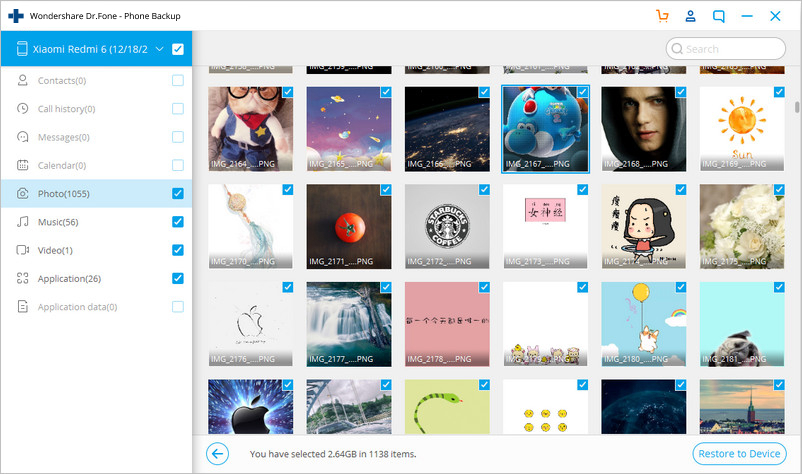 Choose the backup files
By default, it will show you the backup data on the tool so choose the files and click on Restore to Device to begin the process. Keep your data connected until finished.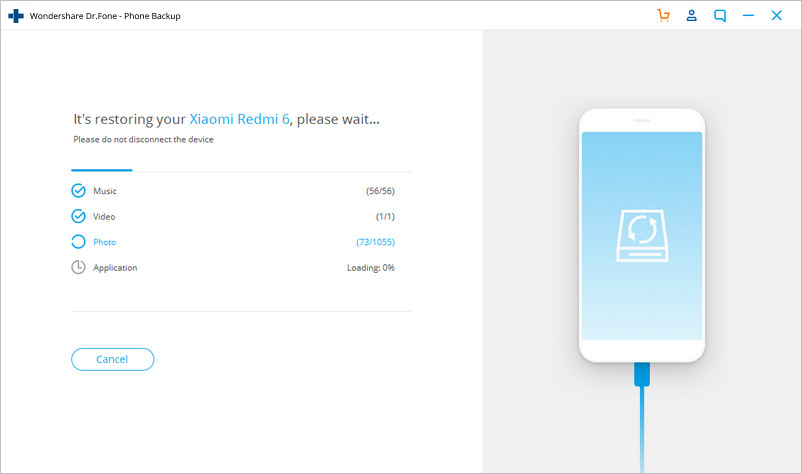 Part 2. Backup Samsung Files to Galaxy S8 with Samsung Kies
We aim to help you how to backup Samsung to Galaxy S8 data to restore them back to your new device with using Samsung Kies. The mobile device has become an internal part of our life, and we enjoy every little feature - convenience and fun the mobile phone give us. We feel so protected with our phone that we share all important data, secret business files and such other things on mobiles. We don't want to lose these data so we are backing up this data with the tool like Samsung Kies.
How to backup Samsung to Galaxy S8 with Samsung Kies
Simply you need to download the Samsung Kies software on your PC to backup Samsung to Galaxy S8. Run the software and connect your device via USB cable. Select the Backups & Restore option and click on Data backups. Samsung Kies will divide your phone data into two different categories that are personal information and Content. Select the data you require and hit the backup button to start the process.
After backing up you need to switch to the recover data option to retrieve all your data to Samsung S8. Samsung Kies will automatically detect the backup's files and load you the listed data. Select them and restore the data on your new Samsung S8 device.
Part 3. Backup Samsung Files to Galaxy S8 with Samsung Smart Switch
Samsung has made smart switch dedicated app which can help you with data transfer and take backups as it comes with pre-installed with the Galaxy S6 phones and in any Android 5.0 Lollipop models. There is an inbuilt Tap & Go feature used which can help you in data transfer. But what if you don't have Android Lollipop 5.0 phone or what if you're using iPhone so for this Samsung Smart Switch is made.
The process is very simple if you're using the older Galaxy device. Install the software and run the tool on your PC and connect your devices using cables. Select the backup mode from your old Samsung device and remove the older device. Connect your new Samsung S8 device and click on restore button to get the latest backup files.
In conlusion, you can easily take a backup Samsung to Galaxy S8 very easily and within few clicks with dr.fone - Phone Transfer. So getting a new phone has become very simple nowadays as this tool supports almost all the models of the mobile phones and also supports all types of platforms.
Samsung Transfer
Transfer Between Samsung Models

Transfer to High-End Samsung Models

Transfer from iPhone to Samsung

Transfer from HTC to Samsung

Transfer from common Android to Samsung

Transfer from Other Brands to Samsung