HTC to Galaxy S9/S9 Edge: Transfer Everything from HTC to Galaxy S9/S9 Edge
Are you an HTC device user and looking out for ways to transfer device data to a newly bought Samsung Galaxy S9 or S9 Edge device easily? Then, you have landed at the right place. We agree and can understand how important your phone data is and when the concern is about complete data transfer then security is a matter of concern. So, just leave all your worries aside, as we are covering the details about how easily you can transfer data from HTC to Samsung S9 device with proven methods.
This article as a whole covers various techniques with which you can transfer contents securely. Some easy to use methods for contacts transfer purpose, plus some apps that can be accessed easily by a Samsung device user.
So, let us move forward and read the article to know different ways for htc to Samsung device transfer with below-mentioned tools.
Part 1: Transfer all content from HTC to S9/S9 Edge with dr.fone
The starting point of anything is the most important part to accomplish the task successfully. That's why we are going to tell how to transfer data from HTC to Samsung S9 efficiently. Here we are covering transfer data from HTC to Samsung s9 with the help of dr.fone - Phone Transfer toolkit so that transferring data from one device to another becomes easy following few simple steps. dr.fone - Phone Transfer will assist you from the start till the end with its interactive interface that can be used by any person. You can transfer any kind of data and it does support all devices whether it be Android or iOS from all brands.
1-Click Phone to Phone Transfer
Easy, fast and safe.
Move data between devices with different operating systems, i.e iOS to Android.
Supports iOS devices that run the latest iOS 11
Transfer photos, text messages, contacts, notes, and many other file types.
Supports over 8000+ Android devices. Works for all models of iPhone, iPad and iPod.
3981454 people have downloaded it
So, to transfer data from HTC to Samsung s9 steps are as follows.
Step 1: You have to start the process of launching dr.fone tool> Out of the main interface select the Phone Transfer option.
After that make a connection between both devices to your computer. You will see auto recognition from dr.fone - Phone Transfer.
Step 2: The supported data category will appear. Here you need to select the desired data to transfer and click on "Start Transfer" option.
Soon files will get transferred successfully from HTC to Samsung using transfer tool.
After following the steps, you will found that all/or chosen data gets transferred in no time lapse and your new device is ready to use, access data, streaming music, media etc. at any place of the world.
dr.fone - Phone Transfer will make all transfer process easy whether it be Android to Android transfer, Android to iOS transfer, iOS to Android or iOS device to iOS transfer. Actually, all transfer related tasks are performed by dr.fone - Phone Transfer efficiently and promptly. Besides that, a safe and secure transfer is the main intention of every device user. With dr.fone - Phone Transfer, a one-stop toolkit for HTC to Samsung transfer tool there will not be any such issue.
Part 2: Transfer contacts from HTC to S9/S9 Edge using Bluetooth
Bluetooth is also a very powerful option for the purpose of transferring data covering contacts, media files, notes etc. In fact, every person who owns a mobile device has access to the Bluetooth facility as it is an inbuilt facility to all mobile devices. And transfer data from HTC to Samsung s9 is not an uphill task.
For the purpose, you need to connect both devices via Bluetooth and make devices discoverable to establish wireless Bluetooth connection by pairing them. Let us see the detailed step by step guide to understanding the transfer process and mechanism:
Steps to transfer contacts via Bluetooth:
Step 1: First, you need to switch on Bluetooth on both HTC and Samsung Galaxy s9/s9 edge devices. Then after on the Home Screen of phone> visit Apps
Step 2: There you need to click on Contacts>then select the More option
Step 3: Now choose the Share menu> (out of the given contact list- a complete contact list will appear) tick mark to choose the particular contacts or else can select all.
Step 4: After selecting the required list of contacts you need to share them > through Bluetooth (make sure Bluetooth is on and is discoverable)> Select the targeted device> then, soon contacts will get transfer from HTC to Samsung using transfer tool.
Being easy to access, using Bluetooth facility is quite handy and can be used with comfort. You just need to go through the steps mentioned here to accomplish the task. In fact, all phone device owners are quite aware of Bluetooth but not with its functionalities that make it a most usable option. Even steps are easy, plus the process guided over there will gonna to assist you to complete the transfer process smoothly and easily.
Part 3: Transfer data from HTC to S9/S9 Edge using Smart Switch
Now you need not go any far as Samsung itself has a smart switch Mobile device App that makes transfer data from HTC to Samsung s9 quite easy as it will automatically detect the data from the old device and then make arrangement to transfer the data from HTC to Samsung S9. Samsung smart switch is quite a powerful tool that can be used by both devices that need to transfer data from one device to another. Since here we are looking for HTC to Samsung transfer tool, another answer comes in the form of Samsung Smart Switch platform. Now, it's time to know the process in detail.
Step 1: Download Smart Switch app by visiting Google Play> install to both the HTC and the Samsung Galaxy s9 device
Step 2: You can choose to connect HTC and S9 wirelessly via WiFi, or connect them using USB adapter.
Step 3: After they are connected, you have to choose HTC as sending device and Galaxy as receiving one.> select the particular information you wish to transfer data from HTC to Samsung s9 and press send.
Step 4: On Samsung device click on Receive the data to confirm the transfer. And at the end select Finish to complete it.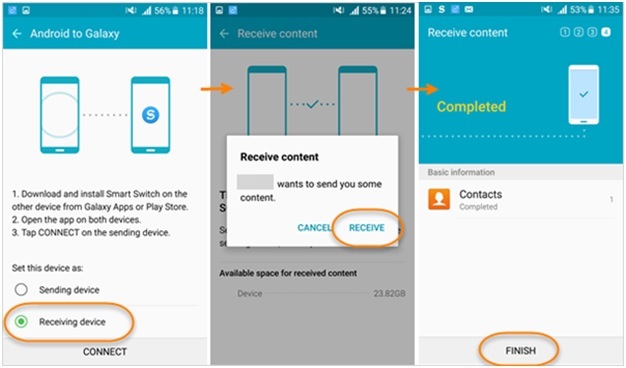 Samsung smart switch is quite popular among mobile devices. So you can also take the benefit of this HTC to Samsung transfer tool for data transfer purpose.
Your device is one of the most precious things in the world, and whenever you take the decision of data transfer from one device to another one, the prime motive will be to transfer that data from HTC to Samsung s9 safely, timely and with swiftness. I hope that all the mentioned things in the article will let you know the process of switching data using HTC to Samsung transfer tool with ease. In the upcoming article, you will discover more information about advanced technology, latest trends about each and everything that are related to your smart device.
Samsung S9
1. S9 Features

2. Transfer to S9

3. Manage S9

4. Backup S9
>
How-to
>
Tips for Different Android Models
> HTC to Galaxy S9/S9 Edge: Transfer Everything from HTC to Galaxy S9/S9 Edge