Everything You Want to Know about Harry Potter Wizards Unite
Harry Potter and his compatriots are in the middle of a huge problem in the new game Harry Potter - Wizards unite. This game is as popular as the other game by Niantic Pokémon Go. In Harry Potter Wizards Unite, you will be fighting against Dark wizards and Magical Beasts which have been pulled right out of the Harry Potter Book Series. There is an unexplained event that happens and scatters magical items across the No-Maj or Muggle World, which is depicted by the real world that we live in. You have to walk around and follow the game according to the map on your mobile device.
To play the game, you have to collect the magical items, which you will use in the battles. Fight off evil entities and gather the good ones; collaborate with other players to defeat the powerful Boss creatures. Now you have Inns, Greenhouses and Fortresses to enter when in the game. In this article, you learn a bit more about how to play Harry Potter Wizards Unite.
Part 1: Compatibility about harry potter wizards unite
Harry Potter Wizards Unite is compatible with both iOS and Android devices. You can go to The Apple App Store or Google Play Store and download the game before you play it.
Harry Potter Wizards Unite, Unlike Pokemon Go can eat up a lot of your Phone Memory. The game uses up a lot of system resources especially when you have to store up a lot of magical items that you win in the game. You can store some of the items on the servers for a fee.
Many people have claimed that they play for a few hours and they find their resources filled up. This means they cannot collect any more items until they pay a fee of $5 for extra capacity on the server. This is the one flaw that Harry Potter Wizards Unite has. Other than that this is a great game to play.
This is a brief guide on what you need to know about the various aspects of Harry Potter Wizards Unite AR game:
The following are the items that you need to be familiar with when you are playing Harry Potter Wizards Unite.
The Suitcase
This is where you will find all the items that you need in the game, and is divided into:
The Vault - for storing all your ingredients, potions, runes, seeds and utility items
The Professions Menu - shows your statistics according to your chosen profession
Your Potions - for brewing and battling
Your registry - for all the Foundables you collect
Your Portkey List - for walking around and earning special rewards.
Gameplay
Your avatar will be displayed on a map, which is based on your real location. As you walk around, the character will also move on the screen. The map has items which you will interact with.
Assignments
There are several assignments that have to be finished every day, while others will take a long while. Undertaking daily assignments earns you bonus rewards such as spell energy, XP and special items.
Inns
This is where you go to replenish your spell energy. This is the energy that you will use when casting spells. When you enter the inn, simply trace a glyph on your screen and you will be served with "food" which will replenish the spell energy. You may also plant Dark detectors in the Inn and attract Confoundables to the Inn within the next 30 minutes.
Greenhouses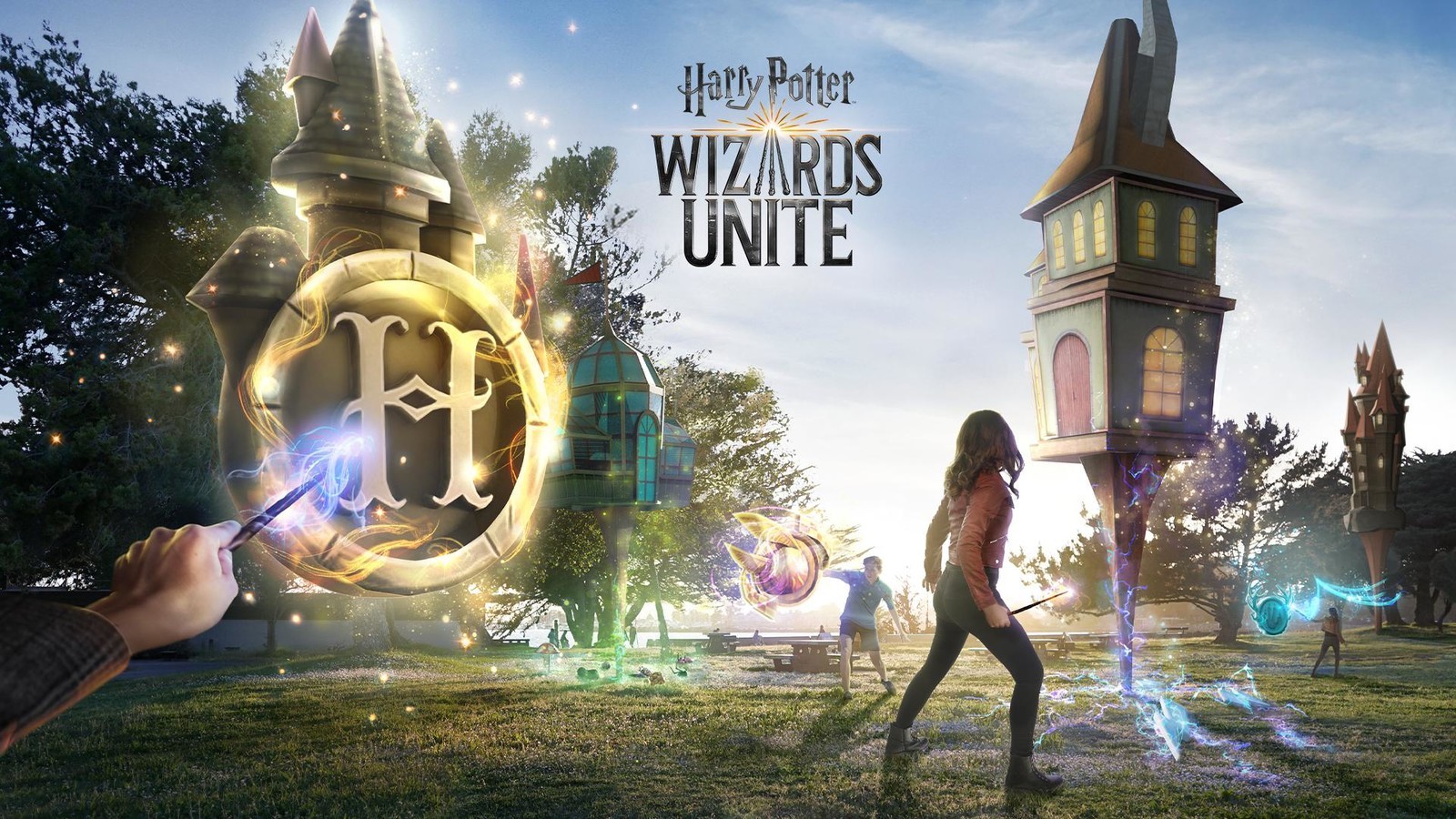 These give you the ingredients you need to brew potions. You can replenish them every 5 minutes. Simply pick a flower pot in the greenhouse to get the ingredients. You may also plant special ingredients as long as you have water and the right seeds. All the pants are communal so you should check out which ones are available before you enter a greenhouse.
Fortresses
This is where you undertake fights on your own or with other team members. The battles are called challenges and are activated using a rune stone. The only way to take part in a challenge is to be at the exact point within the fortress. This means the phone and camera must be in the right orientation, before the opponent can appear.
Every fortress has 20 different floors with each giving you a stronger opponent. This is why it is great to fight with a team if you want to completely take over a Fortress.
Foundables
These are the magical elements that have been scattered in the Muggle World. They can include wizards, creatures and other items that have to be sent to the Wizarding World. Foundables are protected by Confoundables, which are dark creatures. You must trace the proper spell and cast it at the Confoundable in order to release the Foundable.
Portkeys
When you use a key to unlock a Portmanteau, you will get a Portkey. Similar to an egg in Pokémon Go, the more you move around, the more the Portkey gets closer to opening a new port.
When the Portkey has matured, simply place it on the floor before you and then step on it. You never know where it will take you and this is one of the fun parts of the game.
When you go through the Portkey, you will have to look for 5 hidden items around you. Each item you find will earn you bonus coins and XP.
Potions
Collect ingredients on the map and use them to brew different potions for various uses. Using Master Notes, you can reduce the time taken to brew a potion.
Professions
You have to choose whether you are a Magizoologist, Aurora or Professor.
Magizoologists are like Hagrid in the movie. They are able to protect and heal any damage.
Professors are the teachers, who guide you on what to do.
Auroras are like Harry Potter and his friends who have to fight off the dark forces that threaten the world
So you must be very careful about the profession that you choose, and then start filling up your profession tree.
Part 2: Harry potter wizards unite level up rewards
Harry Potter Wizards unite, just like any other game will give you certain items as rewards when you go up any level. These rewards will be used to face off the bigger challenges that you will find in the higher levels. The rewards are various, including Potion Brewing, Professors, in-game currency and a lot more.
Here is a list of what you earn when you go up the levels in Harry Potter Wizards Unite mobile game:
Level 1: You only have the basics that you start the game with
Levels 2, 3, 4, 7 and 9: One Silver Key, One Baruffio's Brain Elixir, Two Potent Exstimulo Potion, One String Exstimulo Portion, One healing Potion and 10 Gold Coins.
Level 5: One Silver Key, One Baruffio's Brain Elixir, Two Potent Exstimulo Potion, One Strong Exstimulo Potion, One Healing Potion and 15 Gold Coins
Level 6: Same as Level 2 but you get a Dark Detector instead of the Potent Exstimulo Potion.
Level 8: Similar to Level 6 but you get two Dark Detectors.
Level 10: Two Silver Keys, 2 Baruffio's Brain Elixir, One Dark Detector, One String Exstimulo Potion, One Healing Potion and 20 Gold Coins
Level 11: One Silver Key, One Baruffio's Brain Elixir, One Dark Detector, One Strong Exstimulo Potion One Healing Potion and 10 Gold coins.
At each level, you will unlock certain abilities and these are:
Level 4: Potion brewing
Level 5: Increased threat effectiveness
Level 6: Professions unlocks and you learn about Healing Potion recipe for Potion brewing
Level 7: Strong Exstimulo Potion recipe for Potion brewing
Level 8: Invigoration Draught recipe for Potion brewing
Level 9: Potent Exstimulo recipe Potion for Potion brewing
Level 10: Threat effectiveness increases and you get the Dawdle Draught recipe for Potion brewing
Levels 15 to 60: You get increased threat effectiveness after every 5 levels.
Part 3: How do you get more spell energy
The Spell Energy in Harry Potter Wizards Unite is very important since it is what you use to cast spells. When you swipe a pattern on the screen, you use u[p one unit of spell energy. If you are great at casting, you will use less, but if you are not, you can end up using five or ,more spell energy units.
Spell energy is also useful in greenhouses, where you use them to boost ingredient output. Since spell energy is very vital, you need to k now how to increase spell energy.
Getting more spell energy means going out of your house and finding it. Spell energy can only be collected from the wild, and this means physically hunting for it.
You can get more spell energy in the following ways:
Visit an Inn: 3 to 10 spell energy
Complete a daily assignment in the wild: 10 spell energy
Visit a greenhouse: 0 to 4 spell energy
Buy energy: 50 spell energy for 100 Gold Coins
The best way to get more spell energy is visiting an inn. You can also visit an inn for a maximum of five times, so make sure you walk by the same spot repeated to get the most spell energy that you can.
If you cannot find an inn nearby and have too much spell energy, you can increase your capacity. At the start, you have the capacity for 75 spell energy units, but you can buy 10 extras for 150 gold coins at Diagon Alleys Wiseacres shop.
You can also increase spell energy by saving it from improper use. Here are some things you should do when you want to save spell energy
Do not attack low priority Foundables
Do not use your energy on greenhouse plants
You should keep your spell energy just in case you find a rare Foundable
Save the Potions for more difficult encounters
Be still when casting a spell, since it will be more accurate and you will waste less spell energy
Follow all these tips and you will always have a high level of spell energy.
Part 4:Tips to walk in harry potter wizards unite
Harry Potters Wizards Unite is an AR game, and it is based on the real world around you. This means that you have to get up and walk around. This is the only way that you will get to collect the Foundables, and engage in other events in the game.
The first thing you need to know is how to use the map that is displayed on the device. In the middle, you will find your Avatar. The map is a stripped down location map of where you are.
As you move around, the avatar moves too, and this is how you interact with the game.
If you walk faster, then you will collect more items and level up faster. This is why people use all sports of methods to walk around faster.
You can take a ride on a skateboard, let someone drive you around, take a ride on a bus and a lot of other tricks.
The most important thing is that you use these fast travelling tricks safely.
Alternatively, you can use a Harry Potters Wizards Unite spoofing tool such as dr.fone-Virtual Location. The beauty of using this tool is that you can play the game without having to leave your house.
With dr. fone Virtual Location, you simply teleport your device and then move around as if you were on the ground. The tool comes with a joystick feature which you cam manually use to move around the map. You may also plot a route and then decide the speed at which you will move. This makes it seem like you are moving from one point to another by walking or taking a faster mode of transport.
You can get the full tutorial on how to use dr. fone virtual location to play Harry Potter Wizards Unite from the comfort of your living room.
Part 5: What is a trace in harry potter wizards unite
You may trace a spell when you are facing off with your opponents. The best things about tracing a spell is that you trace it first and then cast the spell. If you use the AR option in the game, you will have to cast a spell in real-time and this could mean that you will miss; missing a spell is costly as you spell energy will go down by one unit. Simply turn off your AR, click on the tracing icon at the top right hand corner of your screen and then trace your spell.
You can trace a spell in two ways:
Trace the spell from the beginning to the end, ensuring that your finger is at the start point and traces all the way to the end [point. This will enable you to cast high quality spells.
The other way is to quickly cast the spell by tracing the spell without really bothering about the accuracy. This is done in high-tension situations where speed will save you.
Note that Harry Potters Wizards Unite game will penalize you if you trace your spell too slowly; you are a witch or a wizard and speed is crucial for your survival.
If you die when doing a Trace Battle, you will lose the full battle. You need to get a healing potion in order to be revived for the next battle. You cannot get revived and go back to facing the same opponent in the same battle.
In conclusion
Harry Potter Wizards Unite is a great AR game, which has quickly become as popular as Pokemon Go, if not more. The game requires you to interact with the real world, and this means getting out of your home and hitting the streets. If you must play from home, you should get a teleportation tool such as dr. fone Virtual Location, which will allow you to move around the map like you were actually on the street. Level up and earn as many rewards as you can, but make sure you do not lose them all by casting useless spells; trace you spell and you will hit your ark every time.
>
How-to
>
Virtual Location Solutions
> Everything You Want to Know about Harry Potter Wizards Unite