S9 vs iPhone X
The Apple vs Samsung battle is not a new one and users have been comparing their new flagships, thought as closest competitors.
Learn More > >

Galaxy S9 vs S8
We have compared both of these remarkable devices on the basis of different parameters. Check whether you should upgrade.
Learn More > >
S9 Tips and Tricks
So excisted to get a brand new Galaxy S9? Here are some of the amazing Samsung S9 tips and tricks that every user should know.
Learn More > >
Transfer WhatsApp from iOS to S9
WhatsApp has already been an inseparable part of our daily life. In this guide, we will teach you how to transfer WhatsApp chat history from iPhone to S9 in 3 easy ways.
Learn More > >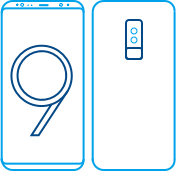 Migrate Old Android to S9
If you have got a brand new S9, the next thing is to transfer all important data to S9. Checkout this guide with 4 easy ways to transfer data from Android to S9.
Learn More > >
Switch from Huawei to S9
Decided to upgrade your Huawei to the latest S9? Let's proceed and learn how to transfer from Huawei to S9, S8, or other Galaxy devices in a seamless manner.
Learn More > >
Manage Contacts on S9
Go through this comprehensive guide to learn how to manage contacts on S9, includes the editing, deleting, adding, and updating of contacts like a pro.
Learn More > >
Manage Photos on S9
Galaxy S9 has reimagined the camera and enables you to take photos like a professional. Learn how to import, export, delete photos, create photo albums on S9.
Learn More > >