How to Root Huawei Y520 Safely and Quickly
Huawei launched its ascend range of smart phones and the Y520 in December 2014. It offers 4.5" TFT display with 480X854 resolution and 5 MP back and a disappointing VGA front camera. It is also packed with 1750 mAh battery with Dual core Mediatek chipset and a not so great 512 MB Ram. It's a starting range of Android device in the market, although I would say outdated in today's market.
This is because the technology has evolved so much in these years that we get the best of features at very low cost as well. And so this is the basic reason that some of its users are eager to root Huawei Y520, so that they can unlock it's administrative rights to get full access to the device. As Android is a Linux based operating system, it will give its user full control over its sub directory and kernel after performing Huawei Y520 root.
So, today, we'll discuss the easiest and safest process to root Huawei Y520.
Part 1: Before you begin rooting Huawei Y520
Before you start the process of root Huawei Y520, it is recommended to follow the instruction manual thoroughly and make yourself clear of all the doubts you have so that you do not get stuck in the midway of rooting process. This may lead to damaging of your device.
• Backup of the Internal Storage– You may not want to lose your valuable data due to some occurrence. Thus, you must back up your internal storage before you start rooting Huawei Y520.
• Battery percentage – Root Huawei Y520 might be lengthy. So it's recommended having at least 70-80% of juice left on your battery.
• Download all Drivers – Make available all the necessary drivers from the official website for Huawei Y520.
• Follow rooting guide and tutorial step by step – Go through the instruction first and then start the process. This will help you rooting easy and hassle free.
• Unrooting process – For some cases, the user may want to get back to the unrooted state of the device. So, this is recommended to know the unrooting procedures too.
• Disable Firewall and antivirus – It's been noticed that some antivirus and firewall interfere the process of rooting. So. Disable all those before starting the process.
Now we all know that rooting any Android device like Huawei Y520 is unsafe in terms of security since rooting gives access to the Android kernel and subsystem directly and any hacker can easily access user's personal information. Also, there is a chance to void the warranty if Huawei Y520 rooted. In some countries, it's not at all entertained to root Huawei Y520.
However, for the risk takers out there and people who really want to go to perform root Huawei Y520, we have created this step by step guide which you can follow easily and effectively.
Part 2: Root Huawei Y520 within minutes
Android Root is a software which was built by Wondershare dr.fone. This software can be easily downloaded and tried for free from the website of dr.fone for PC and as well as MAC. Android Root is a must try due to its easy and hassle free process. Also it has the highest success rate in the industry for root and supports over 7000 devices worldwide.
Root Your Android Phone with One Click.
Simple process, hassle free.
Supports over 7000 devices.
Highest success rate in the industry.
100% safe and secure.
3981454 people have downloaded it
Let us now have a look at the step by step instruction to root Huawei Y520 which will help root our Huawei Y520 in just a few minutes.
Step 1. Download the dr.fone toolkit from the download links above.
Step 2 : Connecting with Huawei Y520 -
After installation complete, open the software on your PC and Click on "Root".
Now, connect your Huawei Y520 with a data cable and allow the USB debugging when prompted. Thus, your device will be connected to the PC.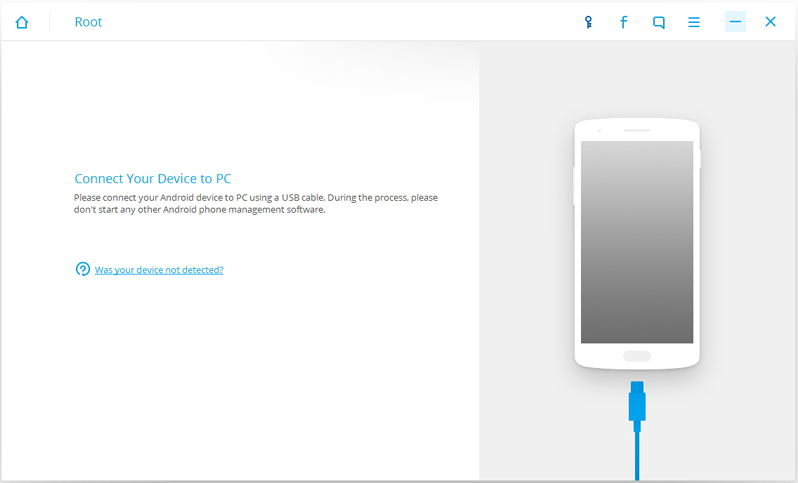 Step 3: Detecting the Mobile –
After the successful connection with your Y520 and PC, Click on "Start" to allow the toolkit find the proper way to root your device. This may take a few minutes to complete the detection.
Step 4: The Rooting:
Now, after successful detection of the rooting process for Huawei Y520, it will prompt you to click on "Root Now". Just click on that to start the root process.-
After few minutes, you'll be confirmed that the rooting is completed.
Note : During the whole process, please make sure not to disconnect the USB cable from the PC or MAC as this may lead to damage the device or unsuccessful rooting.
So, the dr.fone's Android Root toolkit is the easiest one click rooting software available in the market. It is the most convenient and user friendly software and is 100% safe and secure to use. Just follow the step by step guide and you can root your android phone within a few minutes. So, you can get rid of all the bulky and hectic process and tools available for rooting and use this easy to use toolkit.
Part 3: Benefits of rooting Huawei Y520
Rooting is the process which allows its user to gain full control over the device from hardware to software. It also allows user to access privileged control over the Android sub-systems. Being the most versatile, open, and customizable mobile operating system, Android offers surprisingly a lot of new addition of features just by rooting the device. Rooting your device can give you advantages like –
• Gives you total customization option of the looks of the device. From color, icon to battery icon, boot animation, in one word, you have total control on your smart phone.
• The GPU and CPU speed can be over or under clocked as it gives full access to the kernel of the device.
• Custom ROM, Kernel and third party apps can be installed.
• Rooting allows full access to apps to edit, remove, back up and also remove all the bloat ware.
• Rooting of Huawei Y550 helps the users to block unwanted ads on any apps.
• Significant extension of battery life and CPU speed and performance can be observed.
Hence, rooting brings in its own set of vast advantages with a few disadvantages as well. However, using the right rooting method can help us minimize the risks of losing our phone. Although do not forget, it is your responsibility go through the guide thoroughly before starting and avoid making any during the whole process.
Just be careful and have fun enjoying your rooted Huawei Y520.