Where Is the Best Place to Find Matches by Tinder Passport?
In case you don't know this yet, Tinder Passport service has been released and available for free. As people all around the world are quarantined in their homes, dating also seems impossible. Many tactics of changing locations to meet more friends have proved to be useful to people. But with the Tinder Passport feature, you can continue trying to find a partner. In this guide, we will discover the best place to use Tinder Passport. Alongside this, we will also use another tool that can be used to change the Tinder location whenever you want.
Part 1: Top 10 Places To Find Perfect Matches:
When a person is single, they think about dating a lot but fail to come up with the right answer to start. But with our list of best places to use Tinder Passport, you will know where you should look to find the perfect match. And if you are wondering why you should refer to our list, then we are glad to tell you that we compiled the list after careful consideration. The places are hotspots for tourists and travelers worldwide. In such places, you get the chance to meet people with the same thoughts, opinions, mindset, and aspirations.
New York, USA - NY is the city that never sleeps, and that's why there are enough personals to get matched without stepping out of your house.
London, UK- There is no chance that anyone would say no to rendezvous with the Brits. London has some of the best profiles to date.
Tokyo, Japan- Tokyo is the city where you can get lost in the depth of romance. After all, it is a very beautiful place filled with people who have beautiful hearts.
Paris, France- Paris is the city of love, and hence, it can also be the perfect place to find a partner. Whether you are looking for a casual relationship or love, you will find it here.
Delhi, India- Delhi is said to be the city of people with a great heart full of love. And with the Tinder Passport feature, you will be able to stay put and find a match in a city far away from your location.
Los Angeles, California, USA- LA is the city where people from all over the world come to make their dream come true. And your dream to find an ideal match can also be fulfilled here.
Sao Paula, Brazil- Numerous nightclubs in Sao Paulo will fit the criteria for steamy Tinder matches. Such hotspots have more than enough options for you to find dates and hang out with them.
Bangkok, Thailand- Bangkok is a place where you can easily interact with people without any trouble. Swipe right or left while you look at profiles of singles living in Bangkok.
Stockholm, Sweden- This is a warm city where you will find plenty to go around. Here, you will be able to find the spark and romance you need in life.
Mexico City, Mexico- The last city in our list of best places to find matches in Mexico. It holds the heart of people with whom you can share your life.
Part 2: How to Use Tinder Passport Freely?
Now that you know the best place to use Passport Tinder, you must be eager to use this feature. However, you cannot use this feature unless you have subscribed to Tinder Plus or Gold. As the COVID-19 pandemic has spread throughout the globe, the Tinder Passport feature is made free for all the users.
It means that you can set any location on the world map and meet people from that area. When you are using the free subscription of Passport, you can use it in the usual way.
Step 1: Open the Settings app and go to App Settings. Head to the Location settings and tap on the option that says "Add a new location" to enter the name of the city.
Step 2: As the city appears in the search results, there will be a blue banner that would allow you to change your current location to the chosen one. Click on it, and your profile will be visible to the Tinder users in the area you selected.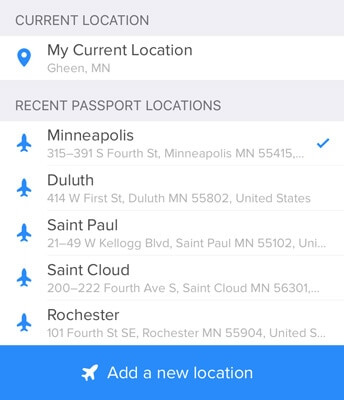 And that's how you use the Tinder Passport feature freely. But be wary as the pandemic ends, the free service might also come to an end.
Part 3: Better Tool to Change Tinder Location:
In case you've been using Tinder Passport while staying in one place till now, you will likely be disappointed once the pandemic ends. But don't worry; we have an alternative if you want to change your Tinder location. It is the dr. Fone Virtual Location tool that can help you to fake your location in the Tinder application. With this tool, you can get in touch with the singles in any city.
Here's how you can use dr. Fone Virtual Location to change Tinder location.
Step 1: Get access to the software and download it on your system. Run the program, and you will see the Virtual Location option in the toolkit home interface. Click on it too and agree to the terms of use and hit the Get Started button.
Step 2: In the next step, you'll see a screen with a world map with a search box in the top left corner. Type the city's name or GPS coordinates of the city to which you want to switch your location and wait for the search results to appear.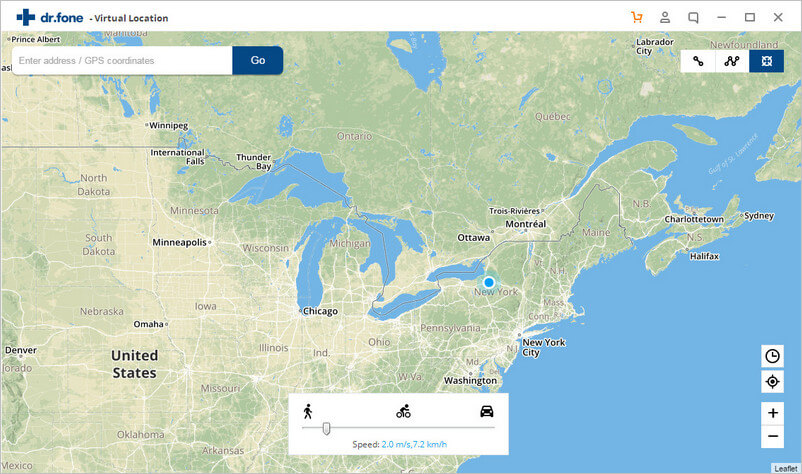 Step 3: Once the desired option appears on the screen, click on it, and a pin will be dropped into that location. Hit on the "Move Here" option as the last step to mock your location.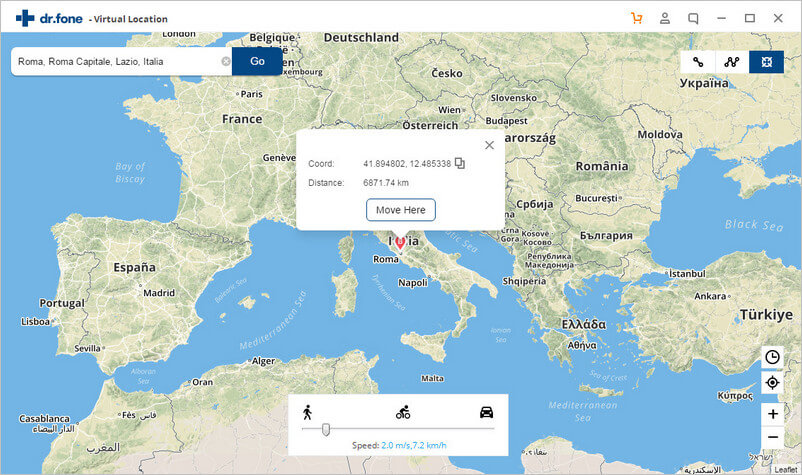 Now, open any app on your device, the default location that will be picked by the GPS will be the one you set using dr. Fone Virtual Location.
Conclusion:
Now, you know the best Tinder Passport locations and a way to change your location as well. So, when the free feature is no more available, you'll still be able to utilize the features that Tinder passport provides by using dr. Fone -Virtual Location app.
Pokemon Go Hacks
Tinder Passport