Lost Photos? Get Deleted Photo Recovery App for PC
Our photos are certainly one of the most important things that we own as they remind us of a wonderful time we had with our loved ones. Losing these photos from our computers, cameras, or any other source is an unwanted situation that no one wants to face. Though, if your photos have been deleted or lost, then don't worry – you can still get them back using a delete photo recovery app.
Although there are all kinds of options to perform recovery of photos and videos, not all of them can meet your requirements. To help you save your time and efforts, we have come up with a complete picture recovery app guide, listing some of the best photo recovery options. Let's explore them in detail so that you can pick your next photo restore app like a pro.
Part 1: The Possibility of Picture Recovery
In order to understand the working of a leading photo recover app, it is important to cover the basics. Ideally, one can lose their important photos due to different reasons like virus attack, accidental deletion, lost partition, formatting of the drive, and so on. Though, if we take immediate actions using a picture recovery app, then we can easily get our data back. This is because when a picture is deleted, it isn't erased right away – it just becomes inaccessible and can now be overwritten.
A photo recovery application would scan the entire storage unit and extract all the photos that can't be accessed by the firmware directly. This would even include the extraction of deleted or corrupt photos. Therefore, the faster we use a photo restore app, the better results we are likely to get.
Well, you have come to the right place. In a further section, you will get to know about the most reliable photo recovery tool to help you to get back your Instagram photos within a few minutes.
Part 2: Recoverit Photo Recovery: The Best App for Photo Recovery
To make it easier for Windows and Mac users to get their lost photos back, Wondershare has come up with this highly advanced picture restore app. With the help of Recoverit Photo Recovery app, you can get back all kinds of pictures from a wide range of sources. The tool is extremely easy to use and supports the recovery of photos and videos under all scenarios. The photo recovery app for PC and Mac is available in different options, which also includes a free version as well.
Recoverit Photo Recovery - Instagram Recovery Tool
Recoverit Photo Recovery is one of those photo recovery tools that can easily retrieve the data from any type of storage media. It is quite easy to operate and provide support to recover photo of a wide range of formats, which include PNG, GIF, PSD, RAW, DNG, JPG, BMP, TIF, etc. Amazingly, the software has a 96% recovery rate, which is better than many photo recovery tools available on the internet. What's more? It provides support for both Windows and Mac operating system.
Recover lost or deleted photos, audios, music, videos and movies in all formats effectively, safely and completely.
Support deleted photo recovery from memory card, flash drive, SD card, Android cell phone, digital camera and camcorders.
Recover pictures under different situations, like sudden deletion, formatting, hard drive corruption, virus attack, system crash, etc.
Support to create a WinPE bootable media and recover inaccessible data from a crashed or unbootable system on Windows computers.
4,027,239 people have downloaded it
Here are its main features:
Besides photos, it can recover a wide range of media files, which include audio, videos, and music with ease.
Provide support for data recovery from hard drive, memory card, recycle bin, digital camera, camcorders, flash drive, etc.
Recover data under numerous different data loss scenario, such as accidental deletion, formatting, corruption of hard drive, virus attack, system crash, etc.
Provide support for various image and video formats, such as JPG, TIFF, RAW, DCR, AVI, MP4, MKV, MOV, MPG, etc.
The recovery process is quite easy, and straightforward to get back deleted or lost media within three simple steps, and a few minutes.
Part 3: How to Restore Deleted Photos with Picture Recovery App
As you can see, Recoverit Photo Recovery application is quite easy to use and will let you get back all kinds of photos – no matter what the scenario is. The best thing about Recoverit is that no prior technical experience is needed to use this photo recovery app. Just visit its website and download the photo recover app on your Mac and Windows to get things started.
Step 1: Choose the location
Once you install and launch the Recoverit deleted photo recovery app, you will get an option to pick a location to scan. If you wish to scan an external source (like SD card or pen drive), then make sure it is connected to your computer beforehand.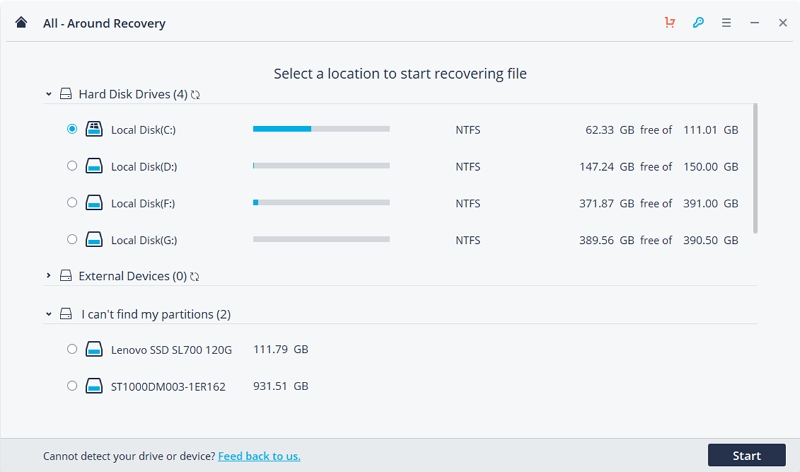 Step 2: Scan the storage location
As you could select a location and click on the "Start" button, the picture restore app will start scanning the selected location. It might take a while, and thus, it is recommended to not close the application in between. The photo recover app has an indicator to display the progress of the operation.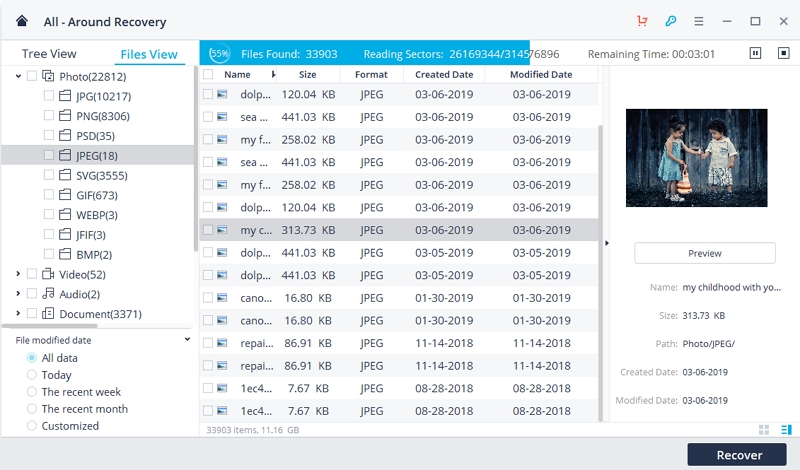 Step 3: Preview and Recover photos
All the extracted photos and videos will be displayed on the interface when the process is completed successfully. You can preview your data accordingly and select the photos or videos you wish to recover. To look for selected items, you can enter their name in the search bar as well. In the end, make the relevant selections, and click on the "Recover" button to save your files.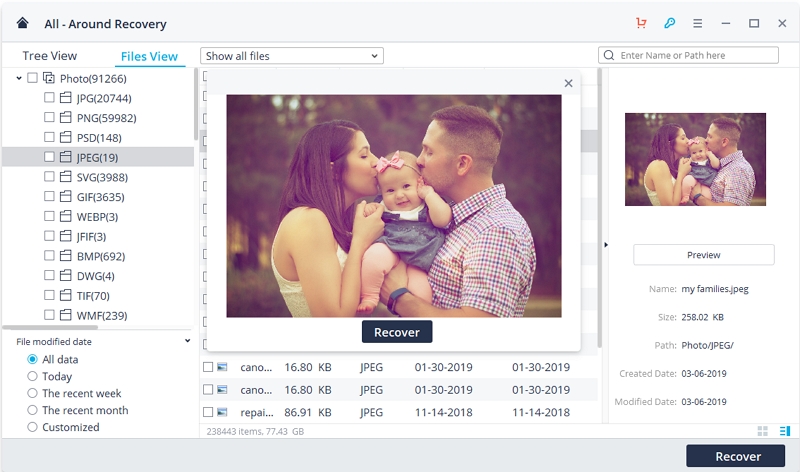 Important Things to Consider
If you want to get positive results using the best app for photo recovery, then consider following these suggestions.
Don't save the extracted photos at a faulty location or corrupt storage unit (like corrupt USB drive) again. Instead, you should save your restored content to a trusted location.
If you are recovering photos from an external source, then avoid using it in between. For instance, the SD card or USB drive should not be disturbed or ejected during the recovery process.
Consider using Recoverit Photo Recovery app as soon as you can after an unwanted data loss scenario to get positive results.
The photo restore app allows us to preview the extracted content first. In this way, you can save your efforts and only restore the photos/videos of your choice.
If you use macOS X 10.13 or a newer version, then you should disable the System Integrity Protection (SIP) feature on it beforehand. This will let Recoverit access the internal file system of the application.
Part 4: More Deleted Photo Recovery Apps to Consider
Although Recoverit Photo Recovery is considered as the best image recovery app, sometimes users look for other options as well. If you want, you can try either of these recovery photo and video alternative apps as well.
1. Stellar Phoenix Photo Recovery
Stellar Phoenix Photo Recovery is another popular photo restore app that you can use on your Mac or Windows PC. The picture recovery app works similar to that of Recoverit, but with certain limitation. It supports all kinds of major picture and other media formats to provide dedicated recovery support.
The delete recovery app can restore your photos that are deleted under different scenarios.
Not only photos, it can also recover videos and audio files as well.
The tool is easy to use and lets us preview our files before restoring them.
It is compatible with Windows and Mac versions.
Pros
Easy to use
Preview of files available
SD card recovery also supported
Cons
The free version can only preview our data (but can't restore it)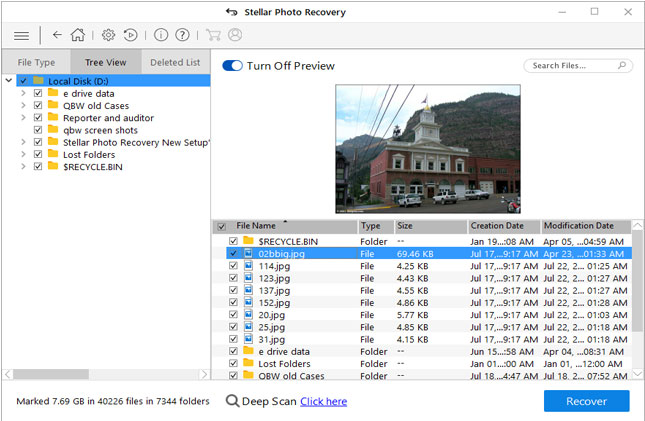 2. Hetman Photo Recovery
Hetman has come up with a wide range of utility tools and its photo recover app has gained a lot of positive reviews. The Windows photo recovery application provides an end-to-end recovery solution. In this way, users can recover their lost photos not only from their Windows internal partition, but from a connected external device as well.
From BMP to PNG and JPEG to GIF, it supports the recovery of all kinds of photo formats.
As of now, the recovery of only photo and video files is supported.
It features a highly advanced data algorithm and makes sure that the recovered data would stay protected.
You can also recover data from a corrupt memory card, pen drive, hard disk, etc.
Pros
Free version available
Easy to use
Can recover data from digital cameras as well
Cons
Low recovery rate
Not available for Mac

3. PhotoRec
PhotoRec is a freely available and open source photo restore app that supports recovery of every popular format. While it would yield moderate results for recovery of processed files like JPG, PNG, BMP, etc. you might encounter problems with RAW and PSD file recovery. Nevertheless, since the deleted photo recovery app is available for free, it is worth giving a try.
The photo recover app can restore your JPG, JPEG, BMP, PNG, TIFF, and other common image formats.
There is no provision to preview the files first on its interface. Also, the process is not that user-friendly as other apps.
It supports every major file type like FAT, exFAT, NTFS, HFS+, etc.
Apart from Windows and Mac, it also supports DOS and Linux as well.
Pros
Freely available
Extensive OS support
Cons
Hard to use
No data preview available
Low recovery rate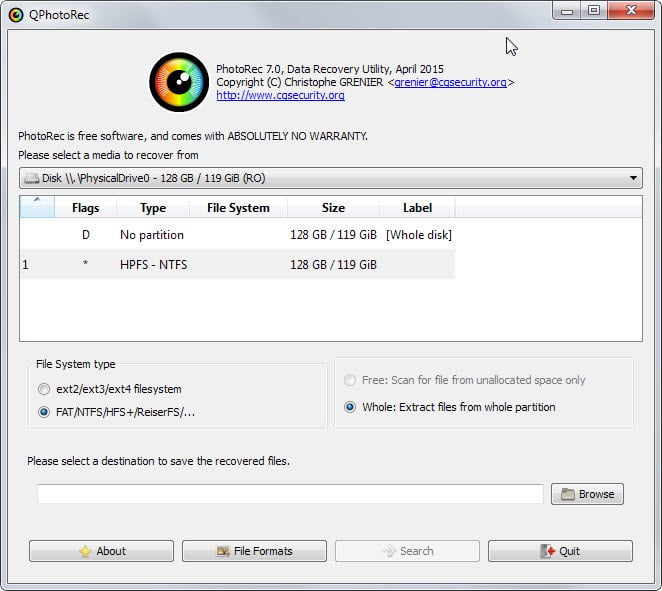 4. ApowerRecover
ApowerRecover is a hard drive recovery tool that supports the latest Mac and Windows systems. Since it is a complete data recovery tool, you can use it to get all kinds of lost and deleted content. This means, you can also recover your videos, audios, documents, and other file types.
ApowerRecover is quite easy to use and features an intuitive interface.
It supports all kinds of hard drives and file systems like FAT, exFAT, NTFS, HFS+, etc.
Users can first get a preview of their data and later restore it to the location of their choice.
Pros
Supports Windows and Mac
Easy to use
Cons
Only hard drive recovery supported
Limited features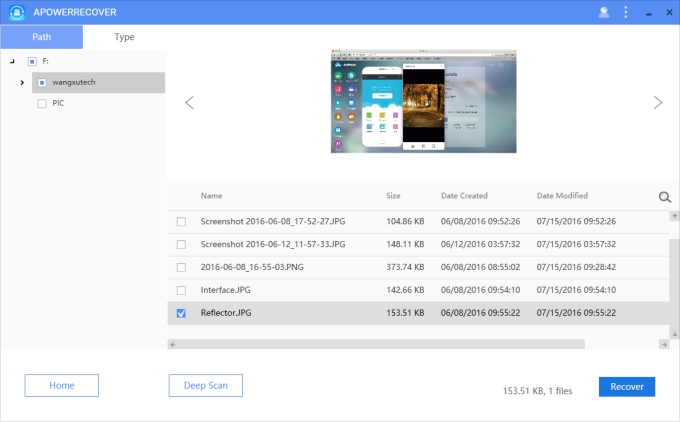 5. Undelete 360
Undelete 360 is a popular freeware that you can use on your Windows system without any trouble. Using the freely available photo recovery application, you can run a thorough scan on a source. While the recovery rate is not that high, you can give it a try for free.
A preview of photos is also provided on its interface
It can recover all the major kinds of photo formats from your system.
The delete photo recovery app also supports USB drive and SD card recovery.
It is freely available for major Windows versions.
Pros
Free
Preview of photos is provided
Cons
Does not support macOS
Low recovery rate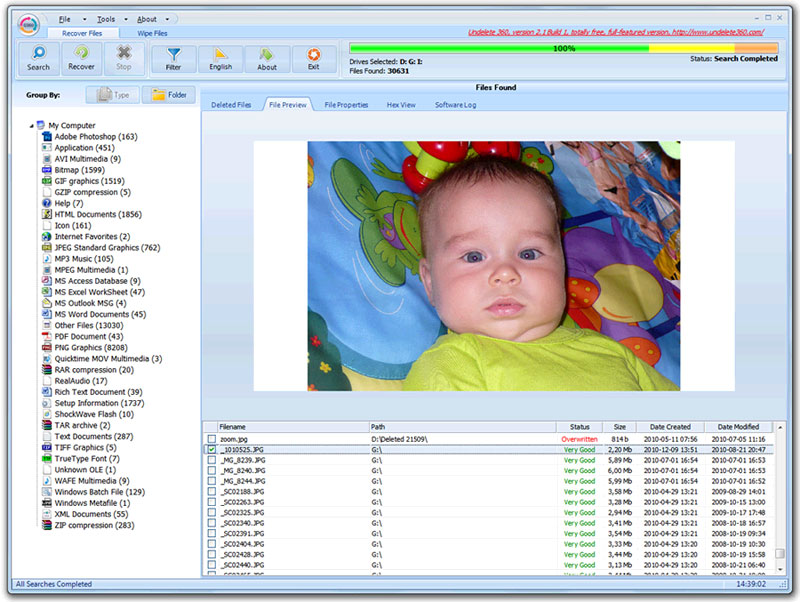 Part 5: Never Lose Your Photos Again
After getting to know about some of the best picture recovery apps, you must be able to get back your lost photos. If you don't want to face such an unwanted situation again, then consider following these suggestions.
Always maintain a second copy of your important photos so that you have their backup ready at the time of need.
Install an anti-virus tool on your system and enable its real-time scan to prevent any malware attack.
Keep your system up to date with all the patches and security updates installed.
Avoid connecting your SD card and pen drives to public computers or the devices you don't trust.
Try not to format a drive or accidentally use the Shift + Delete keys to remove something.
Make sure that you have a delete photo recovery app (like Recoverit) installed on your system. In this way, you can use it as soon as you suffer from unforeseen data loss.
The Bottom Line:
This brings us to the end of this informative guide on picture restore apps and tools. As you can see, we have listed not one, but 6 different ways to do recovery of photos and videos on your computer. Though, from all the listed options, Recoverit Photo Recovery is certainly the best app for photo recovery that is trusted by the leading experts. It yields positive results in all kinds of data loss scenarios and has one of the highest recovery rates in the industry. You can use the free version of the photo recovery application and get back a maximum of 10 pictures of any size. This will let you have a hands-on experience of the tool without spending anything.
Photo Recovery
Recover Photos from Camera

Recover Photo from SD Card