How to Recover Deleted Images from SD Card
How to recover deleted images from SD card? I was using my memory card recently, but some of its data has been lost. Is there any solution to perform micro SD card photo recovery?
A friend of mine recently asked me this query about SD card recovery that made me realize how common the situation is. Almost every day, numerous other SD card users the world over also experience a similar situation. Since our photos can hold extreme importance to us, losing them can be a nightmare that no one wants to face.
Thankfully, by using the right data recovery method, you can restore deleted pictures from SD card. Most of the native methods don't work for SD cards and thus, we need to try a dedicated recovery tool. In this post, we will explore the working of a free photo recovery software for SD card in detail.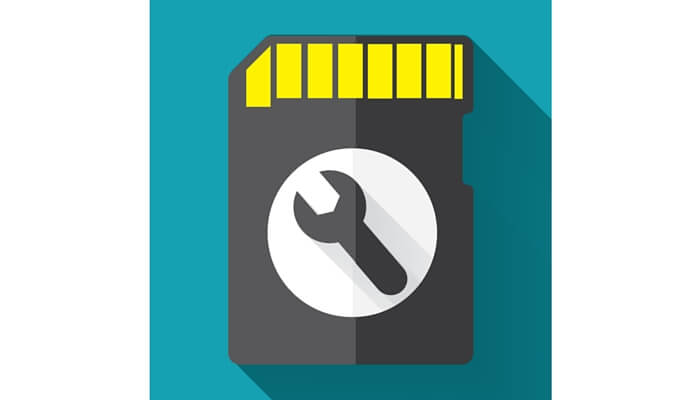 Part 1: Free Download Micro SD Card Photo Recovery App
To perform micro SD card photo recovery, you need to take the assistance of a dedicated data recovery tool. From all the available options out there, Recoverit Photo Recovery is an ideal tool that we would recommend. Let's get to know more about SD card recovery and Recoverit in detail.
1) What is Recoverit Photo Recovery?
Developed by Wondershare, Recoverit Photo Recovery is one of the most trusted recovery tools out there. It can restore deleted pictures from SD card by following a simple click-through process. The tool is known for its user-friendly interface and an extremely high recovery rate. Also, it is available for every major Mac and Windows versions, including Windows XP, Vista, 7, 8, and 10 or systems running on macOS X 10.8 – 10.14. It doesn't matter if you have lost your photos from your system, phone's SD card, digital camera, drone camera, or any other source – Recoverit Photo Recovery will have your back.
2) What Can Recoverit Photo Recovery Do?
Following are some of the major features of Recoverit Photo Recovery that you would love to explore.
It can easily restore accidentally deleted photos from SD card under every major scenario.
You can also restore deleted pictures from SD card if it has been formatted or if the photos were lost due to a corrupt storage, malware attack, etc.
The application supports every major photo format like JPEG, PNG, BMP, TIFF, GIF, RAW, CRW, and more. It can also recover videos and other media files as well.
Apart from micro SD card photo recovery, it can also recover data from all the other major sources like USB drive, external hard disk, etc.
3) Why should Recoverit Photo Recovery be your Choice?
Recoverit Photo Recovery is trusted by leading experts and millions of other users the world over due to various reasons.
The tool is known for one of the highest recovery rates in the industry.
It performs different data scans and supports all kinds of major data loss scenarios.
Recoverit is a free photo recovery software for SD card – with the free version, you can recover up to 10 photos of any size.
There is also a provision to preview the extracted data and perform a selective recovery of photos.
Users can simply restore their photos to the location of their choice without any trouble.
The tool comes with a dedicated customer support and a money-back guarantee for a hassle-free experience.
4) What Types of SD Card Does Recoverit Support?
Recoverit Photo Recovery supports all kinds of memory cards like micro SD card, mini SD card, CF card, xD-Picture card, SmartMedia, MMC, and every other major type. This includes memory cards from leading manufacturers like SanDisk, Sony, Transcend, Kingston, Patriot, HP, etc.
Part 2: How to Recover Deleted Images from SD Card?
If you have Recoverit Photo Recovery application installed on your system, then you can easily restore deleted pictures from SD card. All you got to do is follow a basic 3-step process to get back your lost photos. The tool will do everything automatically that will save your time and efforts.
1) Video Tutorial on Micro SD Card Photo Recovery
To make things easier for you, we have come up with this quick video tutorial on micro SD card photo recovery. Simply go through this informative video after installing Recoverit Photo Recovery to learn how to recover deleted images from SD card.
2) How to Restore Deleted Photos from SD Card?
If you want, you can follow these basic steps to restore deleted pictures from SD card with the assistance of Recoverit.
Step 1: Connect your SD Card
To start with, you need to connect your SD card to your system and launch Recoverit Photo Recovery on it. In no time, the application would automatically detect the connected SD card and display its drive on the interface. Select the SD card drive icon and click on the "Start button to initiate micro SD card photo recovery.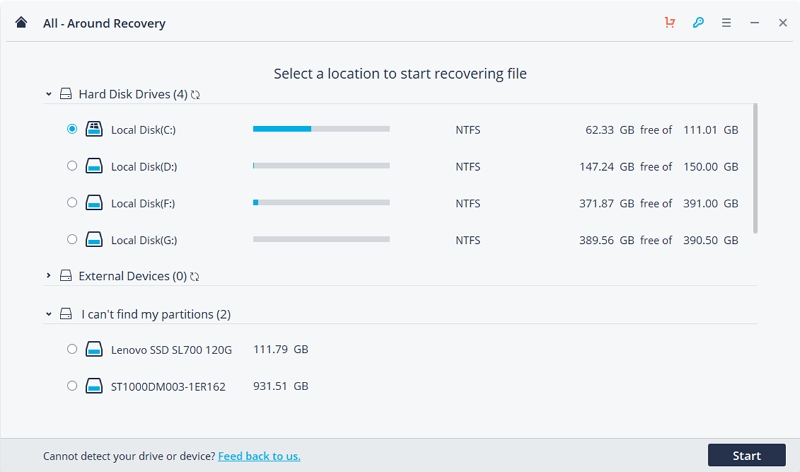 Step 2: Wait for the scan to complete
We would recommend waiting for a few minutes as Recoverit would try to extract the lost content from the connected SD card. There is an indicator on the interface to show you the progress of the recovery process.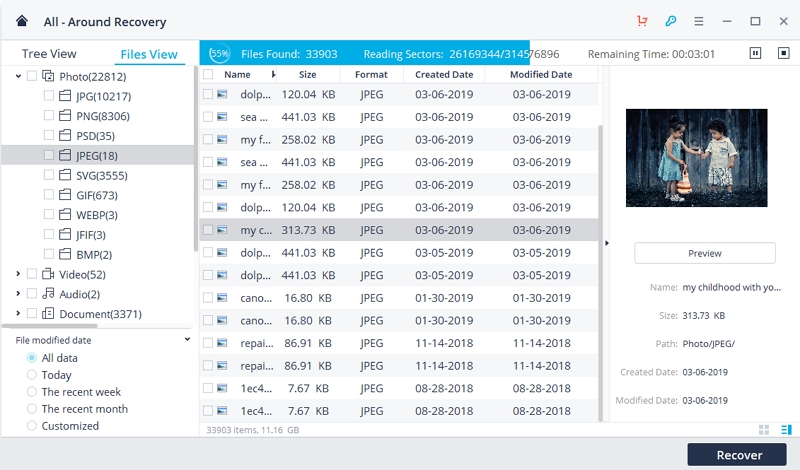 Step 3: Restore your photos
When the free photo recovery software for SD card would complete its processing, you will be notified. Now, you can just preview your extracted photos on the interface and pick the ones you wish to restore. Just click on the "Recover button and restore deleted pictures from SD card to a secure location.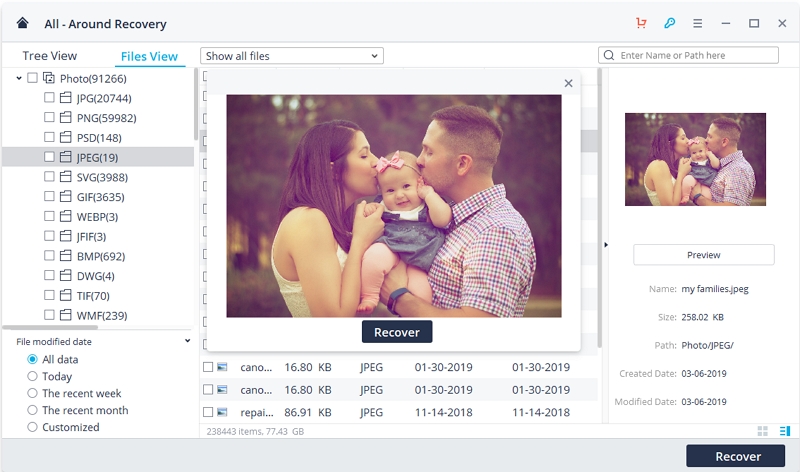 3) What to Notice during SD Card Photo Recovery?
During the micro SD card photo recovery process, it is recommended not to unmount the memory card in between. Also, try not to close the application in the middle if you want to get positive results. When the recovery process is completed, you can preview the photos and videos on the interface. You can visit a data category from the left or go to the search bar to look for specific file names.
Furthermore, it is recommended not to save the extracted photos to your SD card as it might be corrupt. Instead, you can save them to your computer or any other trusted location.
Part 3: More Details about SD Card Recovery
As you can see, with the help of Recoverit Data Recovery, you can easily restore deleted pictures from SD card. Though, there are several other things that you should know about SD card functioning and recovery as well.
1) What is an SD Card?
SD card (which is also known as memory card at times) is a non-volatile storage unit. This means, the data that is stored on the SD card stays permanent until it is deleted by the user or any other unwanted event. Ideally, it stands for "Secure Digital card and was first developed by SanDisk and Toshiba.
Mostly, an SD card is known to expand the storage of any other device. For instance, we can connect an SD card to a phone, digital camera, tablet, MP3 player, video recorder, and numerous other supported devices. This would work as an extended storage unit for the device to save all kinds of information.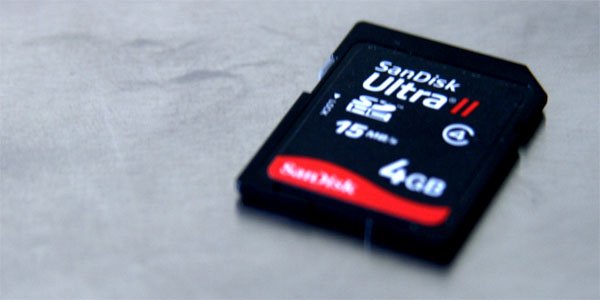 2) Common SD Card Problems
Although SD cards have numerous advantages, they also suffer from some shortcomings as well. Here are some common SD card problems that you might encounter:
SD card corrupted: A lot of times, the storage unit gets corrupted and the data in it becomes inaccessible. From a malware attack to a corrupt file system, there could be numerous reasons for it.
Card cannot be used: Sometimes, users also complain that the SD card fails to respond. This can happen due to a software glitch. You can try to format the SD card in this case.
Can't write data on SD card: Almost all the SD cards have a write-protected button, which protects any modification of data. You can turn it off and try writing on it again.
Data is inaccessible: The data stored on the SD card can become lost or inaccessible. A lot of reasons can cause this problem like corrupt storage, third-party's mishandling of files, accidental deletion, etc.
Can't detect the card: There are times when a system fails to detect the connected card. In this case, check its firmware settings, the file system, or try connecting it to some other device.
3) How Does an SD Card Work?
As SD card works quite similar to other storage units as well. It has an index table that stores the location of every data in it. Therefore, when anything is deleted from an SD card, it isn't erased right away. Only its value in the index table becomes available for future use. That is, the data still remains, but its location becomes available to be overwritten. This is where a data recovery tool can help us. It will scan an SD card and help us get back all kinds of data, even if a file system can't access it directly anymore.
Part 4: Precautions to Prevent SD Card Photo Loss
After getting to know about SD card and common reasons for its data loss, it is important to take some preventive measures. In this way, we can easily avoid an accidental or unwanted deletion of data.
1) How to Use an SD Card?
If you want to make the most of your SD card, then consider following these suggestions:
Never disconnect your SD card from a device when it is still being used in the background. It is better to safely remove the storage to prevent any data loss.
Avoid connecting your SD card to public computers and the devices you don't trust. This will prevent it from any malware attack.
Try maintaining a single SD card for a dedicated device and avoid using one card on multiple units.
When you are not using the SD card, then enable the write-protected switch. This will prevent any accidental deletion of data from it. Simply pull its tab downward to protect it.

2) How to Select a Reliable SD Card
Having a reliable SD card is one of the most important things for data security and management. Consider following these tips about SD card to pick the right one for your needs.
Make sure that the SD card you choose is from a reputed brand.
It should have a compatible file system to support the connected device.
There should be a write-protected feature on the SD card.
It should have enough capacity to store the needed content.
The card should not be used or compromised already.
Read the reviews of the existing users of the card before making a purchase.
The card should be compact enough to fit your device's slot.
3) Things to Remember for Deleted Photo Recovery
If you want to restore deleted pictures from SD card in a better way, then follow these quick suggestions.
Use a micro SD card photo recovery tool as soon as you can to avoid the overwriting of data.
While picking a data recovery tool, make sure that it supports SD cards.
Make sure that you pick a secure application that won't leak your data to any third-party source.
Lastly, try to go with a user-friendly tool that won't require a lot of effort to perform data recovery.
Conclusion:
As you can see, Recoverit Photo Recovery fulfills all the above-mentioned criteria, making it an ideal micro SD card photo recovery tool. It also features a free version to recover up to 10 photos of any size without any trouble. Therefore, if you also wish to restore deleted pictures from SD card, then consider using this free photo recovery software SD card as well. It comes with numerous other features, making it a highly resourceful application for everyone. Also, now when you know how to recover deleted images from SD card yourself, you can share this guide with others to teach them the same too.
Photo Recovery
Recover Photos from Camera

Recover Photo from SD Card