3 Ways to Transfer iCloud Backup to Samsung S9
The new Samsung S9 is a revolutionary version of the flagship S-series device produced by Samsung competing with their rivals, the ever-innovative Apple. These two flagship devices have not only blazed the trail in the reinvention of what we know phones to be, they have also kept the pace and continuously intend to set precedents. Well, I guess I should congratulate you on purchasing your Samsung S9, the latest technology advancement in the smartphone industry. If you are switching from an iPhone to Samsung S9, your choice is justified, now you definitely need a means to transfer files and contacts from your old iPhone iCloud to Samsung S9. We will be looking into a few methods effective for transferring contacts amongst other files from iCloud backup to Samsung S9.
Part 1: Transfer iCloud backup to Galaxy S9/S9 Edge with MobileTrans
MobileTrans is an excellent software that was created for the sole purpose of transferring files such as contacts, text messages, media files (photos, music, and videos) from all major smartphone Operating Systems, that is iOS, Android, and Windows. It could also be used to restore backups from these OS cloud storages such as iTunes, iCloud, OneDrive, Kies or Blackberry 7/10 to iOS and Android devices. This makes MobileTrans the perfect tool to help you restore iCloud backup to Samsung Galaxy S9.
Restore iTunes/iCloud Backup to Samsung S9 without Hassle!
Easily transfer photos, videos, calendar, contacts, messages and music from old phone to new iPhone 8.
Enable to transfer from HTC, Samsung, Nokia, Motorola and more to iPhone X/8/7S/7/6S/6 (Plus)/5s/5c/5/4S/4/3GS.
Works perfectly with Apple, Samsung, HTC, LG, Sony, Google, HUAWEI, Motorola, ZTE, Nokia and more smartphones and tablets.
Fully compatible with major providers like AT&T, Verizon, Sprint and T-Mobile.
Fully compatible with iOS 11 and Android 8.0
Fully compatible with Windows 10 or Mac 10.12/10.11.
3981454 people have downloaded it
To understand the process to transfer iCloud Backup to Samsung S9, let us follow these steps below:
1. Download and install Wondershare MobileTrans on your computer. Launch MobileTrans and select Restore from Backups, then select iCloud. Connect your Samsung Galaxy S9 to computer.
2. You should see a window where you are to sign into your iCloud account, enter the credentials to sign in.
3. After a successful login, you should be able to view all available iCloud backup on your account, select the desired backup and wait until it downloads to your personal computer. Ensure you are connected to fast internet connection to speed up the download process depending on the size of the backup.
4. Once the iCloud backup files have downloaded successfully, you can start transferring the iCloud backup to Samsung S9 by first selecting the files you wish to restore to the new device then click on "Start Transfer" button to commence transfer process.
You might also decide to transfer directly from your old iPhone to your new S9 if you still have the phone in your possession, simply connect both devices to the computer and select "Phone to Phone transfer" from the program.
In case you want to completely wipe your new device before restoring the files from iCloud, you can check the "Clear data before copy" option before you start transferring. And just in a few easy steps, you have transferred contents of your old iPhone from iCloud to Samsung S9 in no time.
Part 2: Transfer iCloud contacts to S9/S9 Edge manually
iPhones and Samsung devices might not be directly compatible, but there is still a manual way to transfer contacts from iCloud to Samsung S9 by creating a vcf file export from iCloud and then importing it into your Samsung S9.
1. Launch the web browser on your personal computer and head to iCloud.com in order to login with your credentials to your iCloud account to access all your iCloud contacts.
2. After logging in, click on "Contacts" option and then select "All Contact" at the top left pane of the interface.

3. When all backup contacts have been displayed, select all by pressing Ctrl+A on Windows or Commnad+A on Mac keyboard. After selection, click on the Gear icon representing "Settings" at the bottom left corner of the web interface.
Under Settings, click on "Export vCard" and the .vcf file would be downloaded to your computers download folder.

4. Now connect your Samsung S9 to your personal computer using a USB cable. You can now transfer the vcf file that has just been downloaded to your Samsung S9.
5. Locate the file from the file manager of your S9 and click on it, the contacts in the file would be imported to the contacts of your S9.
Note: This manual method of transferring contacts does not necessarily have to be done with on a personal computer, you can also access the iCloud website on the web browser of your new phone. Then download the contacts as a .vcf file to the phone and open the file to transfer contacts from iCloud to Samsung S9. The .vcf file is a generally recognized contact archive file which can be used on any device.
Part 3: Transfer iCloud backup to Samsung S9/S9 Edge with Smart Switch
In order to solve the data transfer problem between iPhone and Samsung phones, Samsung came up with an easy to use mobile app known as Smart to ensure the easier transition of data between the two devices. Smart Switch has the ability to read and transfer data such as media files, contacts, messages, calendars and even alarms and events from iCloud Backup to Samsung S9.
Follow these simple steps below for a smooth transfer using Samsung smart switch:
1. First of all, head to Google Play store on your new Samsung S9 and search for "Smart switch" by Samsung, download and install the app on your device, then open it.
2. On Samsung Smart Switch, choose Wireless > Recieve > iOS and then login to your iCloud account by entering your iCloud credentials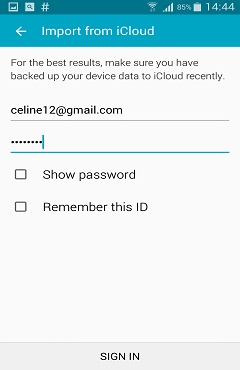 3. After a successful login, check the files you wish to restore to your Samsung S9. Now click on Import to start importing the backup from iCloud to Samsung S9.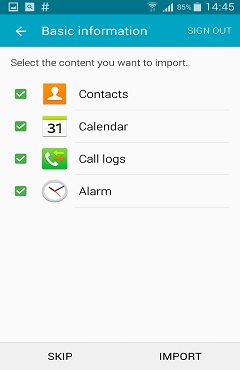 4. When the loading is complete, click on "Continue" in order to start transferring the downloaded files to the contact book on your Samsung S9, or to the calendar.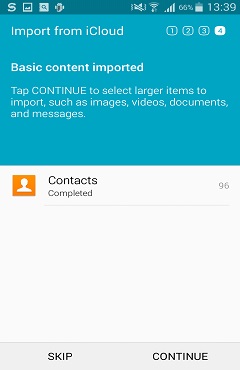 Switching from an iPhone to a Samsung Android device might not be as difficult a task as it seems as long as you have created an iCloud backup earlier on your iPhone Device. Of all the methods stated above, the use of MobileTrans to transfer backups from iCloud to Samsung S9 is probably the most effective and easy to use method compatible with several device brands without data loss whatsoever. So, use your new Samsung S9 and enjoy a whole range of new features with your original iPhone data.
Samsung S9
1. S9 Features

2. Transfer to S9

3. Manage S9

4. Backup S9