Two Solutions to Restore iTunes Backup to Samsung S9/S8
So, you've recently made the transition from your beloved iPhone to the brand-new, super-powerful Samsung Galaxy S9 and it's safe to say you'll already be amazed at everything it can do from its unbeatable camera, fast speeds and collection of incredible apps.
However, some of your more personal files, such as your photos, your music files, your contacts, instant messages and so on are all still locked into your iOS device. After all, Samsung and Apple don't make it easy to transfer your stuff across like you simply would an Android to Android device.
But that doesn't mean that it's not impossible. In fact, there are two easy solutions you can use to ensure you transfer files from iPhone to S9 quickly and safely, all thanks to the iTunes backup file that was linked to your iOS device.
Before carrying out any of these solutions, you'll need to create an up-to-date iTunes backup file, if you haven't done so already. If not, simply turn on your iOS device, head over to Settings > iCloud > Backup to create a wirelessly backup in your iCloud account.
If you want a hardcopy (most recommended for the methods below), plug your iOS device into your computer, open your iTunes software and create a backup using the Backup option.
Solution 1. 1-Click to Restore iTunes Backup to S9/S8 with MobileTrans
The first method we have for transferring your iTunes backup files onto your Samsung Galaxy S9 is using a piece of third-party software known as MobileTrans, famous for being the 1-Click transfer solution.
The software supports over 6,000 unique smartphone models, including the Samsung S9, and can help you to transfer everything from an iTunes backup file to all your music, photo, video and contact files, giving you complete control over your smartphone data.
Restore iTunes/iCloud Backup to Samsung S9 without Hassle!
Easily transfer photos, videos, calendar, contacts, messages and music from old phone to new iPhone 8.
Enable to transfer from HTC, Samsung, Nokia, Motorola and more to iPhone X/8/7S/7/6S/6 (Plus)/5s/5c/5/4S/4/3GS.
Works perfectly with Apple, Samsung, HTC, LG, Sony, Google, HUAWEI, Motorola, ZTE, Nokia and more smartphones and tablets.
Fully compatible with major providers like AT&T, Verizon, Sprint and T-Mobile.
Fully compatible with iOS 11 and Android 8.0
Fully compatible with Windows 10 or Mac 10.12/10.11.
3981454 people have downloaded it
Here's how to sync iTunes backup to S9 in 1 click?
Step 1. Head over to the MobileTrans website and download your required version. Install it onto your computer.
Step 2. Connect your Samsung S9 to your computer using a USB cable and then open the software.
Step 3. On the main menu, click the iTunes option on the right-hand side.
Step 4. The software will now scan your computer for available iTunes backup files. Select which one you want to transfer, as well as the file types you want to transfer from the middle menu.
Step 5. Once you're happy with your selection, click Start Transfer.
Step 6. You'll then be able to watch the transfer take place using the loading bar. When it's completed, the transfer will be done, and you'll be able to access your files on your Samsung S9.
Solution 2. Restore iTunes Backup to Samsung Galaxy with Smart Switch
The other approach you can take when trying to transfer your iTunes backup file data to your Samsung Galaxy S9 is to use Samsung's official solution which is known as Smart Switch. For this, your iOS device must be running at least iOS 10.6 or above.
You'll also need to make sure that you've made an iOS and iTunes backup file (mentioned above). You may also want to note down the default save location to make it easier for you to find where the Backup folder is saved on your computer. This can be found here;
C:\Users\[username]\AppData\Roaming\Apple Computer\MobileSync\Backup\
Step 1. Download the Smart Switch application to your Samsung Galaxy S9, or open it if it's already installed.
Step 2. Download and install the Smart Switch application for your Mac or Windows computer from here.
Step 3. Connect your Samsung S9 to your computer using a USB cable and open the Smart Switch application on your computer.
Step 4. On the main menu, click the Restore button.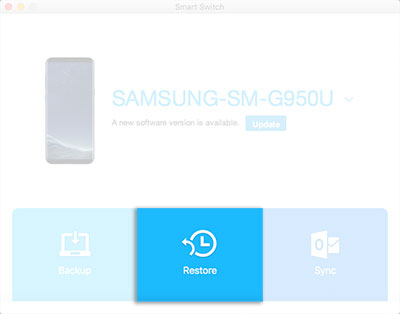 Step 5. On the bottom left-hand side, click Select a Different Backup. This will allow you to choose the individual files or backup file that you want to use. If you want to import all the available data to your phone, select the Restore Now option.
Step 6. When choosing the individual files, use the drop-down menu to select iTunes Backup Data. The available content will then be displayed for you to choose from. When you're happy, select confirm to start the process.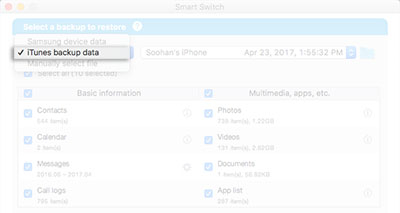 Your content will then be transferred to your Samsung S9 and ready to use on your device.
As you can see, there are two very easy solutions you can use when it comes to transferring data across from an iTunes backup file to your Samsung Galaxy S9, giving you complete control when it comes to handling and managing your data effortlessly.
Samsung S9
1. S9 Features

2. Transfer to S9

3. Manage S9

4. Backup S9
>
How-to
>
Tips for Different Android Models
> Two Solutions to Restore iTunes Backup to Samsung S9/S8