6 Best Linux VPN Servers - Super Fast & Secure
While you can easily find VPN services for Windows PC or Mac, you might need to do some research to pick an ideal Linux VPN server. Not every VPN is compatible with Linux and might not work with your Linux distribution (like Ubuntu, Fedora, Suse, Debian, and so on). Don't worry – we are here to help you. In this post, we will make you familiar with some of the best Linux VPN services that you can try. In this way, you can save your time and efforts while picking an ideal Linux VPN client. Let's get it started with and know more about the best VPN for Linux.
If you use a Linux kernel on your system, then you can try these options. They are considered as some of the best Linux VPN services out there.
1. Mullvad
If you are an active Linux user, then you might already be familiar with Mullvad. It has privately owned servers around the world and provides a full compatibility with Linux.
• It has an open source VPN client that works on all the popular distributions of Linux.
• The Linux interface has a GUI client, making it easier to setup and deploy the Linux VPN client.
• 256-AES encryption with 4096 bit RSA certificates for added security
• Global servers with port forwarding feature
• Even though it is based out of Sweden, it provides a multi-language customer support
• Besides Linux, it works on Mac, Windows, iOS, Android, and other devices that support OpenVPN.
Price: Only $6 per month
2. Private Internet Access
PIA is another affordable and secure VPN for Linux that you should try. If your system runs on Ubuntu 12.04 or later versions, then you can easily use this service.
• Even though you would have to install this Linux VPN client via Terminal, the VPN has provided a stepwise tutorial for the same.
• Advanced facilities like DNS leak protection, IPv6 leak protection, port forwarding, etc.
• PPTP, L2TP, OpenVPN, and SOCKS are supported
• It has a plug and play easy router setup for Ubuntu as well
• It also has apps for Mac, Windows, iOS, Android, and a Chrome extension.
Price: $6.95 a month or $2.91 monthly (2-year billing)
3. AirVPN
What makes Air VPN an ideal choice for a Linux VPN server is its extensive compatibility and affordable pricing. It supports OpenVPN and unlimited switching of the server.
• AirVPN has dedicated apps for Fedora, OpenSUSE, Ubuntu, and Debian, making it one of the most compatible VPNs for Linux.
• It provides a GUI as well as a command line option to setup the Linux VPN client.
• DDNS and forward porting to provide an unmatched experience
• 256-AES encryption with 4096 bit RSA keys
• Besides Linux, it works on Mac, Windows, iOS, Android, Tomato, DD-WRT, and other routers
Price: $6.72 per month, $29 for 6 months, $51.8 for a year, and other plans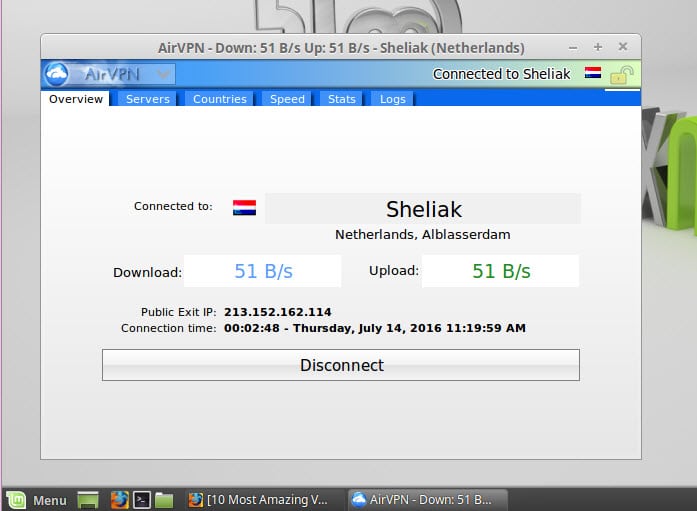 4. VPN Unlimited
As the name suggests, VPN Unlimited provides an unparalleled access to the VPN service with no constraint on the bandwidth or data speed. It has a GUI app for both, Debian and Ubuntu.
• It is compatible with Ubuntu 14.04, Debian GUI, and Linux 8.0 (and later versions).
• This VPN for Linux has its presence in 70+ locations with more than 400 servers.
• It has a dedicated manual and user instructions on its website for Linux users.
• The GUI app for Linux has an intuitive interface.
• Comes with a 24/7 customer support with a 7-day money-back guarantee
Price: $4.99 a month, $25 a year, or $99.99 for a lifetime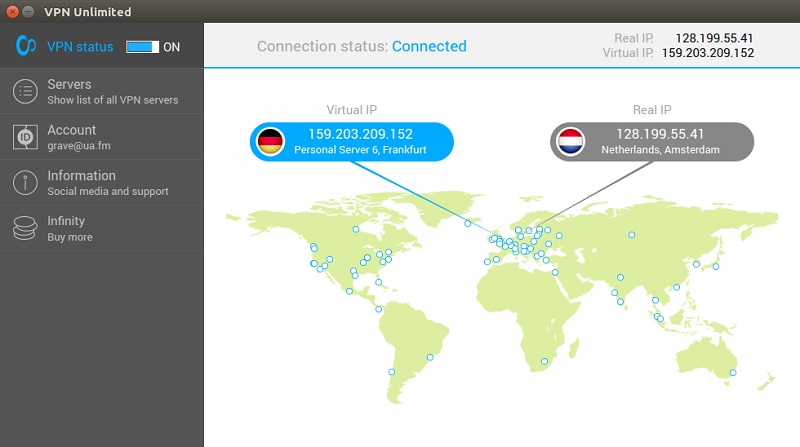 5. ExpressVPN
Even though Express VPN is one of the most expensive VPN services, it also comes with tons of added features, making it one of the best Linux VPN servers.
• Express VPN works on all the leading versions of Ubuntu, Debian, Fedora Mint, and CentOS.
• Additionally, the Linux VPN has provided dedicated tutorials to install its GUI or command line interface.
• You can manually install the Linux VPN client, use the Ubuntu Network Manager (OpenVPN), or setup PPTP as well.
• Based out of the British Virgin Islands, it provides an offshore guarantee.
• As of now, it has its presence in 94 countries.
Price: $12.95 a month, $59.95 for 6 months, or $99.95 for 15 months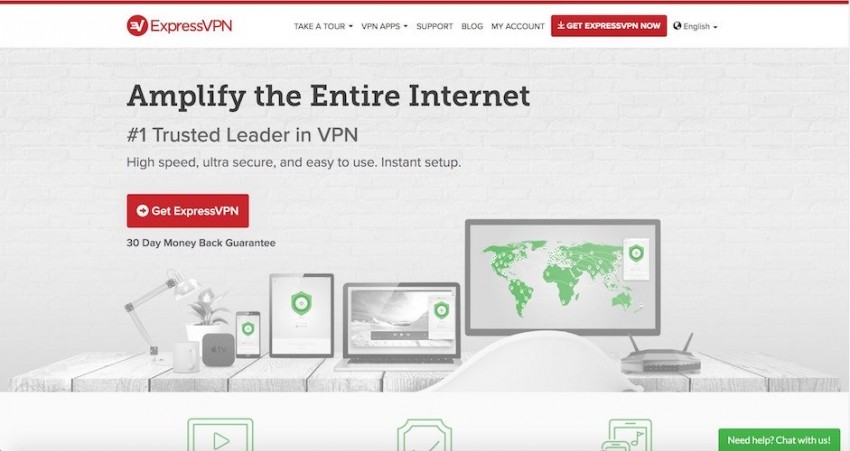 6. IPVanish
If you use Ubuntu, then you should certainly try this Linux VPN Server. IP Vanish supports both PPTP as well as OpenVPN on Ubuntu and comes with a money-back guarantee.
• IP Vanish has provided a detailed tutorial to setup PPTP as well as OpenVPN on Ubuntu.
• You can pick from servers present in more than 60 countries.
• Can switch between 128 and 256 bit AES encryption.
• Unlimited bandwidth and server switching
• Can connect to 5 devices at once
• Apart from Ubuntu, it can be used on Kodi, Windows phone, iOS, Android, Windows PC, and Mac. It has a Chrome extension and supports all the leading routers.
Price: $10 per month or $78 annually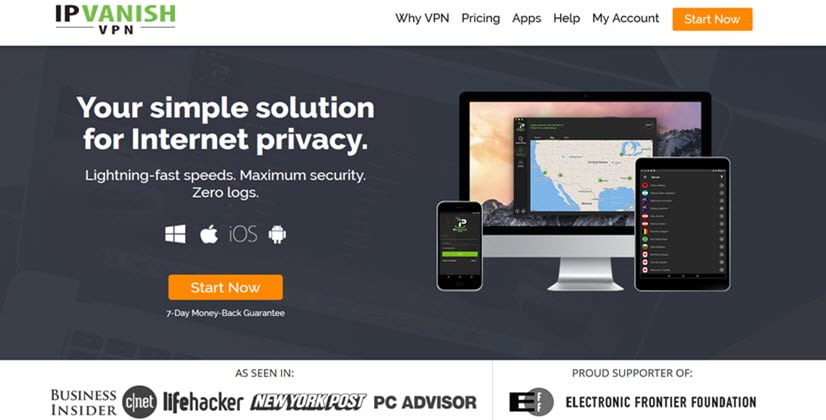 Note: Most of the services provide a configuration file for OpenVPN, which should be downloaded to setup the VPN for Linux. Ideally, the process is same for all the servers.
You can go with either of these Linux VPN services to meet your requirements. Make sure that you consider parameters like server locations, bandwidth, security, etc. in mind while picking a Linux VPN server. In this way, you would be able to browse the web without any geo-based restrictions and that too in a secure manner. Go ahead and pick the best VPN for Linux right away and let us know about your experience as well.
VPN
VPN Reviews

VPN Toplists

VPN For Countries

VPN How-tos