How to Recover Deleted Photos from Samsung Galaxy S7/S6/S5/S4/S3
In the 21st century, smartphone has definitely become a must-have item for almost everyone. A well-constructed smartphone prides itself on providing customers with excellent features which enable users to perform numerous task without difficulty. With the aim of covering all the demands of customers, many brands of smartphones have been introduced in the last few years, and they are re-innovated repeatedly each year in order to upgrade a lot of unbelievable settings as well as apps. Therefore, the usage of smartphone has been spread widely as never before.
Although making use of a smartphone can be advantageous,there will be times that you have done some actions on it which make you fully regret. One of the most common and annoying ones is to accidentally delete your photos.
It is true a real nightmare for anyone who loves to keep photos as a great way to remind of the beautiful memories. One photo is bad, and the whole album is far worse. Occasionally, you will be left with anger as well as confuse after mistakenly get rid of something you want. The majority of users admitted that after realizing what they had done, they usually felt frustrated, yet they thought that nothing could be done to undo that miserable step.
But do you know that there is still chance for you to recover your photo?
Yes, it seems unbelievable but up to now, there have been numerous tools which enable you to get your deleted photos back. In this article, we will offer you a full detailed description on how to recover photos on Samsung Galaxy smartphones.
Part 1: Why the Deleted Photos can Still be Recovered?
Have you ever wondered what would happen to the photos you deleted? Well, if you haven't come up with the answer yet, we're very glad to give you one. In every smartphone (as well as computers), there is a kind of technical part called pointer. This pointer functions as the sign which dedicates the current location of a file. When you delete your photo, the photo's pointer will be temporarily removed from the memory part. But it doesn't mean that the photo is already gone. It would still be kept in your smartphone without your acknowledgement. That's why if you're lucky enough, you will be capable of restoring your deleted photos.
Although your photo isn't deleted permanently, there are few things you must do in order to guarantee your ability to retrieve your deleted files. You should take these 2 steps immediately to make sure that the restoring process is well prepared.
· Be fast and flexible. Speed is undoubtedly one of the most significant factors you must apply if you want to recover your photos successfully. Or else, the photo will be hidden deeper in your store after you delete some more files, which result in the fact that you have to do much more work to recover them.
· Don't do anything related to add or remove data in your smartphone until you have already got your deleted photos back. If so, the pointers of the deleted photos can be filled in, and then you will have nothing to get the deleted photos back.
Part 2: Recover Deleted Photos from Samsung Galaxy S7/S6/S5
In order to be successfully recover your deleted photos,you will certainly need help. We now recommend you use a very famous software : dr.fone - Android Data Recovery.
dr.fone - Android Data Recovery has its reputation for being a wonderful tool for anyone who wishes to recover lost or deleted files. It is able to provide you with numerous type of files, including photos, and the results are always perfect. This product has been trusted by the majority of customers and by far it has been an ideal tool for recovery deleted files.
There are many reasons why you should purchase dr.fone - Android Data Recovery to get your deleted photos back.
World's 1st Android smartphone and tablet recovery software.
Recover Android data by scanning your Android phone & tablet directly.
Preview and selectively recover what you want from your Android phone & tablet.
Supports various file types, including WhatsApp,Messages & Contacts & Photos & Videos & Audio & Document.
Supports 6000+ Android Device Models & Various Android OS.
3981454 people have downloaded it
· Step 1: Visit the link: https://www.wondershare.com/android-data-recovery.html to download the latest version of Wondershare dr.fone for Android into your computer. Install the program and then run it to start working.
· Step 2: Connect your Samsung with your computer to begin the process. You will be asked to wait for some seconds until the computer has already detected your Samsung.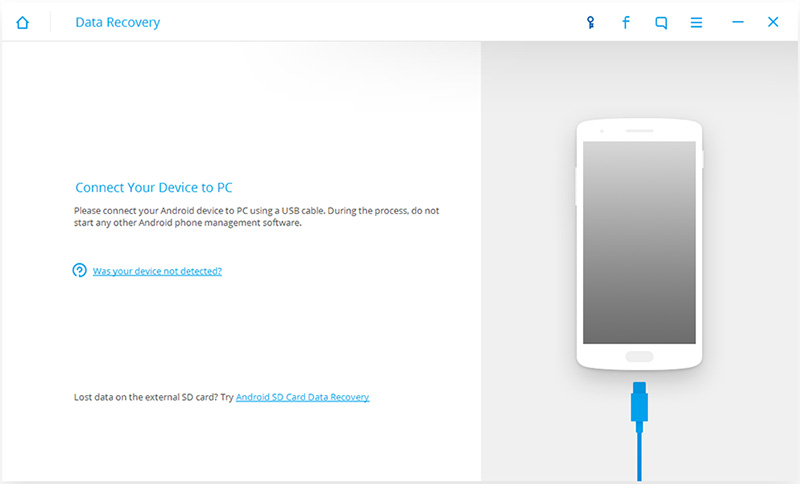 · Step 3: You are wisely advised to debug your Samsung before scanning process so as to get rid of any unwanted things. This step also enhances the result of your restoring, too. Read the instructions on the screen carefully and follow them.
· Step 4: In the next screen, you will be requested to check if your Samsung's battery is at least 20%. This is to guarantee the result and function of your Samsung during the scanning process.Once you have done it, click on the "Start" button to allow the software to scan your smartphone.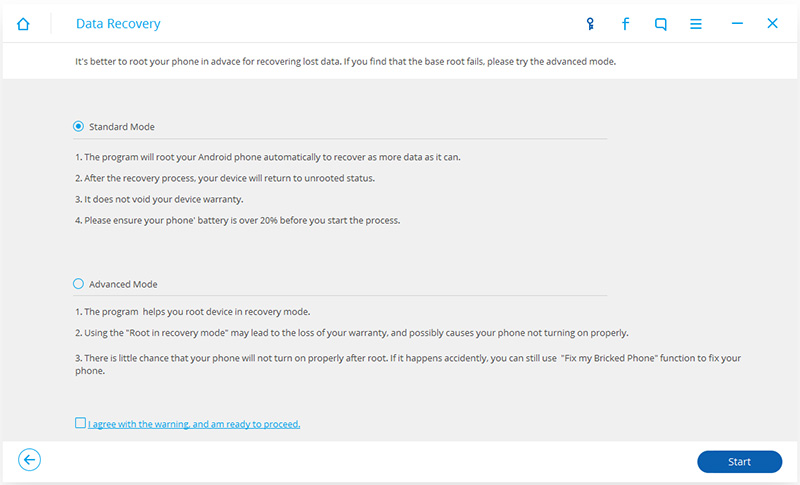 · Step 5: The scanning process will take some time due to your request. After everything is done, you will see a list of deleted files, including your photos, appear on the screen. Put a tick on the photo you want to recover and then press the Recover button. Repeat it until you have found all you need.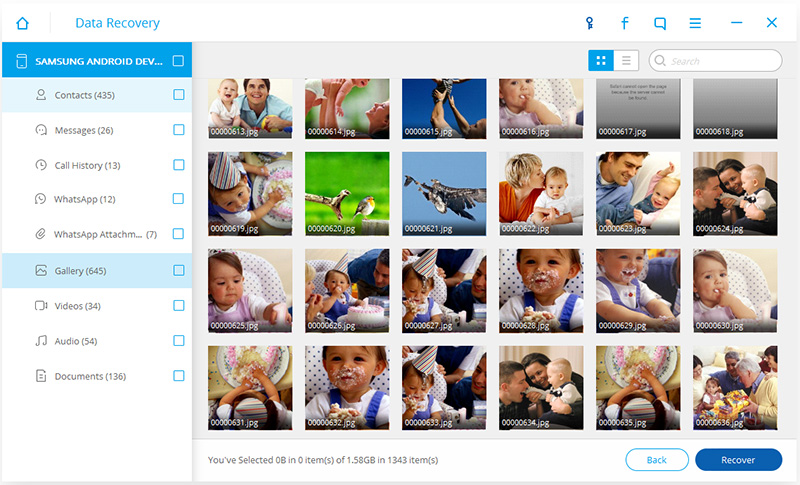 In the end, you will be surprisingly pleasedat the results you have gained from the software. All your deleted photos have been successfully recovered without any harm, the quality is still ensured and the speed is more than perfect. Now bear in mind that all these files will be stored in your computer. You can copy them from their current location and then transfer back to your Samsung smartphone if you want to. Now this time, be a little bit more careful so that you can keep your photos safe and sound.
1. Samsung Photo Recovery

2. Samsung Messeges/Contacts Recovery

3. Samsung Data Recovery
>
How-to
>
Tips for Different Android Models
> How to Recover Deleted Photos from Samsung Galaxy S7/S6/S5/S4/S3