Is The New Apple iOS 14 Just Android In Disguise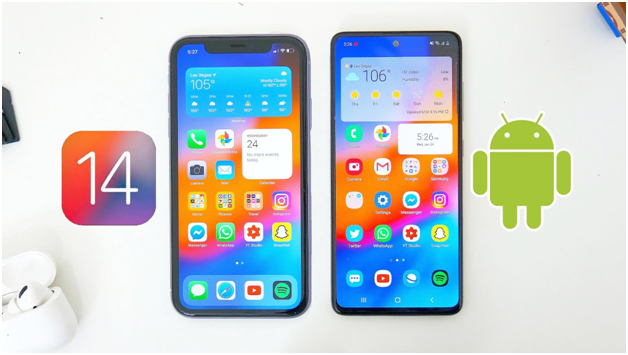 Every year, the tech giant - Apple introduces a new software update for its much-loved iPhone. For 2020, this new major update is called iOS 14. Set to be released in Fall 2020, iOS 14 was previewed during the World Wide Developer Conference (WWDC) that held in June.
Though iOS users are quite excited with this new release, the internet is flooded with questions, like "Is iOS14 copied from Android," "iOS better than Android," "Is iOS 14 just Android in disguise," or alike. You may also ask about complete flutter development build 14 iOS and Android apps.
In this post, we are going to take a closer look to the new Apple iOS 14. Hopefully, by the end of this post, you would be able to answer this question yourself and to many others. It will also compare iOS to Android so that you can decide easily.
Let's get started:
Part 1: What Is the new features in iOS 14
Apple iOS 14 is touted to have many new and exciting features. It is going to be Apple's biggest iOS updates, introducing major new features, Home screen design upgrades, updates for existing apps, major SIRI improvements, and a lot more tweaks to streamline the iOS interface.
Here are the top features of this updated iOS software: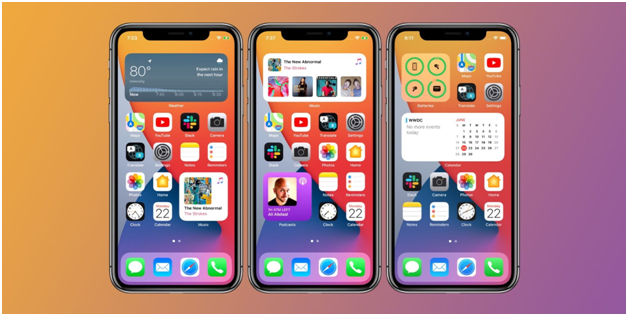 The new Home Screen design allows you to fully customize your home screen. You can incorporate widgets and hide entire pages of various apps. The new App Library with iOS 14 shows you everything at a glance.
Now, widgets provide more data than ever before. You can stack ten widgets on one another to utilize the screen space in a better manner. In addition, there is a SIRI Suggestions widget. This widget uses an on-device intelligence to suggest actions according to your iPhone usage patterns.
Apple iOS 13 added new translation capabilities to enable SIRI to translate words and phrases into multiple languages.
Now, in iOS 14, these capabilities have been expanded into a standalone Translate app. The new app supports about 11 languages for now. These include Arabic, English, German, French, Mandarin Chinese, Japanese, Italian, Korean, Russian, Portuguese, and Spanish.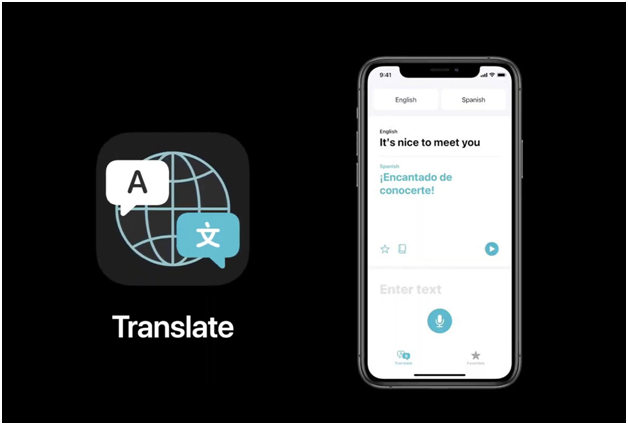 Incoming phone calls on your iPhone no longer take up the entire screen. You will see these calls only as a small banner at the top of the screen. Dismiss it by swiping up on the banner, or swipe down to answer the call or to explore more phone options.
The same also applies to FaceTime calls and third-party VoIP calls as long as the app supports the compact call feature.
HomeKit on iOS 14 will have several useful new features. The most exciting new feature is Suggested Automations. This feature suggests helpful and useful automations users may want to create.
A new visual status bar on the Home app provides a quick summary of accessories that require users' attention.
With iOS 14 upgrade, Safari gets faster than ever before. It delivers two times faster and better JavaScript performance compared to Chrome running on Android. Safari now comes with a built-in translation feature.
The password monitoring feature watches your password saved in iCloud Keychain. Safari also comes with a new API that enables users to translate existing web accounts to Sign in with Apple, while providing added security.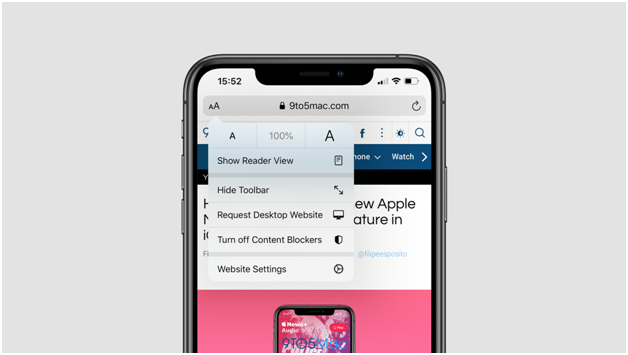 Your chats on iOS now become more interactive and interesting. Apple iOS 14 comes with new hairstyles, eyewear, age options, and headwear for Memoji. In addition, there are Memoji with masks and strickers for hug, blush, and first bump. So, iOS wins in the iOS better than Android debate.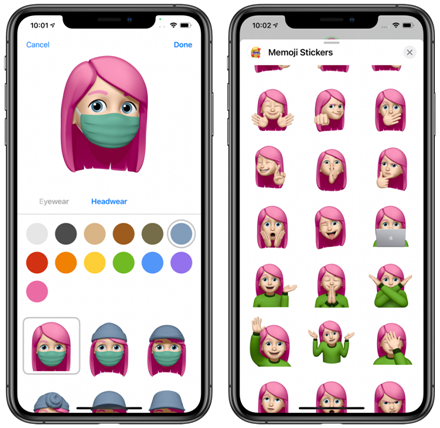 Some other awesome features of iOS14 include Picture in Picture, SIRI and search update, inline replies, mentions, cycling directions, EV routes, guides, and the list goes on.
Part 2: Difference between iOS 14 and Android
Software platforms typically follow a particular eternal cycle: iOS copies Google's good ideas in its next versions, and vice-versa. So, there are many similarities and differences as well.
Now, both Android 11 and iOS 14 are out. Apple's iOS 14 is all set to roll out this fall while Android 11 will take a bit longer to become widely available. Still, it is worth comparing both operating systems. One major difference comes from complete flutter development build 14 iOS and android apps. Let's take a look: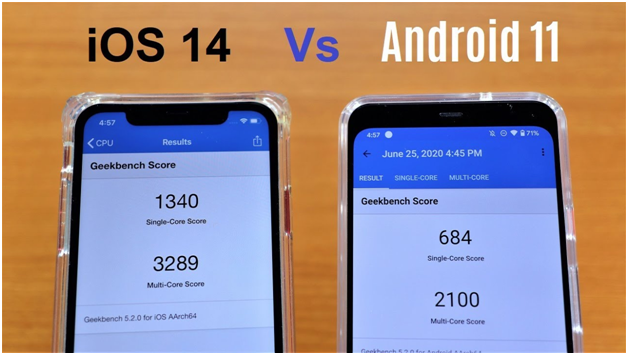 Home screen in the newest Android is almost unchanged except from the new dock that shows some suggested and recent apps. On iOS14, the home screen is reinvented with the widgets on the home screens.
If you compare iOS to Android, iOS 14 utilizes the same recent apps setup while Android employs a recent apps' view that's not much informative.
One of the biggest changes in Android 11 is the music player widget. You will find this widget in the quick settings menu. It saves some visual free estate and looks swell. On the other hand, iOS 14 is unchanged in this context, aside from the new toggles.
When it comes to Settings menu, there is no major change. Both Android 11 and iOS 14 employ different shades of dark gray for dark mode. The bonus with iOS 14 is that there is an automatic wallpaper diming for some stock wallpaper.
When it comes to iOS vs Android, Apple's iOS 14 has an app drawer to accommodate all. In this drawer, you can also keep the apps that you don't want to delete but don't want them your home screen either. Like previous versions, Android 11 also has an app drawer.
Moreover, iOS 14 will allow users to select their own default browser and email apps, instead of using Safari and Mail. It now has a new discreet SIRI view. Here, a voice assistant appears as a tiny icon on the home screen, instead of taking up the entire screen space.
In addition, iOS offers a lot of additional features and support for third-party apps. For instance, if you are an iOS user, you can install many useful and reliable apps like Dr.Fone (Virtual Location) iOS for location spoofing. This app lets you access a lot of apps such as Pokemon Go, Grindr, etc, that might otherwise be inaccessible.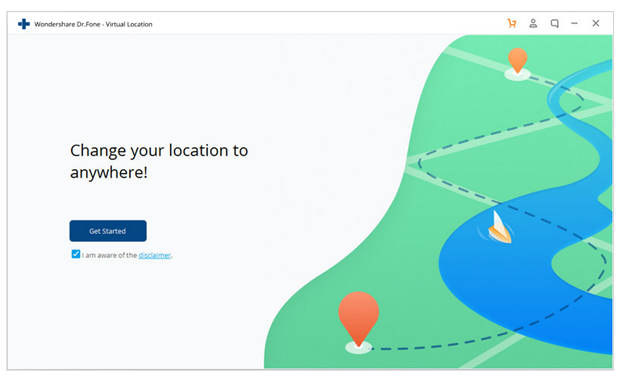 Part 3: How to upgrade iOS 14 on iPhone
If you want to try out the new tweaks and features in iOS 14, you are in luck! Simply download the beta versions of the software and get yourself familiarized with all new improvements of the iOS.
Before upgrading your iPhone to iOS 14, check out this list of compatible devices:
iPhone XS and XS Max,
iPhone 7 and 7 Plus
iPhone XR and iPhone X
iPhone SE
iPhone 6s and 6s Plus
iPod touch (7th-generation)
iPhone 8 and 8 Plus
iPhone 11: Basic, Pro, Pro Max
Step 1: Back Up your iPhone
Make sure you create a backup of your iPhone settings and contents. Here are step-by-step instructions to do so:
Plug your iPhone into your Mac.
Click on the Finder icon in the Dock to open a Finder window.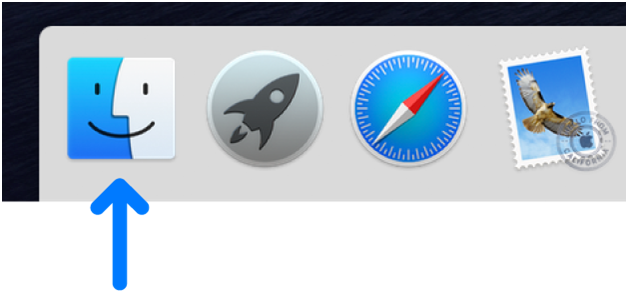 Tap the name of your iOS device in the sidebar.
When prompted, tap Trust on your device, and enter your passcode.
Go to the General tab and click the circle next to "Back up all of the data on your iPhone to this Mac" option.
To avoid encrypted backup, tap Back Up Now in the General tab.
Once finished, go to the General tab to find the date and time for the last backup.
Step 2: Install iOS 14 Developer Betas
For this, you need to sign up for a developer account that is a paid membership. After that, follow these instructions:
On your iPhone, go to the enrollment website of Apple's Developer Program.
Tap the two-line icon and choose Account to sign in.
After signing in, tap the two-line icon again and choose Downloads.
Tap Install Profile under iOS 14 beta.
Click on Allow for downloading the profile and then tap Close.
Launch the Setting app and select Profile Downloaded under your Apple ID banner.
Tap Install and enter your passcode.
Tap Install to agree to the consent text, and again tap Install.
Click on Done, and go to General.
Tap Software Update and then Download and Install.
Finally, tap Install Now to download the iOS 14 Betas on your iPhone.
Part 4: Downgrade iOS 14 if you are regret to Upgrade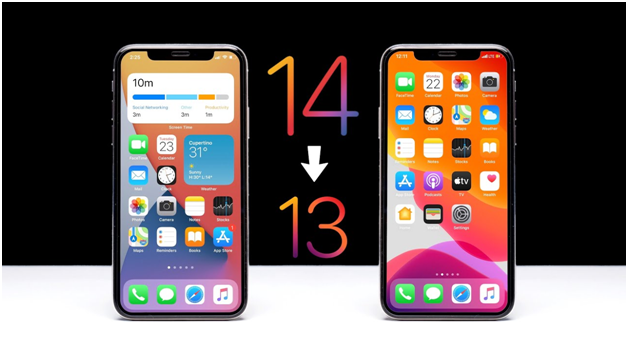 Early releases of iOS 14 can be buggy, making you to decide to downgrade the software. You may find issues like some apps not working as expected, device crashes, poor battery life, and lacking some expected features. In this case, you can restore your iPhone to the previous iOS version.
Here is how you can do this:
Step 1: Launch Finder on Mac, and connect your iPhone to it.
Step 2: Set up your iPhone into recovery mode.
Step 3: A pop up will ask if you want to restore your iPhone device. Click Restore to install the latest public release of iOS.
Wait while the backup and restore process completes.
Note that entering into the recovery mode varies depending on the iOS version you are using. For instance, for iPhone 7 and iPhone 7 Plus, you have to press and hold the Top and Volume buttons at the same time. On iPhone 8 and later, you have to press and release the volume button quickly. After that, press and hold the Side button to see the recovery mode screen.
Conclusion
It is true that Apple iOS 14 has borrowed a notable amount of features from Android. But, as mentioned above, that is an eternal cycle that software platforms, including Android and iOS, follow.
So, we can't say that new Apple iOS 14 just Android in disguise. Putting aside this debate, once all potential bugs with iOS 14 are fixed, iPhone users are sure to enjoy a lot of exciting features that will put their life at ease and fun.
Other Popular Articles From Wondershare
iPhone Managing Tips

How to Use iPhone Tips

Other iPhone Tips