Why Is There No Matches After Using Tinder Passport?
Recently, Tinder Passport users have been reporting regarding Tinder Passport No Matches on Reddit and other forum sites. If you are experiencing the same problem and wondering why it's happening to you, then we have the answers you are looking for. The foremost thing you should do is differentiating whether you are getting fewer matches than before or getting no matches at all. If the problem is the later one, then we got you covered in this guide.
Part 1: Reasons That There Is No Matches After Using Tinder Passport:
Before we get into the part where we resolve Tinder Passport getting no matches, let us understand the reasons why this problem arises in the first place. Here are the major reasons you've been getting no matches at all, even after having Tinder Passport.
The tinder passport does not work, you need pay for it or find an alternative.
You've been swiping right on all the profiles for a long time. When you swipe right a lot, Tinder's algorithm lower your score and eventually render your profile nigh invisible.
When your profile has empty space in its bio, Tinder doesn't consider you a person actually willing to find a match. An empty bio serves as an additional roadblock.
Your profile is unattractive, but of course, it doesn't mean you are. Try to improve your profile with pictures and interact with your matches.
Chances are there that your account is bugged due to some reasons, and as a result, you might need to reset your account.
Another possible reason is your nature of being too picky. If you've been dismissing all the people who have swiped right on you, then at some point, Tinder will run out of matches for you.
You recently tried to reset your account, and the process went wrong, resulting in Shadowban.
If you use a location spoofing app to change your location, then you can also get blocked on Tinder.
In case your profile is reported as a spammer too often, it can also lead to problems. However, in this situation, Tinder will delete your profile instead of taking any other action.
From the above points, we can see that there are numerous things you can do to upset the Tinder algo of matching profiles. But don't worry, there are several ways you can resolve this problem too.
Part 2: Common Ways To Solve The Problem:
While some people are wondering "can matches see I'm using Tinder Passport," others are worrying that they don't have matches. So, here are the common ways to solve this problem as soon as possible.
1: Reset Your Tinder Account Successfully-
The first action you must take if you are not getting any matches on Tinder is resetting your account. Open Settings > Delete Account > Uninstall Tinder app from your phone.
When you delete the account, ensure that you unlink your Tinder account from social media platforms as well.
2: Join Tinder With A New Profile:
It can be a helpful tip if you are not getting matches on Tinder. Whatever the reasons are for the problem to arise in the first place, delete your old profile and sign up using a new Google Play account or Apple ID.
3: Try Improving Your Desirability Score-
Like we mentioned in the reasons, if you swipe right on all suggestions you get, Tinder rule book lowers your desirability score. So, the useful advice is to consider swiping right more selectively. Other than that, you need to get more active on Tinder to ensure that you are still interested in dating someone.
Apart from this, to improve your score-
Avoid posting selfies as they might make you look bad
Post pictures with good lighting to ensure that your facial features can be seen
Express your personality instead of expressing your physical features
People like a person who is funny, kind, attentive, and smart. All these qualities will certainly give a boost to your profile.
4: Avoid Using Unreliable Location Spoofing Tools:
Another action to be cautious of when you are using Tinder Passport is not to use location spoofing tools that are untrustworthy. If you like being matched with people from other cities or countries, there are many reliable tools available in the market, such as dr. Fone Virtual Location app that will allow you to change your location safely.
If you pay attention to your profile, you will find out why Tinder Passport says no matches for your profile. After recognizing them, getting rid of the problem will also be easy.
Part 3: Better Alternative To Change The Location On Tinder:
Many Tinder Passport users utilize tools to change the location on Tinder. However, if you are thinking of doing that, then at least be certain that you use a tool that doesn't get your profile blocked. Dr. Fone Virtual Location app allows the users to explore other regions while you are looking for matches on Tinder or play games like Pokemon Go.
The software is available for both Android and iOS users. To use this tool with your Tinder Passport account, follow the step below:
Step 1: Download and install dr. fone Virtual Location app on your system and launch it. In the home interface, you will see the dr. fone toolkit. Select the Virtual Location tool, connect your phone, and on the next screen, agree to the terms of use and hit the Get Started button.
Step 2: Now, you will be directed to a map screen that has a search box on the top left side. In the search box, you can enter the address or GPS coordinates for the location you want to switch. Before that, make sure that you mark your current location.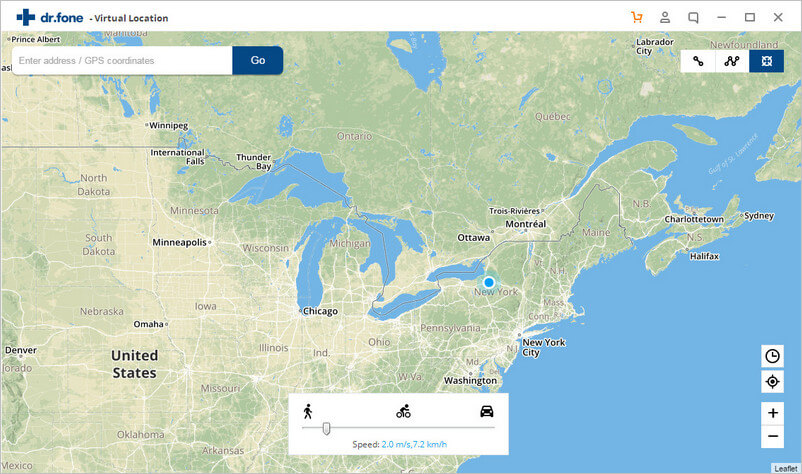 Step 3: Start searching for the location and select any one of them from the list. Then tap on the "Move Here" option and dr. fone will change the location in your device.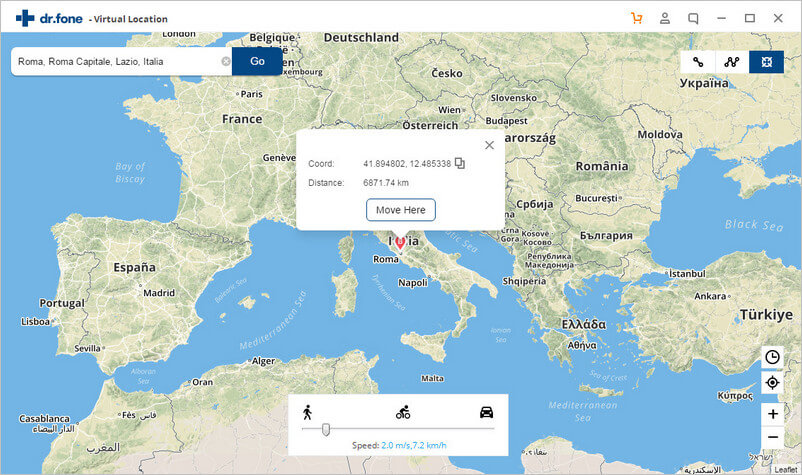 Finally, you can stay in your home and still have a look at the Tinder profiles of singles from another city.
Conclusion:
Tinder is a platform that genuinely takes action against the profiles that doesn't seem appropriate. So, if you are not indulging in your Tinder Passport profile, it is evident that Tinder algo will consider you a bot and block your account. Also, avoid using an unreliable app to change your location when dr. Fone Virtual Location is here to assist you. With this tool, you can expand your reach and meet singles from any corner of the world.
Pokemon Go Hacks
Tinder Passport