5 Apps to Help You Get Free In-APP Purchase on Android without Root
There are millions of apps available on the Google play store to download videos, play music or online shopping or any other category. These apps are making your life very simple that is really true. These all apps are not available for free. Some apps needs you to pay something and some are free. Some apps are there with free and paid both versions but with some limitations. So if you are looking to buy paid apps for free then you are at the right place. We will tell you about the top 5 apps to help you get free in app purchase on android without root easily.
Disclaimer: Well this is illegal to hack in app purchase because app developer do lot of efforts and spend lot of time to develop a single app and that app is the only way of their earning. This article is just for information purpose only and we will not take any responsibility for the illegal activities done by you after reading this article.
1. CreeHack
CreeHack no root is an android app allows users to hack android games without rooting android mobiles. This app enables you to hack android games and increase your coins, jewels and money without any limit. This app is there with a very simple user interface and allows you to hack in android games easily with no root. You can easily surprise your friends with the knowledge of the games by using this app.
Features:
• Allows you to increase gems and gold without any limit.
• Very small size app that's why install fast and work fast.
• Hack mostly every game.
• No root games hack app.
• Able to Bypass app payments
Download link: http://www.hackcave.net/2015/11/creehack-hack-in-app-purchases-on.html
Rating

Review:
CreeHack site app site was registered before 1 year 9 months ago and it is working perfectly and no problem in using this site.
Best One Click Rooting Software. Completely Free.
Simple process, hassle free.
Supports over 7000 devices.
Highest success rate in the industry.
100% safe and secure.
3981454 people have downloaded it
2. AppSara v1.0
AppSara app is used for in App purchases and hack your android mobile games with no root. This app is very easy to use and more than 50+ android games are supported by this app to hack in android app purchases. You can check the list of supported games on the link and if you are looking to hack in these supported games then you can hack in the app purchases with no root easily. But if you game is not there in the supported list of games then you need to root you android device first.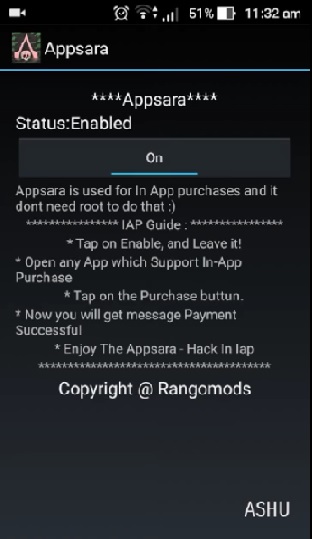 Features:
• Hack in app purchases
• Android games hacking is possible and supports 50+ android games.
• No root required to hack in supported games.
Download Link: http://ammapettai.com/2015/07/hack-in-app-purchases-android-no-root.html
Rating:

Reviews:
This app is good but there is no English support available from the app.
3. LuckyPatcher
LuckyPatcher app is also an android app to hack in app purchases without rooting your mobile. This app enables you to hack android Google play store and download paid apps on your android mobile for free. You can easily remove license from any application and game. There is one issue that is doesn't work on the online game because to hack an online game you need to hack server of online game that is really hard and impossible.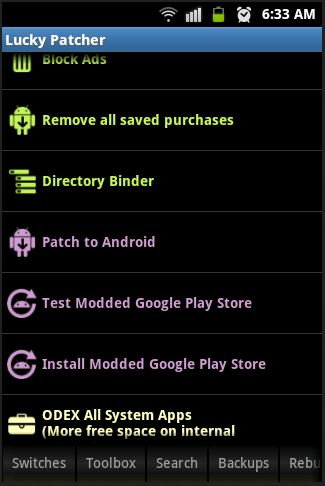 Features:
• Hack in app purchase and supports any android app except online games.
• Allows you to hack remove license of app and games.
Download link: https://luckypatcher.co/
Rating:

Reviews:
This app is totally worst and I am laughing on the person who made it because can't open it after installing.

4. Leo PlayCard
LeoPlay card is the best alternative app of the above apps. This app is working perfectly on so many apps like pinball HD, Fool etc. There is an inbuilt free play card available in the app just like CreeHack and Lucky Patcher app. You can use this inbuilt card on Google play store. There is one more reason of saying this app best that it doesn't requires you to root android mobiles. There is one bad news about the app that now this app will not work on "Gunship Battle" game because of changed security mechanism.
Features:
• Hack in app purchases with no root.
• Allows you to bypass any app payments easily.
• Mostly all apps are supported which are supported by CreeHack and Freedom.
• Hack Unlimited Apps for free.
Download link: https://onhax.me/leo-playcard-v1-hack-in-app-purchases-on-android-no-root-is-here-latest
Rating:
Review:
As per app description they said it can work on all games but it is not possible to hack in app purchases in the game Clash Royale using Leo Playcard.
5. Freedom
Freedom apk is also a good app in the category of hack in app purchases for free. This app enables you to get free coins, jewels, level and lives for free of cost and save your hard earned money. Freedom apk v1.5.3c is the latest version of this app. This app is also available for marshmallow and other android versions. This app can helps you to purchase so many things which requires you to pay amount in cash.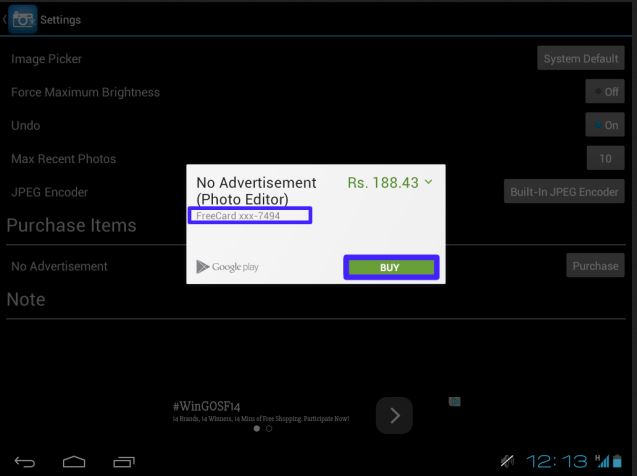 Features:
• Able to hack in app purchases for free and no root required.
• Allows you to save your lot of earned hard money by hacking in paid apps.
• Allows you to earn lives, jewels and coins for free of cost.
• Available for android marshmallow as well.
Download link: http://apkreal.com/freedom-apk/
Rating

Review:
This person is using this app on the castle clash and go purchase successfully but getting successfully purchase also they didn't received gems.

>
How-to
>
Frequently Used Phone Tips
> 5 Apps to Help You Get Free In-APP Purchase on Android without Root