Things you need to know about the Samsung Galaxy Note 8
This article guide focuses on all the things you need to know about upcoming Note 8 from Samsung. The article will cover all the essentials such as design, specs and few other important topics that are must know for Note series lovers.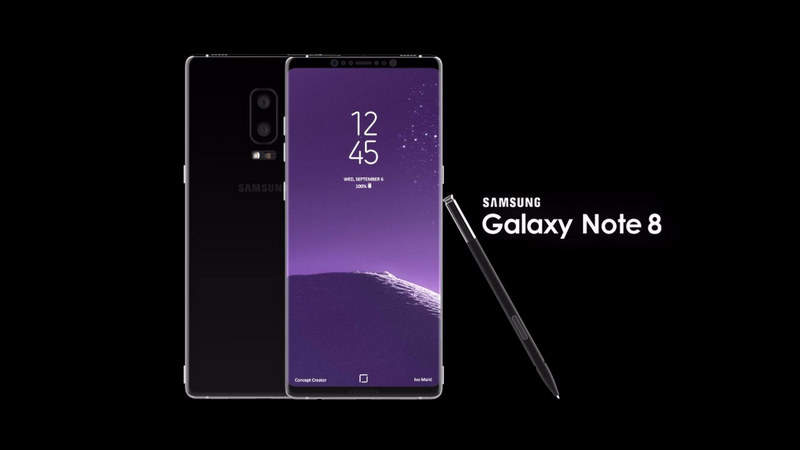 Samsung Galaxy Note 8 Release Date.
Much awaited Note 8 will be available soon for users all over the world, it has been confirmed that note 8 will be launched on 23th August. Although there have been many renders claiming to be Note 8 authentic design but recent renders appear to give more accurate description about the how the Note 8 device is going to look like.
The event is expected to be held In New York city, so it is confirmed that Note 8 will be announced at Berlin's IFA tradeshow where it was previously expected, So Samsung will release the newest member to galaxy note on august 23th.
Samsung Galaxy Note 8 Design.
Note 8 will definitely have a glass and metal built just like S8, Samsung infinite display will stay on Note 8. The phone will have curved glass from front and back with minimum bezels. It is also rumored that the camera will have a slight bump but, it's not confirmed. Company recently tweeted that the Note 8 will be loaded with the new Exynos 8895 processor which for some is a great news. The physical home button will be removed and Note 8 will feature pressure sensitive screen just like S8.
It is also expected that Note 8 will feature Dual Camera on the back and S Pen on the base of the phone. According to the latest designs Samsung is not going to change the placement of the fingerprint sensor, although it had been considered the only flaw in S8 from design perspective. In Short Note 8 design may not have much difference in looks from S8 plus but you never know there are rumors about the finger print sensor embedded on the from glass but we don't see that coming in Note 8.
Samsung Galaxy Note 8 Specs.
Note 8 will feature a very beautiful Super AMOLED infinity display with the aspect ratio of 18.5:9 and it is confirmed that the device will have a 3840x2160 resolution. The device will be loaded will 2 processor variants, Qualcomm's snapdragon 835 chip or Exynos 8895 processor. Note 8 will have 6GB of ram and will definitely perform better than most of the flagship phones in the market. Note 8 will also feature Bixby AI assistant although it is not confirmed that will there be a separate button for Bixby like in S8. The device will feature IP68 certification which is a confirmation that the device will be water and dust resistant.
For storage Note 8 will be released with the standard built-in storage of 64 GB but there will be microSD expansion slot in the device. For the camera, it has been confirmed that the device will have a dual lens camera already seen such a feature on the iPhone 7 Plus, the Huawei P10, and the LG G6, so Samsung is definitely going to be considering dual cameras at the very least and according to analysts it will be much better from the iPhone 7 Plus's camera Samsung Note 8 will be able to take wide angle pictures with great quality front camera will also be top notch resulting in improved iris scanner. Note will definitely support C type fast charging and wireless charging support. About the software the device is expected to be released with Android Nougat and will feature Samsung's very own latest UI which has liked by many of the Samsung users.
Samsung Galaxy Note 8 Battery Safety.
After the global recall for the note 7 device due to battery explosions, Samsung has dedicated much of the time in battery testing for note 8 and Samsung understands that safety of their customer is the top priority. It is not easy for the users of note 7 to forget the battery issue, but Samsung has assured that it is putting the batteries through extreme testing followed by a comprehensive inspection. Note 8's battery will be safer than ever due to extreme testing and quality batteries.
Samsung Galaxy Note 8 Pricing.
When note 7 came it was priced around 570 pounds and recent S8 plus was priced around 780 pounds and from this we can presume that note 8 will be costly around 900 pounds.
Samsung Galaxy Note 8 Summary.
For the summary, all you need to know that Samsung will definitely take features from the recently released S8+ such as beautiful infinity display and will have the latest Snapdragons chip we will also see improvements in fingerprint sensor and iris scanner. Since this is a device packed will all premium hardware and features it will be priced high. But we can bet it will be worth it only time will tell, note 8 will be released officially on 23th august stay tuned for more updates.
Samsung Galaxy Note 8 Transfer.
If you are planning to buy Note 8 then you must have a tool to transfer your contacts, messages, pictures, music and videos from your old device to your new Note 8 device. dr.fone - Phone Transfer is a tool you need to perform all these actions, dr.fone - Phone Transfer allows you to transfer the data from any device regardless of the operating system. Mobile Trans is recommended by the professionals because it is efficient and has a user-friendly interface. With dr.fone, you can transfer your data with zero risks and in just one clicks. It supports 8000+ devices and you can connect multiple devices at once and MobileTrans will detect the devices. It is truly a software you can rely on anytime. dr.fone is trusted by many clients because of extensive customer support and reliable features list.
Its distinct and reliable features, easy to use interface and backup/restore data option make it the best and most efficient phone to phone transfer tool.
Transfer Files from Old Device to New Galaxy Note 8 in 1 click!
Easy, fast and safe.
Move data between devices with different operating systems, i.e iOS to Android.
Supports iOS devices that run the latest iOS 11
Transfer photos, text messages, contacts, notes, and many other file types.
Supports over 8000+ Android devices. Works for all models of iPhone, iPad and iPod.
3981454 people have downloaded it
Samsung Tips
Samsung Tools

Samsung Tool Issues

Transfer Samsung to Mac

Samsung Model Review

Transfer from Samsung to Others

Samsung Kies for PC
>
How-to
>
Tips for Different Android Models
> Things you need to know about the Samsung Galaxy Note 8