A Complete Guide to Backup Samsung Galaxy S8/S8 Edge
Yes! The wait is finally over. Recently, Samsung unveiled two of its most awaited devices of the year – Samsung Galaxy S8 and S8 Plus. Though the phone would have a global release on April 21, it is already up for pre-orders and can even be bought in a few parts of the world. If you are also going to be a proud owner of this amazing device, then you have come to the right place. No one likes to lose their data. Taking a Samsung S8 backup is something that you should not ignore. In this post, we will make you familiar with a few key specifications of Samsung S8 and S8 Edge and will also teach you how to backup Samsung S8.
Part 1: Samsung Galaxy S8 Review
Presently, Samsung S8 is one of the most trending topics in the global tech scene. With a 5.8-inch screen and a Corning Gorilla Glass back panel, the device boasts a remarkable design. Though, it is more than just a good looking phone. Samsung S8 is packed with plenty of high-end features.
It runs on Android Nougat 7.0 and has a Qualcomm MSM8998 Snapdragon 835 chipset (for US models). With 4 GB RAM and 64 GB internal memory, it also provides a way to expand its memory to 256 GB. For all the shutterbugs out there, the device comes with lots of features. It has a 12 MP primary camera (with f/1.7 aperture) and an 8 MP secondary camera.
With a USB Type-C connector and a fingerprint sensor at the back, it also has plenty of new things to offer. The phone is IP68 water-resistant, so that you can take it outdoors without any trouble. It also has an Iris sensor to provide an added security to your device. It has a resolution of 1440 x 2960 pixels (~570 ppi pixel density) and a 3D touch (for the home screen).
There are plenty of features on S8 that you won't find anywhere else (even an iPhone). It will give a desktop-like experience to you with its infinite display features. Not just fast charging, it also has a provision for wireless charging. The collaboration of Face recognition and Iris scanner will work wonders for you. Bixby is the latest addition which has got everyone talking.
Samsung S8/S8 Edge has both – Bixby and Google Assistant. Bixby is Samsung's own virtual assistant (much like iPhone's Siri). The device gives its users a way to choose between their preferred assistant. Not just that, it has also been extended to Bixby vision. It is an object recognition system that adds another layer to the assistant, by letting its users "see" their world in a different way.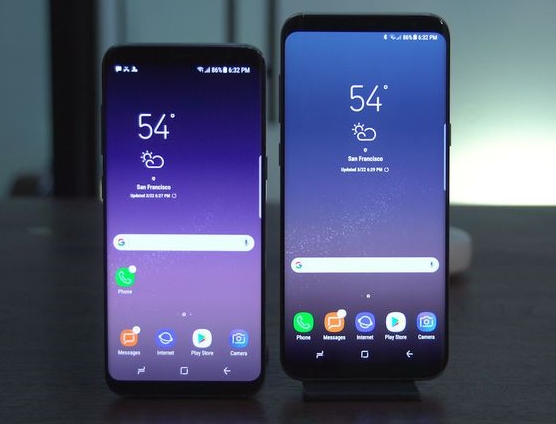 The phone runs on a Li-Ion 3000 mAh battery (non-removable) and features a thickness of just 8mm. Needless to say, it will certainly be a treat for its users. Now when you know almost every major thing about the new S8, let's process and learn more about Samsung S8 backup restore process.
Part 2: Why should we backup Samsung S8/S8 Edge regularly?
Losing your phone's data is certainly one of the worst things to happen. If you believe that taking a Samsung S8 backup is not your cup of tea, then you need to think again. Here's why you should backup Samsung S8 contacts and more regularly.
The future is uncertain. You might end up losing your device or it can even get stolen by someone. If you have already taken a backup Samsung S8, then you would at least have your data.
All it takes is one bad update or download to corrupt your software. Even though S8 has pretty good security features, it can be damaged and corrupt your data files.
If your phone gets crashed and you wish to restore it to factory setting, then it would end up deleting your data with it as well. Therefore, it is recommended to backup your files beforehand to avoid such an unforeseen situation.
Your phone can experience a physical damage and the screen can be broken as well. Under such circumstances, you won't be able to access your data.
Your contacts are your lifeline. Without it, you can't get in touch with your friends or family. It is always recommended to backup Samsung S8 contacts so that you can get in touch with your circle in no time.
Now when you know why you should perform Samsung S8 backup restore, let's learn how you can do the same with a single click.
Part 3: How to backup S8/S8 Edge with one click?
dr.fone toolkit - Android Data Backup & Restore provides a hassle-free way to perform Samsung S8 backup. It is a part of the dr.fone toolkit and is already compatible with thousands of Android devices. It provides a reliable way to backup your Samsung device. Since it is compatible with both rooted and non-rooted device, you don't have to worry about its compatibility. With just one click, you can backup Samsung S8 and restore it whenever needed. It can also be used to backup Samsung S8 contacts and other kinds of data files. To do so, simply follow these steps.
Flexibly Backup and Restore Android Data
Selectively backup Android data to computer with one click.
Preview and restore backup to any Android devices.
Supports 8000+ Android devices.
There is no data lost during backup, export or restore.
3981454 people have downloaded it
1. To start with, download Android Data Backup & Restore from its official website right here. After installing it on your system, launch the application to get the following interface. Choose the option of "Data Backup & Root" to access the backup feature.
2. Simply connect your device to the system and let the interface detect it automatically. You would get a pop-up on your mobile screen regarding the USB Debugging permission. Just agree to it in order to continue and click on the "Backup" button.
3. The interface will ask you to select the type of data you want to backup. Simply check your options or select everything if you wish to take a complete backup of your Samsung device. Click on the "Backup" button in order to proceed.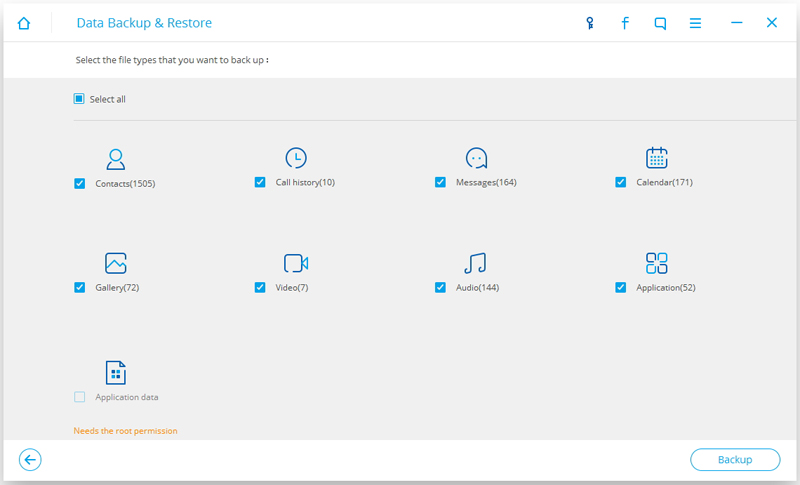 4. Sit back and relax as the interface will start taking a backup of your Samsung device. It will let you know of its progress as well with an on-screen indicator. Give it some time and make sure that you don't disconnect your phone during the entire process.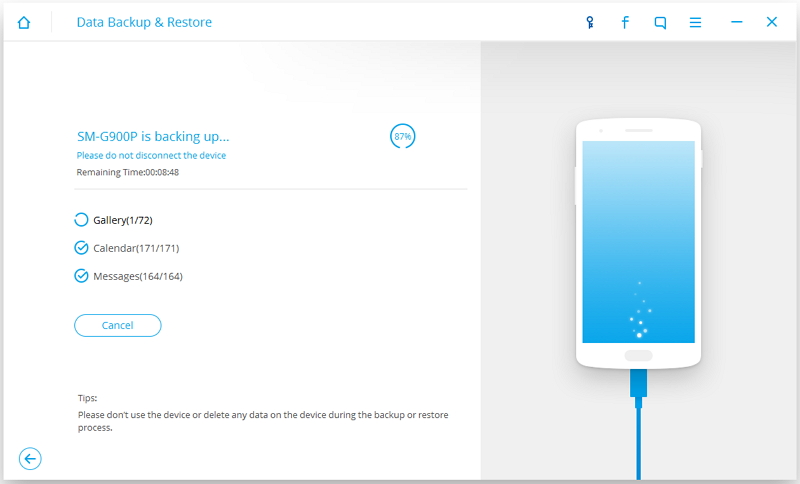 5. After when the interface will take the entire backup successfully, it will let you know with the following congratulatory message. You can click on the "View the backup" button in order to view the most recent backup.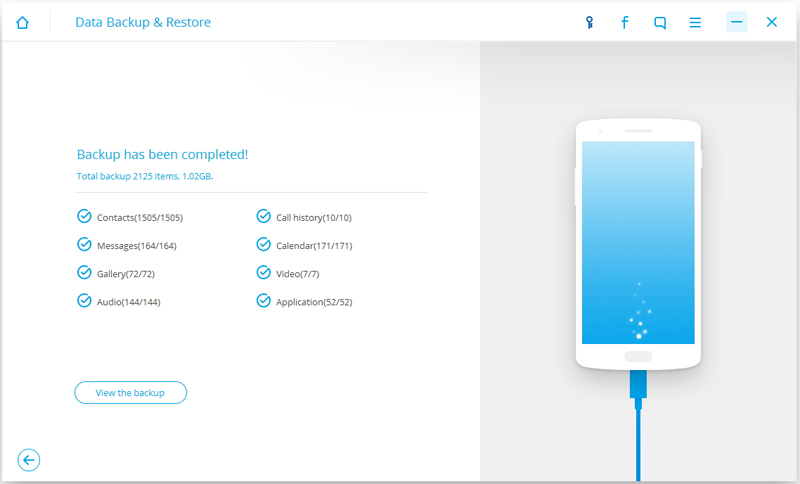 That's it! You can perform Samsung S8 backup restore with a single click with Android Data Backup & Restore.
Now when you know about Samsung S8 backup, you can certainly keep your data safe. Additionally, we have also made you familiar with the benefits of taking regular backup. Don't take any risk and keep performing a timely backup Samsung S8 to make the most out of your device.