How to Use and Download iPogo
Using iPogo is a great way of advancing quickly when playing Pokémon Go. This app comes with a lot of features which enable you to find Pokémon characters, raids, Gyms, Spots, nets and many more. The tool also allows you to teleport, and take part in events that are far from your physical location.
However, the app has quite a lot of challenges when it comes to installing and using it. This article shows you how you can properly install iPogo and use it to advance your gameplay.
Part 1: Must-knows before using iPogo for Pokémon Go easy to ban
Before you use iPogo or any other spoofing apps, there are certain things that you need to know about the practice. The first is that using spoofing apps such as iPogo can lead to the banning of your account. This is because the practice is considered as cheating by Niantic, the developers of Pokémon Go.
Policies regarding the use of spoofing apps has never been very clear. This means that users have found ways in which to go about these restrictions and end up sharing information which gives them an edge over other players.
Niantic has a "Three-Strike Discipline Policy".
On the first strike, Niantic will issue you with a warning and ban you for 7 days. You will be able to continue playing the game, but will be unable to see any remote features for one week.
On the second strike, your account will be closed or banned for a whole month.
On the third strike, your account will be closed for good.
If you think that your account has been banned for no good reason, there is an established appeal procedure which you can use to reinstate your account.
Niantic has used this policy to properly explain why and how your account may be banned for using spoofing apps, so it is a good idea to go read these restrictions properly.
Part 2:Download and install iPogo
There are several ways in which you can install iPogo and have it work properly. Here are some of the best ways to go about it.
Method 1: install iPogo through Over the Air (OTW)
Go to the official iPogo download page and follow these steps below. Note that this is done best when your device is running on a stable Wi-Fi connection.
Step 1: Click on the Direct Install button
Step 2: Once you get the popup window, click on "Install".
Step 3: Now go back to your home screen and wait for the app to complete its installation.
Step 4: Navigate to the following address, "Setting > General >Profiles & Device Management
Step 5: Select the correct profile and then click on "Trust"
Now you will be able to use iPogo properly.
Method 2: install iPogo using Cydia Impactor
Cydia Impactor is a great tool used to install iOS IPA files without having to jailbreak the device. You need to download and install the latest version of Cydia Impactor for Windows or Mac before you attempt to install iPogo using this method.
Step 1: Update or download the latest iTunes version to your computer.
Step 2: Remove the original Pokémon Go app from your iOS device
Step 3: Download and install the .IPA file from iPogo official website. After installation, launch Cydia Impactor.
Step 4: Now connect the iOS device to the computer using the original USB cable that came with it. Once Cydia Impactor detects the device, it will be listed.
Step 5: Proceed and drag the app to the iOS device on Cydia Impactor and drop it. You may also follow "Device > Install Package" and then click on the .IPA file.
Step 6: Cydia Impactor will now ask you for your Apple ID username and password so it can fetch a developer certificate from Apple. It is advisable to use a new Apple ID for this purpose.
NOTE: for those with a 2-factir authorization, you have to set up an app-specific password when you are installing iPogo using this method. Do this by going to appleid.apple.com.

Step 7: Now sit back and wait for Cydia Impactor to proceed and complete the installation.
Step 8: Once it has completed the installation, go to your iOS device and then navigate to "Settings > General > Profile & Device Management.
Step 9: Tap on the Developer Apple ID and then click on "Trust".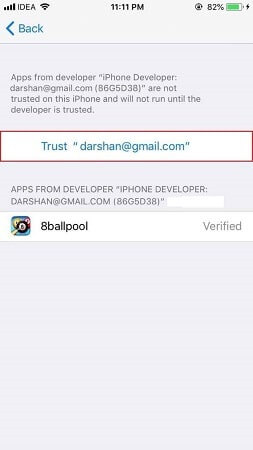 Installation Errors and Solutions
Provision.cpp: 173
This is caused by having an enabled 2FA Apple ID. Visit the apple ID page shown above and then generate a new Id that you can use on Cydia Impactor.
Provision.cpp:81
To clear this error type, navigate to the Cydia Impactor menu and click on "Xcode > Revoke Certificates" This will revoke any old certificates that may be on your device. Now go ahead and reinstall the app as shown above.
Installer.cpp:62
This error is brought about by having another version of Pokémon Go on your iOS device. You must remove the original app as detailed in the installation instructions; removing the app with fix this error.
Method 3: Install iPogo using Signulous
Signulous is a partner of iPogo and is a code signing platform that allows you to install apps on iOS and tvOS. You can also upload and sign your own apps or choose from the library of iOS-certified apps. This is a great way of installing iPogo if you cannot do so using the above methods.
NOTE: You have to pay a $20 per year fee to use Signulous.
Step 1: Go to Signulous and register your device. Now choose the "iOS Code Signing" option
Step 2: Pay for the package, and once done, you will get a confirmation email notifying you that your device has been registered.
Step 3: Access the member Dashboard.
Step 4: Now click on "Register" once more and then create an account for your iOS device.
Step 5: Check your email once more and then click on the activation link that is sent to your email address.
Step 6: Once you have activated the iOS device, go back into your account and check your Member Dashboard again.
Step 7: Navigate to "My devices" and the click on "Setup device". Only use Safari for this operation and make sure that "Private Browsing" is disabled".
Step 8: Follow the prompts, which will ensure that you install a temporary file which is used to link the iOS device to the account.
Step 9: Once you see that your device has been properly set up, proceed and click on "Dashboard".
Step 10: Now look for the iPogo app in your App Library and then click on "Sign App > Install App".
Now iPogo will be installed on your device.
Part 3:Any safer alternative to fake GPS on Pokémon Go
As you can see, installing iPogo on iOS for use in spoofing your location in Pokémon Go can be a challenging and tedious task. Using the app can also get you banned from your account. Thankfully, there is a way in which you can safely spoof your location and not risk getting banned.
The best app that is safe and easy to use is dr. fone virtual location iOS. With this tool, you will be able to spoof your location, capture Pokémon, Attend Raids and Quests and a lot more.
Here is how you use this useful app:
Features of dr. fone virtual location – iOS
Instantly teleport to any part if the map with ease, and also avoid detection by the Pokémon App.
Use the Joystick feature to move around the map and show that you are actually in the area. The Pokémon app will be easily fooled by this.
Use this app to look like you are riding a bus, running or walking across the map. This is a great way for Pokémon to think that you are physically in the area.
This is a great app that works with all apps that require geo-location data such as Pokémon Go.
A step-by-step guide to teleport your location using dr. fone virtual location (iOS)
Navigate to the official dr. fone download site and install it on your computer. Launch the tool and then go to the Home Screen.
Search for the "Virtual Location" module on the home screen and click on it. When it has been launched, connect your iOS device to your computer using an original USB cable. This ensures that data does not get corrupted.
Once your device is recognized by the tool, you can now see your actual physical location on the map. Should the location be the wrong one, navigate to the bottom of your computer screen and click on the "Center On" icon. This will now correct the physical location.
Now navigate to the top part of your computer screen and click on the third icon. Instantly, your device will enter the "Teleport" mode. Look for the empty box and type in the coordinates where you want your device to move to. Now click on "Go" and your device will instantly be shown on the new location on the map.
Check out the image below and see how it would look like if you typed in Rome, Italy.
When your device has been listed as being in the new location, open up your Pokémon Go app and now you will be able to take part in events in the area, capture Pokémon that have been sighted and a lot more.
In order to camp or take advantage of the cool down period, it is best that you permanently move the location to the place you entered. This will give you ample time to take part in activities in the area and also wait for new nests to spawn. To do this, click on "Move Here", and even when you next log in, your location will remain the same.
This is how your location will be viewed on the map.
This is how your location will be viewed on another iPhone device.
In Conclusion
iPogo is a great app when it comes to spoofing your location when playing Pokémon Go. The tool can be used to find Nests, Raids, Gyms, Spawning sites and even Pokémon characters to catch. However, using the app comes with a lot of challenges, starting from a complex installation process up to getting your account banned for spoofing. When you want to safely spoof your iOS device and play Pokémon, use dr. fone virtual location – iOS.
Virtual Location
Reviews about iPogo

iPogo Problem

Change device location

Protect location privacy