iPogo and iSpoofer -The differences you want to know are here
For some time, there has been a lot of controversy about whether to use iPogo or iSpoofer for purposes of spoofing the virtual location of a mobile device when playing Pokémon Go. These are some of the primary tools used by players for this purpose. Each of them has its advantages and disadvantages.
In this article, we look at which of the two is better when it comes to spoofing your device when playing Pokémon Go.
Part 1: About iPogo and iSpoofer
iPogo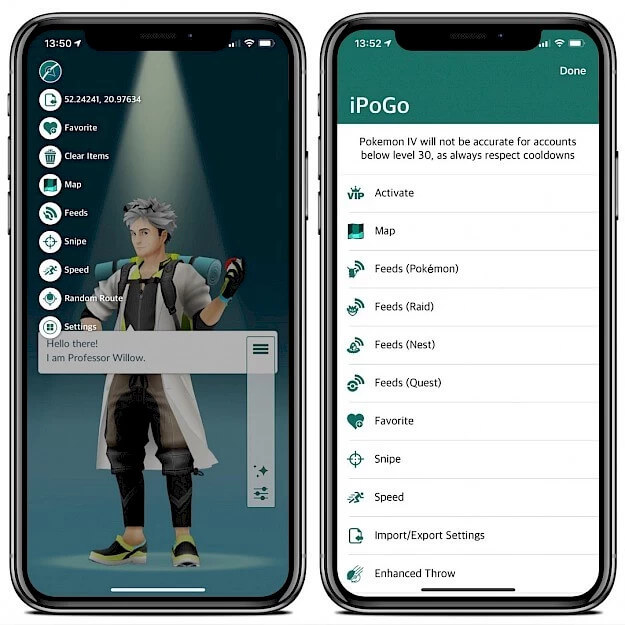 This is a free application that allows you to add special features to Pokémon Go.
Here are some of the features of iPogo:
You get updated news feeds on where there are Raids, Nests, Quests and Pokémon appearances
You can snipe a Pokémon even when you are not in the vicinity where it appears
It gives you a map where you can see areas where events and appearances are for Pokémon Go
You can use the joystick feature to move around the map and also adjust the speed of your movement
You may add routes to your favorite places
It gives you stats and inventory information
It allows you to activate Fast Catch
You can display or hide elements from the main screen to give you more space to play freely
This appellation is free and can be downloaded directly to your iOS device without using your computer
iSpoofer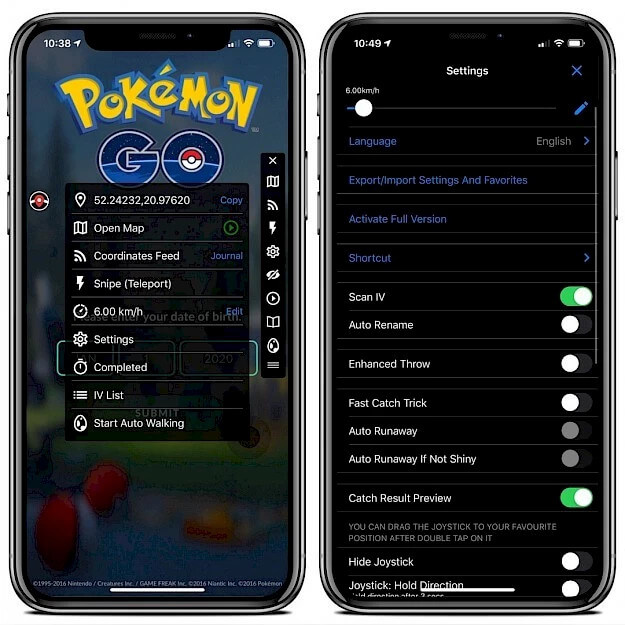 This tool comes in two versions, a free and a premium one. The free version will give you some basic features to use, but if you want to become a serious Pokémon Go player, then you need the premium version.
Here are some features of iSpoofer:
Allows you to move around the map and simulate actual movement without ever leaving your home
It can scan gyms and give you information on the gym slot availability so you can decide which ones to join
You can create patrol routes and it also auto-generates GPS coordinates for routes that you can take to catch Pokémon
It allows you to teleport for free
You get 100 IV coordinates feed
You have a radar that shows you which Pokémon are nearby
Gives you Fast Catch ability
The premium version will cost you
Part 2: Differences between the two tools
Although iPogo and iSpoofer offer you the same basic features, there are some differences between the two apps that you should note. To understand what the two apps have to offer, we shall look at their unique features and also how they differ in their basic characteristics.
The Unique features of iPogo vs. iSpoofer
iPogo
iPogo has two unique features that make it stand out over iSpoofer. The most important is the Pokémon Go Plus emulation feature known as Go-Tcha. When this feature is enabled, Pokémon Go senses that the app is operating as Pokémon Go Plus or it has Go-Tcha connected to the device. When you combine this feature with Auto-walk, GPX routing, you will enable Pokémon to enter into the Pokémon Go Plus mode. This enables you to spin Pokémon stops and automatically capture Pokémon characters. You can do this without unlocking the device.
However, when you use this feature, you will not be spoofing Pokémon, but actually botting it, and this may be detected by Niantic and have banns issued against your account. If you are careful with the way you "walk" and the duration that you bot the app, you will reduce the risk of getting noticed. When you use this feature, you can only throw Pokeballs and not berries.
You may also set up limits for the number of items that you can catch using iPogo. This way, you will be able to purge any excess items that you might need at just a simple push of a button. This is great when you need space once your inventory has been filled up.
iSpoofer
iSpoofer has a customizable bar that appears at all times when you are playing the game. This enables you to access certain features without having to leave the app.
You may customize the buttons that appear on this shortcut bar. This will enable you to access the most desired features without having to go back to the settings screen. iSpoofer also comes with a timer for the cool-down period that you need to stay in a spoofed location. This is great so you can know when it is safe to start catching Pokémon again and not be seen as having spoofed your location. The timer can be placed on the screen at all times or pulled out when you need to check the time; it is all up to you.
iSpoofer also adds new feeds such as "New Lure" and "Nests" which allow you to customize search and filter options for certain nests and new lures.
Now you need to know what is different when it comes to the basic features offered by the two apps.
Installation
iPogo and iSpoofer can both be downloaded directly from the developer sites. iPogo is quite easy to install and works well once you download it, but iSpoofer has revoking issues. You may have to try several ties, but this is usually sorted out within 24 hours. This may be because of the number of resources that iSpoofer offers when compared to those for iPogo.
You may also download and install the .ipa files offered by the developers. You may use Altstore.io to install iSpoofer without the revokes. The iPogo app does not install if you use Altstore.io. iPogo installation issues are complex and you may have to use your Mac and XCode to get it to install properly. If you can afford it, you may have to fork out $20 per year to use Signulous to install and update iPogo.
Application Stability
iSpoofer is much more stable than iPogo, and will rarely crash during gameplay. On the other hand, iPogo can crash 4 to 6 times when playing for a period of only 3 hours. iPogo will crash more times when you enable the Pokémon Go Plus feature. The app also crashes a lot when you visit a lot of Pokémon stops and Spawning sites. This is possibly because iPogo can use up a lot of the system memory resources of the app; this manifests as a lag just before the app crashes.
Virtual Location
Basically, both apps allow you to spoof the location of your device. However, iSpoofer gives you a better estimation of the cool-down time which is based on the last action that you did on the game. iPogo gives you an estimated cool-down period, which does not take the last action in the game into consideration.
App Maps
Both applications will give you the ability to scan on maps based on Google Maps. This means that you do not have to use exact coordinates to spoof your location. Just move across the map and pin your desired location.
iSpoofer loads the map faster than iPogo, but iSpoofer only shows the Pokémon characters, Stops, and gyms within a specific radius. iPogo allows you to move the map around and see the stops, Pokémon characters, and gyms in any area, whether it is near or far. This is a great advantage especially when you want to plot large GPX routes to search.
iPogo also has a better map filter than iSpoofer. Both applications give you the choice of toggling the stops, gyms, and Pokémon characters available, but iPogo adds the ability to filter for specific Pokémon characters, the type of team members who are at the stops and the level of any gym raid that you might be aiming to join.
The map on iPogo has an animated feel to it, while that on iSpoofer is more polished and clean.
GPX Routing

There is a very high-tech auto-routing feature in iSpoofer. This allows you to choose how many stops you want to add to your route, hit the "Go" button and the app will generate the best route for you to follow. iPogo, on the other hand, does create the route for you, only when you ask it to, and you do not see the route on the map. This is similar to walking blindly and hoping to get to the best stops.
When you create a route on iSpoofer, you use the walking controls that are on the map. You can start walking on the map once the route has been generated. With iPogo you simply start walking when you create a random route. You have to add pins to the route manually and you also have to save the route. You also have to go to the setting menu in order to select the saved route and be able to move along it.
Raid, Quest and Pokémon Feed
When it comes to searching for Pokémon, iSpoofer is the best because it adds extra features to the feed. Both apps allow you to get feeds for specific Quests, Raids, and Pokémon characters, but iSpoofer allows you to filter these feeds according to your needs; iPogo only gives you the basic information.
iPogo also does not give information based on what other users have added to the news feed. Sometimes, you will get a "No Results Found" notification when hunting for specific Pokémon. When you use iSpoofer, you get updated information based on what other users have added about specific sites. iSpoofer also gives you information on "Hot" Raids, where other users are currently located or have just finished using. This is an important feature, especially where there is a Legendary Pokémon which may require the concerted effort of many players.
You only get updated information on the iSpoofer map, and the feds are for a specific area. iPogo requires you to scan every feed using a button, which may be a time-waster.
Nearby Pokémon Scan Feed
Both apps will give you the ability to check on nearby Pokémon. This appears as a floating window, which allows you to see the nearby Pokémon and you simply have to click on the Pokémon to walk towards it. iSpoofer allows you to disable the window and add it as a button in the shortcut menu. iPogo allows you to filter the feeds based on the Shiny Pokémon available, Species, Pokedex, and distance.
The Joystick feature
Both apps have a joystick which you can use when you are walking across the map. They all have speed control to show whether you are walking, running, or driving towards the desired spot.
However, the Joystick on iPogo can be a pain to use in that it keeps popping up when you have your finger on the screen for a few seconds. This can be a nightmare when walking and trying to get rid of certain items and keep your inventory clean. This means that you have to keep pressing and releasing the screen in order to play the game properly without bringing up the joystick.
The fact that the joystick keeps on popping up makes it hard to use the auto-walk function. When the joystick pops up when you are on auto-walk, your movement stops and you have to manually walk on your route.
Auto Runaway for Non-Shiny Pokémon
Both apps have this new feature added which is a time saver when you are looking for Shiny Pokémon. Whenever you come across a Pokémon that is not shiny, it will automatically run away from battling with you. This will save you a lot of time.
The winner, in this case, is iSpoofer since it will enable the runaway feature within a split second, while iPogo does not. With the feature enabled, iPogo will show an error notice on the bar stating that "this item can't be used at this time". This makes the sprite for the Pokémon to disappear from the map for a few minutes.
In conclusion
Both apps are great when you want to spoof your device and look for Pokémon that are not within your area. However, iSpoofer has a lot of beneficial features when compared to iPogo. The only downside is the fact that you have to pay for iSpoofer Premium to get some of the advanced features. You can share your iSpoofer license for a maximum of three devices, which is great if you want to share it with your friends and family. Your choice for which app to use depends on your own requirements. If you want basic features, without having to pay for them, then iPogo is the best way to go. If you want a better hands-on experience, then you should go with iSpoofer. Make your choice and play Pokémon Go to the maximum ability and push your stats and game experience to the next level.
Virtual Location
Reviews about iPogo

iPogo Problem

Change device location

Protect location privacy
>
How-to
>
Frequently Used Phone Tips
> iPogo and iSpoofer -The differences you want to know are here