How to Use Snapcrack and Its Best Alternative to Save Snaps
Snapchat is one of the most trending social media apps out there and has become a crowd favorite in no time. One of the best things about Snapchat is its simplicity and how quickly it can be used to exchange snaps. We all upload stories and share snaps with our friends on this interactive social media app. It is a known fact that we can't save someone else's snaps or stories without letting them know. There are times when we love to save a snap, but don't want others to be notified as well.
If you have ever gone through the same dilemma then don't worry. We have a solution for you. In this post, we will teach you how to save snaps and stories without much trouble using Snapcrack for Android and its best alternative.
Part 1: How to save Snapchats with Snapcrack for Android?
Snapcrack Android is one of the best applications out there that will certainly change the way you use Snapchat. You can simply download a free version of Snapcrack for Android and use it to save snaps. Though, it also has a premium version that comes with plenty of added benefits. Not just to save snaps, you can also use it to make interesting doodles or upload snaps from your gallery.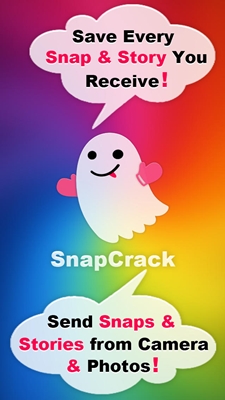 Before you start using Snapcrack, you should note that you can't be logged-in to both, Snapchat and Snapcrack simultaneously. After installing Snapcrack on your phone, you can use your Snapchat credentials to log-in. This will make you sign out of Snapchat automatically. Therefore, if you want to record Snapchat stories or snaps while being logged-in, then this might not be a preferred option for you.
Nevertheless, you can still use Snapcrack Android to save snaps and stories after logging-out of Snapchat. You can use Snapcrack to save snaps by following these easy steps.
1. Start by installing Snapcrack on your device. Now, using your Snapchat credentials, log-in to the app. This will automatically make you sign-out of Snapchat.
2. Wait for a while as Snapcrack will load and fetch essential data from Snapchat. Give it the initial authority to use your data. After a while, you would get an interface similar to that of Snapchat. You can see all the recent snaps send by your friends. Simply tap on the "Save" button in order to save these snaps. When they would be stored on your phone memory, they will be marked at "Saved".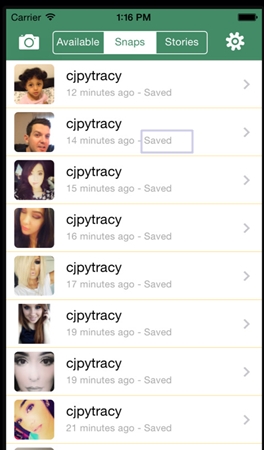 3. Just tap on the "Stories" section to view all the stories that are shared by your friends. Similarly, tap on the "Save" icon to save these stories. In no time, they would be stored on your phone memory.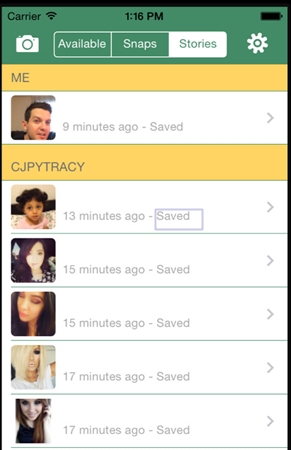 That's it! With a simple tap, you can save snaps using Snapcrack for Android. Though, before you use this app, you should know that it is not authorized by Snapchat inc. and your account can even get permanently banned as well to violate the conditions of Snapchat. Therefore, if you want to save snaps without violating any terms and conditions, then you might consider an alternative.
Part 2: Best Snapcrack for Android Alternative - MirrorGo Android Recorder
MirrorGo Android Recorder is a preferred alternative for Snapcrack Android. Unlike Snapcrack Android, you don't have to worry about the authorization of this application and don't need to log out of Snapchat before using it. Ideally, MirrorGo is used to mirror your phone to a bigger screen so that you view all the snaps without any trouble. It is also used to record the snaps and take screenshots to make tutorials. You can easily use it to record your screen's activity to save stories and can even take screenshots of snaps without getting caught.
MirrorGo Android Recorder is compatible with almost every Android smartphone out there and currently runs on Windows system. Without much trouble, you can use it to replace Snapcrack for Android. All you got to do is follow these steps.
Mirror your android device to your computer!
Play Android Mobile Games on your Computer with your Keyboard and Mouse for better control.
Send and receive messages using your computer`s keyboard including SMS, WhatsApp, Facebook etc.
View multiple notifications simultaneously without picking up your phone.
Use android apps on your PC for full screen experience.
Record your classic gameplay.
Screen Capture at crucial points.
Share secret moves and teach next level play.
3981454 people have downloaded it
1. Start by downloading MirrorGo from its official website right here. Afterward, simply create your account to setup the application. Additionally, you need to enable the option of "USB Debugging" on your phone before connecting it to your system.

2. Using a USB cable, simply connect your Android phone to your system. After connecting it, select the "USB options" from Notifications.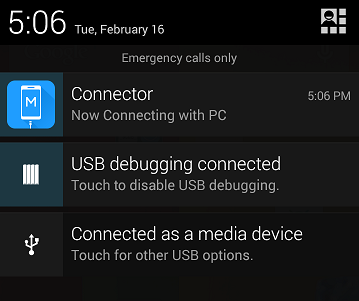 3. Here, you need to determine how the USB connection would be utilized. You need to select the MTP option (and not "Charge only").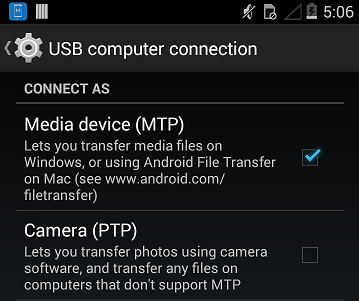 4. Now when your phone is connected, you can use MirrorGo to perform various tasks. Also, you can make a Wifi connection between both the devices as well instead of connecting them via a USB cable. After connecting the devices and running MirrorGo, your interface will be changed. You will get different options on the sidebar. Open Snapchat the usual way and hold the snap that you want to save. Click on the Camera icon to take a quick screenshot of the selected snap.
5. The screenshot will be saved on your system. You can transfer it to your mobile as well or move it to any other location.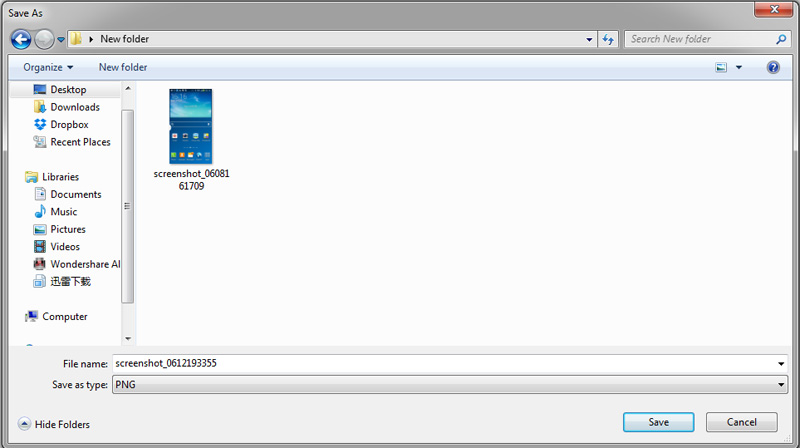 6. In order to record stories or videos on Snapchat, open the app and click on the video icon on the sidebar. This will start recording a video of the screen activity.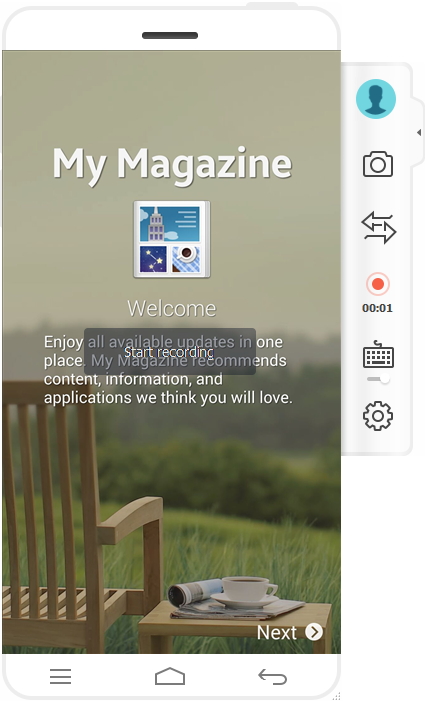 7. Keep looking at all the desired stories and videos that you want to save when the recording is on. Once you are done, click on the stop button in order to save the video. You will get the following screen as soon as your video would be saved. Just click on the file path to have a look at your video.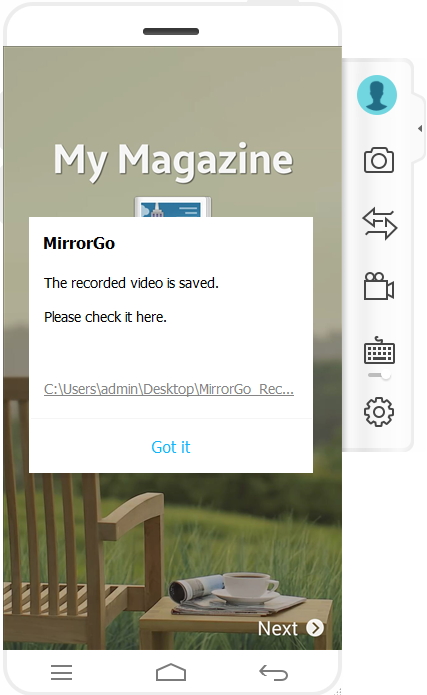 That's it! By following these simple steps, you can easily save snaps without getting caught. Since you are not violating any terms and conditions as well, Snapchat won't be notified and your account won't be affected at all.
Now when you know how to use Snapcrack Android and its best alternative, why don't you give it a try on your own? Snapcrack for Android is readily available and can be used to save snaps with a single tap. If you want to go for something more reliable and secure, then we recommend using dr.fone MirrorGo Android Recorder. Also, if you face any setbacks while using these applications, let us know in the comments below.