[Issue Fixed] iPadOS 13 /iOS 13 Stuck on Installation
There's no denying that iOS devices are fantastic examples of technology, but that doesn't mean the devices don't come without their setbacks. For example, when updating to the latest iOS 13/13.2 update with your iPad, many users are claiming that their devices freeze up and you're unable to continue with the installation.
This could happen at any stage of the process, whether that's downloading the update via a USB cable or over the air, or while installing the update. During the latter, if your device gets stuck and freezes, this can cause your device to basically become unusable.
While annoying, this doesn't mean you can never use your device again. Instead, there are plenty of fixes you can try to get your device working back to its full potential and on the latest and greatest iOS13 operating system, so let's jump into the solutions!
Part 1. Ensure Wi-Fi signal strength and battery power
Since most iOS operating system updates will happen over the air. This means your iPad will download the update file via your Wi-Fi connection or cell phone connection. Once downloaded, it will then install itself overnight.
Of course, if you don't have a Wi-Fi signal, your device may be saying that you need to update your device, but this is impossible because your connection is faulty. The best thing to do here is to restart your Wi-Fi router and your iPad to refresh the connection and get the update downloaded.
In some cases, your iPad may try and protect itself in the sense that it won't update if the battery on your device is too low because obviously, you don't want the power to die halfway through.
To prevent this from sticking your installation, fully charge your battery before proceeding with the download, and then update it while connected to a functioning power connection.
Part 2. Hard reset iPad or iPhone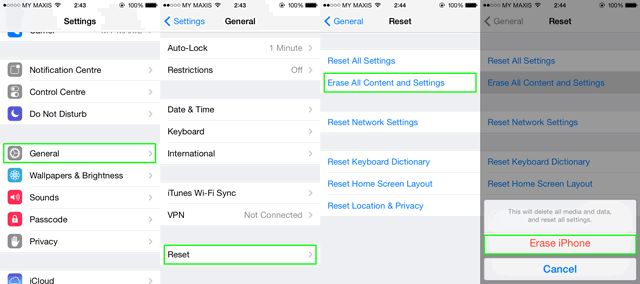 If you're still experiencing problems in the sense that your iPad or iPhone won't update and you don't know what to do, you can do a hard reset on your device to get it back to its factory settings where an update should be possible.
This will erase all data on your phone, so make sure you're backing up your personal files before proceeding with this approach. With the operating system refreshed, there should be no reason as to why your installation is sticking. Here's how it works;
Step 1 – From the main menu of your device, navigate Settings > Reset > Erase all Content and Settings > Erase iPhone.
Step 2 – Confirm that you want to continue with the erase iPhone process and what for the erase to take place. This can take several minutes, and you'll want to ensure your device doesn't run out of battery while it's processing.
Step 3 – Once you're back on the main menu, and you've set up your device, run the update manager to download and install the latest version of iOS 13/13.2 to your device.
Part 3. Clear space on iPad/iPhone and update again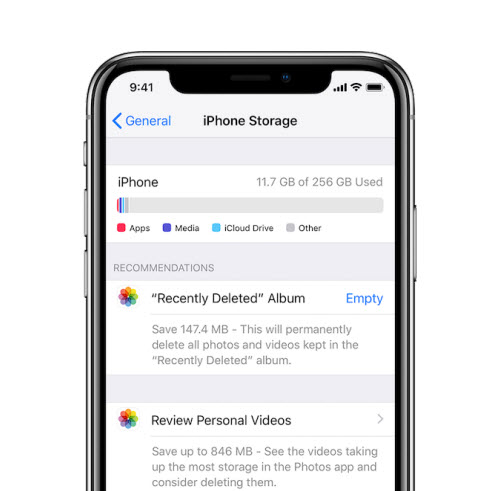 In many cases, each update Apple brings out, the amount of memory used up to run your iPhone or iPad will increase, meaning you'll have less room for other things. As much as this sucks, it's just how it is, and it does mean you get to access new features.
However, if your device doesn't have enough memory in the first place, this can mean the update doesn't work, so you'll need to go through and make sure it's not a problem. Here's what you can do.
Step 1 – From the main menu of your iPhone or iPad, navigate Settings > Storage, and you'll be able to see all the content on your device. This includes what audio files you have, what videos, photos, documents, and many more; all displayed in the little multi-colored bar.
Step 2 – All you need to do is check the size of the update and then see if you have more than enough room. If you do, then this shouldn't be an issue, and you'll have another problem. However, if not, you know you'll need to clear some space.
Step 3 – To clear space, you'll need to scroll down the Storage page and look at what recommendations are on offer. You'll see several options, and these are the best solutions to clear your device.
However, you can also go through your files individually and delete the files you no longer want. This could be old photos and videos in your media files or old audio files. You can keep checking the storage bar until you have enough space to make the update.
Part 4. Use iTunes to restore iPad or iPhone

If you're still having problems and you've gone through everything on the list above, the next approach you can take is to use the iTunes software to restore your firmware software from scratch. This aims to erase all errors causing your iOS 13/13.2 to not update, allowing you then to do so.
Here's how;
Step 1 – Open iTunes and make sure you're running the latest version. Then connect your iOS device using the official USB cable to ensure a stable connection. iTunes should automatically detect your device and open.
Step 2 – On the Summary page of your device, you'll see all your device information. On the blue button, you can see the option to restore your device. Click this and follow the onscreen wizard to restore your device.
Step 3 – Now the device has been restored, you can check for an iOS 13/13.2 update via the phone or iPad, or by using the button in the iTunes window to get the most up to date operating system.
Part 5. Fix iPadOS 13 /iOS 13/13.2 Stuck on Installation by fixing firmware (no data loss)
If all the methods above don't work and you're still stuck trying to install the iOS 13/13.2 operating system, or you want a simple one-click solution that takes all the hassle out of the process, the Dr.Fone – Repair tool is the perfect software solution.
With this solution, you can easily restore your phone quickly and automatically go through the process without making everything complicated. Below, we're going to detail the step by step guide of everything you need to know.
Step 1 – Download and install the dr.fone - System Repair (iOS) software to your Mac or Windows computer and open it on your computer. Open the software and connect your iOS device, whether that's your iPhone or iPad, using the proper USB cable.
The software will automatically detect your device. When it has, press the System Repair button to start the wizard.
Step 2 – You then have two modes you can pick to repair; the basic mode where you get to save all the data on your device (referring to your personal data), and an Advanced Mode that will erase all your data and will fix all problems.
You can start by using the Standard Mode, and if this doesn't work, you can use the Advanced Mode.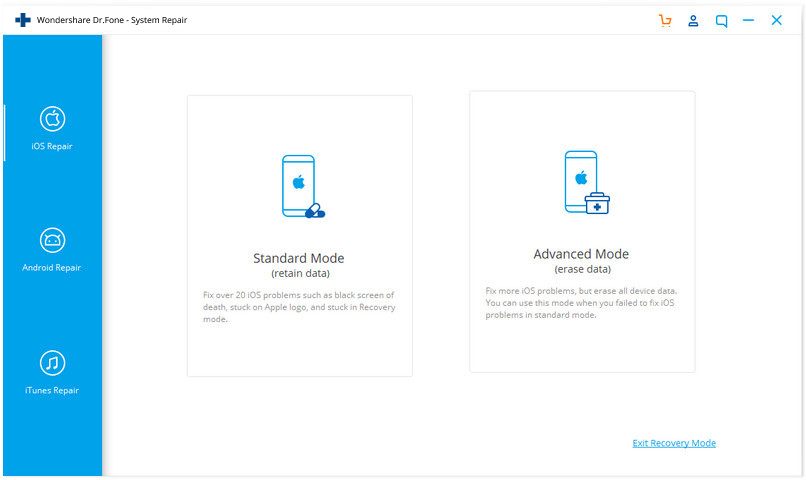 Step 3 – On the next window, you'll be able to choose you're using and the system version you're using. Set these using your preferred settings and then press the Start button.
Step 4 – That's all you need to do! The software will now download the operating system and will install it automatically to your phone. You can follow the process using the onscreen bars.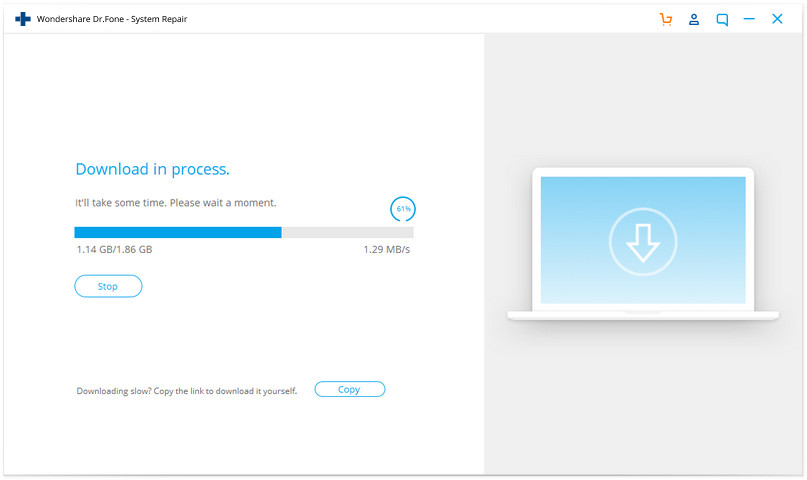 Make sure your device is connected throughout the entire process, and your computer doesn't turn off. Once downloaded, the software will now make sure the firmware is correct and downloaded correctly.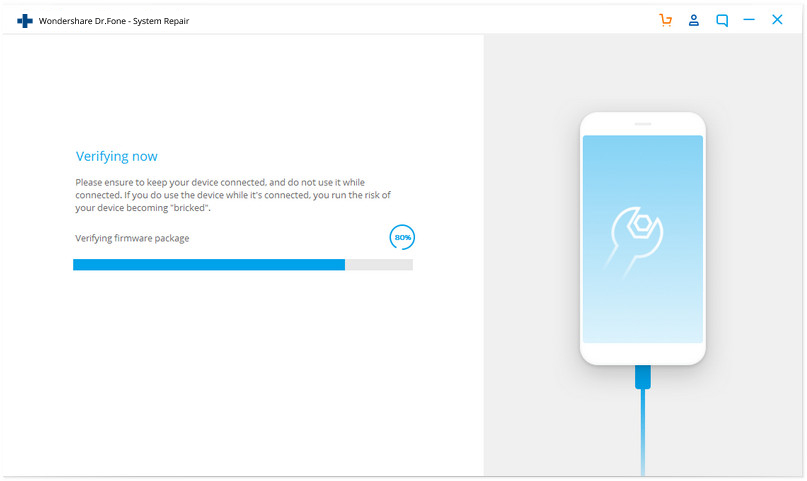 Step 5 – Keep watching the bar until it's completed. When the screen changes, you'll be able to click the Fix Now button and the operating system will be installed. You'll be told when the repair is complete, and you can disconnect your phone and install the iOS 13/13.2 operating system!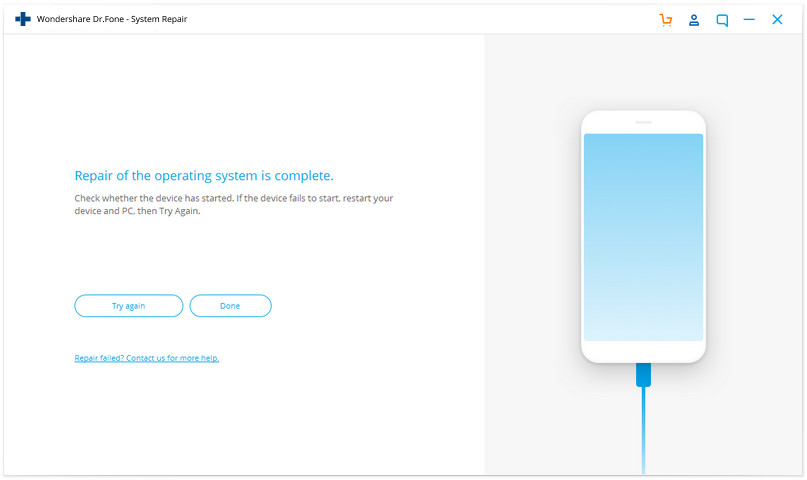 Summary
As you can see, there are plenty of approaches you can take when it comes to repairing the operating system of your iOS device. Of course, dr.fone - System Repair (iOS) is the best and easiest solution, but as long as you get your device working again, do which approach works for you.
iPhone Problems
iPhone hardware Problems

iPhone Battery Problems

iPhone Media Problems

iPhone Mail Problems

iPhone Update Problems

iPhone Connection/Network Problems