4 Solutions to Fix iPhone Reboot Loop on iOS 12/iOS 12.3
Getting an iPhone reboot loop is one of the most common problems in iPhone XR, iPhone XS (Max), or some other iPhone models. Especially when the new iOS 12/12.3 is launched, more and more users come across iPhone reboot issues after iOS 13update.
It has been observed that due to malware or bad update, the phone gets stuck in the reboot loop. The Apple logo would flash on the screen and instead of booting it, the device will be restarted again. This will keep on repeating time after time to form the iPhone boot loop. If you are also facing the same issue, then don't worry! We have come up with four solutions to fix iPhone stuck in a boot loop.
Part 1: Why iPhone stuck in the reboot loop on iOS 12.3?
There could be plenty of reasons for the iPhone reboot loop to happen. Before we explore different ways to resolve the iPhone boot loop problem, it is important to understand what causes this issue beforehand.
Most of the time, a bad update can lead to the occurrence of a reboot loop on iPhone XR, iPhone XS (Max), or any other iPhone model. If you are updating your iOS and the process gets halted in between, then it might cause this issue as well. There are times when even after completing the update, your phone might malfunction and have this issue.
Tips: Check out other iOS 13update problems and issues.
If you have a jailbroken device, then chances are that it could have been affected by a malware attack. Try not to download apps from unreliable sources as it can make your iPhone stuck in the boot loop.
At times, a malfunction in one of the drivers or bad hardware can also cause this issue. Thankfully, there are plenty of ways to overcome it. Let's uncover them by taking one step at a time.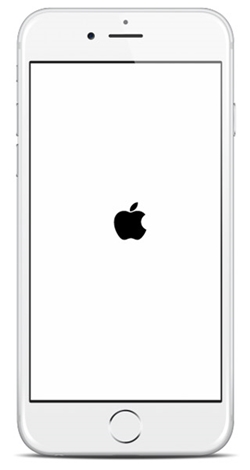 Part 2: Force restart iOS 13iPhone to fix boot loop issue
This is one of the easiest solutions to break the iPhone reboot loop. Simply force restart your phone and break the ongoing power cycle.
For iPhone 6, iPhone 6S or earlier devices, this can be done by long-pressing the Home and Wake/Sleep button at the same time for at least 10 seconds. Your phone will vibrate and break the reboot loop.
If you have an iPhone 7 or 7 Plus, then press the Volume Down and the Sleep/Wake button simultaneously to force restart your device.
For iPhone 8 and later devices like iPhone XS (Max)/XR, press and quickly release the Volume Up key, then do the same on the Volume Down key. Then press the Side key until your iPhone starts again.
Note: The iPhone will first shut down before starting again. Don't release the Side key during this process.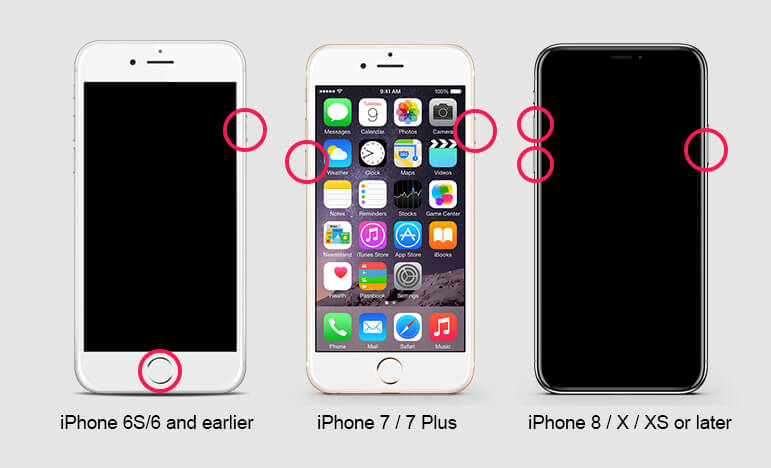 Check out our YouTube video on how to force restart an iPhone (all models included) if you'd like to see it in action.
Part 3: How to fix iOS 13iPhone boot loop using iTunes
By taking the assistance of iTunes, you can break the iPhone boot loop and restore this iPhone as well. Even after putting your device on the recovery or DFU (Device Firmware Update) mode, you can follow this method to restore your device. Learn how to break the iPhone stuck in the boot loop using iTunes by following these steps.
1. Connect iPhone XR, iPhone XS (Max), or any other iPhone model to your system with a lightning cable and launch iTunes.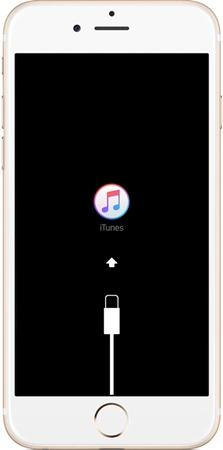 2. Within a few seconds, iTunes will detect a problem with your device and display the following pop-up message. All you got to do is click on the "Restore" button to resolve this issue.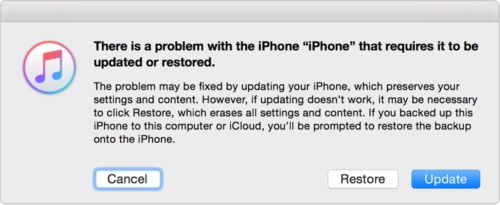 3. If you won't get the above pop-up, then you can manually restore your phone as well. Click on the "Summary" tab, and then click "Restore iPhone". Wait for a while as iTunes will restore your device.

Part 4: Fix iOS 12/12.3 iPhone boot loop with iOS System Recovery without data loss
By following most of the other solutions to break the iPhone boot loop, you might end up losing your data. Therefore, if you wish to recover iPhone stuck in the boot loop without experiencing any data loss, then you can try Dr.Fone - System Repair tool. It is widely known to resolve various iOS-related issues (like black screen, white Apple logo, restart loop, and more). It is a part of the Dr.Fone toolkit and is compatible with all the leading iOS devices and versions (including iOS 12.3).
If you wish to resolve the iPhone reboot loop issue without losing your data, then follow these steps:
1. Start by downloading Dr.Fone from the download button above. Install it on your system (available for Windows and MAC) and launch it whenever you are ready. Choose "System Repair" to start the process, Out of all the provided options on the home screen,
2. As you can see there are two optional modes for you to fix the iPhone reboot loop problem after you enter into the System Repair module. Click on the first mode "Standard Mode".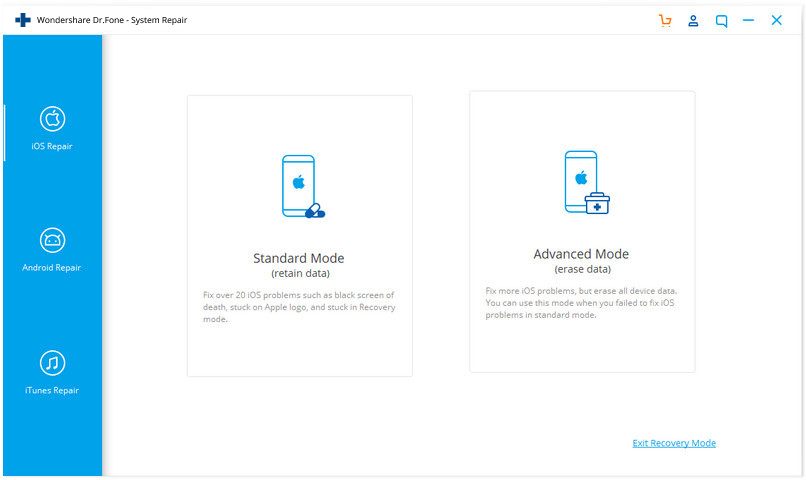 Note: If your iPhone failed to be recognized by the computer, you need to click "Device is connected but not recognized" and put it on the DFU (Device Firmware Update) mode as the on-screen instructions showing. Just hold the Power and Home button at the same time for 10 seconds. Now, release the Power button (and not the Home button). As soon as your device will enter the DFU mode, the application will automatically recognize it. Afterward, you can release the Home button as well.
3. As the following window pop up, supply the correct iOS version to download its firmware. Once you are done, click on the "Start" button.
4. Wait for a while as the application will download the respective firmware for your device. Make sure that your devices are connected to the system during this process and maintain a stable internet connection.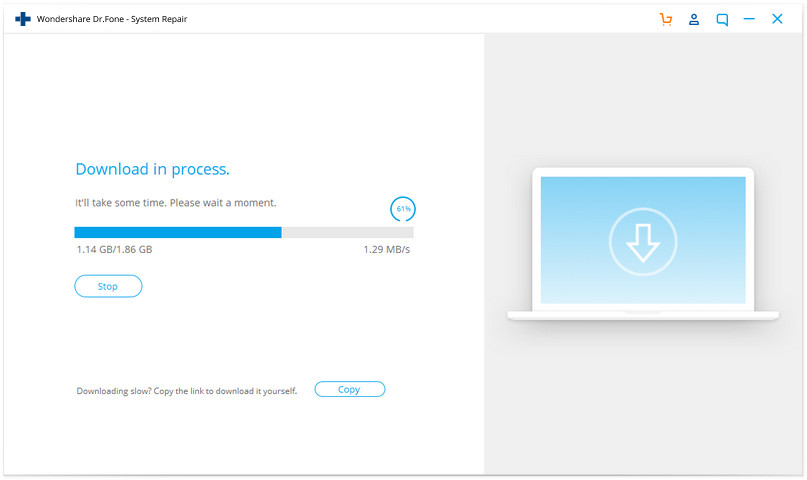 5. After downloading the firmware, click on Fix Now and then the application will start to fix your iPhone system problem.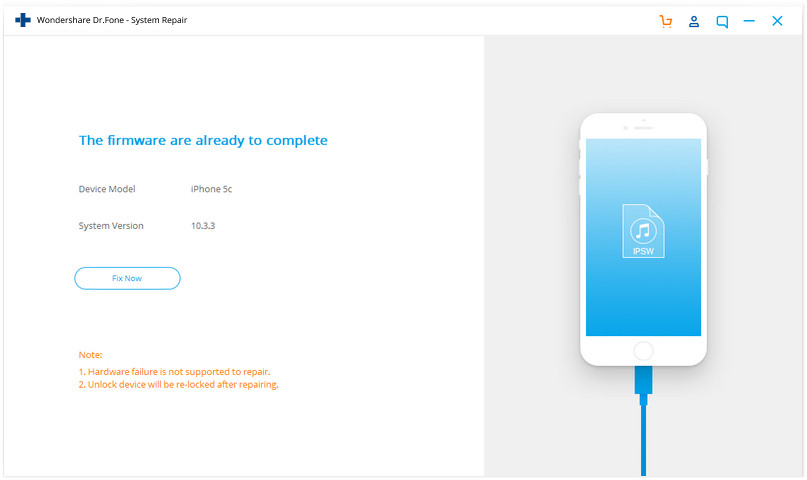 6. Your iPhone will reboot after the process completely and put it in a normal mode. After the following screen shows up, you can check if your iPhone has been in a normal state.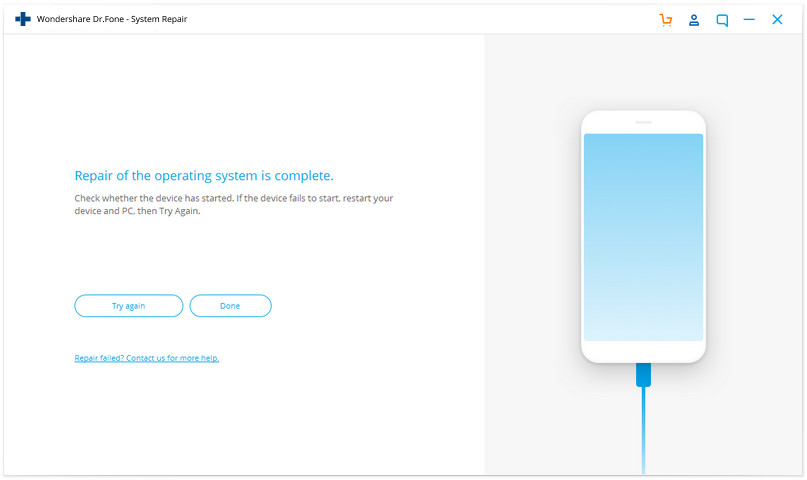 You can simply disconnect your device safely and use it without any trouble. If the issue still exists, then you can click on the "Try again" button to give it another go.
Part 5: Factory reset iPhone on iOS 13to fix boot loop issue
If nothing else works, then you can always choose to factory reset your iPhone to break its reboot loop. Though, while doing so, your phone's data will be wiped off completely. If you have taken its backup on iTunes, then it can be restored afterward. To recover from the iPhone reboot loop, follow these steps.
1. Firstly, take a lightning cable and connect it to your iPhone. Don't connect its other end anywhere else as of now.
2. Afterward, long-press the home button on your device for a few seconds while connecting it to your system.
3. Now, launch iTunes on your system to put your phone into recovery mode. It will display the iTunes symbol on your screen. Simply let go of the home button. You have turned on the recovery mode on your device and can restore its backup with iTunes.
After following the above-stated suggestions, you would certainly be able to overcome the iPhone boot loop mode. Now when you know what to do when your iPhone stuck in a boot loop, you can surely resolve this issue in no time. If you are still facing any problem regarding your iPhone XS (Max) or any other iPhone model, then feel free to share your concerns with us.
Apple Logo
iPhone Boot Issues