How to Restore Chat from GBWhatsapp to WhatsApp?
You can
restore
GBWhatsapp to WhatsApp whenever you want. Here we will explain every step to follow so you will be able to export your chats from GBWhatsapp to WhatsApp. But firstly, you should understand that which is the better one, GBWhatsapp or WhatsApp? Here we go:
Difference between WhatsApp and GBWhatsapp
Availability: Both WhatsApp and GBWhatsapp work on Android and iOS devices. However, WhatsApp is available for download on the Google Play Store and Apple App Store. But, GBWhatsapp can be downloaded by running an APK file. Therefore WhatsApp is easier to avail of than the GBWhatsapp.
Restrictions: GBWhatsapp is more advanced because it offers much functionality but fewer restrictions for the users. GBWhatsapp allows you to share more photos and videos because it has modified and increased 90 photos. User can send larger video files because it supports the 30mb file. However, WhatsApp does not support more than 30 photos to send at a time.
GBWhatsapp enables users to run multiple accounts on the same device. Therefore, it is easy to switch between personal or business accounts when necessary. WhatsApp does not support such a feature
Security: WhatsApp has a strong integration of security. Therefore, it makes sure to provide a safe platform where users can communicate even confidential and crucial information.
However, GBWhatsApp is based on WhatsApp's design; therefore, it is also secured like WhatsApp, but additional features provide less protection. Therefore, GBWhatsapp is not recommended to utilize the app for official communication.
How can I Restore GB WhatsApp to WhatsApp?
If you have used GBWhatsApp, but now it is no more interactive for you and wants to go back to the original version of WhatsApp with all your chats and their information, it is quite easy to restore.
Step 1: First of all, make a backup of your chats in GBWhatsApp. Therefore, go to the Chats tab, press the icon with the three horizontal lines in the top right corner, and access Settings.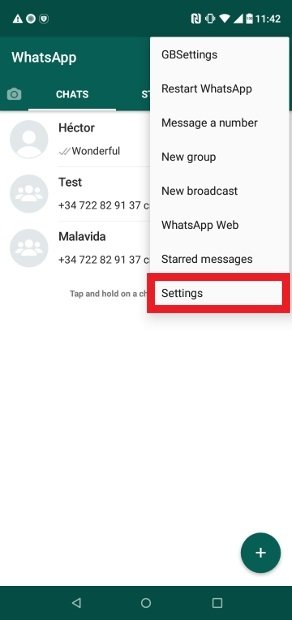 Step 2: Search for the Chats section on your screen to access the menu.
Step 3: Search for the option of Chat backup in the next window and press the button.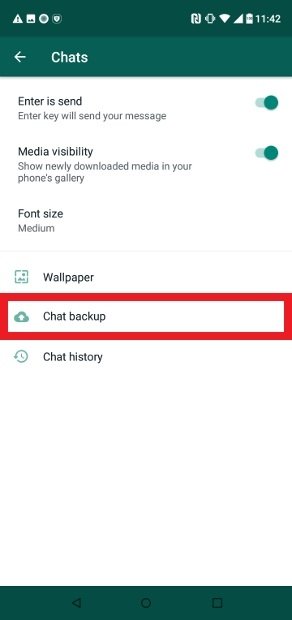 Step 4: Press the green Back Up button to restore the internal storage of the phone.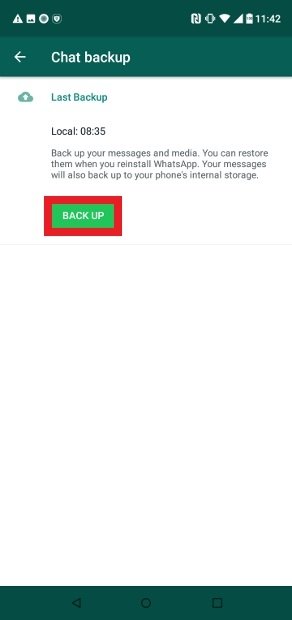 Step 5: You need a file explorer to rename the GBWhatsapp folder to WhatsApp on your phone's internal storage. For this purpose, we will use the most popular options of ES File Explorer.
Step 6: Download and install ES File Explorer from the play store and open it on your phone.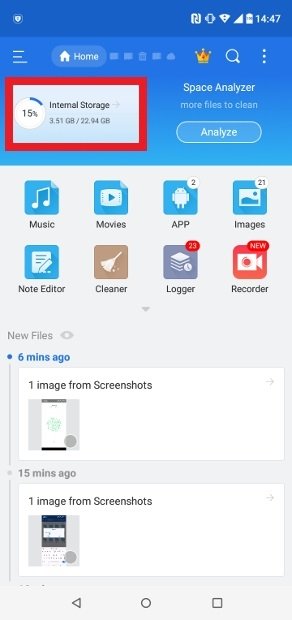 Step 7: Locate the GBWhatsapp folder within all the existing folders and rename them.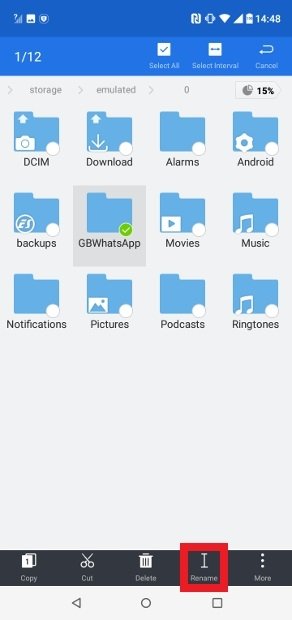 Step 8: For this purpose, keep it pressed for a few seconds once you find the folder. It will drop down the options menu where you have to select Rename.
Step 9: Change the name of the folder, which is now called WhatsApp.
Step 10: Rename all the folders inside that also contain GBWhatsapp in their name. You have to remove that "GB" prefix from all the subfolders because it is mandatory.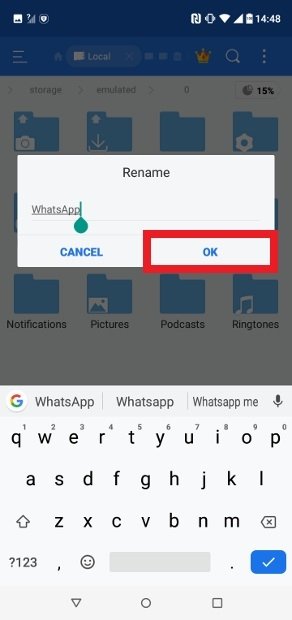 Step 11: Now download and install the original WhatsApp version.
Step 12: Carry out the usual phone number verification process when you open the app.
Step 13: If you have followed every step correctly, a new window will pop up to be aware of the presence of a backup.
Step 14: We have just renamed the GBWhatsapp backup. Now Press Restore, and you will start chatting with the official client, but it will keep all the conversations you started in the MOD.
How to transfer data from GBWhatsapp to WhatsApp?
WhatsApp backup Transfer has been made as easy as possible to use Dr.Fone. Everyone can benefit from using it without any technical skills. Here we will discuss the entire process in just four simple steps:
Step 1: Set Up Dr.Fone WhatsApp Transfer
First of all, download the "WhatsApp Transfer" software for your Mac or Windows computer. Follow the onscreen instructions while installing it.
When the installation gets completed, open the software, it will show you the main menu.
Step 2: Transfer Your GBWhatsApp Messages
Click the "WhatsApp Transfer" option, followed by Transfer WhatsApp Messages on the homepage.
GBWhatsApp is only supported on Android devices; therefore, Android to android transfer is possible by connecting it both, but you can transfer from any device to iOS if you desire. Use the official USB cables.
Keep in mind that your current device is first, and your new device is second. Therefore, the current phone will show up on the left-hand side of the screen. If it does not happen, then use the flip option in the middle.
Step 3: Make the GBWhatsapp Transfer
Click the Transfer button on the bottom right-hand side of the screen, and the process will automatically carry out. Furthermore, connect both devices continuously throughout this process.
Step 4: Complete the GBWhatsapp Transfer
Disconnect both devices after completion of the transfer. Now open your WhatsApp or GBWhatsApp on your new device and complete the process of the setting options.
Sign in to your account using your phone number and enter a coded message.
Now click the Restore button when prompted.
WhatsApp/GBWhatsApp will scan and verify the transferred files to provide you complete access to all conversations and media files on your device!
Other Ways to Transfer GBWhatsApp Messages to a new device:
However, Dr.Fone WhatsApp Transfer is easy and most effective, as well as the quickest solution. Nevertheless, if it can't help and you still want to transfer your data, then below are some ways to Transfer GBWhatsApp Messages to a new device:
Preparing Your Files:
Clarify either the transfer is making between the official WhatsApp app to another official WhatsApp app or GBWhatsApp editions. If the transfer is between the normal versions of the app, you can follow the next step.
Transfer Your Files:
Insert an SD card into the device you are using.
Navigate File Manager back to your WhatsApp/GBWhatsApp folder
Transfer the complete folder to the SD Card.
Wait for this process to finish up.
Now insert the SD card into your new device by removing it from the previous one.
Copy and paste files to your new phone's internal memory and remove the SD card.
Restore GBWhatsapp Chats to a New Device:
Install GBWhatsapp on a new device and log into your account by following the process to back up the stored data.
Click the Restore button now and look at all your WhatsApp/GBWhatsapp messages will be restored to your account as well as you will have full access to all your conversations.
These were the steps to restore data from GBWhatsapp to WhatsApp.