How to Transfer WhatsApp Messages from iPhone to PC/Computer
WhatsApp has become one of the essential apps in a smartphone. While iPhone and Android users tend to have many differences among themselves, WhatsApp is one communication tool that transcends operating systems. Yet, since the iOS ecosystem is restrictive, you wouldn't be able to transfer data as easily between two devices, especially between an Apple and a non-Apple device.
Have switched to a new Android phone? Check the new post here to transfer WhatsApp from iPhone to Android.
Instances when you might want to transfer your WhatsApp Messages
Since a lot of communication with friends as well as colleagues is done over WhastsApp, the data contained therein becomes important. In situations where you are changing your phone, the WhatsApp data becomes especially needed because otherwise you will lose all your previous interactions including messages, files and images. In such a case, it is wise to transfer your data from your old phone to your new one, whether iPhone or an Android smartphone.
You may also sometimes require to have a backup of important WhatsApp data on your computer. It is anyway wise to have backups of important files even if you might not need a transfer at present.
Is there an easy and convenient way to backup or restore your WhatsApp data to another phone or to your PC? There are certain software that do this job. However security is another important issue here, since WhatsApp messages can be extremely private in nature.
Considering all such requirements, Wondershare dr.fone appears to do the best job.
dr.fone - WhatsApp Transfer allows you to transfer, backup and restore your Whatsapp messages easily and securely. Following are the features of this software:
- Transfer WhatsApp history: You can easily transfer your WhatsApp history from your iPhone to any other device. The transfer is not restricted to an Apple device. Therefore you can transfer WhatsApp data not just to another iPhone or iPad, but also an Android smartphone. The transfer is not restricted to just messages and also supports attachments including pictures and files.
- Backup or export WhatsApp history: In three simple steps, you can backup all your WhatsApp data including messages, pictures, files etc. from your iPhone to your PC. You also have the option of selecting what to backup or export. This makes it easier to avoid unneeded junk and only keep useful data. You can however also choose to transfer all of it.
- Restore WhatsApp backup: With a one click system, you can restore your WhatsApp data from your computer to your iPhone or Android device if you need to do so.
Dr. Fone provides a free trial option that lasts for thirty days. The software is trusted and secure and has been positively reviewed by thousands of people.
How to Transfer iPhone WhatsApp Messages to PC
dr.fone allows you to backup WhatsApp messages from your iPhone and transfer them to your PC. After you have downloaded dr.fone - WhatsApp Transfer, follow the following steps to be able to do so:
Step 1. Connect to PC
For this, you need to first choose the 'Backup WhatsApp messages' option. Now connect your iPhone to the PC to which you want to transfer your WhatsApp messages. Once connected, you will see a window that indicates so.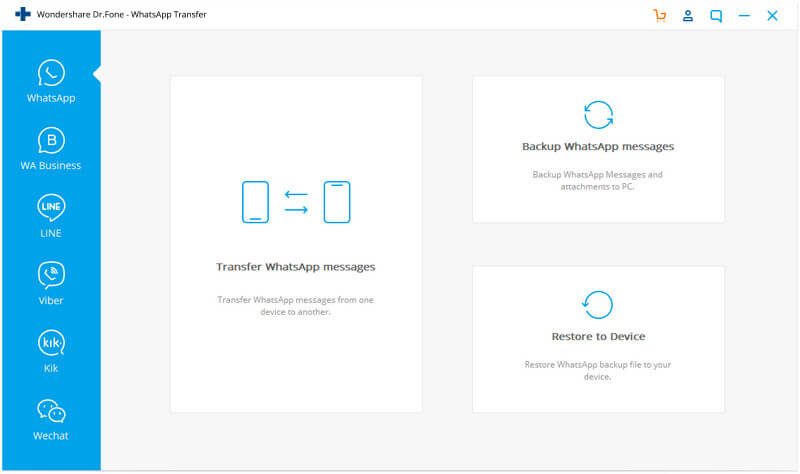 Step 2. Start backup
After your device is recognized by the program all you have to do is select 'Backup'. The backup will begin and you can see a progress bar that will highlight how much longer it will take. The backup will automatically be complete at this stage.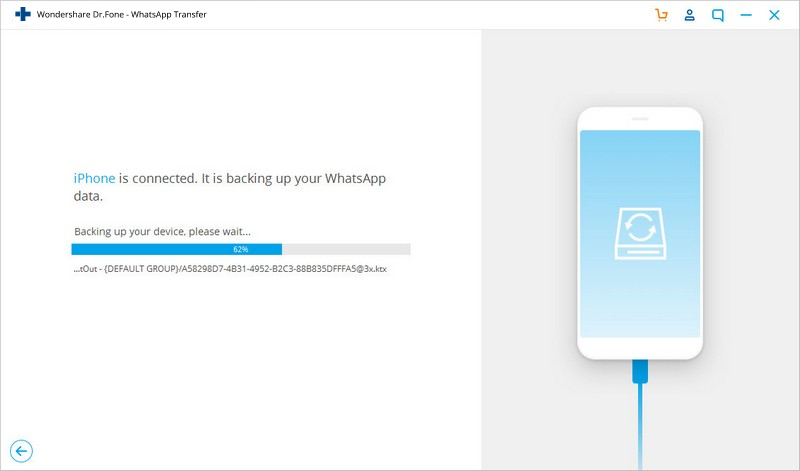 Step 3. View and export backup
You can now choose to view the backup files if you so wish. Click "Next" to continue.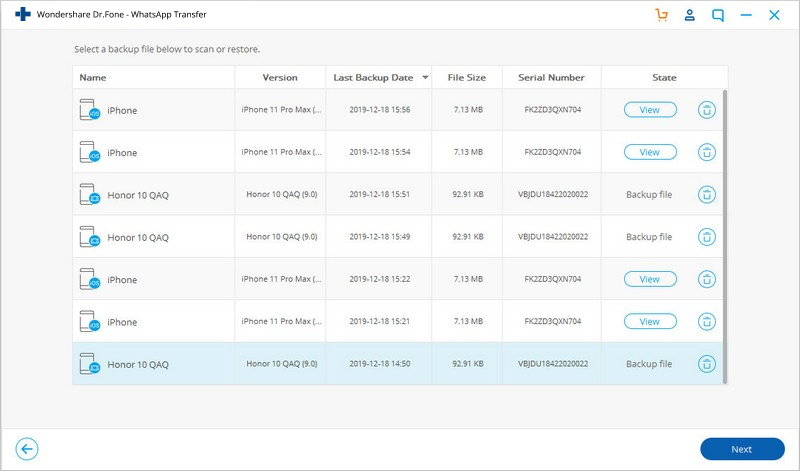 You can see details of the backup files. You can choose to selectively backup messages to your computer, or back them all up. Messages and attachments are separately reflected. Then click "Ecport to PC" to save them.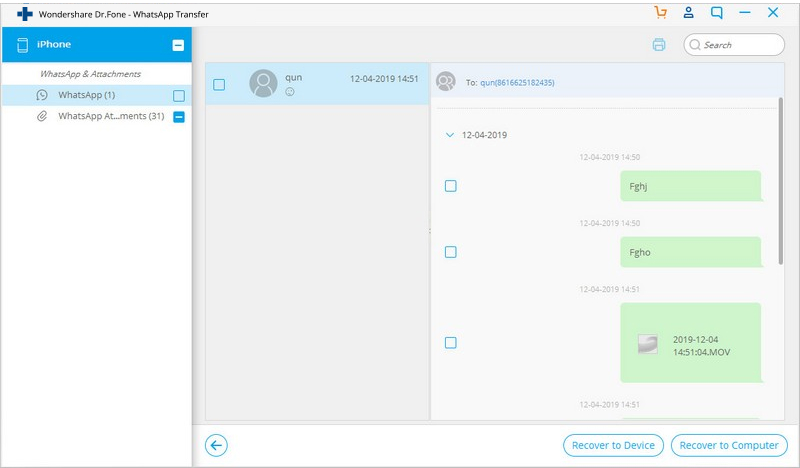 These simple tips will help you transfer all your WhatsApp messages to your computer in no time. It's simple, it's fast and it's easy!