How to Transfer WhatsApp Messages from Android to PC
WhatsApp is without a doubt one of the most popular communication Apps on the planet. Nearly everyone uses WhatsApp and if you rely on this application for most of your personal and professional communications, there is a chance that you do share sensitive files and information via WhatsApp. For this reason, it is very important to be able to easily backup your WhatsApp messages so you don't this sensitive information. One of the ways to back up your WhatsApp data would be to transfer the messages to PC.
It is worth mentioning that recently, WhatsApp has updated its functions to include automatic Google backups. While these new improvements make it very easy for you to be able to transfer chat history between phones, it is still not a very good solution if you want your Chat History stored on your PC instead. Being able to store your chat history on your PC is a great way to back up all the information you share on WhatsApp and have a copy in case anything goes wrong with your device. You can then simply transfer the data back to your device.
The following tutorial offers you a way to easily transfer WhatsApp messages and their attachments from your Android device to your PC.
How to Transfer WhatsApp Messages from Android to PC using dr.fone - Data Recovery (Android)
To be able to safely and effectively transfer WhatsApp messages from your Android device to your PC, you need the right tool for the job. There are very many software that claim to offer the right solution but the most effective of the bunch is dr.fone - Data Recovery (Android). With dr.fone, you can be quite handy when you want to recover WhatsApp messages and their Attachments from your Android device to PC.
World's 1st Android smartphone and tablet recovery software.
Recover Android data by scanning your Android phone & tablet directly.
Preview and selectively recover what you want from your Android phone & tablet.
Supports various file types, including WhatsApp,Messages & Contacts & Photos & Videos & Audio & Document.
Supports 6000+ Android Device Models & Various Android OS.
3981454 people have downloaded it
The following simple steps will show you just how easy it is to accomplish this.
Step 1: Download Wondershare dr.fone from the product page. Go to where the product package was saved on your PC and double click on the .exe file to run the software Wizard and install the software.
It may take a few minutes but once the installation is complete, click on "Start Now" to launch the software.
Step 2: Select "Data Recovery" and Connect your Android device to your Computer using USB cables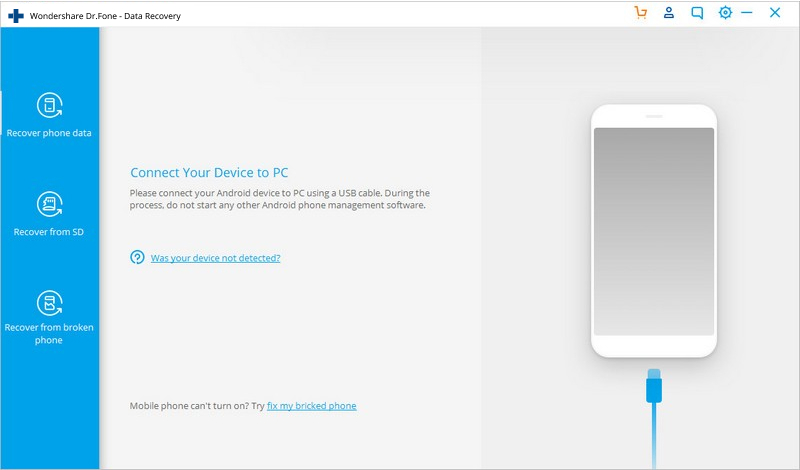 Step 3: If you have not enabled USB debugging on your device, you will see a popup window requiring you do enable it. If you had enabled USB debugging, skip this step.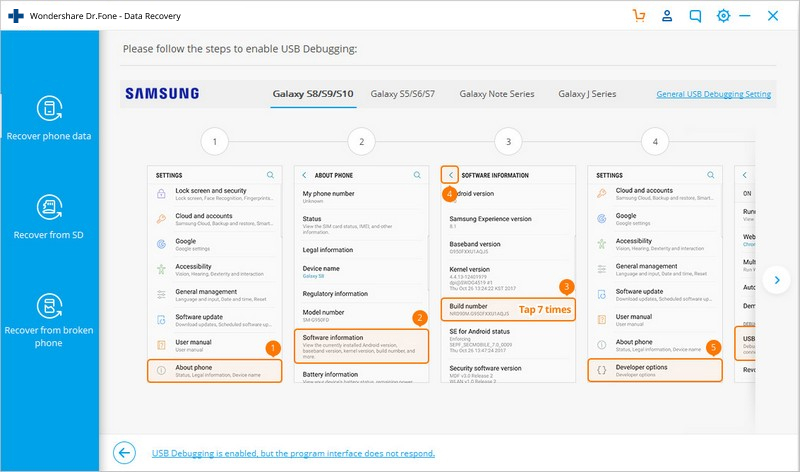 Step 4: With successful USB debugging, dr.fone will now recognize your device. A new window will appear where you can select the data you want to recover. Since we want to transfer WhatsApp messages, check "WhatsApp Messages & Attachments" and then click "Next" to continue.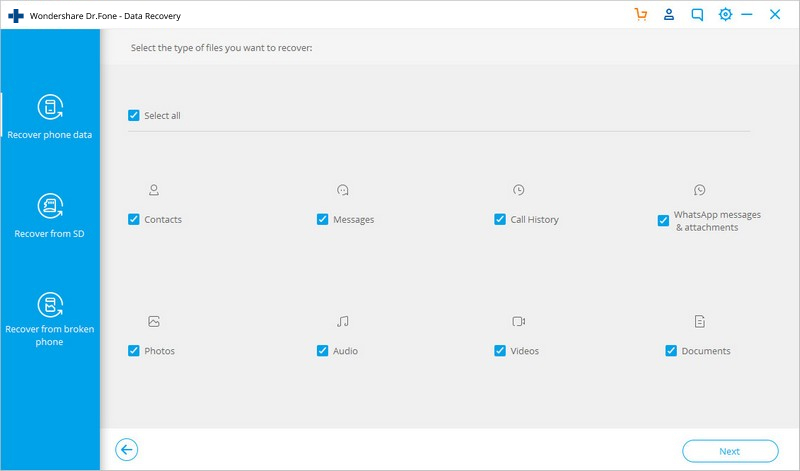 Step 5: Next, you need to click on "Start" to allow the program to begin an analysis and scan of your device. You will then need to choose the scanning mode. It is recommended to start with the "Standard Mode" which works mush faster. But if this doesn't provide good results, the "Advanced Mode" should work.
Step 6: dr.fone will the start scanning your Android device for WhatsApp Messages and their attachments. The process may take a few minutes depending on the amount of data you have on your device. All you have to do is sit back and wait for dr fone to do its job.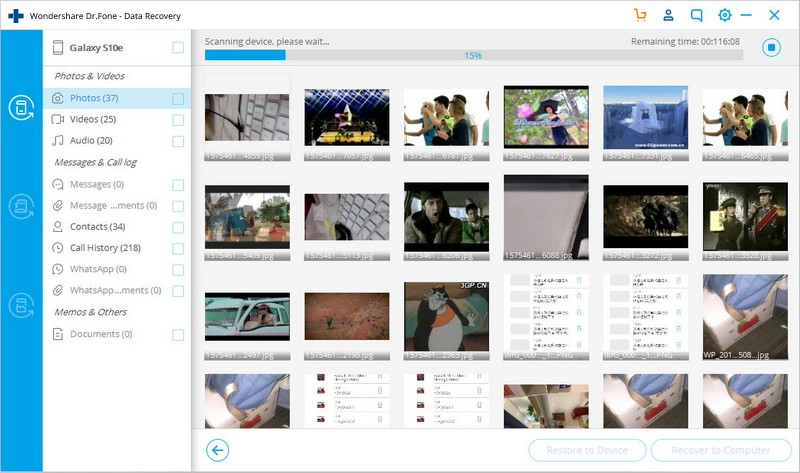 Note: you may receive a notification on your device during the scan requesting Super-user authorization. If you do, simply click "Allow" to confirm and the scan will continue as normal.
Step 7: Once the scan is complete, all of the data found will be displayed on the next window. Here, you should see your WhatsApp messages and their attachments. If you want to transfer all of the data to your PC, select all. You can also just simply choose the specific messages you want to recover and the click on "Recover" to save them all to your PC.
It is important to note that Wondershare dr.fone will scan your device for both deleted and existing data. This may come in handy if you have lost some of your messages and you want them back.
Keep in mind that you can also choose to only view deleted files by clicking on the button marked "Display deleted files only." If you have a lot of files, you can use the search function located at the top right corner to find the specific messages you want.
Transferring WhatsApp messages from your Android device to PC is that easy. Wondershare dr.fone eliminates all the problems normally associated with transferring data between devices. You don't even have to be tech savvy to make use of this software and what's even more exciting is that, your data will be transferred without any alterations or damage.