Full Solutions to Solve All WhatsApp issues on Your Mobile
It is uncommon to find a smartphone user who doesn't have WhatsApp on their device. It is by far one of the most successful messaging apps around. This is not to say that it doesn't present its own set of problems. To help you solve any issues you may experience when using WhatsApp, we have outlined some of the most common problems and their effective solutions.
Part 1: WhatsApp Problems and their solutions
Unable to Install WhatsApp
WhatsApp is compatible with Android devices running Android OS higher than 2.1. If you are having issues installing the application check the Android Version by going to settings > About Device.
Unable to Connect to WhatsApp
Check whether your data or Wi-Fi network is active by going to Settings > Wireless and Network. You could also clear the cache and see if that works.
Contacts not visible on WhatsApp
To solve this common problem make sure that you marked your saved contacts as "visible" or "viewable." Clearing the cache may is another great solution for this problem.
How to disable the devilish blue ticks
If you have the new version of WhatsApp (V2. 11.444), you can easily disable these blue ticks in the App settings. Just go to Settings > Account > Privacy and uncheck "Read Scripts"
How do I add international contacts in WhatsApp
To add international contacts to WhatsApp you will have to include the correct country's regional code even if your current number uses the same code. The other person should also do the same for your number.
How to Block contacts on WhatsApp
To block a number for whatever reason, you need to navigate the conversation with the contact you want to block. Tap on the three buttons, tap on "More" and then tap Block.
What is "Last seen" on WhatsApp?
The "Last Seen" time stamp lets you know when a user was last using the app. It doesn't mean that you haven't read your messages or notifications, only that the contact hasn't opened their application.
How can you hide the "Last seen" time stamp?
To turn this time stamp off go to Settings > Account > Privacy and in the menu tap on "Last Seen" and then select "Nobody" from the popup options. This means that no one will be able to see the last time you opened the app.
How Do I pay for WhatsApp?
WhatsApp offers different payment options. Google wallet, sending a payment link and in older versions even PayPal.
How to Stop people from Knowing you have read their messages
You can disable the read receipts in newer versions of WhatsApp. To do this go to Settings > Account > Privacy > Read Receipts. Please note that it works both ways; you won't know who has read your messages either.
How do I delete my WhatsApp account?
Please note that deleting your WhatsApp account and deleting WhatsApp app are two different things. To delete the app simply uninstall it by going to Settings > Apps > WhatsApp > Uninstall. To delete your account entirely go to WhatsApp > Menu > Settings > Account > Delete my Account.
How to disable media auto-download in WhatsApp
To disable the feature go to Settings > Chat Settings > Media Auto- download and configure the options to your liking. It is a useful feature but it not the best if you have limited data.
How to Share and send any file in WhatsApp
If you want to share a file type that WhatsApp doesn't support the best way would be to use a cloud service such as Dropbox that creates a link to any type of file you want to send or share.
WhatsApp doesn't recognize contacts
If WhatsApp doesn't recognize certain contacts make sure you entered the contact's number correctly, the contact is currently using WhatsApp and that you have the latest version of WhatsApp.
Recover WhatsApp Chats & Attachments On Android Devices.
Recover Android data by scanning your Android phone & tablet directly.
Preview and selectively recover what you want from your Android phone & tablet.
Supports various file types, including WhatsApp,Messages & Contacts & Photos & Videos & Audio & Document.
For now, the tool can recover deleted WhatsApp data only if it is rooted or earlier than Android 8.0.
3981454 people have downloaded it
WhatsApp will not install on a tablet
It is often not possible to use WhatsApp on a tablet because you need a SIM card and phone number to activate a WhatsApp account. There are solutions available online although you should be warned that they are risky to your device.
WhatsApp Error- 24
This is an error that occurs when trying to install WhatsApp to Android 4.4. The only solution to this problem is to remove the file and reset your device to factory settings.
WhatsApp unable to connect to the internet
To solve this problem first of all check that your mobile data connection is turned on. If this is not the issue then go to Settings > Applications > WhatsApp > Force Stop > Clear Data > Clear cache. Now open WhatsApp and begin the initialization process again.
Part 2: Transfer WhatsApp Data between Android devices
You may want to transfer WhatsApp data between Android devices if you are moving everything to a new device or for any other reason. Whatever the reason, you need an application that can make the process quick and easy. The best in the market is dr.fone - WhatsApp Transfer. Some of its features include;
1-Click Phone to Phone WhatsApp Transfer
Easy, fast and safe.
Move WhatsApp data between devices with different operating systems, i.e iOS to Android.
Supports iOS devices that run the latest iOS
Supports over 8000+ Android devices. Works for all models of iPhone, iPad and iPod.
3981454 people have downloaded it
How to Transfer WhatsApp data from Android to Android using this transfer tool
Follow these very simple steps to easily transfer your WhatsApp data between Android devices.
Step 1 Launch dr.fone on your computer and select .
Step 2 Connect both Android devices to your PC using USB cables and wait for the WhatsApp transfer tool to recognize the devices. Please note that you can switch the source and destination phones by clicking on "Flip"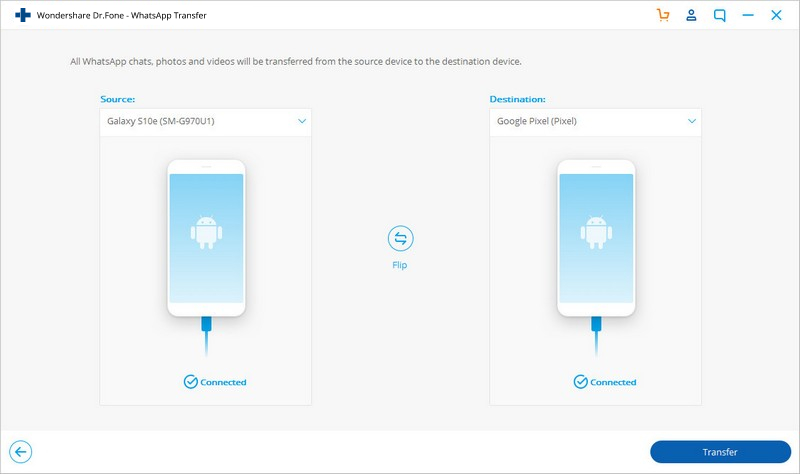 Step 3 Then click to transfer all WhatsApp data to the target phone.
We hope the above solutions have been very helpful for whatever issue you may be facing while using WhatsApp.