Top 6 Android App Manager: Manage All Apps on Your Android Device Effortlessly
When you have an Android phone or tablet, you must can't wait to install your favorite apps on it. The apps can be about games, media player, book store, social, business, which makes your Android life colorful and wonderful. However, when apps on your Android phone or tablet becomes swell, run out of your battery, result in slow performance, you probably want to do something to change it. In this case, an Android app manager becomes a necessity, with which you can keep all apps on your Android phone and tablet well.
Part 1. What Is the Android App Manager
The Android App Manager is an Android Management tool which helps to manage all apps installed on your Android phone and tablet. It can show you the details about an app, quickly search any app installed, and offer a report to tell you the frequently-used apps and unused apps and more.
Part 2. Default Way to Manage Apps on Android Phone and Tablet
In fact, you can manage apps Android phone and tablet without any third-party apps. Just tap Settings on your Android phone or tablet. On the screen, find Application manager. Then, you can can view the lists about all apps, apps that you download and apps that are running.
Select one list and tap one app. Then, you can do the app management by tapping Force stop to stop a running app on Android, tapping Uninstall to delete an app, or tapping Clear data to free up storage.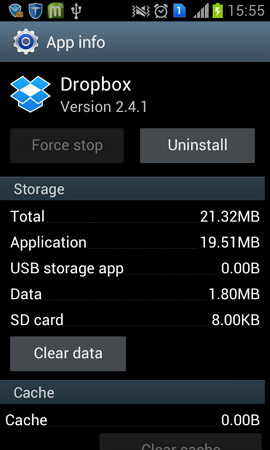 Part 3. Top 6 Android App Managers to Manage Apps from Phone
AppMonster Free Backup Restore is an application manager for Android phone and tablet. It can do a lot of things, like quickly search apps, sort apps by name, size and installed date and move apps to SD card. You can also backup apps to SD card and backup market links. Then, one day you want to restore, you can go to the SD card or market to restore the apps.
AppMgr, known as App 2 SD, is a cool App manager for Android to enable you to manage apps in an easy and convenient way. It gives you the power to move apps to internal or external storage, hide the system apps from the app list, freeze apps to speed up your phone. In addition, it enables you to share apps with friends, uninstall apps you don't want to any more, clear app caches to make room for more files. It's really very nice, which works like a charm.
Apk Manager is a very simple app, which is mainly used to install and uninstall apps on your Android phone and tablet running Android 1.1 and later. It's very fast with no ads. However, it can't force stopping apps, clear caches, sort apps and more.
App2SD &App Manager-Save Space, works great with an Android phone and tablet running Android 2.2 or higher. It shows you a list about all the installed and system apps, displays detailed information about any app, and lets you move apps to SD card. When you find some apps you seldom use, you can uninstall them or force to stop them and clear app data and caches. If there're some apps you like very much, you can also share them with your friends. For more features, you can download this app and have a try.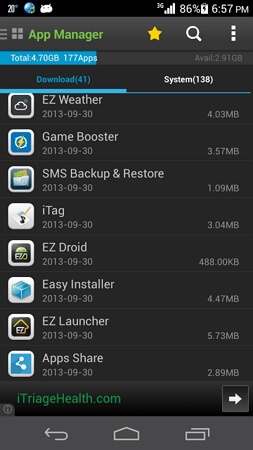 App Manager for Android is an easy-to-use app, which allows you to manage all installed apps and storage on your Android phone and tablet. It gathers apps installed in the phone and external memory in a list, offers you an easy way to search your wanted app. Besides, you can move apps to the external memory to free up phone memory. Other features, like uninstalling apps and clearing caches, or sharing apps with others, make it easy for you to manage apps.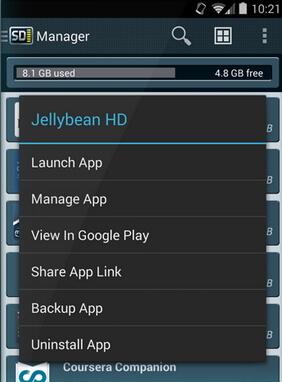 SmartWho App Manager can easily manage the apps installed on your Android and provide reports about the performance and system info about the apps. After installing SmartWho App Manager, tap "Android App Manager". On its screen, you can begin to manage apps on your Android phone, like search, sort, backup or restore apps on your Android phone and tablet.
Part 4. Desktop Android App Manager to Manage Apps from PC
The Android App Manager dr.fone- Transfer lets you directly manage all apps from the computer. With its help, you can easily download, install, uninstall, share, and export Android apps, move apps elsewhere to free up space, etc. Now, lets' have a look at how wonderful the software is!
One-Stop Android App Manager to Manage Everything from PC
Manage, export/import your music, photos, videos, contacts, SMS, Apps etc.
Transfer files between Android and computer, including contacts, photos, music, SMS, and more.
Transfer iTunes to Android (vice versa).
Manage your Android device on computer.
Fully compatible with Android 8.0.
4,683,542 people have downloaded it
Feature : Install, Uninstall, Export, Share and Move Android Apps
Go to the top column and click App. This brings up the app management window on the right. All apps on your Android phone or tablet are displayed there. You can easily check any app's name, size, version, installation time, store location.
Install App: Click the Install icon to install your desired apps from the computer in batches.
Uninstall Apps: Select your unwanted apps and click the Trash icon to uninstall them quickly.
Export Apps: Tick apps you want to export and click the Export icon to export them to the computer.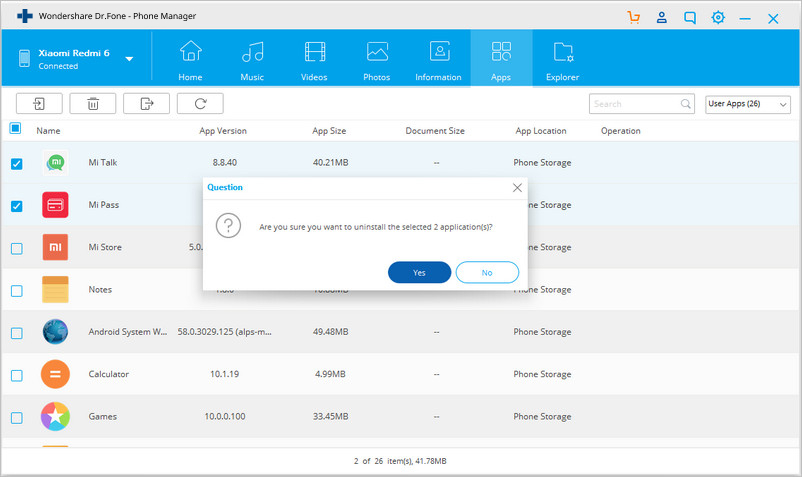 Android Tips
Android Features Few People Know

Various Android Managers
>
How-to
>
Fix Mobile Device Issues
> Top 6 Android App Manager: Manage All Apps on Your Android Device Effortlessly