4 Ways to Watch iTunes Movie on Android
There is a global acceptance of Android OS Smartphones and Tablets. Apple gadget users are incomparable with the new Smartphones hitting the market running on the Android OS such as LG, HTC, Motorola, Sony, Samsung and Google itself. All of these handsets now have a big screen and watching videos and HD movies on them is a better choice. Watching itunes movies on your Android phone has always been a problem.
Apple encodes music videos, movies and TV episodes in the iTunes Store using M4V files. In turn, the M4V files are usually protected by the FairPlay Digital Rights Management copyright protection of Apple. To play an iTunes M4V movie on a phone or tablet running the Android OS, the DRM (Digital Rights Management) protection has to be removed. In turn, recording a video from iTunes to formats compatible with Android is possible. Out of the four ways laid out below, you will definitely find the most reliable method of transferring videos protected by DRM into Android OS playable format that works for you. Once the conversion is over, the iTunes movie will be playable on an Android gadget like any other movie file.
Part 1. The Wondershare Video Converter Ultimate Method
This is an intuitive tool that helps to convert itunes movies and other videos into a format compatible with Android easily an interactively.
Step 1: After downloading and running the iTunes Video Converter, import the itunes movies of choice to the tool's central work area.
Step 2: Select the destination folder and output format. This is done by clicking the dropdown format menu and choosing the output format as Android OS. In the Output Folder, select the right folder that will hold the converted videos.
Step 3: Begin the conversion and transfer of iTunes files into your Android phone. After changing the settings as desired, click the "Convert" icon. Once conversion is over, find the converted iTunes movie by clicking "Find Target".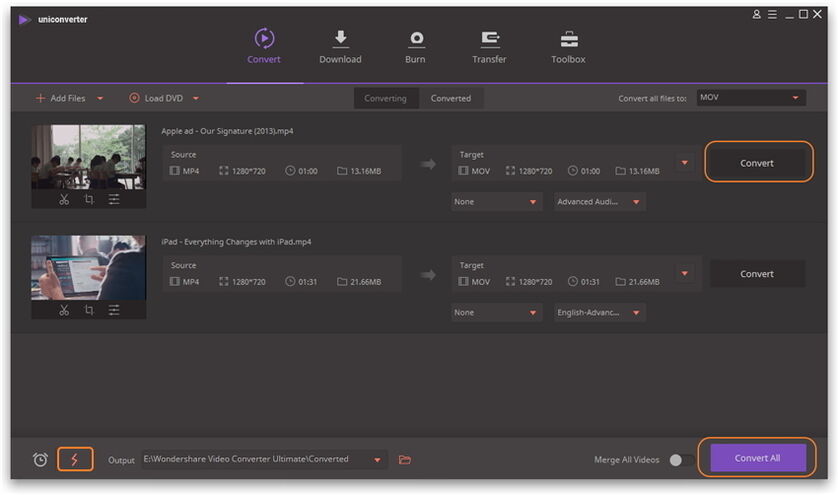 To watch iTunes Movie on Android, you can use Dr.Fone - Phone Manager (Android) to transfer the conveted iTunes video into Android devices.
One Stop Solution to Manage and Transfer Files on Android
Transfer files between Android and computer, including contacts, photos, music, SMS, and more.
Manage, export/import your music, photos, videos, contacts, SMS, Apps etc.
Transfer iTunes to Android (vice versa).
Manage your Android device on computer.
Fully compatible with Android 8.0.
3981454 people have downloaded it
Dr.Fone can also help you transfer unprotected iTunes movies to Android device with one click. Connect your Android device to PC and simply click Transfer iTunes Media to Device.
Part 2. iSyncr Android App
This Android app works one on one with iTunes while syncing your video content to an Android device via Wi-Fi or USB. Apart from syncing music, it allows syncing of skip counts, play counts, artwork, and playlists, among others. iSyncr also allows syncing new video content in an Android device into the iTunes library.
Step 1: Connect the device to sync.
Step 2: A list showing your entire iTunes playlists will be shown.
Step 3: Touch the only files you intend to snyc and click start. The initial sync might take some time, but after that everything will be easy and blissful.
Step 4: Find a suitable Android media player application and start accessing your content synced from the iTunes library.
Part 3. Manually Move Files from iTunes to Your Android Device
This method is simple and straightforward, but can also be tedious, especially if only a couple of specific tracks are required.
Step 1: Connect the Android device and put it into the Mass Storage USB Mode.
Step 2: Ensure the device is listed on your computer.
Step 3: Make sure your iTunes files are copied to iTunes Media Folder. Go to iTunes, Edit ? Advanced, and then check the option "Copy files to iTunes Media Folder when adding to library".
Step 4: From the Music folder, choose files from iTunes directly.
Step 5: Copy and paste them into your tablet or phone's folder.
Note: Those using a Mac and want to move files need to download the android file transfer official tool.
Part 4. Pavtube Chewtune Android Recorder Tool
Pavtube Chewtune is a free tool that is available for virtually anyone and always ready for download.
Step 1: Start by loading the M4V files. After running the tool, add the videos either by dragging or dropping them directly or importing them.
Step 2: Select the format by clicking the drop-down list and select MP4; it is the most compatible with Android gadgets.
Step 3:Click the "Settings" icon to access the Profile Settings window. You will find the settings for frame rate, bitrate, codec and video size. The video specs have to be changed.
Step 4: The process of iTunes M4V conversion into Android compatible format should start. This is done by clicking the "Convert" icon. itunes movies DRM is removed and recording begins into an Android playable format. This tool activates iTunes automatically to commence playing the movie file. You cannot close or remove the Player windows.
Step 5: Once the conversion is over, click the "Output Open folder" for quick location of the converted movie file.
Part 5. Comparison Chart for the 4 Methods
Beyond similar specs such as removing DRM protection and converting iTunes movie files into Android playable formats, here are different ways the four methods compare. They are different parameters of contrast to help you in making up your mind on the best method you can try today. Nonetheless, the list is not exhaustive.
| | iSyncr Android App | Manually Move | Pavtube Chewtune Tool Method | Wondershare Video Converter |
| --- | --- | --- | --- | --- |
| Copying of DRM protected files | No | No | Yes | Yes |
| Batch conversion | Yes | No | Yes | Yes |
| Audio files conversion | Yes | Yes | Yes | Yes |
| Extraction of audio from video | No | No | Yes | Yes |
| Output Parameters | Yes | No | Yes | Yes |
| Windows 7 | No | Yes | Yes | Yes |
| Windows 8 | No | Yes | Yes | Yes |
| Windows XP | No | Yes | Yes | Yes |
| Windows Vista | No | Yes | Yes | Yes |
| Ease of Use | Yes | No | Yes | Yes |
| Help & Support | Yes | No | Yes | Yes |
If this guide helps, don't forget to share it with your friends.
Android Transfer
Transfer From Android

Transfer from Android to Mac

Data Transfer to Android

Android File Transfer App

Android Manager

Seldom-Known Android Tips