How to Backup WhatsApp Business and Restore them?
As you know that since many merchants especially small-scale businessmen started using Whatsapp Business to connect with customers/clients for promoting their products and services. From the day of the Whatsapp business launch, more than 3 million people have registered their businesses across the world. We know how delicate business data is for a merchant. If unfortunately, it gets deleted or vanished from your account. Then it can turn your business into a huge loss. Also, businessmen with less tech knowledge couldn't find ways to cope with it. Hence, to find the best ways to backup and restore your essential chats, media, and other files, we've come up with this article. Where you will find the methods to back up your necessary data from WhatsApp Business. No matter what device or which operating system you're up to with your device. This piece covers all the possible ways to restore your backup file from your WhatsApp Business.
3 Ways to Backup and Restore WhatsApp Business for iPhone
Backup and restore WhatsApp business just in one click.
Our first solution Dr.Fone is a revolutionary tool introduced by Wondershare. With the advent of Dr.Fone, the restoring and backup of your WhatsApp business has become much easier than ever. You just need to connect your device iPhone/iPad to your PC and perform one click and the magic will happen by itself. Beside it, you can have a preview of the item that you particularly want to export to your PC as an HTML file for reading and writing purposes.
To use the Dr.Fone software tool, follow the below-given steps,
One Stop Solution to Manage and Transfer for WhatsApp Business
Backup your WhatsApp Business Chat history with just one single click.
You can also transfer WhatsApp Business chats between Android & iOS devices with great ease.
You restore the chat of your iOS/Android on your Android, iPhone or iPad in real quick time
Export all the WhatsApp Business messages on your computer.
5,968,037 people have downloaded it
Step 1. Connect your iPhone/iPad
To backup Whatsapp Business messages to your iOS devices, connect your iPhone/iPad to your PC
Step 2. Backup your iPhone/iPad WhatsApp Business
Choose "Backup Whatsapp Business messages". you'll see all your backup files listed on the tool window.
Step 3. Waiting for the Backup Finished
Now, you can just wait the backup WhatsApp Business to finish.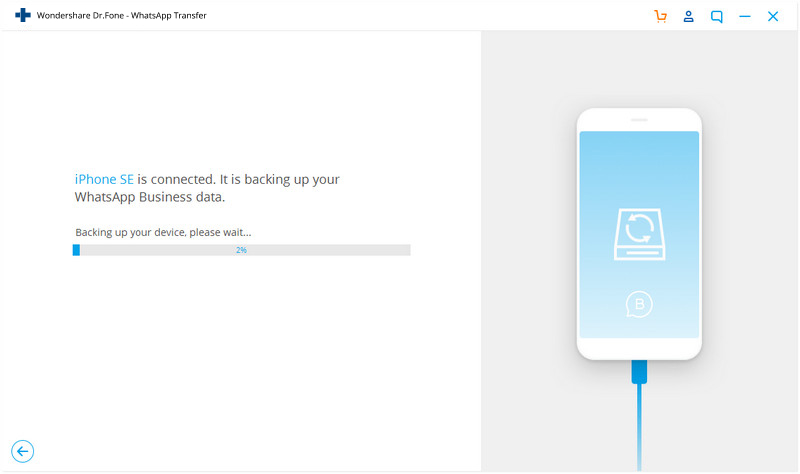 Step 4. Restore WhatsApp Business message backup to your iPhone/iPad
Without wasting time choose the backup file option from the window and 'click' on the 'next button' to restore the data directly into your connected device, iPhone/iPad.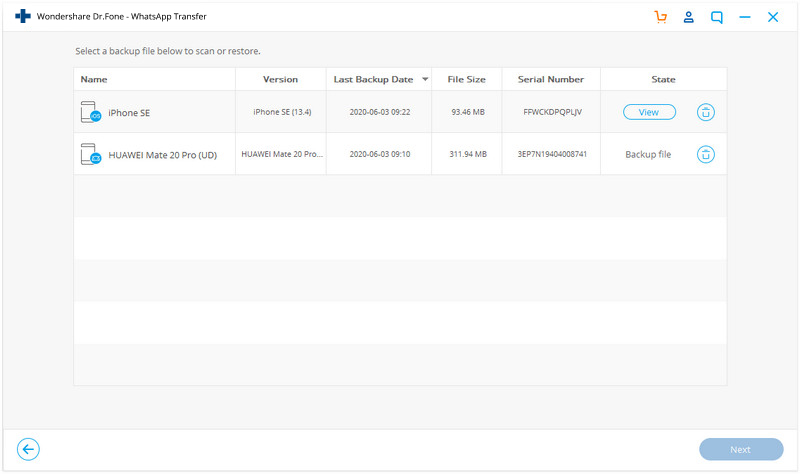 Or
If you want a selective file to be restored then view the backup file first, and then choose files that you particularly want to restore to your device.
Let the tool take its time after some time you'll see your files get restored into your device.
Backup and Restore WhatsApp Business with iCloud.
Our second method uses the iCloud set up to back up the files. But usually, iTunes set-up is often used to do the same but fewer people know that if you've enough iCloud storage then you can restore Whatsapp Business through iCloud also. But remember, we can't back up each contact info and media files (audio/video) directly. For that, you've to import the contacts to an email server for other purposes.
To understand and follow this solution follow the below-given steps:
Step-1: Before using this method make sure that you've set backup of all your Whatsapp data on iCloud. If you're not sure and want to check your settings then go to WhatsApp settings< Click on the Chats option< and then on the Chat Backup option. There you can figure out the backup settings and make changes as required.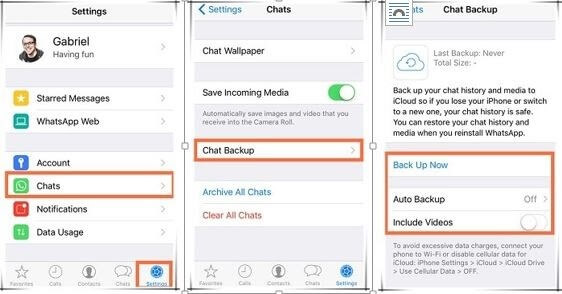 Step-2: Now, uninstall the existing WhatsApp Business application from your device and then again reinstall it from the app store. Follow the login process by entering the same account number that you've recently deleted. While logging in, a dialogue box will pop-up asking you to backup the previous chats and data, click on the confirm button to proceed with the backup process.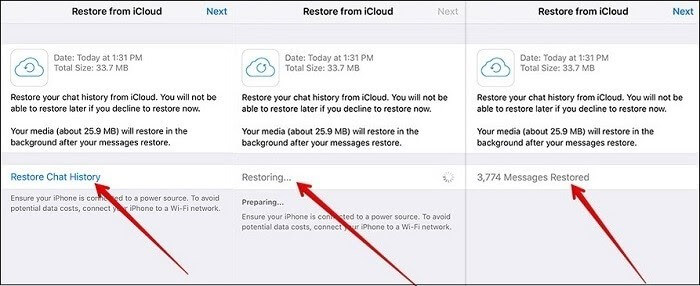 After following the whole process correctly, you'll be able to back up your chats and media to your iCloud account. Along with it, you can choose files to include or exclude from the backup. Depending on your internet the backup process can take a while to complete. The iCloud backup process can take a while to complete, depending on your Internet connection and backup size.
Note:
Before following this step, the solution method makes sure you're signed in with the Apple ID so that you can access the iCloud.
If you're concerned about your cellular data usage, we recommend that you limit your iCloud to only back up on Wi-Fi.
The disadvantage of using iCloud to restore the data from backup
You should not have less than the iOS 9 version and iCloud Drive turned on to follow this method.
Most importantly, you must have enough free space on both your iCloud and iPhone. At Least 2.05 times space should be available in your iCloud account and on your phone than the actual size of your backup.
Backup and restore WhatsApp business contacts with iTunes
Regular backup using iTunes is always termed as good practice because you can restore from there whenever needed. You can use iTunes backup anytime in the following situations.
Deletion of important files or data by an accident.
If your phone gets stolen by someone unexpectedly.
In case you purchase a new device in place of an older one.
And most obviously, automatic data deletion because of internal error.
There is no denying the fact that, nowadays, the number of Whatsapp Business users are increasing on iOS or iPhone as well. And undoubtedly, this app tops the list in social media apps. It is because Whatsapp provides an easy environment to share messages, files, videos, etc
But what will you do if your Whatsapp Business chats, media vanished suddenly? Don't get panic, because again the restoration process is a lifesaver which will help you to bring the lost data back quickly.
You just have to surf through the following given steps to learn how you can restore your WhatsApp data from iTunes backup.
Step-1: First, you've to log in to your iTunes ID from your PC using login credentials with Mac OS or Windows. Some iPhone users are unaware of the fact that their Apple ID is the only detail that enables them the iTunes and iCloud platform. So just make sure that you remember your Apple ID.
You've to type those credentials inside a text box as shown below.
Step-2: In the second step you've to connect your iPhone/iPad with your computer and tap the option 'Trust this Computer' on your iPhone. By tapping you're providing access permission. To connect your phone to the PC, you can use a normal USB cable, which is normally used for charging.
Step-3: Now click on the 'Restore Backup' button present in the iTunes interface. Afterward, view the ''Manually Backup and Restore' button labeled within the 'Backup' section. From it, you can choose your required contacts to restore from your iTunes ID.
Now, you would be able to view the radio button in the left panel of the screen, beside 'This Computer'. It will enable you to restore the whole data from the connected computer into your iPhone.
Step 4. At last, click on the 'Restore' backup button. This will trigger the restoration process.
Restart your iPhone in the end by retaining the connection with the computer. Once completing this process. After the restart waits for some time until your device completes the synchronization with the computer. And here you go with your backup data.
2 Ways to backup and restore WhatsApp Business for Android.
2.1 One Click for backup and restore WhatsApp business (write the steps for backup and restore WhatsApp business through dr.fone)
Step 1. Connect your Android Phone
If you want to restore WhatsApp data to your android device, then you need to choose the "Restore WhatsApp messages to Android device" option from the application's interface. Get your android device connected to the computer. Then you'll see all your backup files listed.
Step 2. Restore WhatsApp message backup to your Android device
Without wasting time choose the backup file option placed on the right side of the sliding window. Then click on the" Next" button to directly restore the whole lost data to your android device.
Or
If you want to restore some selective files then choose the option 'View the backup file' first, and then selectively choose what you want to restore to your device.
2.2 Backup and restore WhatsApp business through Google Drive
How to restore WhatsApp backup from GDrive
Step 1: First connect your phone to the internet, using either WiFi or network data. We suggest you go with the Wi-Fi network because backup data can be huge in amount, which requires high-speed internet to download.
Step 2: In the second step you've to set up your phone with the same Google account where the WhatsApp backup has been stored.
Step 3: Now simply download and install WhatsApp from your Play Store.
Step 4: Open the WhatsApp application on your phone, quickly accept its terms and conditions, and then enter your phone number and wait for OTP to get verified.
Step 5: You will get a 6-digit OTP (one-time-password) through SMS, fill it in the blank spot and click on the Next button.
Step 6: This step is crucial where a pop-up message will be portrayed on your screen asking you that the existing backup file is saved on GDrive and would you like to restore your chat history.
Step 7: Click on yes and give your permission to retrieve chat history from Google Drive backup. Now the backup will start restoring your text messages, multimedia in the background.
2 Ways to backup and restore WhatsApp business between iPhone and Android.
3.1 Easy backup and restore WhatsApp business with one click
Do you have followed all the above methods but didn't get all of your files restored from your back up? It sucks when you can't find a way to retrieve your precious data. Don't worry, because when nothing works then dr.fone starts showing its magic. Be it about retrieving data from your stolen, broken, and accidentally deleted data from the phone. Dr.fone works efficiently in every aspect.
In this section, we're going to talk about transferring your WhatsApp business data between android and iPhone.
Follow the below-given step guide to back up your data with just one click.
Step-1: First of all, launch the dr.fone software on your computer and select the "WhatsApp Transfer" module.
Step-2: Now, after clicking on the "WhatsApp Business Transfer" button, select the WhatsApp tab and then click on the "Transfer WhatsApp Business messages".
Step 3. Connect both phones to your computer
Now, it's time to transfer the data in between your phones, connect both of the smartphones to your computer. Our software will load the messages and media attachments in the background before you transfer.
Step 4. Start to transfer WhatsApp Business messages
What are you waiting for? Just click on the "Start" button and have the patience to wait, until it completes the transfer.
Also, you can flip the destination and source of the phone as you requested. It will merge the chats, whenever you transfer from Android to iOS phones.
Step 5. Transfer completed
Mark the words very seriously that it is better you do not move or touch the phone during the transfer. When the transfer completes a window will be shown as below. You can disconnect your phone afterward and check whether the data is transferred on the target device or not.
Backup and restore WhatsApp business with Email
Although your Whatsapp data are automatically backed up and saved daily to your phone memory. Besides the above-mentioned methods, the email can also be practiced to back-up your important chat or media data. if any case you want to uninstall Whatsapp from your phone but want to keep some essential messages or files then this method is fit to your requirement.
However, this is widely used to send media directly from WhatsApp to email. But you can also use it to restore Whatsapp business data. To restore your data by using email, first, you've to manually back it up to the desired email, so that you can download it from there any time.
Following are steps to do it,
Step 1: Open the chat for the individual or group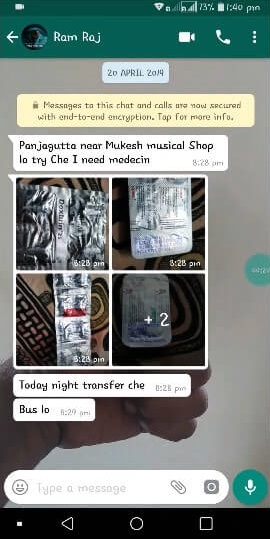 Step 2: Tap the Menu Button (Three dots at the top of the right side).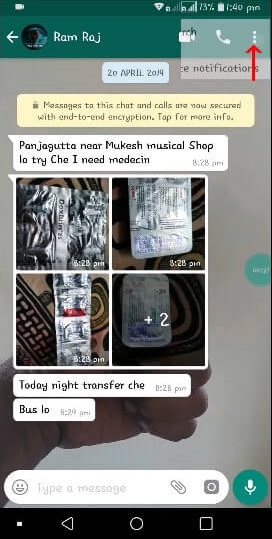 Step 3: Tap More option on the drop-down menu.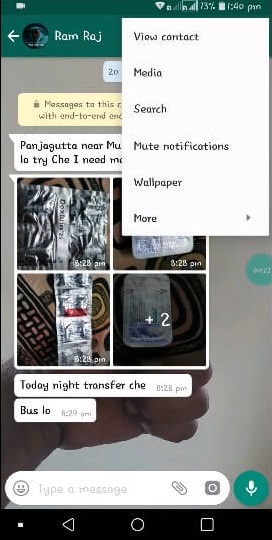 Step 4: Now click on the Email chat option from it.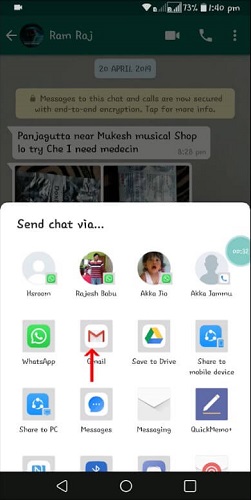 Step 5: Now select the option with media or without media accordingly.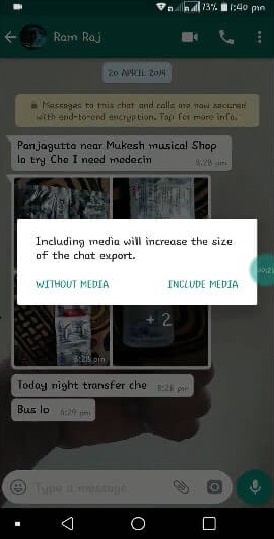 Step 6: Now write down the email where you want to send the selected chat and media.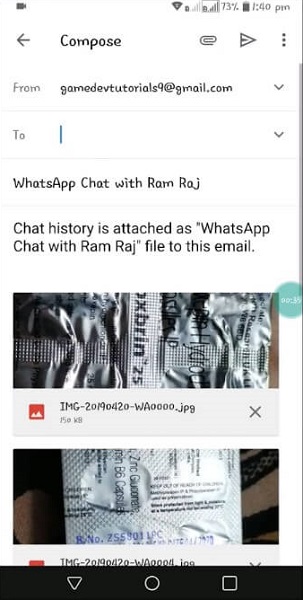 An email will be composed of your chat history attached as a .txt document. You can download it from your mail anytime when required.
Note:
If you choose to attach a media option while exporting the chat, the most recent media sent will be added as attachments.
You can only send up to 10,000 latest messages. And without the media, you can send 40,000 messages. The limit is set due to maximum email sizes.
Note: The email chat or media export feature isn't supported in Germany
Conclusion
We hope that our piece has helped to find your best way to retrieve your lost data from your saved backup. Moreover, if you're less tech-person then Wondershare's dr.fone is some revolutionary tool that you can always use. This way you don't ever lose your data, because you're always just one click away from your data.
WhatsApp Business Tips
WhatsApp Business Introduces

WhatsApp Business Preparation

WhatsApp Business Transfer

WhatsApp Business Using Tips