Top 3 Android Repair Software to Fix Android System Issues
Functioning of a Smartphone and tablet depends upon the well-being of its Android operating system. If an Android system works well it makes the day, but the moment you discover something is not well with the system, it creates a situation of chaos. As most of our precious time remains engaged with Android devices such as Smartphones and tablets, even a small issue is time and resource consuming. Some of the main Android System Issues are as follows:
a. High Battery Consumption
b. Hang or Slow speed
c. Connection issues
d. Un-send Messages or Sync issue
e. Overheating of the device
f. App or Google play crash issue
g. Screen gets unresponsive
h. App download issue
Our only motive is to resolve your concern, covering the issue of Android system errors, Android repair software, how it works, and all its related features. Read the article to find out the answer.
Note: Before you start the process of fixing Android system issues, it is suggested to save and backup the data so that there is no chance of data loss. As many time data gets refreshed, replaced, the unused data gets off. To avoid any kind of such changes or a situation you can go for data recovery tools. For the backup and recovery purpose, we recommend you to opt for the dr.fone - Android Data Backup & Restore. This will assist you to backup all kind of data such as call history, messages, voice data, videos, calendars, contacts, applications and much more.
Part 1: Android System Repair Software: Phone Doctor Plus
Phone Doctor Plus: Android repair works as a phone tester to check the health of the battery and your device. Just like in our daily life there is so much importance of a Doctor as it keeps a check on our health, in the same way, Phone Doctor plus takes care of our Android devices such as Smartphones or tablets.
1. key Features:
It fixes the crashing issues
Keeps a record of battery cycle and network usage to avoid any misuse or over-usage
Keep a check on flashlight, audio system, display of the monitor, the Compass stability or and Storage speed meter
Check the vibrator of the system, Bluetooth and Wi-Fi, Control and test volume
Has light, temperature, humidity, pressure and touch screen sensor
Comes with acceleration and gravity checker, and Optimize memory access speed
User Review:
It has been rated a 4.5 by users making it one of the best Android fixer.
As per Users review, it is intuitive to use. It diagnoses the problem thoroughly, keeps repairing and testing intact.
Not 5 star due to certain issues, such as some options do not work and issues with the small speaker.
Pros:
a. Inspects all kinds of device problems
b. Is user-friendly and performance enhancer
c. Processing is fast
Cons:
Seen some issue of App crashing, hope that developers will fix it soon.
Part 2: Android System Repair Software: System Repair for Android 2017
System repair for Android 2017 is designed to maximize the performance of the device. It can scan and repair the system instantly to avoid unwanted software that stops the functioning of the device. It will resolve the issues of Android error, that is stopping you from operating your device and does not let you optimize the performance of the system.
Features:
Functioning is quite fast
Keep check on system error
Fixes the frozen device
Fast and deep scan mode
Represents stable functionality
Battery Information is an added feature
User Review:
With an overall rating of 4, this app can be called the second best in its league.
As per user reviews, it helps them in fixing their frozen devices, increase speed and improve the performance of the device.
Few drawbacks are that it represents adds that link to other software, continuous usage sometimes causes overheating.
Pros:
a. It is a scan and repairing master
b. Reliable source to keep eye on system features
Cons:
a. Too many advertisements
b. Some users face speaker issue, as a remedy team is updating the software issue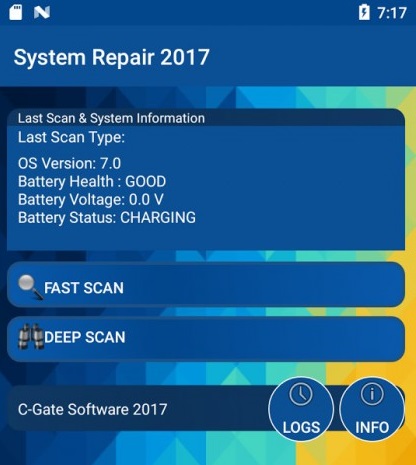 Part 3: Android System Repair Software: Dr. Android repair master 2017
You can consider Dr. Android repair master 2017 as a single solution for all errors holding you back. This app helps you fix your device from lagging or functioning of any program. Thus it helps to improve the productivity of the device and keeps a check on system software so that only worthy and useful software remain embedded to your device.
Features:
Keeps an eye for a frustrating software that holds back the device
Processing Speed is fast.
Repairs system slowdown so that device will work fast as per optimized speed
Resolves start-up issues and makes operating system reliable
The bug fixation assistance helps in reducing error caused by unknown bugs
User Reviews:
Its overall rating is 3.7, making it not so popular app.
As per user reviews, it is easy and simple to use, helps to fix lagging issue, solve their battery issues.
Some of the issues faced by users are, up-gradation of software causes slow speed, download issues, and too many adds
Pros:
a. Keeps a check on errors and fixes them
b. Improves productivity
Cons:
a. Sometimes stops the processing of Android
b. Latest update and downloading issues pose a problem
Your Android device such as Smartphone is one of the most important gadgets of today's daily life. Hence, most of your concern will be to keep it safe from all odds of system error as they are troublesome and cost affecting situation and that's why we covered the details on the top 3 Android Repair software that will help you. In this article, we came across the software with ample detail so that you can choose the one most suited for yourself. We tried our best to cover all your queries regarding the Samsung mobile repair as well with proper fixes for the issues in this article.