How & Why to Connect WhatsApp Business and Facebook Page: Tips & Tricks to Maximize Call to Action
Guess which is the #1 app in the world in terms of downloads and user base? The answer is Facebook, either as the Facebook app or as Facebook Messenger. Guess which is the #2 app in the world? That's WhatsApp. These two apps take turns as top apps all over the world. WhatsApp also caters to business by way of a separate WhatsApp Business app, and since as of 2014 WhatsApp is owned by Facebook, connecting your WhatsApp Business account and Facebook page makes sense to harness the full power of the two platforms.
WhatsApp versus WhatsApp Business versus WhatsApp Business API
There can be some confusion between WhatsApp, WhatsApp Business, and WhatsApp Business API to Facebook Page or as standalone for people who have not come across the Business version of WhatsApp before or don't know what is WhatsApp Business API. WhatsApp is the original app that we all know and use to stay in touch with our near and dear ones. WhatsApp Business is a specialized app that provides features for businesses to stay in touch with their customers. WhatsApp Business can be used by small businesses to showcase their products and by medium and large businesses to provide customer support and notifications using the WhatsApp Business API. The app discussed in this article is WhatsApp Business.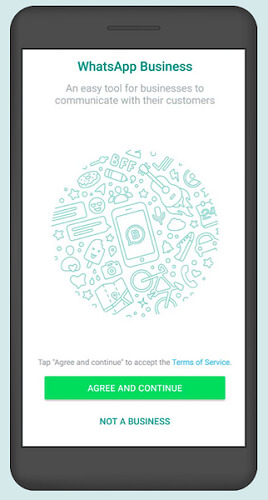 WhatsApp Business app was designed to keep individuals and small businesses in mind, the ones who do not have a large clientele and who can stay abreast with and engage with individual customers and clients using the tried and tested WhatsApp platform while maintaining professionalism and separation from their personal WhatsApp accounts.
WhatsApp Business API, on the other hand, is for large-scale businesses to stay in touch with customers and use automation to their benefit in providing customer service. Customers can inquire about the orders they placed, or businesses can keep their customers updated with the orders their customers placed along with providing notifications such as when their orders will be shipped or delivered. Using WhatsApp Business API requires you to have your business verified on Facebook.
Facebook Pages
Facebook is used by over 2 billion people across the world to connect with and stay close to their loved ones. Facebook brought out Facebook Pages as a feature of Facebook to help business users set up a virtual storefront as Facebook calls it, and showcase their products and services and connect and engage with their customers on Facebook and to get ready visibility on the platform for potential customers.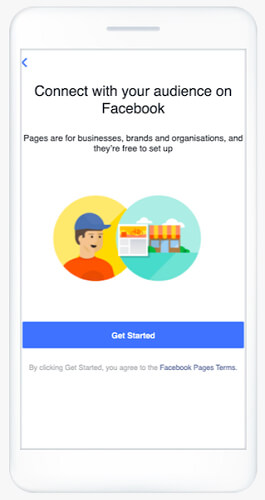 Connect WhatsApp Business Account to Your Facebook Page
Ever since Facebook purchased WhatsApp, it was only a matter of time before WhatsApp was integrated deeper into the Facebook ecosystem and for business users, this comes in the form of connecting their WhatsApp Business account with their Facebook page for business.
Why Connect WhatsApp Business to Facebook Business Manager
Connecting your WhatsApp Business account to Facebook Business Manager gives you the ability to set up a button on your Facebook page or run ads on the Facebook platform, making it easy for customers to connect with you on WhatsApp. When customers click a button on your page or in the ads, it opens a WhatsApp chat with your business, connecting businesses and customers more directly and in a way that they are more comfortable, and hence, potentially increasing business.
Customers can use WhatsApp to find information about your business, check products and services and even place orders and make inquiries about their orders from directly within WhatsApp if the WhatsApp Business API is available to you. This enables a whole new dimension of customer service and convenience for both you and your customers and irons out some impediment's customers might be facing in communicating with your business.
Steps to Connect WhatsApp Business with Facebook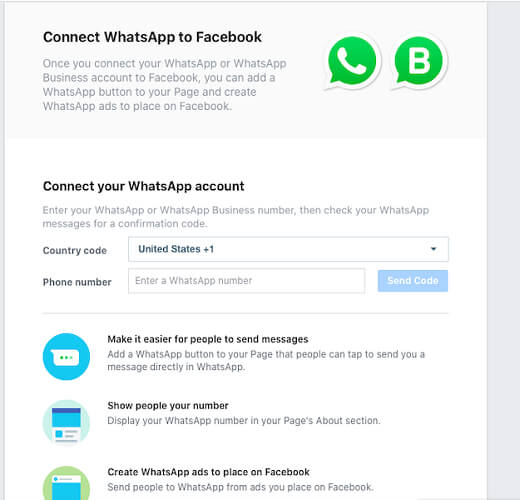 Connecting your WhatsApp Business account with Facebook is easy. There are only six steps to follow:
Open Facebook on your computer and navigate to your Facebook business page
Click Settings at the top.
On the left-hand side, you will see WhatsApp. If you don't see it yet, scroll down. Click it.
Your country code should automatically be filled in, and if not, use the drop-down to select your country code and then enter the phone number you use with your WhatsApp Business account.
Click Send Code.
When you receive a code on your WhatsApp Business phone, enter that code and click Confirm.
Trouble Connecting WhatsApp Business to Facebook Business Manager
Most people would find that the steps described above enable them to connect their WhatsApp Business to Facebook Page easily and without hassle. However, in case you are unable to connect your WhatsApp Business to Facebook Page, you need to check certain things and there are some things you can do to work around the issue.
Problem: I Don't See the WhatsApp Option in Settings!
Check: Is the Option Rolled Out in Your Region?
If you are not able to see the WhatsApp option in Settings on your Facebook page, the #1 reason behind this is that the feature might not have rolled out in your region just yet. Seeing as how large Facebook is, the feature is rolled out in batches and it maybe hasn't been rolled out to you just yet. You can sign out and sign back in to check, otherwise, just wait until the feature is rolled out to you so you can connect your WhatsApp Business to your Facebook Page.
Check: Are You the Page Admin? Do You Have Appropriate Permissions?
It is possible you might not be a Facebook Page admin and the permissions you have are limited to posting on the Page among other things. In that case, contact the Facebook Page admin to do the needful and they will either connect WhatsApp to Facebook Page themselves or they will simply change permissions to allow you to do so on your own.
Problem: I Don't See WhatsApp Business Option in Facebook Business Manager!
Check: Is Your Business Verified?
You may have a longstanding WhatsApp Business account that you are using. You may be able to connect said WhatsApp Business account to your Facebook Page also. But, what do you do when you want to use the WhatsApp Business API to connect with your customers using Facebook Business and you can't see WhatsApp Business in your Facebook Business Manager?
The problem might be that your Facebook Business is not verified yet. If your Facebook Business is not verified yet, you will not be able to use WhatsApp Business API on Facebook Business to connect with your customers.
Open your Facebook Business Manager, go to Business Settings, on the left-hand side scroll down to find Security Centre, and under Business Verification, click Start Verification. In case this option is greyed out for you, look above, and see what you need to resolve before you can get your business verified. You will likely need to enable Two-Factor Authentication and add one more business admin to the account before you can begin with verifying your business on Facebook and start using WhatsApp Business API on Facebook.
Side Tip: How to Get WhatsApp Business Account Verified?
There is nothing one can do to get their WhatsApp Business account verified. There is no payment to be made to WhatsApp or anyone else, there is no request to be sent anywhere for verification. There are no documents to be provided. WhatsApp runs its own internal mechanism to grant Confirmed (grey tick) or Verified (green tick) badges to WhatsApp Business accounts on an ongoing basis. All one can do is fill in the details in your WhatsApp Business account and wait for WhatsApp to verify your account on its own.
How to Use WhatsApp Business on Facebook Page: Increase ROI Through CTA
Once you have your WhatsApp Business account connected to your Facebook Page, you might wonder how to best use it to drive your business and what steps you can take from here. WhatsApp is ubiquitous, and almost everyone is familiar with it and uses it. It is the #1 app in the world, and where it is not, it comes in at #2. Businesses can use WhatsApp Business to be on top of the communication needs of their customers and even drive their ROI through the roof with advertisements on Facebook that customers can click and connect with you straight via their WhatsApp, something they would be more willing to do, considering they already trust both WhatsApp and Facebook.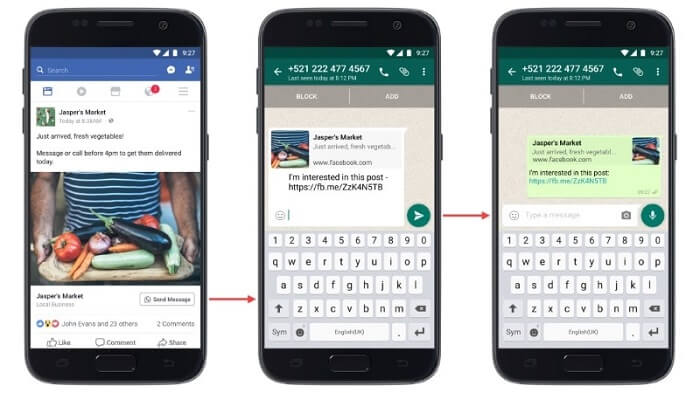 Add A WhatsApp Button on Facebook Page
The very first thing one needs to do, something that is also suggested by Facebook while connecting WhatsApp Business account to Facebook Page, is to place a WhatsApp button on the Facebook Page. This enables any visitor on your page to see prominently that they can connect with your business on WhatsApp. WhatsApp is personal, customers do not have to share anything publicly, so they will be more inclined to "have a chat" with you.
Boost Facebook Posts with WhatsApp Business
The sole reason behind the exercise done to connect WhatsApp Business to Facebook Page is to drive business and return on investment through smart call-to-action. This is done through boosting your Facebook Page posts and driving traffic to your WhatsApp Business number. When visitors click a WhatsApp-enabled ad on Facebook, it opens WhatsApp on their phones, ready to chat with the business. They can send a message, and the business can reply to them directly and personally.
WhatsApp Business Tips
WhatsApp Business Introduces

WhatsApp Business Preparation

WhatsApp Business Transfer

WhatsApp Business Using Tips
>
How-to
>
Manage Social Apps
> How & Why to Connect WhatsApp Business and Facebook Page: Tips & Tricks to Maximize Call to Action