Dr.Fone - Data Recovery (Android)
Recover Lost Data from Samsung Phone
Recover Lost Data with Ease: The Top 6 Samsung Data Recovery Apps of 2023
As much as we try to avoid mistakes, they one way or another find a shrewd way to crawl into our paths even for the most careful and meticulous group of homo sapiens. The same is the case with our mobile phones. We sometimes get too confident and in one fast cocky move, "select, delete, yes" without a second thought and BAM! The file is gone. The funny part is, you realize your mistake just a split second after hitting that "Yes" confirmation button. However, by then it is too late. After reality hits you, it boils down to looking for how to solve data loss, you ask yourself, "is it possible to recover it?"
Well, you can calm your upper story, it is possible to recover lost files using Samsung data recovery apps and or using third-party software, such as Dr.Fone - Data Recovery(Android). We will be diving into the top 4 Samsung mobile data recovery software and the top 2 data retrieval software for laptops.
safe & secure
Support to recover data from 6000+ Android devices, such as Samsung, LG, Huawei, etc.
Part 1. What Are the Main Reasons for the Samsung Data Loss?
There are always reasons for any action or reaction and this does not exclude the issue of data loss in Samsung phones. I guess the easiest way or reason for the loss of data is by human error, which some people might refer to as "Fat or Fast Fingers".
Like said earlier, you might accidentally delete as your hands were moving too fast or your mind processing too slow then. That is, operating your phone and deleting files absentmindedly. Either way, you end up paying the price for the loss of your files.
Performing a system update has also been known to be a recurring culprit. A system upgrade, either officially or manually, it is usually a delicate process in which the slightest mistake could end in a disaster such as losing your files or even worse.
Similar to upgrading or updating your device, another easy road to data loss is the act of rooting or jailbreaking your device. As much as this act can unlock hidden amazing features on your device, you might encounter data loss or even bricking your device.
A virus attack due to transfer or from the internet can corrupt the device and make it malfunction by deleting some or all of its files.
Lastly, something as simple as removing your battery or replacing it can also lead to data loss especially when the operating system was busy while the battery was taken out.
Part 2. Why Can Deleted Data Be Recovered?
I know some people still find it hard to believe that deleted files like videos can be recovered, it sounds like a fairy tale that cannot occur. Let me put the misery to rest by breaking it down for you.
Lost or deleted files are not exactly gone into thin air when they have been deleted. Deleted files are still recoverable until they are overwritten by another file. When you delete a file your operating system removes details about the deleted file from your storage device (like a smartphone, laptop, or computer) and marks that sector as free. The files are hidden in the sector where they were previously occupied until overwritten by the addition of new files. Thereby, Samsung data recovery software can uncover the hidden files and restore them.
Part 3. Top 4 Samsung Smartphone Data Recovery App
We will now look into the top Samsung data Recovery app:
Dr.Fone - Data Recovery(Android) app for Android devices ranks top on this list. It is not only the best for recovering lost data but also is easy to use with a top-notch user interface that requires no geeky knowledge to navigate through. It is not just used as a Samsung data recovery app, it also has quite a several other amazing features. It can be used to scan the device data as well can preview that. It can recover data from SD cards, broken devices, etc. It supports almost all Android devices. Thus you can say it is a 100% secure way to get back lost data. Dr.Fone can alternatively be used as a Samsung data recovery app to safely root your device.
Recover Deleted Files from Android Without Root
Recover data from Android devices.
Supports to recover Contacts, Messages, Call history, Video, Photo, Audio, WhatsApp message & attachments, documents, etc.
Supports 6000+ Android phones and tablets from brands like Samsung, HTC, Motorola, LG, Sony, Google.
Highest retrieval rate in the industry.
3981454 people have downloaded it
Pros:
It is easy to use
Supports over 6000 different android phones and brands
Does not require any technical knowledge to use
Recovers all types of files
Works without rooting your device
Cons:
It only supports Android and iOS operating systems
Links: Dr.Fone - Data Recovery(Android)
Rate: 5 stars
How to use Dr.Fone to recover deleted data from your Samsung phone?
Step 1. First of all, download and install the Dr.Fone software on your personal computer, then launch it. Ensure that your phone is plugged into the computer with a functional USB cable. There might be a need to connect the device in USB debugging mode. When prompted on your phone for access, click "Allow".
Step 2. Dr.Fone displays a new screen with options to select from. Click on "recover phone data" and then checkboxes of the deleted file option which you wish to recover then hit the "next" button.
Step 3. Once Dr.Fone has scanned your device for deleted files, you should now see all deleted files from your Samsung phone. Select those you wish to recover and click on "Recover" to restore them to your desired location.
So, if security, easiness, and perfection is your priority then choose Dr.Fone - Data Recovery (Android).
safe & secure
2. EaseUs Mobisaver for Android
EaseUS Mobisaver is another impressive software that can serve as a Samsung data recovery software with a very effective outcome. This software was created majorly for data recovery and it does have a simple and straightforward user interface. It simply scans and recovers deleted files from your Android device.
Pros:
It has a very visceral user interface easy to use
It has a free trial and purchased version
It is inexpensive compared to other data recovery apps
Cons:
The trial version has quite a several limitations
Recovered files might sometimes be corrupted or not fully recovered
Links: https://www.easeus.com/android-data-recovery-software/android-data-recovery.html
Rate: 4.5 stars
3. iMobie PhoneRescue for Android
Phonerescue has been an award-winning software for Samsung data recovery designed for Android users to recover lost or deleted files and data. It has a high and impressive data recovery rate with optimum compatibility with a wide range of devices.
Pros:
It is safe and risks free
24/7 technical support team
Wide compatibility with several devices
The top-class recovery success rate
Cons:
Links: https://www.imobie.com/phonerescue/android-data-recovery.htm
Rate: 4.5 stars
4. iSkySoft
iSkysoft is one of the easiest ways for data recovery. With its developers designing it to serve as an easy to use and powerful data recovery tool for several users, it has received a high rating from users and critics as well.
Pros:
Can preview files before recovering
It is clean and safe to use
Supports major flagship Android devices and brands
Cons:
It is not free
It does not support a wide range of other Android devices
Links: https://toolbox.iskysoft.com/android-recovery-tools.html
Rate: 3.5 stars
Part 4. Top 2 Samsung Laptop Data Recovery Software
1. Recoverit
Recoverit is one of the few ultimate Samsung recovery software tools for personal computers. It was built to recover all types of files from different sources or storage devices. Recoverit can be used to recover lost data from deleted files to scan the recycle bin for cleaned files, recovery of data from formatted storage disks including external device storage. It can also recover lost data due to virus attack or general system and operating system crash or even files you deleted by hitting the "Shift + Del" shortcut keys. How impressive is that? All these operations can be carried out with just a simple click and the software does the rest of the process in no time.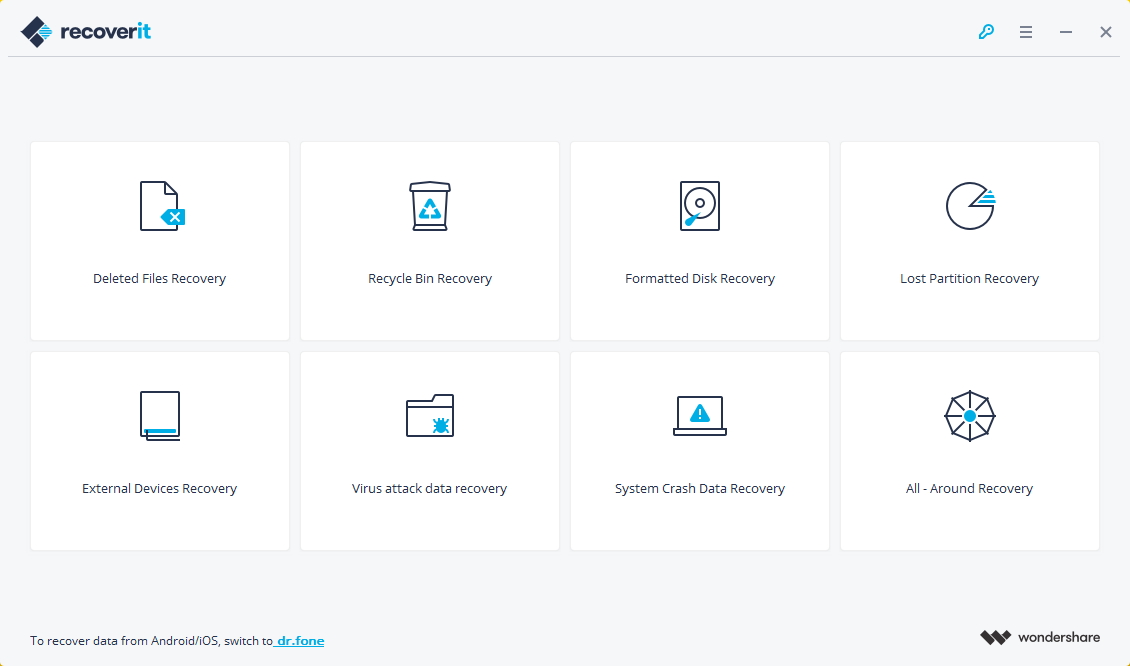 Pros:
It has an intuitive and simple user interface
All functions are available in one location and can be easily understood
It can be used to recover any file type from the different storage
Have 24/7 free technical support
Has functional 7-day money-back guarantee policy
Available in over 160 countries
Cons:
It is not free software but it does offer a free trial period
Links: https://recoverit.wondershare.com/
Rate: 5 stars
To use Recoverit to recover your lost or deleted files, follow these simple steps to use
Step 1. After downloading and installing the software on your computer, launch Recoverit on your personal computer to view the home screen
Step 2. Click on the "Deleted File Recovery" option
Step 3. On the next screen, you are expected to select a hard drive location for the files you intend to recover, then hit the "Start" button to start the scanning process
Step 4. Once the scan is complete, you will be able to preview some deleted files. If the file you are looking for is still missing, you can rescan by clicking on "All-round recovery" option
Step 5. This process might take a long time since it runs a more complex and deep search algorithm for better results.
Step 6. Once you have been able to see the files you wish to recover by previewing, you can select the files and then click on recover.
2. Data Rescue PC3
Has a disk-imaging feature that is capable of making an exact copy of your hard drive in the early stages of a mechanical breakdown. The best thing about this software is that the developer can send you a bootable CD if your Samsung laptop is not able to load up at the start-up process! How great is that?
pros:
A self-booting CD is packed along with the software to help recover files from crashed hard drives.
It also has a deep scan feature.
Cons:
While powerful, it is one of the more expensive data recovery software out there.
The trial version is limited.
Part 5. The Best Way to Avoid Samsung Data Loss
Some Files and data can be irreplaceable when lost, and since several unforeseen circumstances can lead to data loss, the best way to curb a devastating loss of data is to ensure that you create a backup for your files. For Samsung devices, the brand has provided an app meant for backup known as Smart Switch.
To back up files using Smart Switch by Samsung,
Step 1. First, you need to download the app from Google Play Store and install it on your phone.
Step 2. Launch the app and agree to the terms and conditions. You can then click on "Android to Galaxy" option to transfer from one Samsung device to another
Step 3. After which you select the file to be transferred and it will be sent.
Pros:
It works on all Samsung phones
It supports cloud backup
Cons:
It cannot be used by other Android brands
It is time-consuming
An alternative and a more effective way to backup files is by making use of Wondershare Dr.Fone. It is easy to use and fast.
Flexibly Backup and Restore Samsung Data!
Selectively backup Android data to the computer with one click.
Preview and restore the backup to any Android device.
Supports 8000+ Android devices.
There is no data lost during backup, export, or restoration.
3,981,454 people have downloaded it
Step 1. Simply launch the software on your PC and make sure that your mobile phone is connected to your computer, then select "More tools" and click on "Android Data Backup and restore"
Step 2. You are prompted to select either "backup or restore", select "Backup
Step 3. Different file types on your Phone would be detected, select the file type to backup and click "Backup"
Step 4. When complete, click on "View the Backup" to show backup history
Pros:
It is simple and very effective
Supports over 8000 Android phones from different brands
Previews details of all backups before backing them up
Cons:
It is not free but has a trial version
safe & secure
Part 6. Why You Should Not Send Your Samsung Phone to The Repair Shop?
1. Exposing Yourself Bare: The issue of privacy
A lot of us tend to have common passwords across various accounts. Leaving your password-protected Samsung phone at a repair shop potentially can become a privacy issue. If at all, you have to do it, make sure to either change the password or remove it altogether. Also, leaving your phone may make your confidential and unencrypted data vulnerable, which may be an issue if you have signed an NDA. Even encrypted data may be decrypted by skilled engineers, should they have a motive. This is not to say that mobile repair shops are out there to dupe you.
2. Data Recovery Is Not Cheap
The fee charged by a mobile repair shop is usually determined by the complexity it takes to retrieve and restore your data from the phone's memory. It may range from $300 - $1500 depending upon the reason behind the data loss and the nature of recovery required. That's even more money than the sum you shelled out for your phone!
3. Not Covered by Warranties
Last, but not least, the Samsung phone's warranty will be voided once the repair shop starts working on them.
Conclusion
Thus, I am sure that now you must have decided which one of the Samsung data recovery apps to choose from the above list right? Well, friends, all the listed apps are good to use. However, if you are looking for a professional Samsung recovery software then go for the Dr.Fone - Data Recovery (Android) for Samsung smartphone and the recovery tool for your PC.
safe & secure
Samsung Recover
Your Complete Mobile Solution

● Manage/transfer/recover data
● Unlock screen/activate/FRP lock
● Fix most iOS and Android issues
>
How-to
>
Data Recovery Solutions
> Recover Lost Data with Ease: The Top 6 Samsung Data Recovery Apps of 2023