How to Send Large Size Videos and Photos from iPhone X/8/7/6S/6 (Plus)
It can be very annoying to try and send a video either via iMessage, email or SMS just for your iPhone X/8/7/6S/6 (Plus) to tell you the video is too large. This is a common problem that many iPhone users face from time to time. You should be able to capture a short 2 minute video and send it to your friends.
It is our hope that by reading this post, you will be able to do this easily and whenever you want to. But before we offer any solutions let's see why you keep getting that error message when you try to send that large size videos.
Part 1: Why you can't send your video file
This problem mainly occurs for two reasons. One of them is that the iSight camera only records HD videos so even your two minute video will probably be a few hundred MB in size. The other reason is that Apple sets a data usage limit as a way of preventing customers from using too much data hence they do not allow for you transfer files that are very large. Some experts have also said that Apple does this to prevent a server overload.
Part 2: How to send large video and photo files on your iPhone X/8/7/6S/6 (Plus)
There are actually a lot of ways to bypass or work-around this problem. It is easier if have a jailbroken device since all you need is a simple jailbreak tweak. If you happen to have a jailbroken device, here's what to do;
Step 1 Open Cydia on your iPhone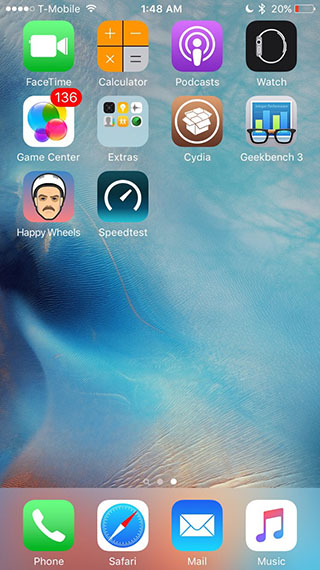 Step 2 Find a tweak known as "Unlimited Media Send" and install it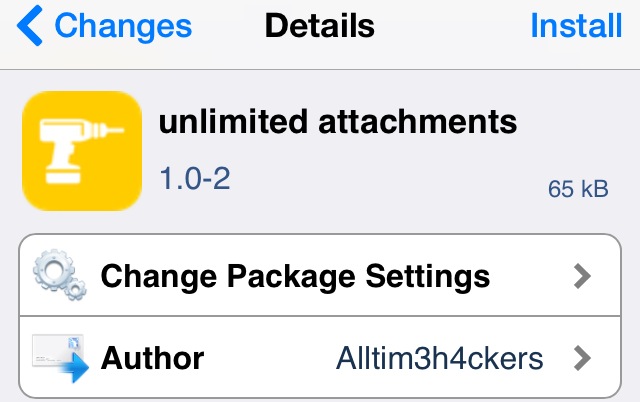 Once installed you will now be able to send the large video file via iMessage, email or SMS without the error messages popping up.
If your device is not jailbroken you need an alternative solution to transfer large video and photo files. In this case you can make use of an App known as Transfer Big Files. The app is available for free on the App Store and works much like Photo Stream only with videos as well. You will need to have an account at TransferBigFiles.com where your videos and photos will be stored. You get about 5GB of storage and you can upload up to 100MB per file.
Here's how to use it to send large size videos & photos from iPhone X/8/7/6S/6 (Plus).
Step 1 Upload your files to your TransferBigFiles account through the app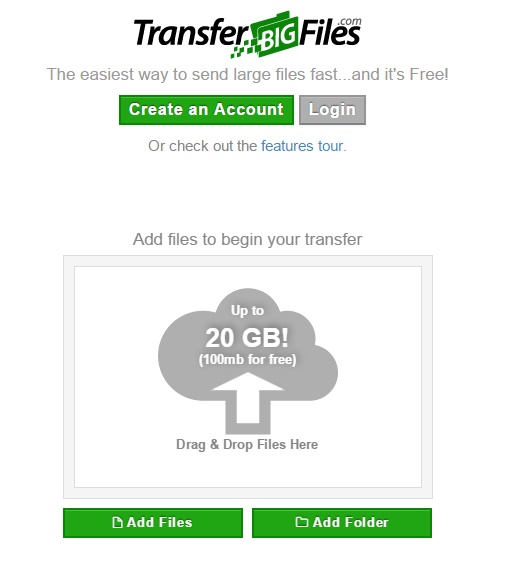 Step 2 Attach the files to the message you are sending and just hit "Send it"
Of Course you can do this using Dropbox but that would mean you would have to upload the file to the Dropbox server before sending a link to that file. TransferBigFiles and other apps like it, eliminate this problem.
Part 3: 3 Cool alternatives to transferBigFiles
If for some reason TransferBigFiles is not your cup of tea, you can try one of the following apps that work in much the same way.
Formerly known as ShareON, this app allows users to share large video and photo files. As long as the person you want to send the file to has this app on their iPhone, the file can be sent to them almost immediately. It is also very fast- a 10GB file can be sent in a matter of seconds.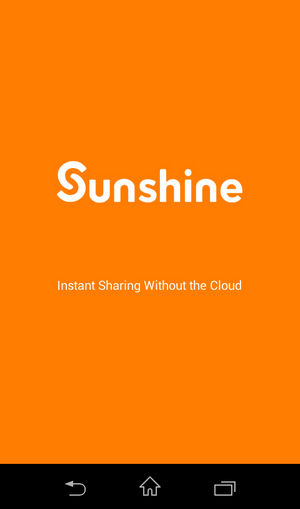 Like Sunshine, this app has also moved away from the Cloud model when it comes to sending large files. You are however required to create an account before you can use it though. It also takes security very seriously making use of SSL security and 6-digit keys to pair devices.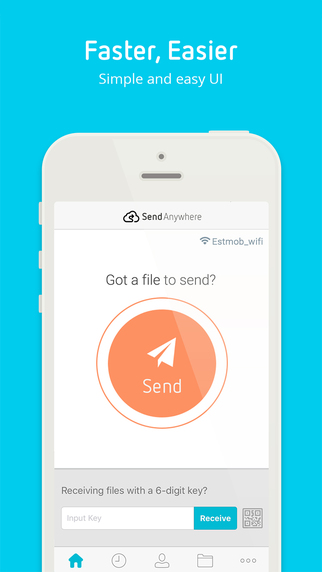 This app doesn't need the sender and the receiver to have the app installed for it to work. It uses email addresses to share files. The maximum file size you can send with WeTransfer is 10GB. It doesn't do anything to prevent data depletion though so you might want to use it on a Wi-Fi network.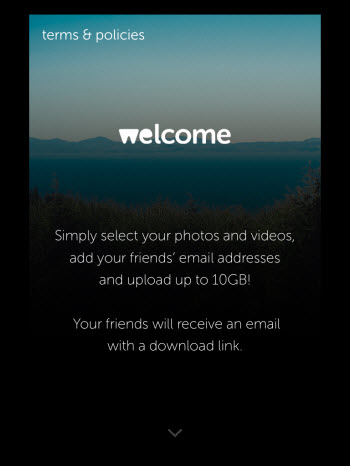 Part 4: How to send large video and photo files on your iPhone X/8/7/6S/6 (Plus) to PC
Wondershare dr.fone - Phone Manager (iOS) is great iPhone Transfer tool to help you send large video and photo files on your iPhone to PC without using iTunes.
Transfer Media from iPod/iPhone/iPad to PC without iTunes
Transfer, manage, export/import your music, photos, videos, contacts, SMS, Apps etc.
Backup your music, photos, videos, contacts, SMS, Apps etc. to computer and restore them easily.
Transfer music, photos, videos, contacts, messages, etc from one smartphone to another.
Transfer media files between iOS devices and iTunes.
Fully compatible with iOS 7, iOS 8, iOS 9, iOS 10, iOS 11 and iPod.
3981454 people have downloaded it
How to send large size photos from iPhone to PC?
Launch Wondershare dr.fone - Phone Manager (iOS) and connect your iPhone with the computer. Click Transfer Device Photos to PC icon on the main interface. From the pop-up window, browse and select the destination folder for photos, click OK to start the export.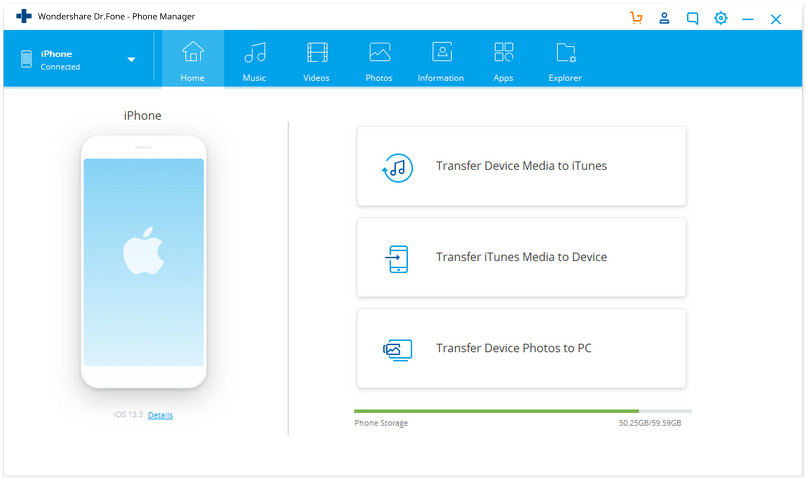 How to send large size videos from iPhone X/8/7/6S/6 (Plus) to PC?
Click Videos icon at the top of the main interface, then select a specific option Movies/Music Videos/Home Videos/TV Shows/iTunes U/Podcasts to transfer. Later, select the videos (Note: Hold down Ctrl or Shift Key to select multiple videos) you want to transfer to the computer, and click Export > Export to PC.
Don't let the size of your video or photo files keep you from sharing your creations with your friends. Make use of one of the solutions above to easily transfer these large files.
Video Tutorial: Transfer large video and photo files on your iPhone X/8/7/6S/6 (Plus) to PC
iOS Transfer
Transfer from iPhone

Transfer from iPad

Transfer from Other Apple Services
>
How-to
>
Data Transfer Solutions
> How to Send Large Size Videos and Photos from iPhone X/8/7/6S/6 (Plus)