4 Methods to Backup iPhone Contacts with or without iTunes
The importance of preparing in advance so as to be safe from some issues is very important. One of such issues is losing contacts on iPhone. If you are using an iPhone, it is important to regularly backup iPhone contacts due to a number of reasons. There are a lot of people that have missed opportunities just because they lost contacts of the person who is supposed to help them out. When you lose your phone without backing up contacts, there is a high probability that you will never be able to get all of your contacts back. Furthermore, you will have to go through some stress to get back even though that you can recover. It is possible to avoid these, by just backing up iPhone contacts regularly.
Fortunately, there are many ways to backup iPhone contacts. Here are 4 methods on how to backup iPhone contacts , ranked in order of easiness. With the aid of any of these 4 methods, you don't have to regret the next time you lose your phone or lose data on your iPhone that include your contacts, as you could easily restore all your contacts.
Method 1. How to Backup iPhone Contacts with iTunes?
Generally, we can backup iPhone with iTunes. But backing up with iTunes is obviously not the best option because the contacts backed up cannot be accessed individually or restored selectively. Well, we have to say that it is also one way to backup iPhone contacts, isn't it?
Follow these steps to backup iPhone contacts with iTunes.
Open iTunes and connect your iPhone to computer.
Your phone is automatically detected by iTunes.
Click on the "Device" tab.
Locate "Summary" and click on "Back up now".
Then iTunes will backup all data on your phone.
Go to find your iPhone backup location.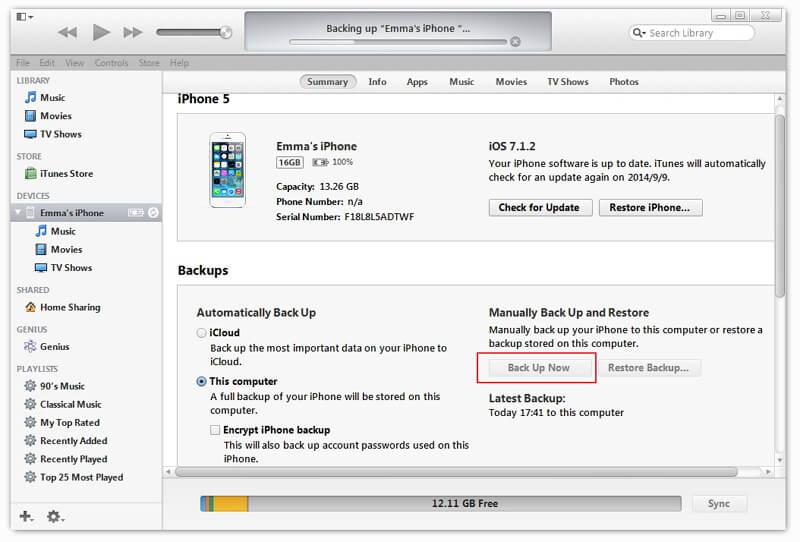 iTune interface for iPhone backup
Note that this method does not offer you selective backup. It backs up the entire content of the phone and not only your contact. If you want selective backup and also to access the contact in the correct file format, dr.fone is evidently the best option for you.
Method 2. Selectively Backup iPhone Contacts to Computer or Device without iTunes
Selective backup is a means of backing up only the contacts you need even when you have a list of contacts. This is the backup method used in dr.fone - Phone Backup (iOS) and if you have been looking for an opportunity to discard some irrelevant contacts, here is it. dr.fone's software has saved a lot of people from losing their contacts when they encounter a problem where their iPhones are formatted or when they lose their phone.
Selectively backup your iPhone contacts in 3 minutes!
One click to backup the whole iOS device to your computer.
Allow to preview and selectively export contacts from iPhone to your computer.
No data loss on devices during the restore.
Works for all iOS devices. Compatible with the latest iOS version.
3981454 people have downloaded it
How to backup iPhone contacts with dr.fone?
Install dr.fone on your computer and connect your iPhone to the computer.
Select Phone Backup from the tools.

First dr.fone interface showing features

This stage allows you to initiate the actual contact backup. Select Contacts among all supported file types and hit "Backup" and voila! The backup is done for you. Note, you can also backup iMessages, Facebook Messages, photos, messages etc.

iOS backup options

Congratulations! You have finally backed up your iPhone contacts but you need to save them in your PC. dr.fone provides opportunity for you to save in .html, .vcard or .csv formats.
Simply click "Export to PC" and save in the format of your choice. The advantage of using this method is that it is generally easier, faster to backup and retrieve as well as very reliable.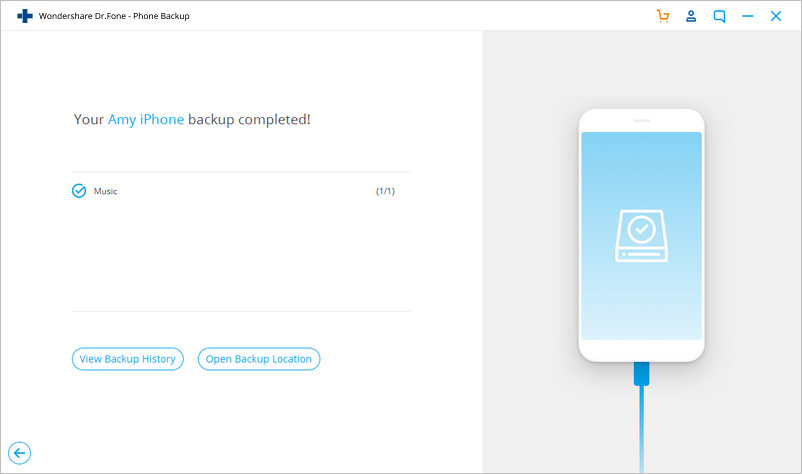 Backed up contacts
Method 3. How to Backup iPhone Contacts to iCloud?
Backing up iPhone contact with iCloud allows you to do everything on your iPhone. But it takes a lot of time to complete the backup and you cannot access the backed up contact.
Here are steps to backup iPhone contacts with iCloud.
Tap on "settings" on your iPhone and hit on "iCloud".
Put on your WiFi and enter your iCloud account details.
iCloud screen pops up as shown above. Click contacts and then merge.

Click on "Storage & backup" as shown below.

Select "iCloud Backup" and then click on "Backup now"

The backup begins but the process may take some time to complete.
Method 4. How to Backup and Export Contacts from iPhone to Email
This is another means to backup iPhone contact. Here is a simple guide to backup and export contacts to your email.
How to backup iPhone contacts via Email
First off, click on settings, then select "Mail, Contact, Calender" as shown in the figure above.
A new page pops up, select "Add Account" on the new page.
From the list of options, click on "Exchange".
Enter the required information with respect to your mail details.
In the next page, select "Save and Export". There you go, you have exported and saved to contacts.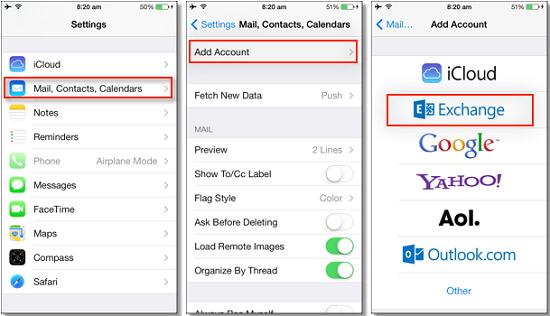 iPhone Contact backup with Email
Final Note
After trying out all 4 options, we will recommend the dr.fone software method to backup iPhone contacts. It is much easier as your backup can start in less than 3 clicks compared to the other methods that require lengthier steps. The implication of this is that even a novice can use the applicable with little to no guide. You can also easily view your contacts from your laptop if you desire to. Furthermore, you don't need internet connection, like the last 2 methods, where network failure could lead to your contacts not being backed up. This could lead to a false sense of security until you need the contacts, only to realize that they are not there.
Backup iPhone Data

iPhone Backup Solutions

iPhone Backup Tips