Top 5 Places to Download Samsung Firmware
Do you prefer modding your phone to buying the latest version? We do, too! It's way less expensive (not to mention fun) to flash and update a Samsung phone with brand-new firmware. The only issue is, finding a reliable Samsung firmware download link is no easy task.
Luckily, we've done some research and come up with a cheat sheet.
If you know how Samsung flashing works, you can skip the intro and jump straight to the end, where you will find the best places for downloading Samsung firmware. If you've never done anything like this before, let's cover the basics first and check the requirements.
Part 1. Why Download Samsung Firmware?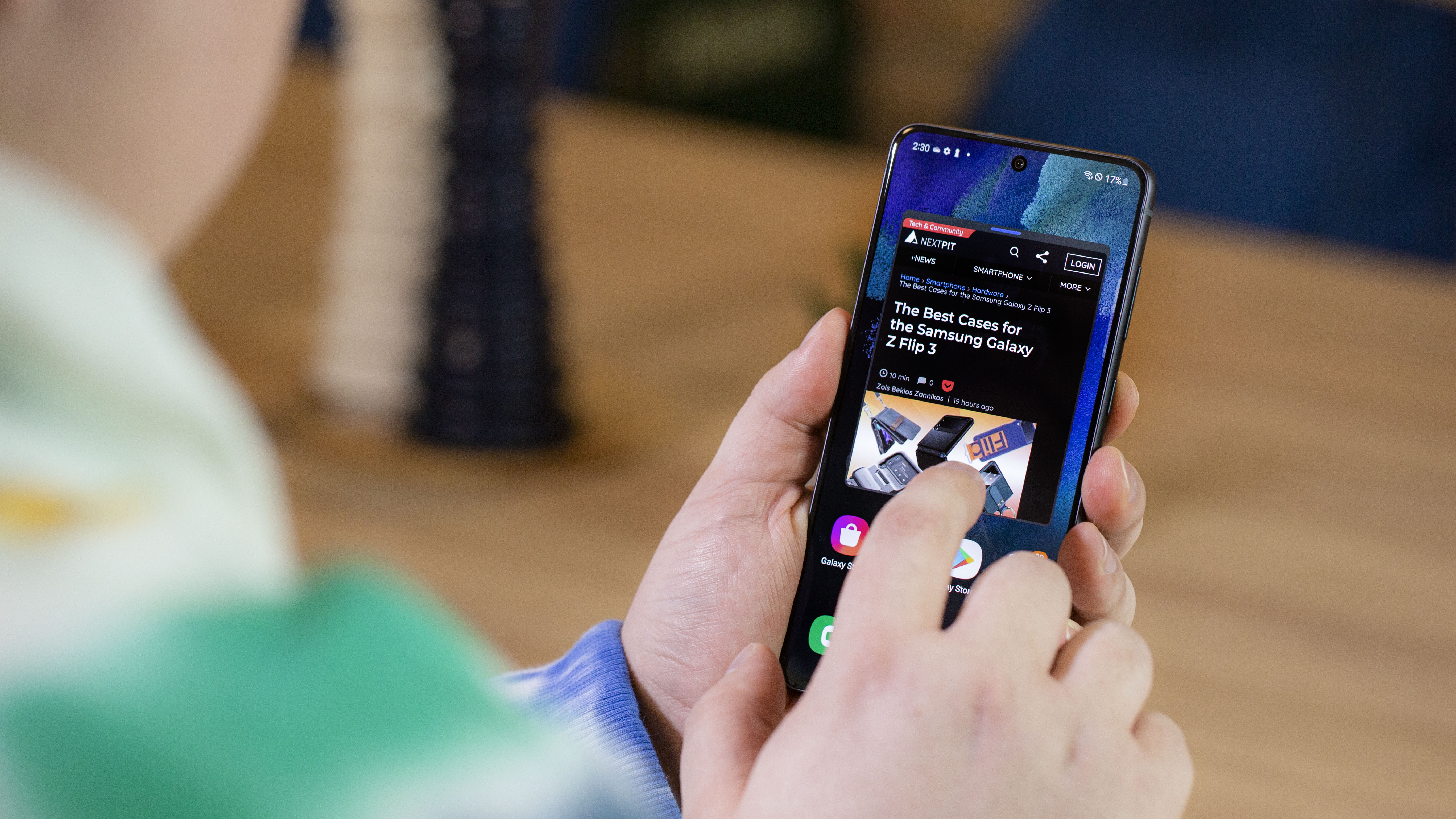 Let's start by addressing the elephant in the room – you know about software and hardware, but how about firmware? What is firmware, exactly, and where does it fit in?
Firmware is like hardware's basic programming. It is a "microcode or program embedded into the memory of hardware devices to help them operate" and communicate with the OS. Why would you need to download firmware if it's already on your phone?
In 99,99% of cases, the need for a Samsung firmware download link arises after a failed attempt to manually update your phone. You're probably here because you wanted to upgrade your Samsung Android system and enjoy the latest version, but something went wrong.
Now, you need to download, install, and flash stock firmware to fix this.
That's where Samsung's official firmware download link comes in. Unfortunately, the firmware is useless without something to flash it with, so you need a tool for this.
Also, before manually downloading Samsung firmware, look for the latest official OTA (over-the-air) update on your phone, in case it's already arrived. Sometimes, for whatever reason, the update will arrive without a notification. If it's there, you won't need to do it manually.
Here's how to check for official OTA updates on your Samsung device: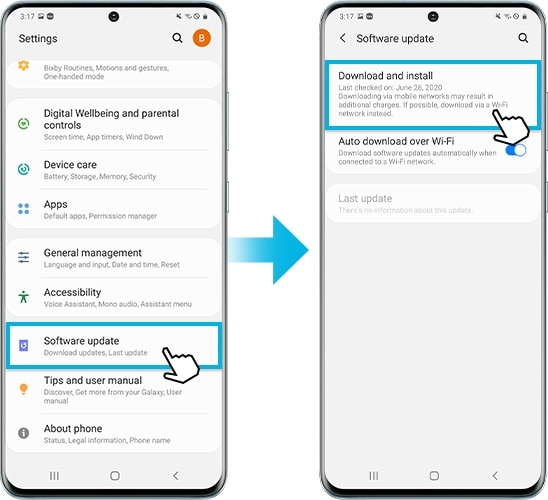 Step 1.Go to the Settings
Step 2. Tap on Software update. It should be lower on the list.
Step 3. If there's an update waiting for you, tap Download and Install.
There are no updates available in your Settings app, but you have it on good authority that a new update is rolling out? Let's see how to get it, then. But first – the benefits.
Part 2. Benefits of Updating Samsung Firmware
Fixing system bugs and issues– The new and improved version of Android OS can probably help you eliminate the performance issues you're now experiencing.
Boosting your phone's speed– In the world of rapid technological advancements, new means better, so doing this can make your smartphone perform faster.
Accessing brand-new features– Every update improves upon the existing feature list, adding new functionalities to make your user experience more enjoyable.
In a word, updating your Samsung firmware is all about improvement – incremental or systematic. It's the equivalent of getting a new phone without paying for new hardware.
Part 3. Requirements for Downloading and Installing Samsung Firmware
Now you're thinking – I've downloaded and installed apps before. It's no rocket science – and you're right, it's not. However, you should know that firmware is more complicated than any app you can get from Google Play. It requires some pre-knowledge and a good step-by-step tutorial.
Before all that, you need a firmware-friendly environment. Here's what to do:
Charge your device to at least 50%;
Back up all your data, just in case.
Download and install a flash tool.
Do you remember when we said that firmware is useless without something to flash it with? That's where a flash tool enters the scene, so we need to discuss that briefly.
Samsung has developed its own official flash tool that you can use for this. It's called Odin, and you can download it for free. Since Odin is open-source, developers from the modding community have studied and used it to make many reliable tools for flashing Samsung devices.
Is there any way to avoid using a flash tool for installing Samsung firmware?
Yes. If you're not very tech-savvy, you might want to avoid going through Odin and similar tools. In this case, you can use a phone recovery tool like Wondershare Dr.Fone.
Part 4. Best Places to Download Samsung Firmware
You're about to manually download and install stock firmware for your Samsung device, so we must presume you know what that means. If you're unsure what you're getting into, we strongly advise you to return to the beginning of the article and learn more about flashing.
Modding can improve your smartphone but can also break it if you're not careful enough. So practice precaution and remember to back up your important data beforehand.
That said, here's where to go for Samsung firmware free download links:
1. Updato
Updato is a well-known source of Android news and tricks that naturally gravitate toward Samsung devices. Unlike many similar sites, it offers only Samsung-official firmware, but you should still proceed with caution if you're flashing your phone for the first time.
To find Samsung firmware with Updato, you only need to identify and enter your device or model number. (The quickest way to do that is by going to Settings > About device > Model number.) The word around the internet is that Updato has the fastest download speeds.
2. SamMobile
If you are a phone enthusiast or like to stay on top of news related to your Samsung smartphone, you've probably visited SamMobile before. In addition to an excellent blog, product reviews, and tutorials, this site also has a sizable firmware archive.
Here, you'll find a list of the latest firmware per Model and Country/Carrier. (You can even watch them rolling out on Live Feed.) To download what you need, enter your Model Number and Country. SamMobile will hook you up with the latest firmware for your region.
3. Samsung Website
That's right. You can download Samsung's official firmware directly from Samsung's official website, but not many people know about this. How come? Well, it's not obvious enough. You need to do a little digging on the website to get to the download link.
Isn't that frustrating? Don't worry – there's a step-by-step below:
Step 3.Find your Samsung device and tap on it.
Step 4.Select the model name and your carrier.
Step 5.Under Software, you'll see the latest available software version for your phone. Tap on Download and then follow the instructions to install it on your phone.
4. Frija Tool
Frija is not a website archive like Updato and SamMobile. It's a great tool that lets you find and download the latest stock firmware from the same place, which is pretty convenient. However, you'll need to download and install Frija software to your PC.
And, as you'll see in a minute, Frija could be complicated for beginners.
There are a few requirements for using this tool, aside from having a Windows 7/8/10 OS. You must also install Microsoft .NET Framework 3.5 and Microsoft Visual C++ 2010. Before you start, you should also find out your phone model, CSC, PDA, and firmware code.
Here's how to get Samsung firmware for your device with the Frija tool:
Step 1.First, download and install the Frija tool using WinRAR or 7zip.
Step 2.Enter the Model and CSC of your Samsung device and check Manual.
Step 3. Type in your device's PDA, CSC, and Phone firmware code.
Step 4. Click on Check Update and let the tool search for the latest firmware.
Step 5.When Frija comes up with search results, click the Download
Step 6.Choose where you want to save the firmware package and click Save.
Step 7.Wait for the download to finish and extract the zip to get your firmware.
To install and flash the firmware once you download it with Fija, you need Odin.
5. SamFirm Tool
Like Frija, SamFirm is a Samsung firmware download tool you need to install on your PC. It connects you to official Samsung servers, allowing you to download what you need without any speed restrictions. For Samsung modders, SamFirm is a synonym for trusty.
Unfortunately, it's not much more beginner-friendly than Frija in that it requires you to install and download Microsoft .NET Framework 3.5 and Microsoft Visual C++ 2010 and to have WinRAR or 7zip, as well as USB drivers for Samsung and Odin for flashing the firmware.
If you have everything your need, follow the steps for using SamFirm Tool:
Step 1. Download, extract, install, and launch SamFirm.
Step 2. Enter required Firmware Info – Model and Region.
Step 4. Check Manual and type in PDA, CSC, and Phone firmware info.
Step 5. Click on Check Update and wait for SamFirm to generate results.
Step 6.Make sure that your device information is correct, and hit Download.
Step 7.Choose the target destination for firmware download and click Save.
Step 8.Wait for the download to finish and extract the firmware package.
SamFirm also requires you to have Odin, or you won't be able to flash your phone.
Part 5. How to Download Samsung Firmware Using Dr.Fone
Another way to download firmware for your Samsung device is with Wondershare Dr.Fone. If you're not used to modding the old-fashioned way, and you don't want to pre-install a bunch of programs and packages that you don't even know what they are, you need Wondershare Dr.Fone.
Wondershare Dr.Fone is an all-in-one toolkit for smartphone management and repair that includes functionalities such as Phone Backup and File Transfer, among many others.
Dr.Fone – System Repair (Android) successfully deals with common Android issues like the black screen of death, crashing apps, boot loop, and bricked devices. And yes, you can also conveniently use it to download AND flash Samsung firmware without Odin or any other tool.
From start to finish, here's how to download Samsung firmware with Wondershare Dr.Fone:
Step 1.Download and install Fone – System Repair for Android.
Step 2.Launch the program and navigate to System Repair. It's front and center.
Step 3. Now, connect your Samsung smartphone to your PC via a USB cable.
Step 4. In the list on the left, choose Android Repair and click Start.
Step 5. Type in your device information. You need to know the Brand, Name, Model, Country, and Carrier. Click on Next when you're done.
Step 6.This will initiate the download process, and soon you'll have the latest Samsung firmware. While downloading firmware, Fone – System Repair will search for system bugs and fix them if there are any.
And that's it. Downloading Samsung firmware doesn't have to be complicated.
safe & secure
Conclusion
Downloading the latest Samsung firmware can downgrade or upgrade your device, depending on your preference. It is a fantastic trick for improving and customizing your Samsung phone, but it is notoriously tricky and involves some risk. It doesn't have to be like that.
A tool like Dr.Fone – System Repair can make this a painless experience.
Other Popular Articles From Wondershare