8 Proven Fixes to Samsung Galaxy S10 Stuck at Boot Screen
When the latest gadgets swarm the market, it becomes tough to pick your best choice. Well, Samsung Galaxy S10 is going to amaze you with its plethora of features. A 6.10 inch display and wireless charging are not the only plus points that it would be armed with. A 6 GB RAM and an octa-core processor will be fueling this Samsung smartphone.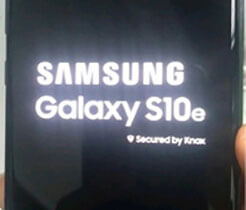 But, what if your Samsung S10 gets stuck at boot screen? How will you fix your favorite device without any hassle? Prior to resolving the issue, let's get on with the reasons for Samsung S10 gets stuck on logo.
Reasons why Samsung Galaxy S10 stuck at boot screen
Here in this section, we have collated the major causes probably lying behind the Samsung Galaxy S10 stuck at boot screen –
A faulty/defective/virus infected memory card that interrupts the device to function properly.
Software bugs annoying the device functionality and resulting in a sick Samsung galaxy S10.
If you have tweaked any existing software in your device and the device didn't support that.
When you update any software on your mobile and the process was incomplete for whatever reason.
Unauthorized app downloads beyond Google Play Store or Samsung's own applications that wreaked havoc by malfunctioning.
8 solutions to get Samsung Galaxy S10 out of Boot Screen
When your Samsung S10 gets stuck at startup screen, you are sure to get stressed about it. But we have featured the basic reasons behind the issue. You got to breathe a sigh of relief and trust us. In this part of the article, we have collated numerous effective solutions to combat this problem. Here we go:
Fix S10 Stuck at Boot Screen by system repair (foolproof operations)
The very first Samsung S10 boot loop fix that we are introducing is none other than dr.fone – Repair (Android). No matter, for what reasons your Samsung Galaxy S10 device has ditched you in between, this wonderful tool can fix that in a haze with one click.
dr.fone – Repair (Android) can help you get your Samsung S10 out of stuck on boot loop, blue screen of death, fix a bricked or unresponsive Android device or crashing apps issue without much hassle. Moreover, it can also solve an unsuccessful system update download problem with high success rate.
One click solution to fix Samsung S10 stuck at boot screen
This software is compatible with Samsung Galaxy S10, along with all Samsung models.
It can easily carry out Samsung S10 boot loop fixing.
One of the most intuitive solutions suitable for non-tech savvy people.
It can handle every Android system problem easily.
This is a one of its kind, first tool dealing with Android system repair in the market.
3981454 people have downloaded it
Video guide: Click-through operations to fix Samsung S10 stuck at startup screen
Here is how you could get rid of Samsung S10 gets stuck on logo problem –
Note: Be it Samsung S10 getting stuck at boot screen or any encryption related Android issue, dr.fone – Repair (Android) can ease off the burden. But, you got to take a backup of your device data prior to fixing the device problem.
Step 1: First of all, download dr.fone – Repair (Android) on your computer and then install it. Once you launch the software and hit on 'Repair' over there. Get your Samsung Galaxy S10 connected using your USB cable.
Step 2: On the next window, you got to tap on the 'Android Repair' and then tap on the 'Start' button.
Step 3: Over the device information screen, feed the device details. Upon completing the information feeding click the 'Next' button.
Step 4: The process may result in removing the data from the device. Enter '000000' for confirming and proceeding to the next step.
Step 5: You have to put your Samsung Galaxy S10 under 'Download' mode. For this purpose, you can follow the onscreen instructions. You just need to follow it.
Step 6: Tap the 'Next' button to initiate the firmware download on your Samsung Galaxy S10.
Step 7: Wait until the download and verification process is accomplished. After that, dr.fone –Repair (Android) automatically repairs your Samsung Galaxy S10's. Samsung S10 gets stuck at boot screen issue will be resolved soon.
Fix Samsung S10 Stuck at Boot Screen in recovery mode
By simply entering into the recovery mode, you can fix your Samsung S10, when it gets stuck at startup screen. It will take a few clicks in this method. Follow the steps below and we hope that you will resolve the issue.
Step 1: Start with turning off your device. Press and hold the 'Bixby' and 'Volume Up' buttons together. After that, keep hold of 'Power' button.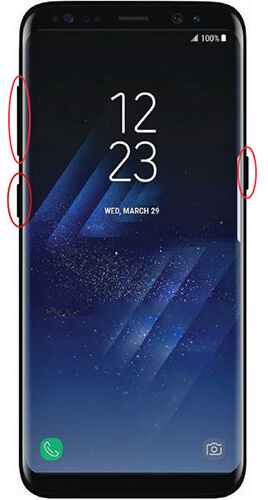 Step 2: Release only the 'Power' button now. Keep holding the other buttons till you see the device's screen getting blue with an Android icon on it.
Step 3: You can now release the button and your device will be in recovery mode. Use the 'Volume Down' button to choose 'Reboot system now'. Confirm the selection by hitting the 'Power' button. You are good to go now!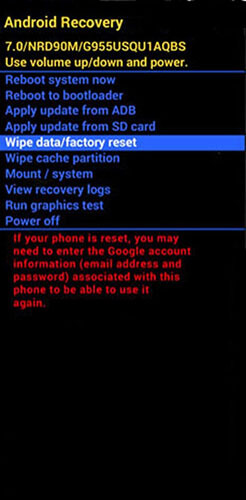 Force restart Samsung S10
When your Samsung S10 is getting stuck on logo, you can try force restarting it for once. Force restarting eliminates the minor glitches which might be impacting your phone's performance. It includes a stuck device on logo as well. So, go with force restarting your Samsung S10 and the issue can easily be taken care of.
Here are the steps to force restart Samsung S10:
Press 'Volume Down' and 'Power' buttons together for around 7-8 seconds.
As soon as the screen goes dark, release the buttons. Your Samsung Galaxy S10 will get force restarted.
Charge Samsung S10 fully
When your Samsung Galaxy S10 device runs low on power, it is obvious that you face problems while using it. It won't turn on properly and gets stuck at boot screen. To resolve this annoying issue, you got to make sure that the device is fully charged. At least 50 per cent charge should be there to allow the battery properly fuel your device.
Wipe Cache Partition of Samsung S10
In order to fix your stuck Samsung galaxy S10, you might have to clean the device cache. Here are the steps:
Switch off the phone and press the 'Bixby' + 'Volume Up' + 'Power' buttons together.

Leave the 'Power' button only when the Samsung logo shows up.
As the Android system recovery screen crops up, then release rest of the buttons.
Select the 'Wipe cache partition' option using the 'Volume down' button. Click 'Power' button to confirm.
Upon reaching the previous menu, scroll up to 'Reboot system now'.
Factory resetting Samsung S10
If the above fixes weren't of use, you can even try factory resetting the phone, so that the Samsung S10 stuck on logo issue gets resolved. To get this method executed, here are the steps that need to be followed.
Push down the 'Volume Up' and 'Bixby' buttons altogether.
While holding the buttons, take hold of 'Power' button too.
When Android logo comes on the blue screen, release the buttons.
Hit the 'Volume Down' key to make selections among the options. Choose the 'Wipe data/factory reset' option. Press the 'Power' button to confirm the selection.
Remove SD card from Samsung S10
As you know, a virus infected or faulty memory card can wreak havoc for your Samsung S10 device. Removing the defective or infected SD card would possibly fix the problem. Because, when you get rid of the SD card, the faulty program no longer troubles your Samsung phone. This in turn allows you to smoothly operate the device. Hence, this tip says you to detach any of the unhealthy SD card if it's there in your device.
Use Safe Mode of Samsung S10
Here is the last solution for your Samsung S10 stuck at boot screen. What you can do is, use the 'Safe mode'. Under the Safe Mode, your device won't undergo the usual stuck situation anymore. Safe mode ensures that your device is securely allowing you to access the services without raising any issue.
Hold down the 'Power button' until Power Off menu turns up. Now, push the 'Power Off' option down for a couple of seconds.
'Safe Mode' option will now appear on your screen.
Hit on it and your phone will reach the 'Safe Mode'.
Final Words
We have made some efforts for you to make Samsung S10 boot loop fixing possible on your own. All in all, we shared 8 easy and efficient solutions that can make your life easier. We hope that you got help to a great extent after reading this article. Also, you can share this article with your friends too if they're stuck with same issue. Please do let us know what helped you the most among the aforementioned fixes. Share you experience or any query through the comments section below.
Samsung S10
S10 reviews

Switch to S10 from old phone

Transfer/Backup S10 to computer

S10 system issues
>
How-to
>
Tips for Different Android Models
> 8 Proven Fixes to Samsung Galaxy S10 Stuck at Boot Screen