Ultimate Guide to Syncing Music to iPhone Without Hassle
iPhone has changed the scenario of electronic gadget to such an extent that nowadays we solely depend on our phone for the activities that happen around us. Starting from your first notification to that late-night picture on your mobile. On the same list comes listening to music with iPhone. It is one of the top reasons why people love their iPhone. The flawless sound quality along with huge storage makes iPhone a favorite tool for all the music lovers. But you are thinking of accessing your favorite music track from one or more device, more accurately we can say that our real concern is over how to sync music to iPhone flawlessly. Though the first name that comes to the mind is iTunes, we have to be real on various related iTunes issues that we may face during the process such as:
a. Waiting while transferring process
b. iTunes crash issue occurs
c. Songs get duplicated
d. Unable to access iTunes
Like above, there are many issues that make us look around for some alternatives to iTunes yet best option to choose while going to sync music to iPhone. To answer all of your similar questions we are giving you an ultimate guide through dr.fone - Phone Manager (iOS) with which you can sync music to iPhone as well guide you how to sync music to iPhone with iTunes also.
Shall we start then?
Part 1: Sync iTunes Library to iPhone with dr.fone
Lets we start with the most important tool so that all your worries related to syncing issues get covered. Under this head, we have covered detail about how to sync music to iPhone using dr.fone - Phone Manager (iOS) that will acts like a doctor to cure-up your iOS syncing issues. No matter where you are you can access it facility from anywhere. After having access to it you can easily make it possible to transfer or sync music between the iTunes library and iPhone device with quite easy steps. The most important thing you must know that using this method will not overwrite any music on iPhone or in iTunes Library.
Sync Music to iPhone/iPad/iPod without iTunes
Transfer, manage, export/import your music, photos, videos, contacts, SMS, Apps etc.
Backup your music, photos, videos, contacts, SMS, Apps etc. to computer and restore them easily.
Transfer music, photos, videos, contacts, messages, etc from one smartphone to another.
Transfer media files between iOS devices and iTunes.
Fully compatible with iOS 7, iOS 8, iOS 9, iOS 10, iOS 11 and iPod.
3981454 people have downloaded it
No software can provide such huge repository of the feature as dr.fone provides. You may now be interested to know how to sync music to iPhone, using this excellent software. The best part of using dr.fone is that you can not only sync custom songs to your iPhone but it also retains the already synced music in your iPhone and iTunes list. In other words, you can sync your songs without any fear of losing the previously stored songs on your iPhone. So, let us see how to sync music to iPhone using the dr.fone.
Step 1: Open dr.fone - Phone Manager (iOS) on your desktop and Connect your iPhone to the desktop. You will be greeted with the interface.
There you need to go with "Phone Manager" option to proceed with next steps- Where you can have both options to transfer your iPhone music files to iTunes library as well as transferring iTunes library music files to iPhone. Lets we go in depth.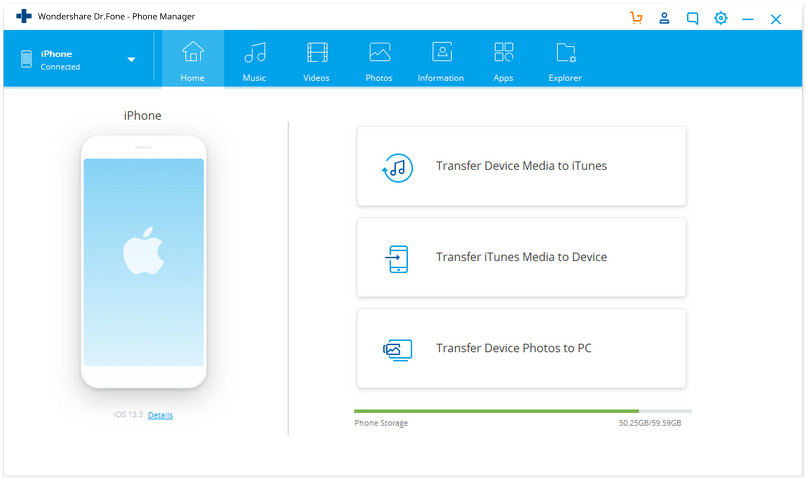 Step 2: If you have chosen transferring iPhone music to iTunes then, soon after selecting, you will be able to see the scanning process. Once done press start, this may sync iOS device files to iTunes.
Step 3: Now, here you can also go with syncing iTunes library media to an iOS device by clicking Transfer iTunes Media to Device.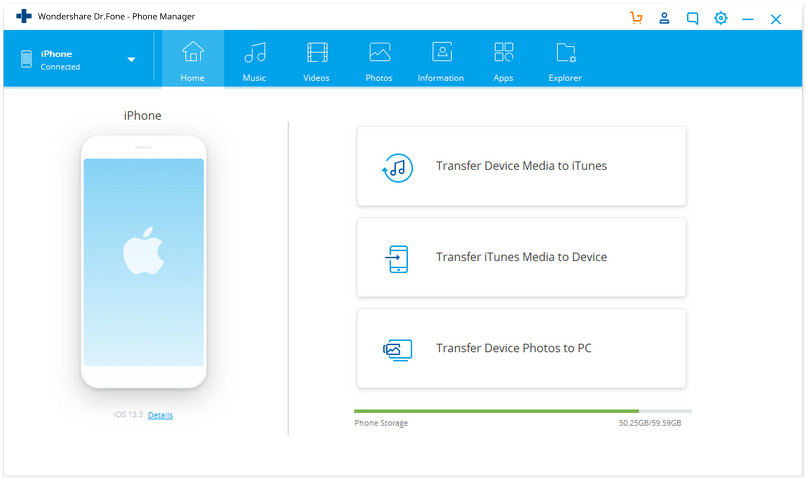 For that from the main interface select iTunes media to the iOS device and go for the system scan process after that select transfer to finish transferring iTunes files to iPhone.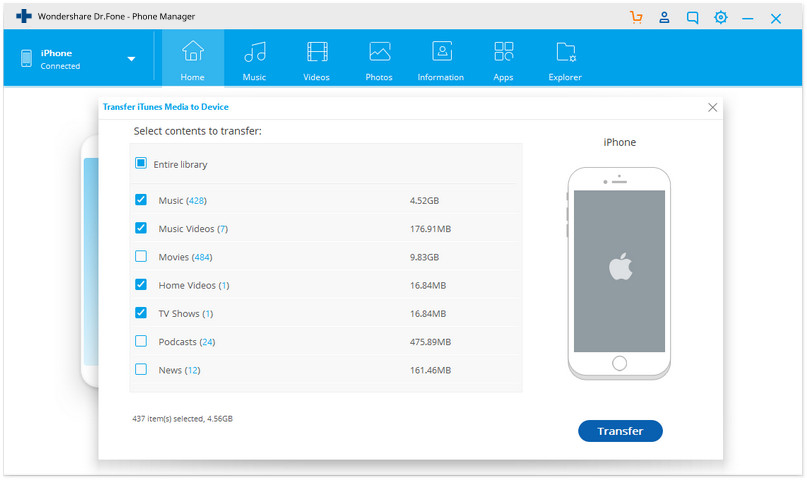 As you can notice, the process is smooth and effortless and it only takes few seconds to accomplish this otherwise troublesome task. So, waiting for what, have this tool to do syncing swiftly. But, in case you do not have access to dr.fone - Phone Manager (iOS) then read the next part to sync music to iPhone with iTunes manually.
Part 2: Sync iTunes Library to iPhone with iTunes manually
If you are a casual listener who just wants to take a few songs to iPhone and does not have much of the need then instead of opting for paid options, you can use the iTunes to manually transfer the file from desktop to iPhone. The best part about this method is that you do not need to depend on other software. On the downside, iTunes it bit prone to crashes and hangs and so may not work flawlessly each and every time. So, let us see how you can use iTunes to sync music to iPhone
Step 1: Connect iPhone to your computer. The computer will take few seconds to recognize your device after that proceed to next step.
Step 2: Open iTunes. If the recognition is successful then you will be able to see your device name n the left side panel.
Step 3: Select the music that you want to sync to your iPad from your iTunes library. This is where you manually select your required files.
Step 4: Look for your device on the left panel and drag the selected item to your device

The process is simple and effective and can be used if you have only a few files to transfer as the process is quite time-consuming.
Learning how to sync music to iPhone cannot be easier than this. To add icing to the cake, the intuitive interface of dr.fone appeals to the user. ddr.fone - Phone Manager (iOS) gives you all around support which extends from just transferring and syncing music to iPhone. The songs that you play are yours to carry and dr.fone - Phone Manager (iOS) helps you to achieve the same with minimum time. Although iTunes provides its own solution to the problem, there is nothing that beats dr.fone in this game. Plus, on the positive side, dr.fone provides you with all-around tools that help you to take care of your iPhone and ensure the smooth functioning of your phone.
This article covered all the tips and tricks to sync music to iPhone using dr.fone - Phone Manager (iOS) and using iTunes. Some of the salient features of dr.fone - Phone Manager (iOS) that makes it the best in the market are:
1. The sophisticated algorithm that allows smooth functioning of the transfer process between your desktop and iPad or iPhone
2. Transfer all your data from and to your desktop and iPhone or iPad without any difficulty.
3. A clean and intuitive interface that is accessible to all kinds of user and enhances your experience with dr.fone.
4. Purchasing a new iPhone, use the transfer feature of dr.fone to transfer all the data from your old phone to new phone without any fear of losing any data.
iPhone Music Transfer
Transfer Music to iPhone

Transfer Audio Media to iPhone

Transfer iPhone Music to PC

Download Music to iOS

Transfer Music to iTunes

More iPhone Music Sync Tips