4 Ways to Transfer Music from iPhone to Mac With Ease
There are times when we need to transfer music from our iOS Device (iPhone) to our desktop computer (MAC). It is the best option to unload excess music files from our iPhone, without deleting the songs. There are songs on our iPhone we no longer listen to and needlessly takes up space on the device, or sometimes we also wish to create a backup of files in lieu of losing our iPhone data. Fortunately, there are a number of applications developed to facilitate the transfer of music from iPhone to Mac. Apple takes advantage of the latest technological developments e.g. Cloud computing to develop new applications to transfer music. We will explore the four best ways to learn how to transfer music from iPhone to Mac.
Part 1: How to transfer music from iPhone to Mac using dr.fone
dr.fone is a utility software perfect for transferring data between devices. If you need a safe, secure tool to transfer your songs from your mobile device to desktop computer, then dr.fone is perfect. Transferring songs is a quick and easy process. You will be surprised to know that your music files will get transferred from iPhone to Mac within a matter of seconds.
Step 1 – Download and install the dr.fone transfer toolkit. Launch the application to get the homepage below.
Step 2 - Plug in your phone. It will be on display as demonstrated in the screenshot below. Click on the 'Transfer Device Media to iTunes' option.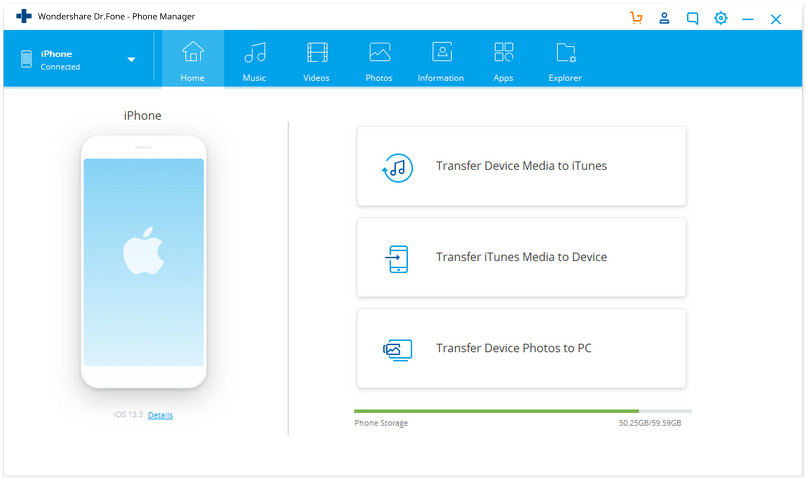 Step 3 – dr.fone will scan your iPhone to take note of all the content ranging from music to podcasts. Once the scan is finished, it will provide information on all the content available. Unselect all the content you do not want to transfer and press Export to PC.
Step 4 – All your music will be transferred within minutes, and you will get a notification indicating when it is done.
Advantages of dr.fone
• Easy to use
• Can transfer content from device to device, device to computer etc.
• Works for both iOS and Android devices
• Protects personal information through data encryption.
Disadvantages of dr.fone
• The trial version does not have many features.
Part 2: How to transfer music from iPhone to Mac using iTunes
Technology leads to new products like iCloud, giving users more options to find music, but nothing replaces the original platform. iTunes remains the premiere platform for iOS users seeking a rich variety of content to download to their mobile devices. iTunes is the only platform for iOS users to purchase music, movies, tv shows, and podcasts. It is also a reliable platform to copy music from iPhone to Mac. The process of transferring music is relatively simple.
Step 1: To copy music from iPhone to Mac Plug in your iPhone via USB cable. Turn off auto syncing between your iPhone and iTunes. This is done so that you will have an easier time transferring songs on your own.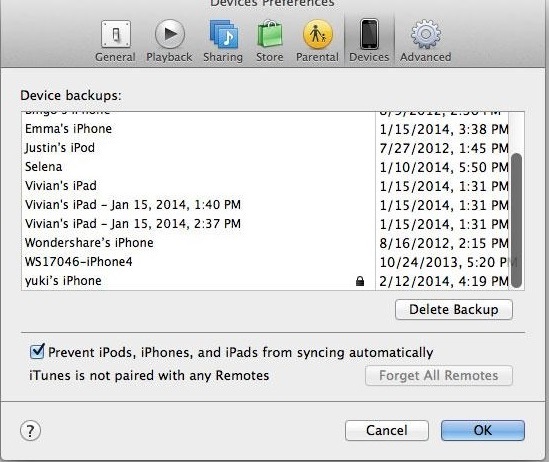 Step 2: Go to Store > Authorize This Computer. This option essentially gives your MAC the authority to accept music from your iPhone.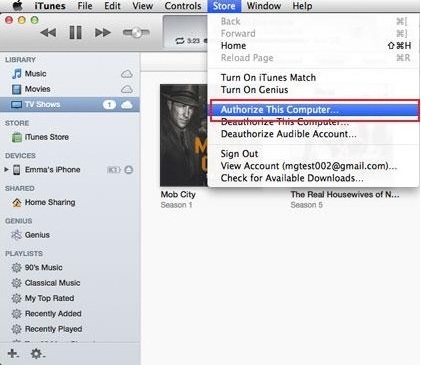 Step 3: Right-click on the iPhone display on the left-hand side of the menu. Select 'Transfer Purchases' iTunes will then transfer all music from your iPhone to your MAC.
Advantages of iTunes:
• Perfect repository for multimedia content
• Can transfer directly between device and computer.
• No loss of data quality.
The disadvantage of iTunes:
• Can only be used to transfer music purchased from iTunes store.
Takes up lots of space on the computer hard disk.
Syncing iTunes with mobile device deletes songs.
Does not help de-duplicate the music library
Part 3: How to transfer music from iPhone to Mac using iCloud Music Library
iCloud Music Library is an online storage for personal music. It is for iOS users who are looking for a secure place to store their music and discover new tracks, at the same time. It uses cloud technology to provide limitless space for iPhone users to back up their music. iOS users have the freedom to stream or download music from the iCloud onto at least 10 devices they own.
Step 1: Make sure iTunes is enabled on both your iPhone and MAC. On your iPhone, go to Settings > Music > iCloud Music Library. For your MAC, turn on iTunes go to Preferences > iCloud Music Library.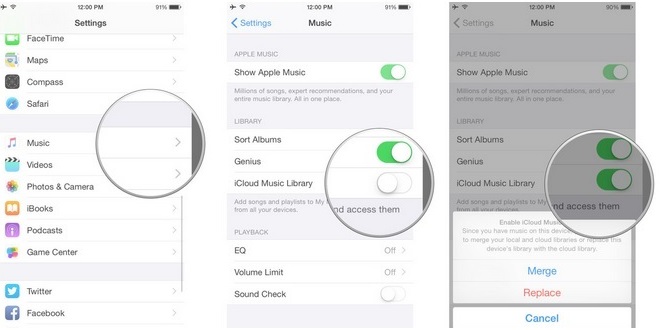 Step 2: You are going to transfer music from iPhone to iCloud. Plug in your iPhone and make sure it is connected to the Wi-Fi. Go to Settings > iCloud > Backup > Backup Now. Your music will be transferred to iCloud.
Step 3: You will then transfer music from iCloud to your MAC. Music > Library tab.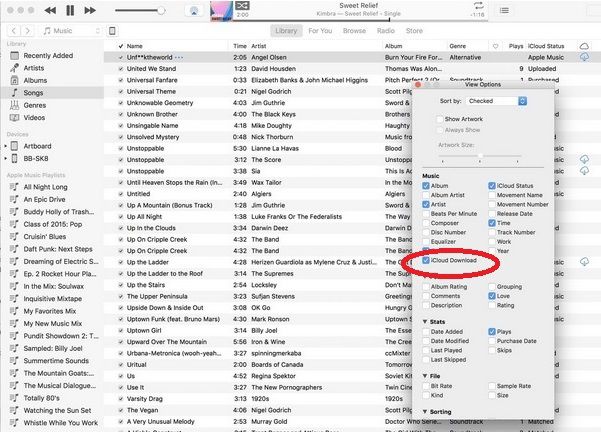 Step 4: On the Library, select View > Show View Options.
Step 5: Click on the iCloud Download check box.
Step 6: Songs that have been downloaded from the iCloud will be indicated with a cloud icon. Click on the cloud icon to download the song.
Advantages of iCloud Music Library:
• Supports large volume of music
• Very simple and intuitive to use
• Supports offline playing.
• Perfect place to gather music in one place.
Cons:
• iCloud is not designed to transfer music directly from iPhone to MAC.
Part 4: How to transfer music from iPhone to Mac through Airdrop
Airdrop is an ad-hoc service from Apple to allow iOS users to share songs, photos and videos with devices within 30 feet. The app comes with fifth-generation devices (and subsequent generations as well.) It is designed to take advantage of Bluetooth and Wi-Fi by letting users instantly share music or any multimedia content with friends. The app is also accessible on MAC and is a perfect tool to transfer music from iPhone to Mac free.
Step 1: Make sure that your iPhone is connected to both Bluetooth and Wi-Fi. Swipe up from the bottom to open the Launch Control Center. After connecting online, turn on Airdrop.
Step 2: Launch the music app on your iPhone. Select a song you want to share and tap on the share icon. It is a box with an arrow pointing up.
Step 3: Tap on more options (…) select 'Share Song'.
Step 4: The names of the iPhones/Mac you have access to via Airdrop will be displayed at the top. Tap on the avatar you want to airdrop the song.
Step 5: Check if Airdrop is launched from your MAC. Go to Launch Finder > Airdrop. You can choose to receive content from only your friends.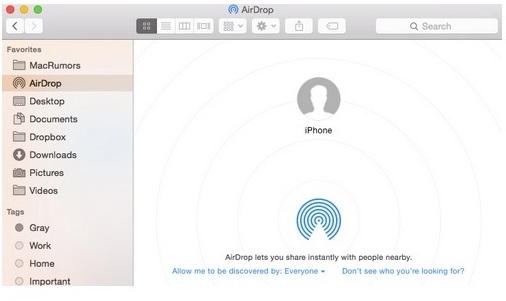 Pros of Airdrop:
• Transfer songs at a fast rate due to the combined use of Bluetooth and Wi-Fi
• Is accessible even when offline.
• It is a built-in app no need to download from external sources.
Cons of Airdrop:
• Transfer speed can change depending on the file type, for example, pictures are transferred faster than videos.
• There are no clear instructions and the app does not always work.
Cannot transfer several songs in a single transaction
Well, no doubt all the methods mentioned above are best to opt for and you are free to do so. You can customize them as per the requirement or go for the best option that is none other than dr.fone - Phone Manager for the iOS device to get the best-optimized result.
iPhone Music Transfer
Transfer Music to iPhone

Transfer Audio Media to iPhone

Transfer iPhone Music to PC

Download Music to iOS

Transfer Music to iTunes

More iPhone Music Sync Tips