5 Tactics to See Deleted Messages on WhatsApp
In the hustle-bustle of lives, real struggle for people is to drive out the true message behind the veil of 'This message has been deleted'. For some people deter what they sent and opt for deleting the message instead. And that stems curiosity in some people to see deleted WhatsApp message. You look out for some incredible tactics on 'how to read deleted messages on WhatsApp'!
Lucky you! In this article, we will thoroughly address and unveil various ways on how to view deleted messages on iPhone.
Part 1: Read deleted messages on iOS
1.1 Read deleted WhatsApp messages using an iOS recovery tool
The ultimate software that leverages one to read the deleted WhatsApp messages on your iPhone is dr.fone - Data Recovery (iOS). Flared with perfection and designed with spectacular technology, this tool has the ability of recovering your deleted WhatsApp messages from your iPhone. So, whether you lost the in accidental deletion or in system crash. Or, someone deleted them intentionally. dr.fone – Recover (iOS) assures to thrive back the contents. Moreover, with this software, you can also restore data from iCloud or iTunes backup effortlessly.
Best solution to see deleted messages on Whatsapp for iPhone/iPad/iPod touch
Works swiftly, even with the latest iDevices like iPhone X/XS Max/XR/8, iPad or iPad touch.
Has the ability of performing the recovery over 15 major data types that includes WhatsApp chats, voicemail, contacts, photo, etc.
Effectively retrieves lost data even after jailbreak or ROM flashing operations.
One needn't to worry about losing any sort of data while restoring your data from iTunes or iCloud backup.
You can have an in-depth preview of the data types and perform selective restoration.
3,678,133 people have downloaded it
Here is the guide on how to see deleted WhatsApp messages.
Step 1: Download, then install dr.fone toolkit on your system. Push the 'Recover' tab once the program loads. Now, link the PC with your iPhone via USB cable.
Note: Before proceeding any further, ensure to check whether auto-syncing with iTunes is disabled. If not, then disable it.
To do this on Mac PC: go to 'iTunes' menu and press on 'Preferences' option. Now, select 'Devices' and hit on 'Prevent iPods, iPhones and iPads from syncing automatically' by default.
On a Windows PC: Click on 'Edit' menu, select 'Preferences', then get into 'Devices' and check the box beside 'Prevent iPods, iPhones and iPads from syncing automatically'.
Step 2: Next, opt for the 'Whatsapp & Attachments' data type from the list. Then allow the program to scan your iPhone by clicking on 'Start Scan'.
Step 3: After the program is done with reading WhatsApp messages and other files, results will be enlisted on the preview screen. Check the 'WhatsApp' category from left panel and you can then read deleted WhatsApp messages.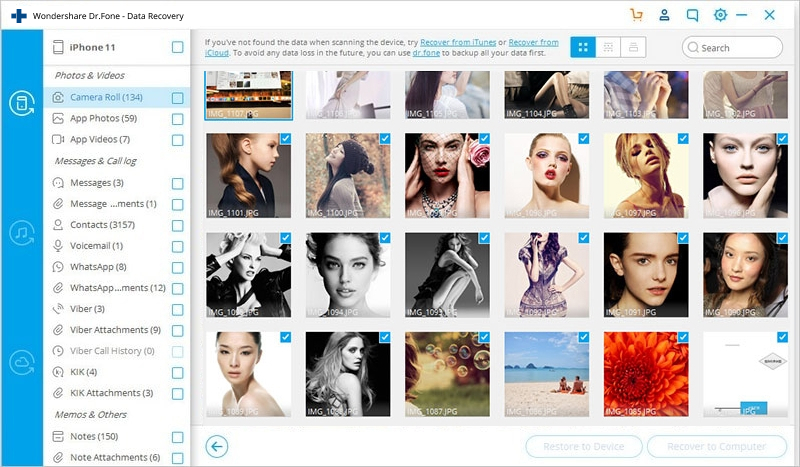 Step 4: If you wish to recover these WhatsApp messages and attachments, then simply hit the 'Recover to Computer' button.
1.2 Read deleted WhatsApp messages by re-installing WhatsApp on iOS
Generally, our WhatsAapp data is stashed in iCloud automatically to ensure that all our WhatsApp-chats, messages, attachments are safe. So that, when an uncertain chord struck – system crashing, accidental deletion or your friend has cunningly deleted the messages, you can still get them back. Curious to know how to view deleted WhatsApp messages on your iPhone, the following guide will enlighten you!
You need to delete WhatsApp from your iPhone by long pressing the WhatsApp app. Then, tap on 'X' button and hit 'Delete' to confirm the actions.

Now rush to Apple store, browse for 'WhatsApp' and get it installed on your iDevice respectively.
Execute the WhatsApp app and ensure to verify the same WhatsaApp number. It will then, automatically detect a backup over your iCloud. You just need to tap on 'Restore Chat History'.

Note: You must ensure your iCloud account is pre-configured with your iPhone so as to restore WhatsApp from iCloud backup.
Part 2: Read deleted messages on Android
2.1 Read deleted WhatsApp messages using an Android recovery tool
To view the deleted WhatsApp messages, dr.fone – Recover (Android) is the best deal you can crack. Being the ultimate Android Data Recovery program, it widely covers an array of data types while supporting more than 6000 Android devices. Moreover, one can quickly retrieve back photos, contacts, messages, call logs etc. back in just a couple of clicks.
Effective tool to read deleted messages on Whatsapp for Android devices
Can swiftly extract WhatsApp data from all Samsung and other devices.
Useful in extracting all major data variants like WhatsApp, photos, video, call history, contacts, messages etc.
Offers the functionality to selectively recover the lost data.
Effectively recovers data lost even after rooting, OS updating or ROM flashing.
Allow users to preview the fetched files before proceeding to recovery phase.
4,595,834 people have downloaded it
Let's now understand how to see the deleted messages in WhatsApp with the following instructions manual.
Note: For Android 8.0 and later devices, you need to root it to recover deleted WhatsApp messages using this tool.
Step 1: Install and launch dr.fone – Recover (Android) over your system and hit on 'Recover' tile. Draw the connection between the system and your Android device.
Step 2: Once, dr.fone – Recover (Android) detects your Android device, select the 'WhatsApp messages & Attachments' option from the list followed by 'Next'.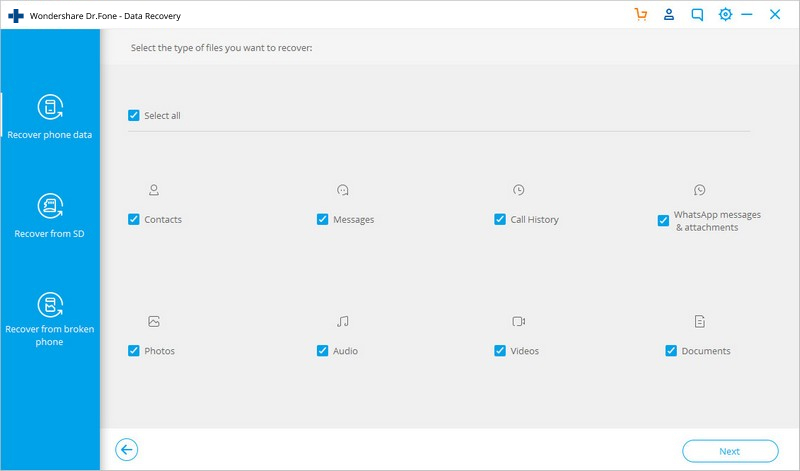 Step 3: From the upcoming screen, opt for 'Scan for deleted files' or 'Scan for all files' depending upon your need and hit 'Next'.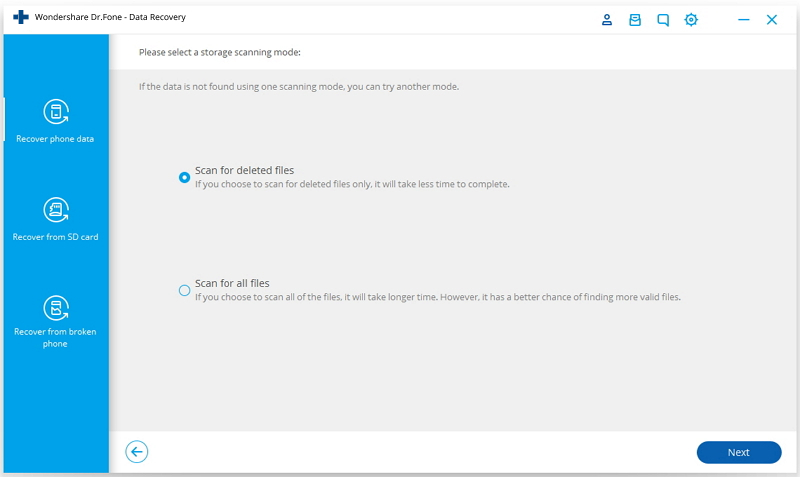 Step 4: You can preview the results as soon as the scanning process completes. Hit on 'WhatsApp' category on the left panel to read deleted WhatsApp messages.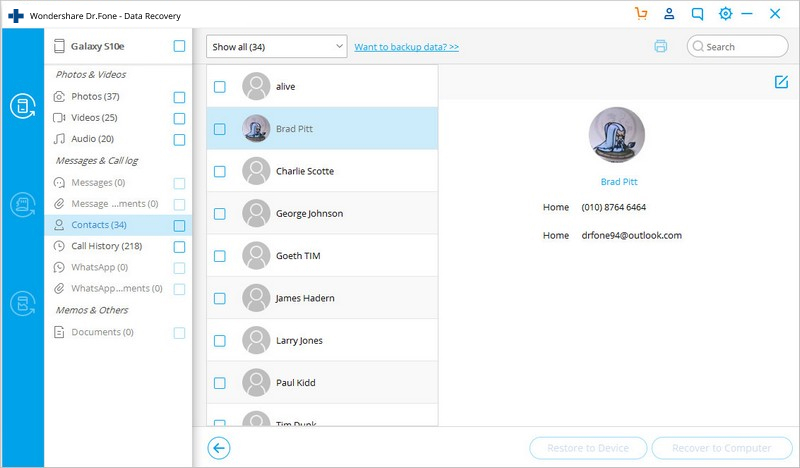 Just in case, if you wish to recover the messages and attachments to your PC, simply hit on 'Recover' button from the program interface.
2.2 Read deleted WhatsApp messages by re-installing WhatsApp on Android
Next method to read deleted messages from WhatsApp, you would have to delete and reinstall WhatsApp messenger. This method can only be useful when automatic backup has been enabled over your device. Just follow the set of steps stated below and unveil deleted messages from WhatsApp.
To kickstart with, one has to uninstall WhatsApp app from the Android phone by employing the method shown below.
Go to 'Settings' and locate for 'Applications' or 'Apps' option.
Surf for 'WhatsApp' and open it.
Now, click on 'Uninstall' option.
Alternatively, you can simply tap and hold the WhatsApp app over your Android App drawer and drag-drop it to the 'Uninstall' tab at the top.
After you have uninstalled WhatsApp, launch the Google Play Store and install it back.
Now, launch the app on your phone and verify the same number over WhatsApp.
WhatsApp will then search for a backup file on your device storage and on your Google drive (if enabled). Soon as it detects a backup, you need to hit on 'Restore Backup' option.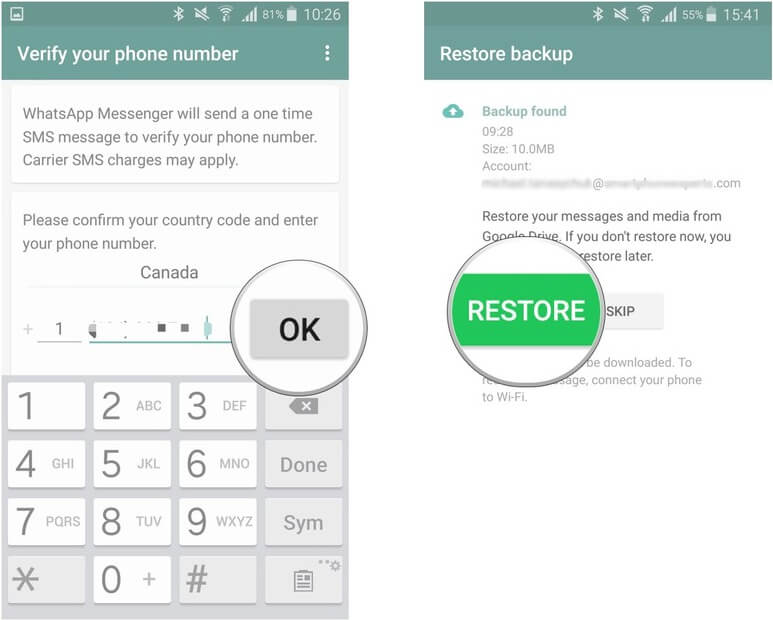 Note: Before performing the aforementioned steps, you need to ensure your device is pre-configured with the same 'Google' account that was used for the backup.
This was how, you can use this tactic to read WhatsApp deleted messages and make a fool out of your friend that nags you with deleted messages.
2.3 View deleted WhatsApp messages from Notification log
We understand how irking it is to view 'this message has been deleted' in your chat/notification panel. But you can actually catch the fish! How? Well, you can go with a smart technique of Notification Log, which can easily help you to retrieve the original message.
Just make use of the steps mentioned right below to roughly view WhatsApp message records.
Grab your Android phone and long press anywhere on the home screen.
Now, you need to tap on 'Widgets' and then look out for 'Settings' option.
Tap and hold on it to add the 'Settings' widget to your home screen.

Now, locate the 'Notification log' and hit on it. It will then be set as the 'Notification Log' widget.
Then, whenever you receive any notification with 'This message has been deleted', hit on the 'Notification log' and voila! You can read the deleted WhatsApp message in the log itself.

On more recent Android OS version, you can get to view the notification log like the one in screenshot below.