My iPhone Keeps Restarting: How to Fix It?
Getting an iPhone reboot loop is probably one of the most frustrating things that iOS users experience plenty of times. Just like most of the other iPhone problems, this one can also be caused by different reasons. If your iPhone keeps restarting, then don't worry. You have come to the right place. Whenever my iPhone keeps restarting, there are a few techniques that help me resolve this issue. In this guide, I will make you familiar with this problem and how to resolve the iPhone keeps restarting issue.
Part 1: Why does my iPhone keep restarting?
There could be plenty of reasons for the iPhone keeps restarting issue. Before we make you familiar with various solutions to this problem, let's understand why does my iPhone keep restarting first. This is a commonly faced problem in which the iPhone screen displays the Apple logo. Though, instead of booting the phone, it goes back into the same loop and restarts the device again. Due to this, it is known as the iPhone reboot loop issue as well. Here are few things that might be a reason to why does my iPhone keep restarting problem.
1. Bad update
This is one of the most common issues for the iPhone reboot looping error. While updating your device to a new version of iOS, if the process gets halted in between, then it might result in a few issues. My iPhone keeps restarting whenever an update is halted in between or the update goes wrong altogether. An unstable update of iOS can also result in this issue.
2. Malware attack
This usually happens with jailbroken devices. If you have performed a jailbreak on your device, then you can install apps from other sources as well. Though, this comes with a few disadvantages as well and makes your device vulnerable to security threats. If you have installed an app from an unreliable source, then it can result in the iPhone keeps restarting error.
3. Unstable driver
If any driver has become unstable after a prominent change in your phone, then it can put your phone in the reboot loop mode as well. The best way to overcome this is by updating your firmware.
4. Hardware issue
The chances of this are pretty bleak, but there are times when a malfunctioning hardware component also causes this problem. For instance, there could be a problem with your device's Power key that might cause this error.
Part 2: How to fix the "iPhone Keeps Restarting" issue
Now when you know why does my iPhone keep restarting, learn how to resolve the issue by following these suggestions.
1. Force restart your phone
It is one of the easiest solutions to the iPhone keeps restarting issue as it will break its ongoing power cycle. Just long-press the Power and Home button simultaneously for ten seconds to force restart your phone. If you have an iPhone 7/7 Plus, then you need to press the Power and Volume down button for ten seconds to do the same. This will fix a small error with the booting process of your phone.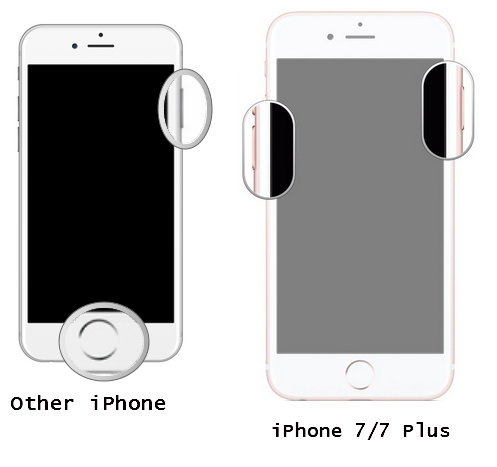 2. Factory reset your phone
If your phone is suffering from a malware attack or got a wrong update, then the issue can easily be resolved by resetting your phone. Though, it will erase your phone's data during the process. To do this, follow these steps.
1. Connect a lightning cable to your iPhone and make sure that the other half is not connected to the system yet.
2. Now, long-press the Home button on your phone for 10 seconds while connecting it to a system.
3. Release the home button while launching iTunes on your system. Your device is now in the recovery mode (it will display an iTunes symbol). Now, you can restore it with iTunes.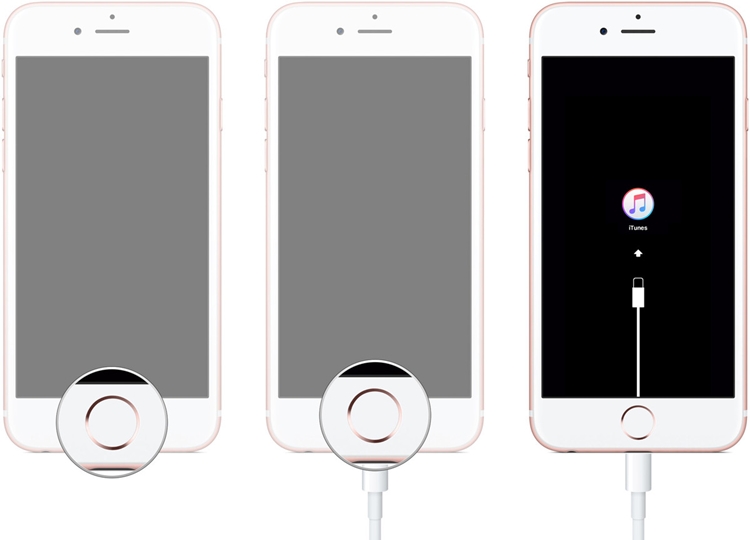 3. Connect it to iTunes
If my iPhone keeps restarting, then I mostly resolve the issue by connecting it to iTunes. Even after placing your phone in the recovery mode, you can simply connect it to iTunes to recover your data. Simply follow these steps to resolve the iPhone keeps restarting issue with iTunes.
Step 1. With the help of a cable, connect your phone to the system and launch iTunes.
Step 2. As soon as you will launch iTunes, it will detect a problem with your device. It will display the following pop-up message. Just click on the "Restore" button to retrieve this problem.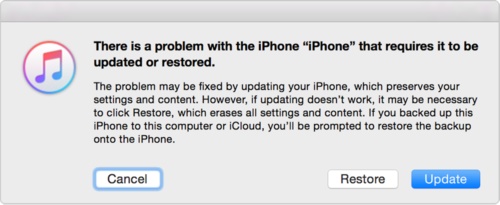 Step 3. Furthermore, you can manually resolve it by launching iTunes and visiting its Summary page. Now, under the "Backups" section, click on the "Restore Backups" button. This will let you restore your backup data on your phone.
If your phone has experienced a bad update or a malware attack, then it can easily be resolved by this technique.
Part 3: Still not working? Try this solution
If after following the above-stated solutions, your iPhone keeps restarting, then don't worry. We have a reliable and easy fix for you. Take the assistance of Dr.Fone - System Repair (iOS) tool to resolve the iOS reboot loop issue and protect your phone. It is compatible with all the leading versions of iOS and works on every major iOS device (iPhone, iPad, and iPod Touch). The desktop application is available for Windows and Mac and can be downloaded without any hassle.
If your iOS device is not functioning properly, then you can easily fix the issue with Dr.Fone - System Repair (iOS) tool. Without experiencing any data loss, you can fix issues like reboot loop occurrence, blank screen, Apple logo fixation, white screen of death and more. Whenever my iPhone keeps restarting, I use this reliable application to fix it. You can also do it by following these instructions:
Fix iPhone system error without data loss.
Only fix your iOS to normal, no data loss at all.
Fix various iOS system issues stuck in recovery mode, white Apple logo, black screen, looping on start, etc.
Fixes other iPhone error and iTunes errors, such as iTunes error 4013, error 14, iTunes error 27,iTunes error 9 and more.
Works for all models of iPhone, iPad and iPod touch.
Supports iPhone X / 8 (Plus)/ iPhone 7(Plus)/ iPhone6s(Plus), iPhone SE and the latest iOS version.
3981454 people have downloaded it
1. Download Dr.Fone - System Repair (iOS) from its website and launch it whenever you wish to resolve an issue on your device. Connect your iPhone to your system and from the welcome screen, choose the option of "System Repair".
2. When the new window opens, there are two options to fix iPhone Keeps Restarting: standard mode and advanced mode. Advisably select the first one.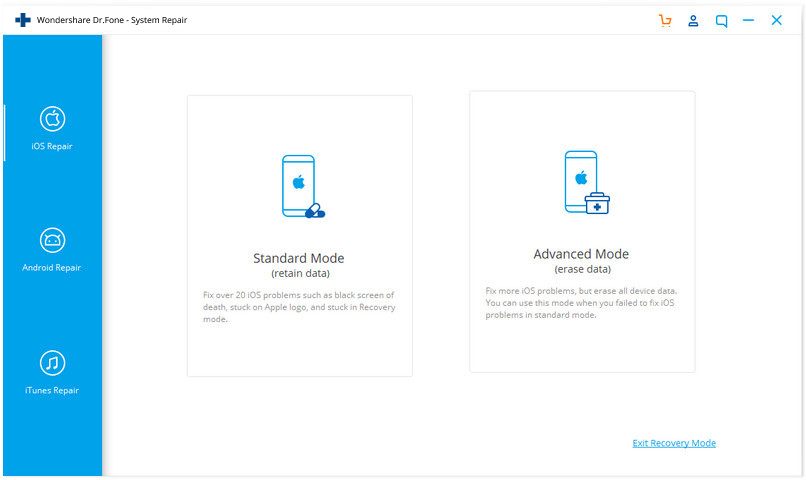 If your iPhone can be recognized, jump directly to step 3. If your iPhone cannot be recognized, you need to boot your phone into the DFU (Device Firmware Update) mode. To do this, long-press the Power and Home button on your phone at the same time for ten seconds. Afterward, just release the Power button while holding the Home button. The application will recognize as soon as your device will enter the DFU mode. When you get the notification, release the Home button to continue.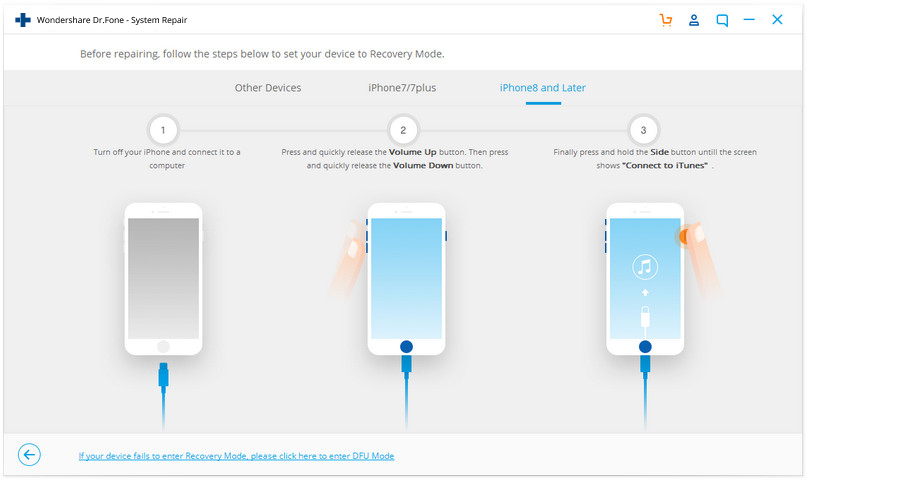 3. Confirm the device model and select the system version to download the relevant firmware on your system. Click on the "Start" button to get it.
4. Sit back and relax as it might take a while to download the relevant firmware of your phone. Try to maintain a stable network connection and don't disconnect your device during the entire process.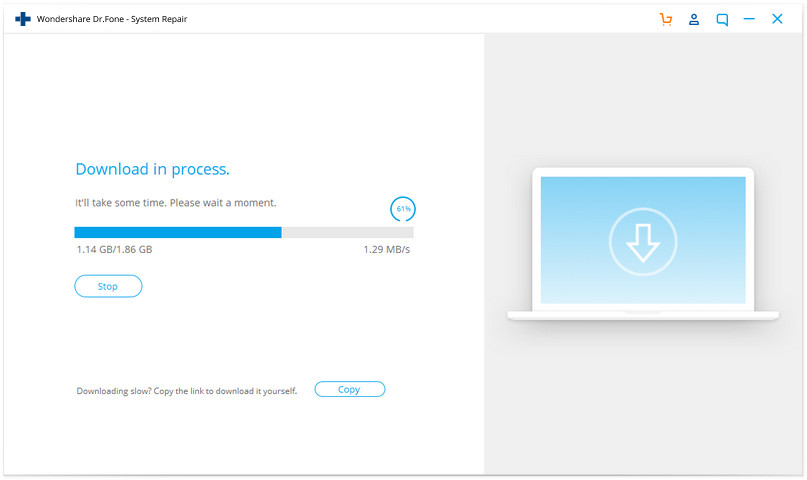 5. As soon as the relevant firmware would be downloaded, the application will start repairing your phone. You can get to know about its progress from an on-screen indicator.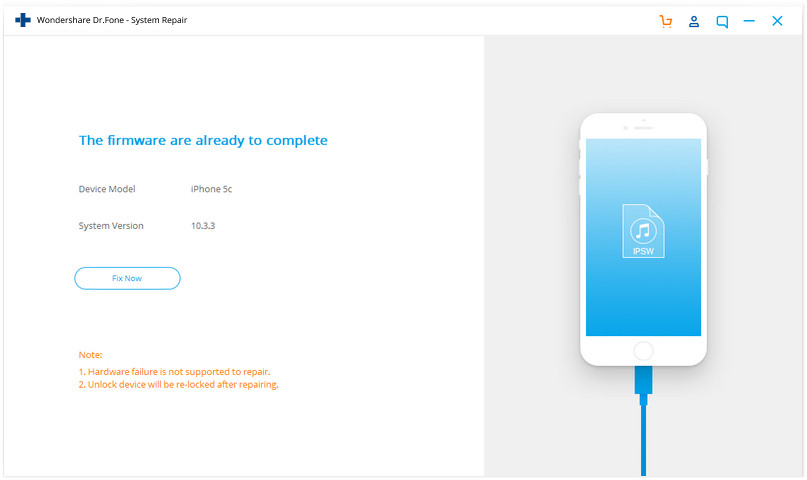 6. When the process would be completed, you will get the following screen. If you won't get desirable results, just click on the "Try Again" button to repeat the process.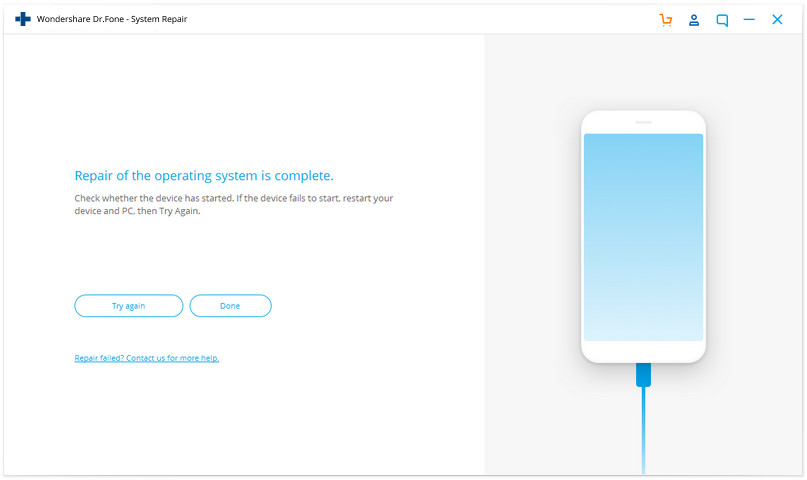 In the end, you would be able to overcome the iPhone keeps restarting error without much trouble. Simply follow these expert suggestions and break the reboot loop on your device. If you are facing persisting issues, then give Dr.Fone - System Repair (iOS) a try to resolve it. Feel free to share your experience with us as well.
Apple Logo
iPhone Boot Issues