Will Installing iOS 14 Beta Ruin My iPhone?
Finally, the wait is over. Apple has released iOS 14 beta for the public. After months of wait, Ios 14 Beta is available to install on your iPhone and iPad, which means the addition of new features that you can use right now. The company will launch a new iPhone model this fall, and iOS 14 is the new update on the phone.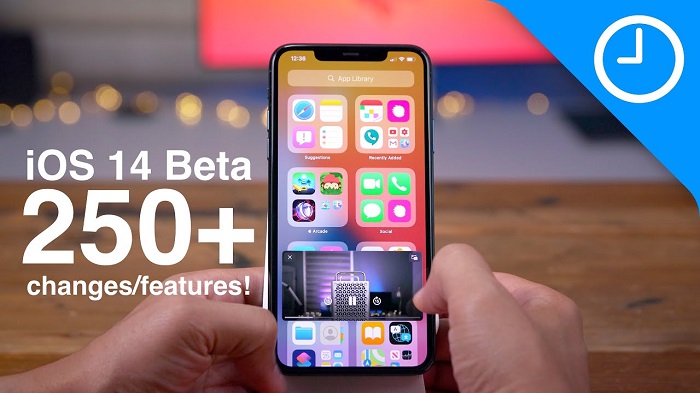 You won't have to wait for the next two months to try out the iOS 14 as you have the beta now. Apple is finally changing the iOS home screen! iOS 14 will bring a major refresh to the home screen, which you can experience with iOS 14 beta. In this article, we will discuss the advance features of iOS beta and will share step by step guide on how to install iOS 14 beta on iPhone.
Part 1: What's New in iOS 14 Beta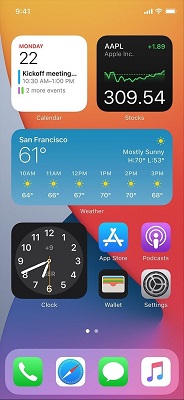 You will get a new widget experience with iOS 14 Beta. The new widgets will have more information and available in different sizes. Further, a single "Smart Stack" widget allows you to swipe through your other daily used widgets. It will also show the most used widget automatically to you.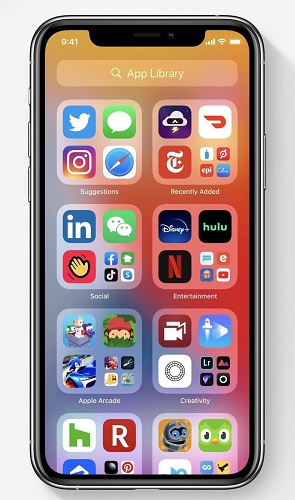 Now, finally, the iOS home screen is going to be changed. With iOS 14, you'll be able to remove apps from home and can delete the entire screens. There is a new app App Library to keep your apps at the place. It is beyond your final home screen. The App Library automatically group your apps according to categories, like Social, Health, News, Fitness, etc.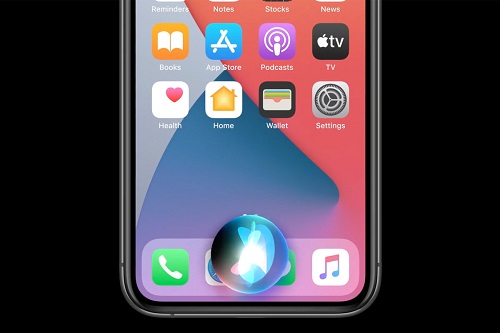 Now, Siri's full-screen takeover will be no more in iOS 14. When you use Siri in iOS 14 Beta, the Siri "blob" will display at the center bottom of your screen. In addition to this, there are many more Siri improvements you will seee in upcoming iOS 14 Beta updates.
Finally, Apple is giving picture-in-picture in iOS 14. It means when you are on video call or on a FaceTime call, you can go back to the home screen while doing video calls.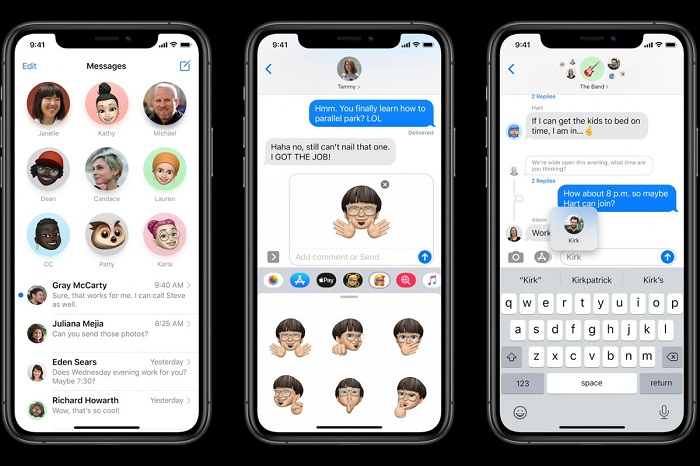 Messages is the most useful mobile app in Apple's arsenal. Now, with iOS 14 you are able to pin up to nine conversations to keep them at the top of the message stack. Further, group conversation is going to be much better too. You'll able to see images of everyone present in the group chat.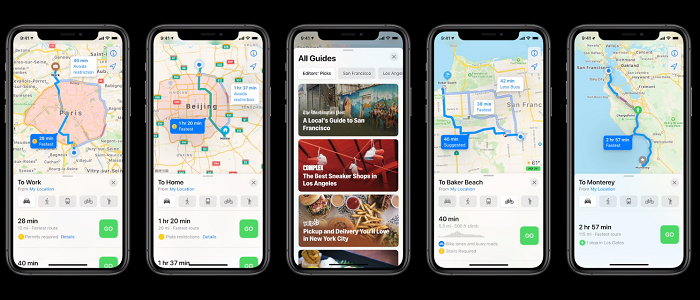 There is a huge improvement in maps. The maps will show cycling directions and the location of known speed cameras. It will also guide you through congestion zones in cities with regulated traffic areas. Further, there is a feature that allows you to add your electric vehicle to your iPhone and keep track of things like charging status and route.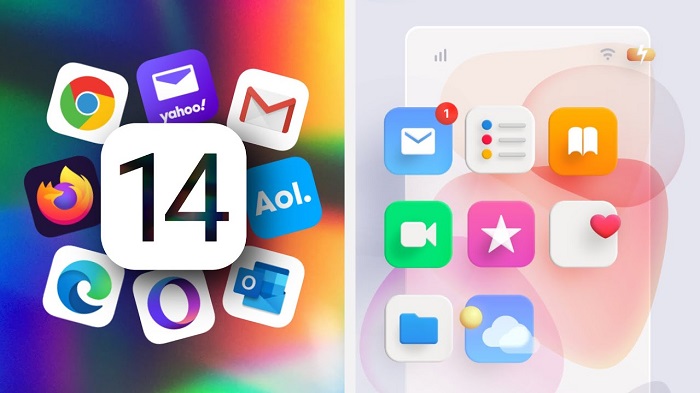 With iOS 14 Beta or iOS 14, you'll be able to set third-party apps to be your default email or browser. However, it is not clear up to what extent this feature will work.
The language Translate App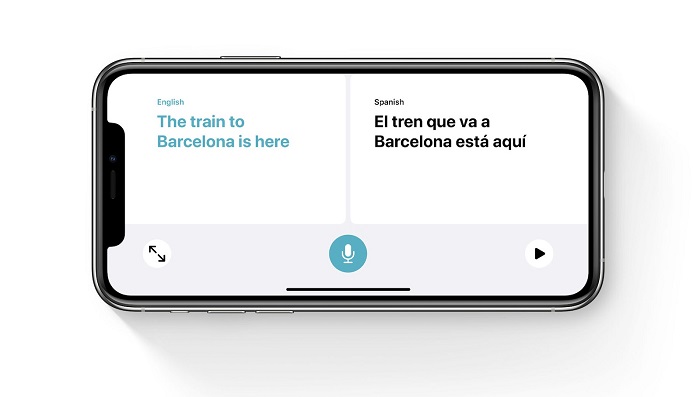 Apple has added a new first-party app known as Translate, and it's the Apple version of the popular Google Translate app. Further, it will also work offline that is without the need of the internet.
Safari will be faster than ever in iOS 14 and will be more secure, too. Also, Apple can monitor your saved passwords to see data breaches.
Part 2: How to Install iOS 14 Beta on iPhone?
After developers, iOS 14 Beta is now available for the public. If you have an iPhone or iPad, then you can install the iOS beta version on your phone to experience the latest features of Apple. The company has brought many new features that will be fun to use.
The iPhones that will support the iOS 14 Beta are as follow:
iPhone 11, 11 Pro and 11 Pro Max
iPhone XS, XS Max and XR
iPhone X
iPhone 8 and 8 Plus
iPhone 7 and 7S plus
iPhone 6S and 6S Plus
Original iPhone SE
Here's the list of supported iPads for iPadOS 14 beta
iPad Pro (4th generation)
iPad Pro (2nd generation)
iPad Pro (3rd generation)
iPad Pro (1st generation)
iPad Pro 10.5-inch
iPad Pro 9.7-inch
iPad (7th generation)
iPad (6th generation)
iPad (5th generation)
iPad mini (5th generation)
iPad mini 4
iPad Air (3rd generation)
iPad Air 2
2.1 Steps to Install iOS 14 Beta:
To install Visit Apple's Beta Software website from your device and sign up
Sign in with your Apple ID and tick on the agree column to agree on the terms and conditions.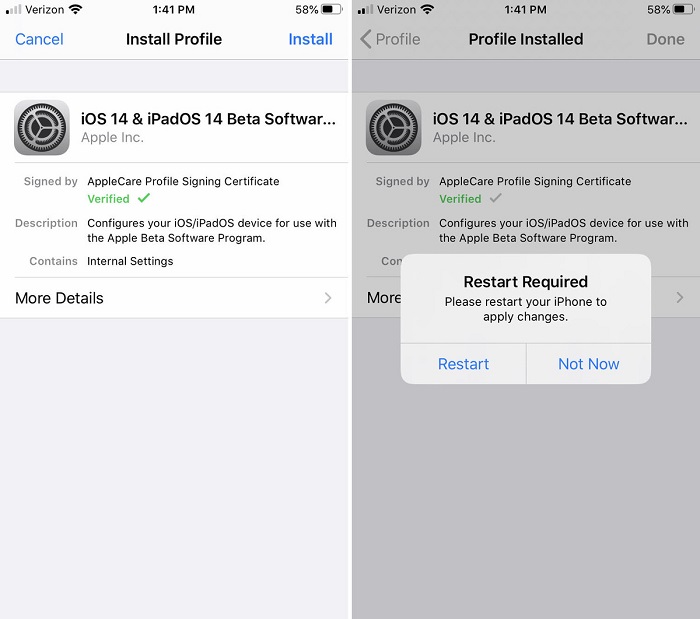 Select iOS for iPhone or iPad.
Click on "Download Profile" and follow the instructions.
After downloading the profile, move to Settings > General > Software Update to download and install the iOS 14 beta.
Once the above steps completed, the Beta update will start downloading and install similar to the update by Apple.
Note: Make sure your device has enough battery when installing the iOS 14 beta update.
Part 3: Is It Safe to Install iOS 14 Beta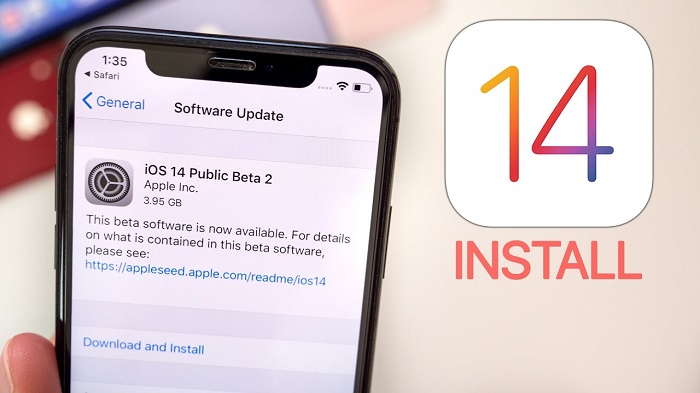 Installing iOS 14 beta update is safe to use. But, we warn that the iOS 14 Public Beta may have some bugs for some users. However, so far, the Public Beta is stable, and you can expect updates every week. It is better to take up the backup of your phone before installing it.
If you don't want to receive beta updates, you only need to remove the profile. Once the public release of iOS 14 or iPadOS 14 done in the fall, you can update it, and it will not be any more beta version. Removing the profile will stop the further beta updates, but it doesn't get you back to iOS 13 or iPadOS 13. To do that, you have to reinstall the iOS 13.
Part 4: iOS Public Beta 2 For Developers
On 7th July, Apple has released the iOS 14 Beta 2 for developers for testing purposes of the features that you will see in the coming in the beta update. Below are some changes the company has made in the second beta of iOS 14.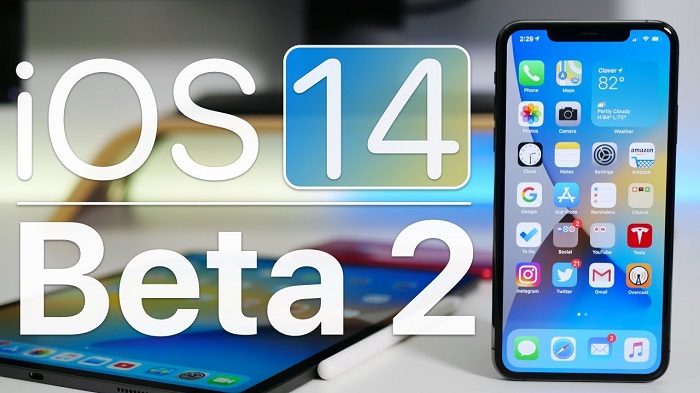 New Calendar app icon in iOS 14 beta 2, with the abbreviation of day of the week.
There is a slight change in the clock icon too. Now, it has a bolder font and thicker hour as well as minute hands.
Addition of new widget for file app.
In iOS 14 beta 2, you will get alerts for congested cities, toll charging zones, and license plate restriction zones.
There will be new wallpaper, parking apps, EV charging, and quick food ordering apps.
Now you can see phone calls as a widget.
Safari translation, which is similar to Google translation support languages, including English, Spanish, Simplified Chinese, French, German, Russian, and Brazilian Portuguese, etc.
You will get voice Control in English (United Kingdom) and English (India).
There is a feature in iOS 14 beta that is improved ARKit. This is a great feature for AR game lovers like Pokémon and others.
This beta version is only available to developers but will soon be available for the public. You can install public iOS 14 beta 2 or can directly update iOS beta.
We are sure when you download or install the iOS 14 beta 2, you will love to see the new changes and want to update every time when available. But, be a little careful as these may have bugs and may harm your phone, which is rare.
Part 5: Do iOS 14 Beta support Dr,Fone Virtual Location App
iOS 14 beta has improved ARKit, which means it gives a new experience to AR game lovers and location-based game players. Also, it supports fake location app like Dr. Fone for iOS 14. It is a reliable app which overwrites your current location with fake location and helps you catch more Pokémon in Pokémon Go.
First, install iOS 14 beta in your iPhone and then install dr. Fone.
Step 1: First, download the Dr. fone virtual location app on your iOS 14 beta. Install and launch it.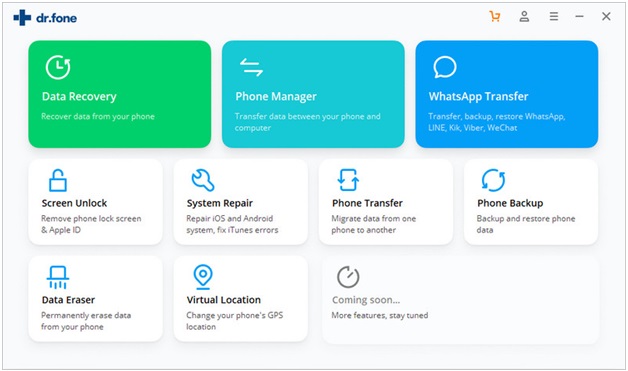 Step 2: Now, connect your iPhone or iPad with your PC and click on the "Get Started" icon.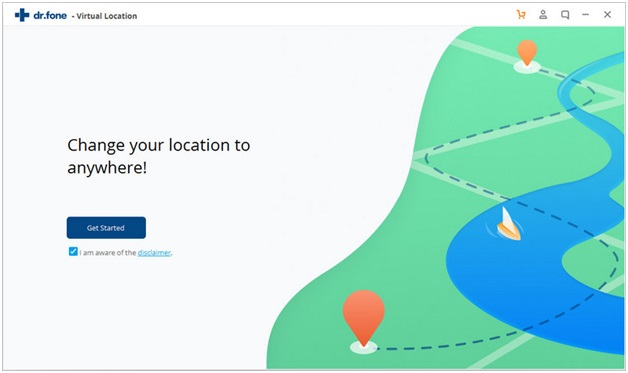 Step 3: Set a fake location on the world map by going to the search bar.
Step 4: On the map, drop the pin to the desired location and tap the "Move Here" button.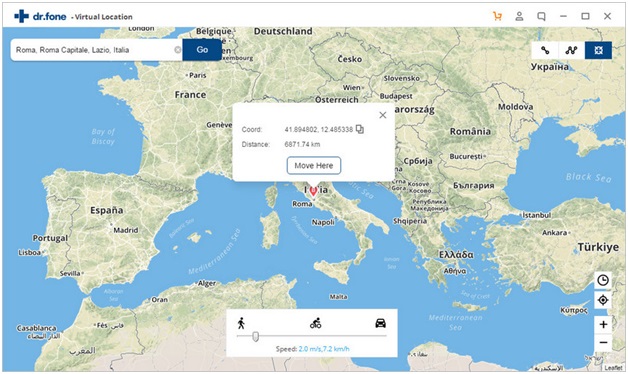 Step 5: The interface will also show your fake location. To halt the hack, tap the Stop Simulation button.
Download the Dr.Fone – Virtual Location (iOS) app now to catch the maximum Pokémon on iPhone or iPad.
Conclusion
Enjoy the features of iOS 14 before the release of the new iPhone by install the iOS 14 beta on the iPhone or iPad. Apple has made big changes in the features and added many new features that you will only notice when installing iOS 14 beta. Also, this iOS supports all third-party apps, including Dr. Fone virtual location app.