iOS 13/13.2 Update: How to Resolve Apps Won't Open or Keep Stopping
Sometimes, the apps installed on iDevice misbehave randomly. No matter what you are trying to do, it is very common to experience issues in iPhone. The problems can be triggered due to many reasons. And this guide will recovery most of the methods that you can use to fix when iPhone apps are not working on iOS 13/13.2. It can be low memory, software issue, some bug, or a compatibility issue that might be causing the problems. So, instead of sitting panicked, try out the solutions mentioned here and troubleshoot app problems.
Part 1. What's wrong with my iOS 13/13.2 apps?
The iOS 13/13.2 is finally here to try. Even though you can update your iPhone or other iOS devices to the Apple' to this new iOS version, it doesn't mean at all that you should. No doubt, you give a shot to iOS 13/13.2 version as you want to be one of the first to experience its new features like system-wide dark mode, newly designed camera interface and much more.
Along with fixing bugs and introducing new features, Apple makes a beta version available so that developers can get their services and apps ready for the final release. Thus, it all means that there is a possibility that some of the apps installed on your iPhone won't function properly.
Reference
iPhone SE has aroused wide attentions around the world. Do also you want to buy one? Check the first-hand iPhone SE unboxing video to find more about it!
Part 2. Tweak iPhone settings to fix iOS 13/13.2 app problems
The common tweaks you should try to fix the problems you've been experiencing are listed below. We hope that at least one of them will resolve the ongoing issue and you will have a properly working device.
2.1- Reset All Settings on iPhone:
The first idea that comes to every mind when the iPhone apps won't open on iOS 13/13.2 is the device reset. Usually, it is the settings or compatibility issues of the app that interrupts with the working. So, the easiest thing you should try is restoring the device settings.
Step 1: Launch the Settings app and open General settings. There you will find the Reset option at the bottom of the list.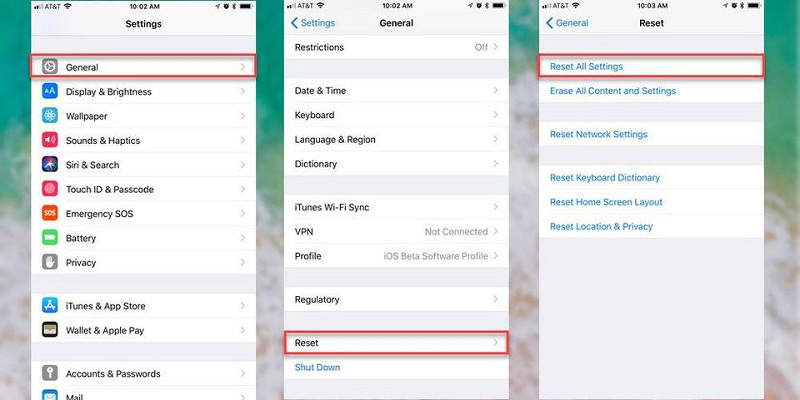 Step 2: Select the Reset All Settings option and confirm the action by entering your device passcode.
All the settings will be restored without deleting the device data. You might have to change the settings later as it suits your requirement but at least the problem will be fixed.
2.2- Reset Network Settings:
Another thing you can try if the iPhone apps are crashing on iOS 13/13.2 update is the network settings reset. This reset is used when the apps are facing issues due to network problems. Whether it is your Wi-Fi or simple connectivity issue, it can be fixed with this method.
Step 1: Again access the Reset menu from the General Settings and this time, select the Reset Network Settings option.
Step 2: Enter the passcode when prompted and confirm the Reset. It will take a while to restore the default settings.
Don't forget to reboot your device after the reset so that the reset will come into effect.
2.3- Turn iPhone off and then on:
The very basic thing you can try when the iPhone apps stop responding is to turn your iPhone off and then switch it on. As you are performing the restart of your device, it is important that you follow the right steps for your device.
If you have iPhone X and later models, press the Side button and either of the volume buttons until the slider appears on the screen. Drag the slider to turn it off and press the Side button until you see the Apple logo as you switch it back on.

If you have iPhone 8 or earlier models, press the top/side button until the slider pops up. Drag the slider to switch off your device and turn it back on by pressing and holding the Top/Side button.
2.4- Turn on and off Airplane Mode:
Other than the simple restart, you can also consider turning the Airplane mode on or off. It doesn't actually have a direct link with fixing the iPhone apps not working on iOS 13/13.2 issues. But you can try it.
Swipe up from the home screen and you will see the Airplane Mode icon. Tap on it to switch it on, wait for a little while, and then tap on the icon again to switch the mode off. You can also switch the Airplane mode on from the settings.
2.5- Free up Memory of iOS 13/13.2:
Most of the time when iOS 13/13.2 apps quit unexpectedly, it is because the memory space is running out on your device. It is obvious that apps require some space to create cache and temp. files. When the memory is running out, the apps automatically crashes and it can only be fixed by emptying up the memory.
Step 1: Open General settings and select the Manage Storage option. There you will see the Used and Available space along with the list of apps installed on your device.
Step 2: Select the application which is using the extra memory and delete it from the device.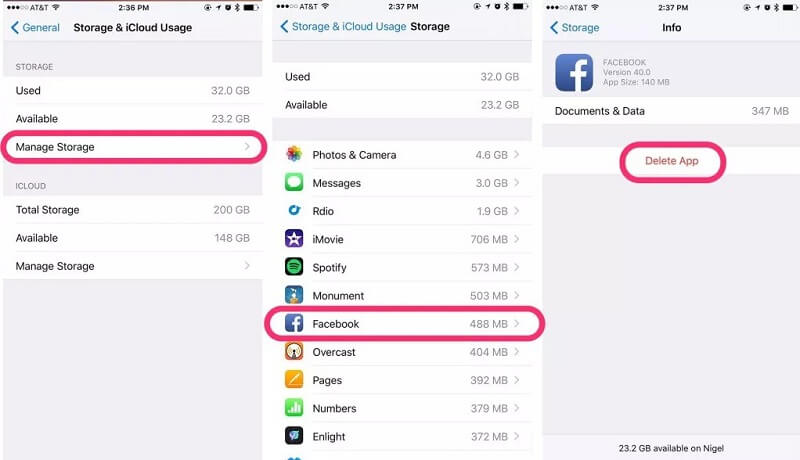 You don't even realize that but there are so many apps on your iPhone which you don't use at all. Deleting such apps will fix the problem and other important apps will have enough memory to use.
2.6- Check whether it is caused by Do Not Disturb:
Sometimes, the users don't even realize that the "Do Not Disturb" mode is active. When this mode is on, the user thinks that their iPhone apps have stopped responding. But it is a mode that confuses the user as your calls will be silenced, you won't get any alert or notification. So, before you freak out, check out whether the mode is on or off and then try using the concerned application.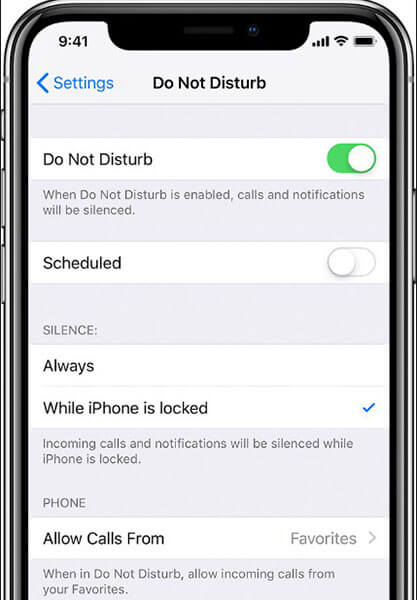 2.7- Restore iPhone to Factory Settings:
As the iPhone apps are crashing on iOS 13/13.2, another resort that you can try is restoring the iPhone to factory settings. For this, you will need help from iTunes.
Step 1: Launch iTunes on your system and connect your iPhone with it. Create a backup of your device data first.
Step 2: Then click on the Restore iPhone option in the Summary tab and iTunes will restore your device entirely.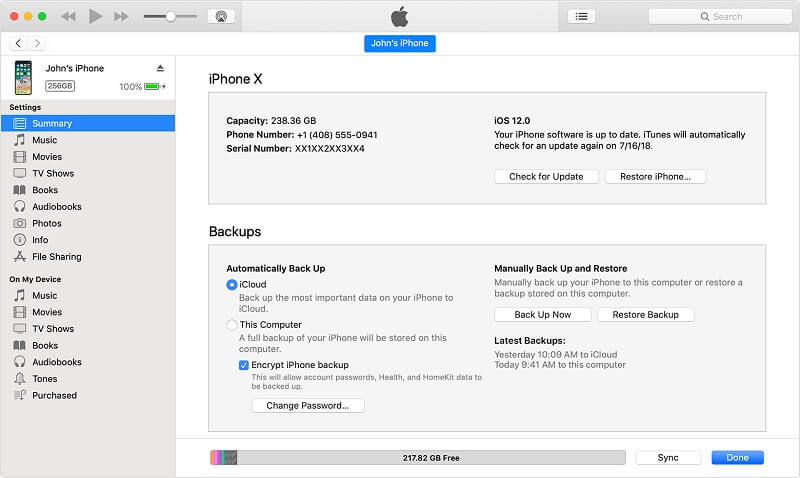 The apps and data will be erased and you will have to set up your device once again. But this time, you can restore the backup as it won't contain any bug or issue.
Part 3. Some iOS 13/13.2 app fixes for "not responding" issues
Are your "iPhone apps stop responding"? If so, then give a closure look at following solutions you can try to fix this problem without much hassle.
3.1- Force Quit App & Re-Launch the App:
There are many situations when the app you downloaded from the App Store on your iPhone doesn't respond. This could happen due to a software conflict. In such cases, the best thing you can do is to force quit the app and in a while, re-launch it again.
Force quitting the app can solve app responding to associated problems. To do that, follow the below simple steps:
Step 1: From the home screen, you need to swipe up from the bottom of your device screen and then, pause slightly in the mid of the screen.
Note: If you are using iPhone 8 or earlier, then you need to double-tap the Home button to open your recently used apps.
Step 2: Next, swipe right to left to locate the app you would like to close or quit.
Step 3: Finally, swipe up on that app's preview you want to quit.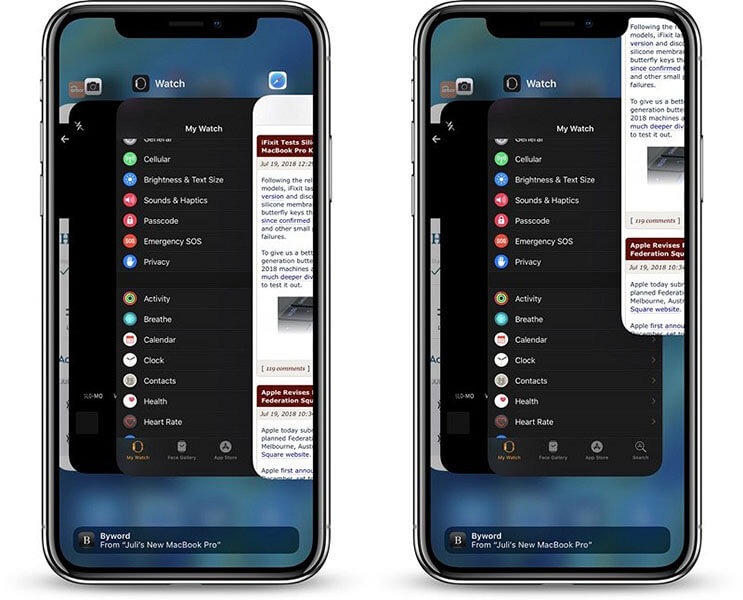 After a while, re-open the app and see if the problem you're facing is gone or not. If it isn't, then don't be panic as you still have other solutions that are mentioned below.
3.2- Check for App Updates:
It might be the case that there is a problem with the current version of the app that isn't responding. Generally, app developers fix it by introducing a newer version of the app. Thus, all you need to do is to check for app updates. Follow the below steps to learn how you can check update for the app:
Step 1: To begin, go to the App Store on your device.
Step 2: Next, click on the "Update" option located at the bottom of the screen.
Step 3: Now, all apps that need update will be listed here and just, click on the "Update" button next to those apps you want to update.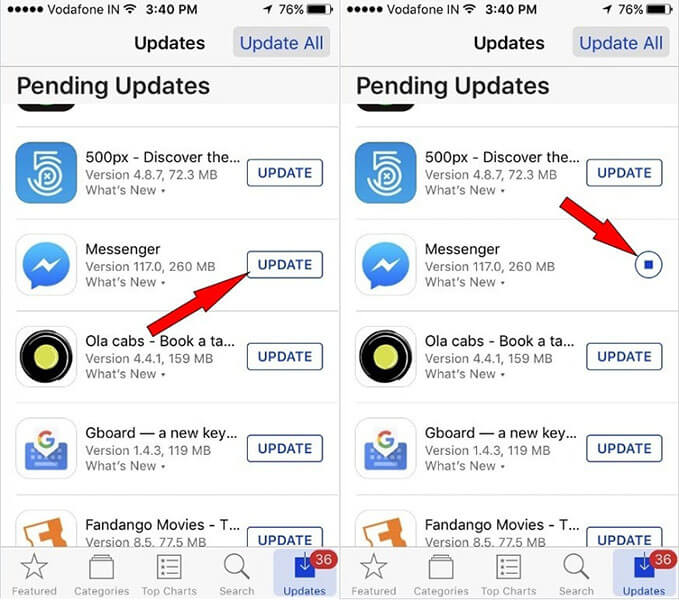 3.3- Delete and Reinstall the App:
If the app isn't responding even after trying above solutions, then it's time to delete the app and reinstall it. It might be possible that the app may get damaged during download and thus, it doesn't function properly. In such cases, the best solution is to remove it from your device.
To delete the app on the iPhone, follow the below steps:
Step 1: To start with, lightly touch and then, hold the app you would like to delete until all app icons start to jiggle.
Step 2: Now, click on the "X" icon on the app you want to delete and then, click on "Delete".
Step 3: Finally, click "Done" (for iPhone X or above) or press the "Home" button and that's it.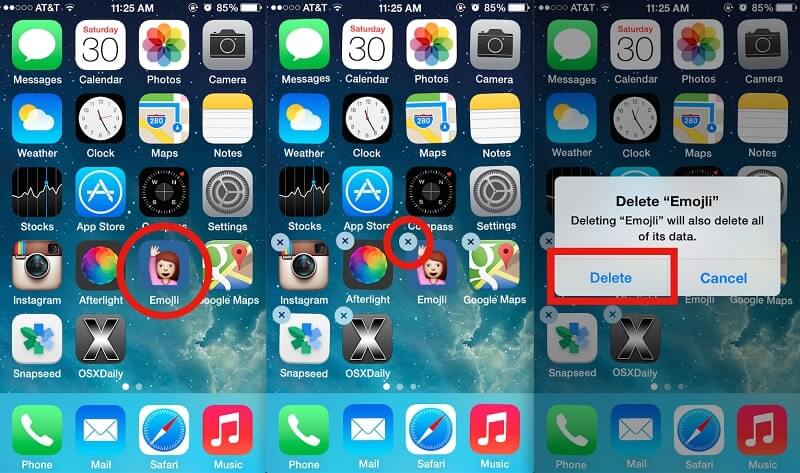 Now, you can go to the App Store and re-install the app by downloading it again on your device. This will probably help you to fix the "app isn't responding" problem.
Part 4. Last resort to fix app not working on iOS 13/13.2
What if all the above solutions fail to fix "iPhone apps not working on iOS 13/13.2" problem for you? Then, you will be glad to know that there are still some possible ways to help you come out of the problem. Let's give a look at them:
4.1- Fix App Not Opening without Data Loss:
With the help of Dr.Fone - System Repair (iOS), you can resolve app problems caused by system issues without any data loss. In fact, the software is powerful enough to fix several iOS system issues such as boot loop, Apple logo, etc. The best part of the software is that it provides support for every iPhone, iPad, and iPod touch models and it supports iOS latest version.
Just download Dr.Fone - System Repair (iOS), and once installed it on your computer, follow the below guide:
Step 1: To start with, run the software on your computer and connect your device to the computer using a digital cable. Then, select the "System Repair" module from the main interface.
Step 2: Once you select your system version, the software will begin with downloading an appropriate firmware package to fix your device iOS system.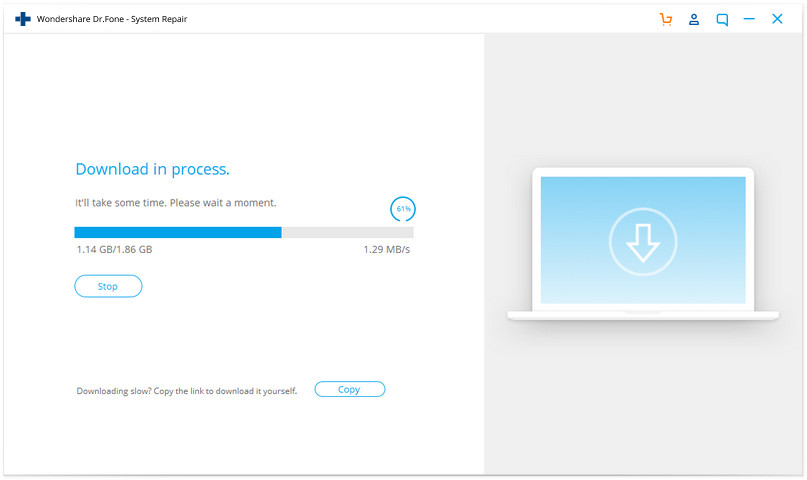 Step 3: After the firmware is downloaded, click "Fix Now" button and the software will start repairing your iOS system.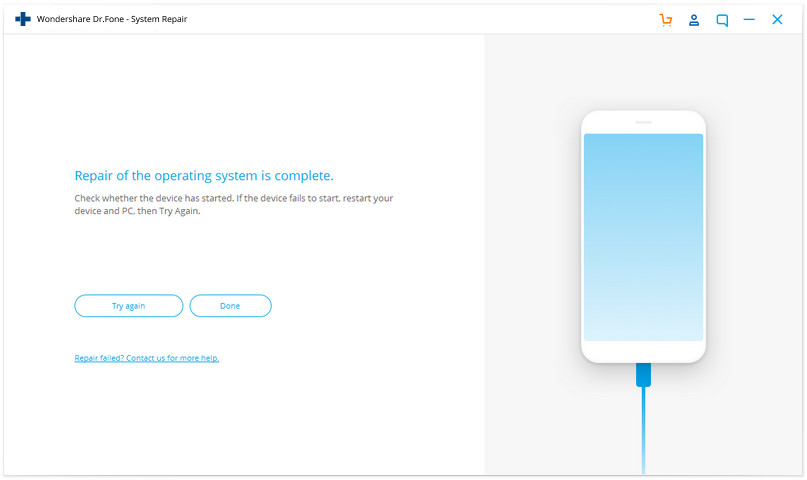 In a while, Dr.Fone - System Repair (iOS) will repair your device system so that apps installed on the device start functioning properly.
4.2- Contact App Developer:
Don't want to use any third-party tool to fix the "iPhone apps stop responding" problem? Then, you can contact the developer of that app that causing the problem. You can ask the developer why it is happening and they provide you with a possible solution to resolve the problem. In other words, you can report the problems you are facing to the app developer for assistance.
You can find the app developer contact information by going to the App Store and locate the app that causing trouble and here, you will find contact details of the app developer.
4.3- Wait for a stable iOS version to update:
As iOS 13/13.2 is available in beta version and that can be a big reason why apps don't work or functioning properly on your iPhone. Thus, if nothing helps you to fix the problem for you, then it's recommended that you should wait for a stable iOS version to available and update.
Conclusion
That's all on how you can fix apps that won't open or keep crashing after iOS 13/13.2 update. This guide has covered every possible solution you can try to fix "iPhone apps won't open on iOS 13/13.2" or its related problems. However, if the app problem you're facing is due to a system issue, then Dr.Fone - System Repair (iOS) is the most effective solution to help you resolve the problem by repairing your iOS system.
iPhone Problems
iPhone hardware Problems

iPhone Battery Problems

iPhone Media Problems

iPhone Mail Problems

iPhone Update Problems

iPhone Connection/Network Problems