How to Reset A Samsung Phone That's Locked?
The worst nightmare of any golem-using sane person - getting locked out of his/her own phone. It's a given and if that doesn't worry you, then you might want to redefine your status in this high-tech world. This inane complexity (yes, it's inane) is a common-case scenario for the majority of today's user-ship. Every Q/A site probably has three out of every eight questions related to, "how to reset a Samsung Phone that is locked", or "how to reset a Samsung Phone if I forgot my password" and even requests for steps to carry out "Reset Samsung Lock". It's a terrible source of annoyance and the whole deal is plainly pesky if there are no answers that come to par with your satisfaction. Your phone is locked, and you are bashing your head against the wall hoping to make it work while you gently rub your phone, tightly fisted, with your sweaty fingers. What an absolutely pathetic condition to be in.
Luckily for you, we've got some ideas to improve your current state, at the end of which your golem is going to be happily flashing just like your smile. This article will help you reset your Samsung Phone that is locked or reset a Samsung Phone if you forgot your password, and it also provides steps for you to reset your forgotten Samsung Lock without any hassle!
Part 1: Reset Samsung phone forgot password in Recovery Mode
Even if it's practically impossible to access Factory data reset option(since you are locked out and all!), there is the means to put your phone into Recovery Mode, and restore your device to factory settings. Ultimately, that's how you reset Samsung phone which is locked.
Step 1. Firstly you need to switch off your device.
Step 2. Boot your Samsung device into Recovery Mode. Press and hold the Volume Up + Home Button + Power Button together for about 10 seconds until you meet the much awaited Recovery Mode screen. Make sure you don't let go of the device when it vibrates.
If in case your efforts result in a dull screen with a message "No command", you have to press and hold the Volume Up + Home Button for a few seconds and here at last! You will see the Recovery Mode menu.
Step 3. Once your device is put into Recovery Mode, press Volume Down/Up button to move to the option 'Wipeout/Factory Data reset' and affirm by pressing the Power Button.
Step 4. Affirm the same by selecting the "Yes-delete all user data". Your Samsung device will begin the reset.
After the reset process comes to an end, choose "Reboot now". Once your device restarts and turns on again, you will get to see the factory restored version of a screen with no dreaded questions for a pattern or a PIN.
The saddest part of following this method is its distressing end result- the ultimate loss of data, without a moment's hesitation on your device's part. But then if you had backed-up your data with Google account or Google cloud, rest assured.
Part 2: Unlock Samsung phone forgot password with dr. fone
Another drawback of Factory Data Reset option to reset a Samsung Phone that is locked is, after the successful reboot and restart the session, you will be asked to sign in using your original Samsung/Google account to reactivate the phone. This is a part of Factory Reset protocol and it's all good and dandy if you remember your password, again or if you didn't develop a cold amnesia overnight. Technology can sometimes become our own enemy, but these methods are necessary to cull cyber-crime that frequents every sphere of the modern world. You wouldn't want a criminal making use of the same Factory Data Reset option to reset your Samsung phone "forgot password" and logging in easily like you would, if not for the Samsung/Google account to back you up.
To get rid of this scuffle-zone, the same advanced brains of technology bring forth dr.fone - Screen Unlock (Android) to your rescue. dr.fone is an effective and fast unlocking solution to unlock Samsung Galaxy Forgot Password problem. This software allows you to do an easy unlocking of Samsung Galaxy passwords, PIN codes and pattern codes.
Remove 4 Types of Android Screen Lock without Data Loss
It can remove 4 screen lock types - pattern, PIN, password & fingerprints.
Only remove the lock screen, no data loss at all.
No tech knowledge asked, everybody can handle it.
Work for Samsung Galaxy S/Note/Tab series, and LG G2, G3, G4, etc.
3981454 people have downloaded it
Its easy to reset Locked Samsung phone with dr.fone with all the data kept. However, it won't keep all the data after unlocking other Android screen beyond samsung and LG.
Step 1. Download dr.fone on your desktop device. Click "Screen Unlock". Connect your device and choose the Start button to start the process.
Step 2. Then follow the instruction to booth the Samsung phone in Download Mode.
1. Switch off your Samsung device.
2. Press and hold the Home button + Volume down button + the Power button at the same time.
3. Press and hold the Volume up button to put your device in download mode.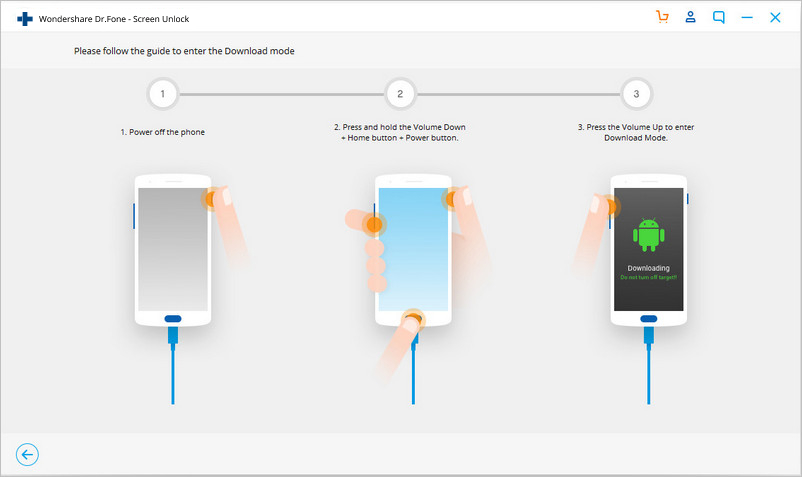 Step 3. Once your device enters the Download Mode, it will begin downloading the recovery package. You will have to wait until the end of its completion.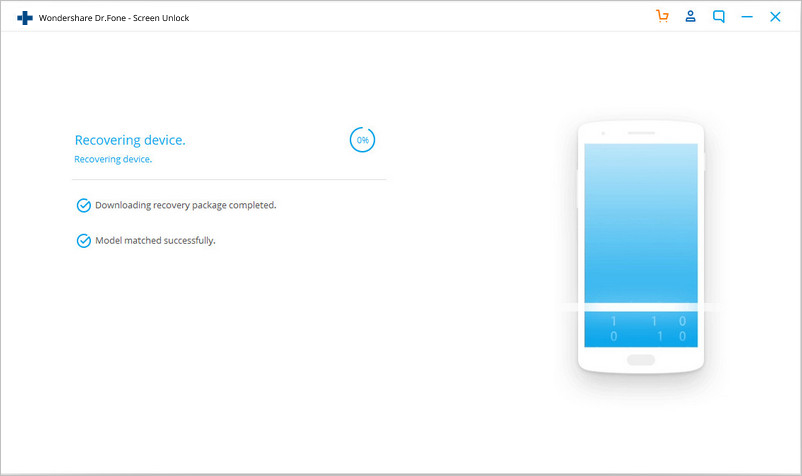 Step 4. As soon as the recovery download package is completed, your Samsung Lock is successfully reset. Your data is safe and you have corrected the results of your unforgivable forgetfulness!
The one most advantages of using dr. fone is your phone is unlocked without loss of any data.
It's certainly risky for a phone to be left unprotected and it's even riskier if the user forgets his/her own password. It's not the most uncommon script but it's still a problem. Thankfully, we have got enough solutions to overcome this mishap instead of taking the device to a service centre where there are chances of a technician misusing the data on your phone. It's highly unlikely when that wouldn't happen, as this world has become such a fickle place to live in. Sometimes, our ignorance pays the price for the unpredictable and tough aftermath, for which we can only suffer. Why not make use of our knowledge instead of feigning ignorance and landing ourselves in muddy waters? The end results of our pretense manners are not worth it.
Unlock Samsung
1. Unlock Samsung Phone