Ultimate Guide to Samsung S8/S7/S6/S5 Lock Screen
Over the last few years, we have seen a major update in Samsung lock screen. The Android-based smartphones produced by Samsung come with lots of new features. One of the most evident updates in every model can be seen in the overall look and feel of the lock screen Samsung. To help you make the most of Samsung Galaxy S7 lock screen, we have come up with this extensive post. Read on and be familiar with some major Samsung lock screen apps and features.
Part 1: How to setup and turn off Samsung lock screen?
To start with, let's learn how to setup the Samsung lock screen. Just like most of the popular Android devices, you can setup a pattern, PIN, or password on the lock screen. If you have a new model, then you can have a fingerprint security as well. For instance, the Samsung Galaxy S7 lock screen provides an advanced biometric security feature. You can simply follow these steps to setup lock screen Samsung.
1. Unlock your Samsung device and go to its Settings > Lock Screen > Screen Lock.
2. From here, you can choose the desired lock type – fingerprint, PIN, pattern, etc.
3. If you don't want any added security, then you can choose the Swipe lock as well.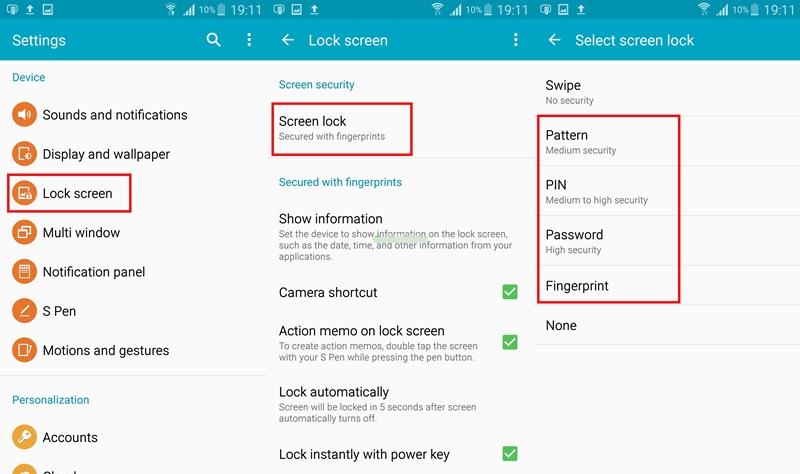 4. In order to disable a lock, you can just tap on the "None" option.
5. Let's suppose you wish to setup a new pattern lock. To do so, you can tap on the "Pattern" option.
6. On the next screen, you need to provide a pattern lock for your device. Additionally, you need to confirm the lock.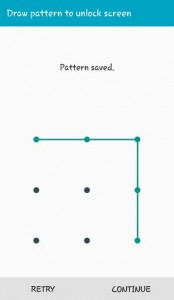 7. In some devices, you need to setup a backup PIN as well and confirm your choice.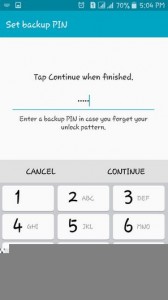 8. After confirming your selection and saving your changes, the Samsung lock screen will be protected with the provided pattern.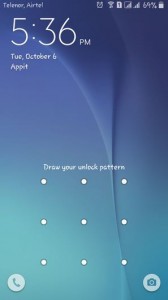 Part 2: How to change Samsung lock screen clock?
There are lots of native and third-party Samsung lock screen apps and widgets that you can use to customize your device. Plenty of users take the assistance of the lock screen clock widget on their Samsung device. Though, you can easily personalize this widget by changing its style, format, and more. All you need to do is follow these steps:
1. Simply go to your phone's Settings > Lock Screen and Security. In some devices, this can be under Settings > Security > Lock Screen as well.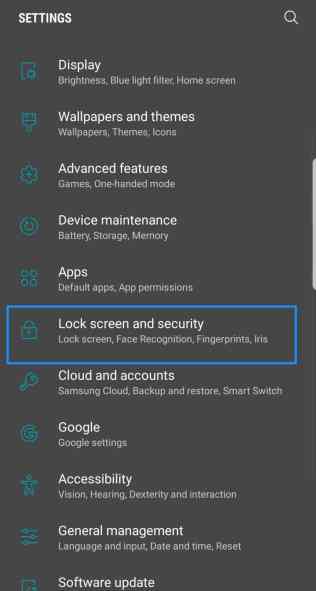 2. Under the "Clock Style" section, you can find a display of various clock formats. Pick the one that you like the most.
3. Additionally, you can also turn on/off the clock display on lock screen Samsung from here as well.
4. You can further customize the display by turning on/off the "Show Always" feature.
5. Also, if you are traveling and would like to display a roaming clock on Samsung lock screen, then go to Settings > Lock Screen & Security > Face Widgets and turn on the option of "Roaming Clock".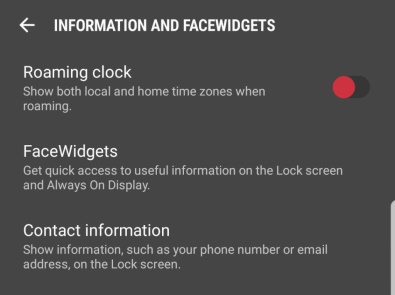 Part 3: Disable Intelligent lock screen on Samsung Galaxy
Samsung provides an intelligent lock screen on its latest devices. Even though the feature is pretty sophisticated and informative, it can be a little invasive at times. For instance, the Smart lock feature can detect trusted devices, places, voices, on-body movement, and more. Plenty of times, users complain about the invasion of Samsung lock screen apps by the intelligent lock. For instance, the Samsung Galaxy S7 lock screen intelligent feature might not be liked by you. Therefore, you can turn it off by following these steps:
1. Unlock your device and go to its Settings > Security > Lock Screen and Security.
2. From all the provided options, look for "Smart Lock". To turn the feature off, you can just toggle it to off.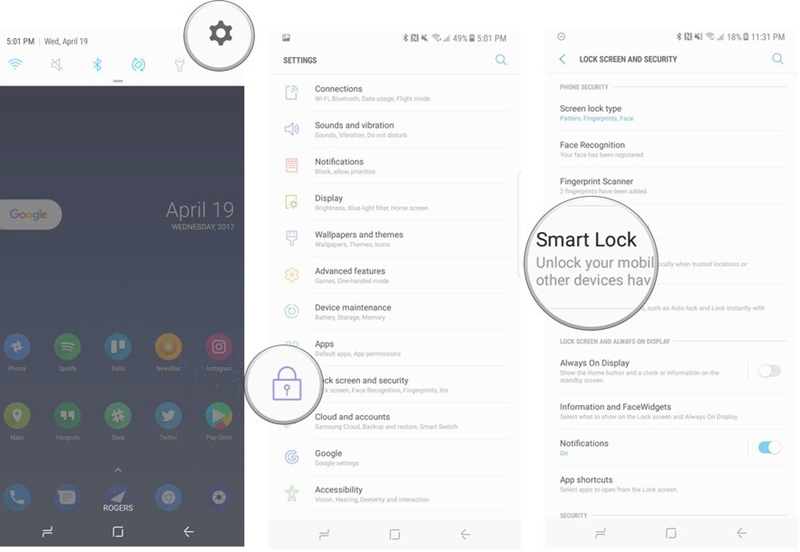 3. Furthermore, you can tap on the Smart Lock feature to access its options like on-body detected, trusted places, trusted devices, etc.
4. You can tap on the feature of your choice, customize it, and turn it on or off respectively.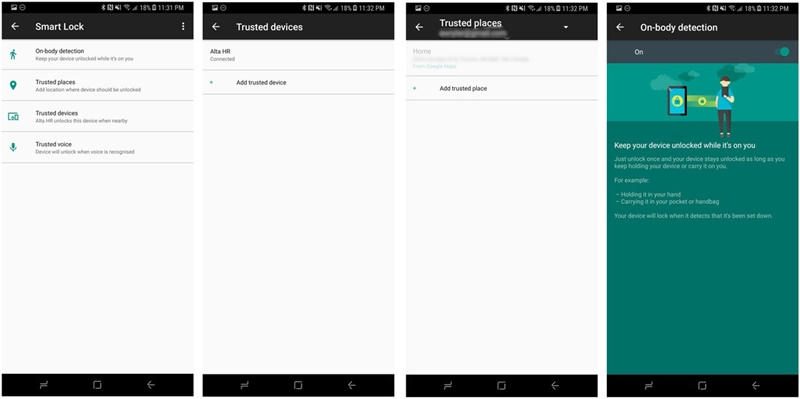 Part 4: How to bypass Samsung lock screen?
There are times when users simply forget a pattern or PIN of their Samsung lock screen. Under such circumstances, you can take the assistance of dr.fone - Screen Unlock (Android). The tool is known to have the highest success rate in the industry and can remove the lock screen Samsung without causing any data loss. Easy to use, it will help you get rid of your device's lock screen in no time.
Note: If you are using other android phone instead of Samsung or LG, you can also use this tool to bypass the lock screen. But, it will erase all your data from your phone.
Remove 4 Types of Android Screen Lock without Data Loss
It can remove 4 screen lock types - pattern, PIN, password & fingerprints.
Only remove the lock screen, no data loss at all.
No tech knowledge asked, everybody can handle it.
Work for Samsung Galaxy S/Note/Tab series, and LG G2, G3, G4, etc.
3981454 people have downloaded it
1. Firstly, download dr.fone - Screen Unlock (Android) website on your computer. After launching it, select the feature of "Screen Unlock".
2. Connect your Android device to your system and let it detect it automatically. Click on the "Unlock Android Screen" button to commence the process.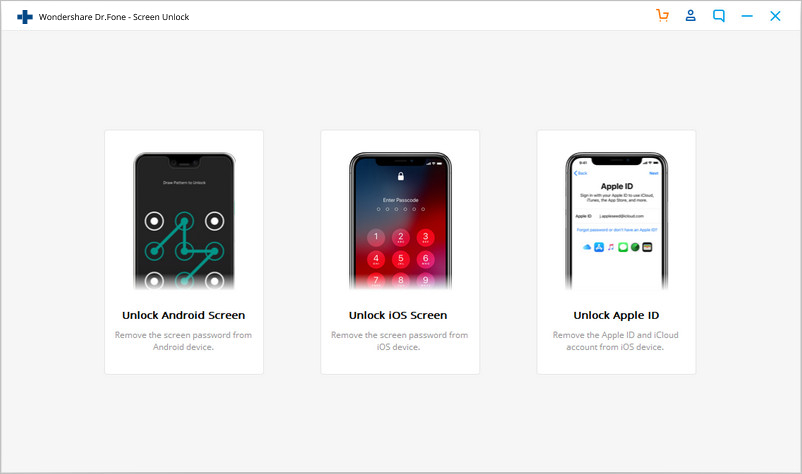 3. Now, you need to enter your phone in the Download Mode. To do this, firstly turn off your device. After that, press and hold the Power, Home, and Volume Down button simultaneously.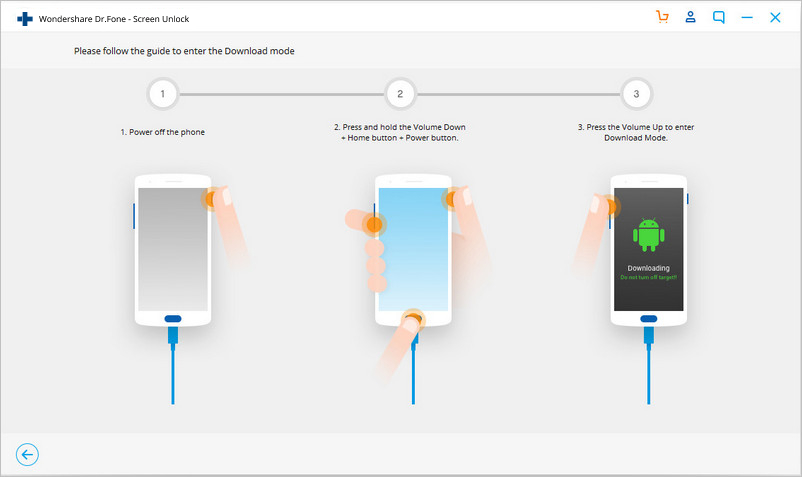 4. Let go of these buttons and press the Volume Up button to enter your device in the Download mode.
5. As soon as your device will enter the download mode, it will start downloading the respective recovery package for your device.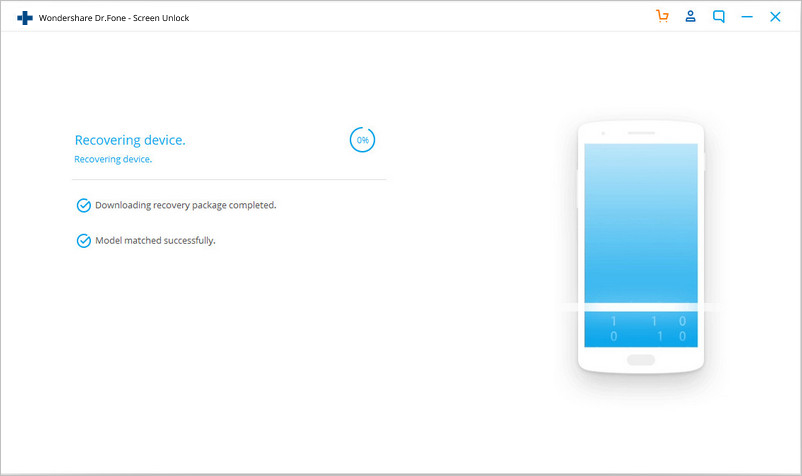 6. Wait for a while as the application will download the respective package file and fix the problem related to Samsung lock screen.
7. Once the process is completed, you will get a prompt like this. Now, you can disconnect your device and use it without any lock screen.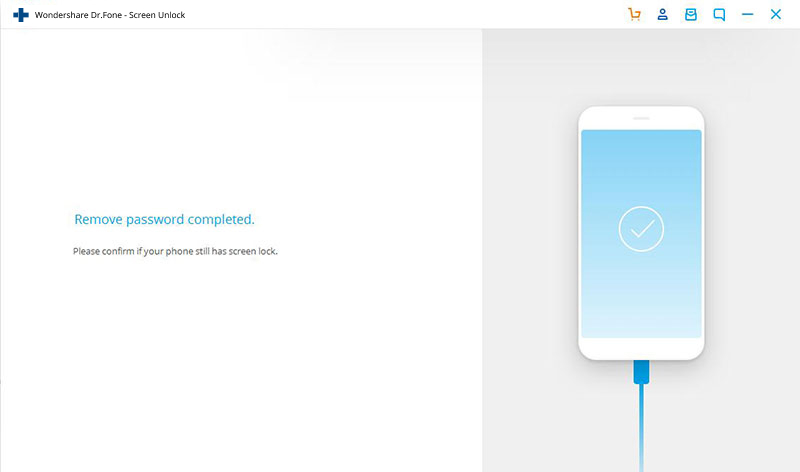 Remove Android Screen Lock
We are sure that after following these suggestions, you would be able to make the most of Samsung lock screen for sure. From various Samsung lock screen apps to its advanced features, we have covered all the options related to it in this post. Furthermore, if you have forgotten the lock screen Samsung password, then you can use dr.fone - Screen Unlock (Android) and unlock your device without any data loss.
Unlock Samsung
1. Unlock Samsung Phone