Best Way to Transfer WhatsApp from Samsung to iPhone
If you landed over here, you surely must be wanting to transfer WhatsApp from Samsung to iPhone, and probably you must have searched an ample number of blogs too. But now by landing over here, your quest is successful as in this article we have explained clearly to our reader that how they can transfer WhatsApp from Samsung to iPhone. This article consists of all the best methods which are already tried and tested by their working.
You may be interested in transferring other data besides WhatsApp, such as sms, contacts, photos, etc. dr.fone - Phone Transfer can achieve your purpose.
Q&A: Is there Free Solution to Transfer WhatsApp from Samsung to iPhone?
If you are willing to transfer WhatsApp from Samsung to iPhone (android to iPhone), then this article is consisting of best methods. And surely you must be searching for those methods which are free to use. But let me tell you, my friend, that there is no free solution of it and if you find one you cannot trust it.
Samsung uses Google Drive, and the iPhone runs iCloud. The Samsung backup can't restore to iPhone, and the so-called free solutions can merely transfer WhatsApp text document or database to the iPhone. WhatsApp can't restore from these files on the iPhone. Users have to use paid software to transfer WhatsApp between Android and iPhone.
Please keep in mind that not always the free stuff is useful. However, this depended on you that how you treat your data, either you want to transfer it securely or with the untrustworthy apps.
Part 1: Transfer WhatsApp from Samsung to iPhone Using dr.fone
If you want to transfer WhatsApp from Android to iPhone or to Android devices, or transfer WhatsApp data from iOS device to iOS device or Android device, dr.fone - WhatsApp Transfer is here to help you. dr.fone allows its users to backup iPhone WhatsApp messages and WhatsApp message attachments, export them to the computer and also restore the backup to the device.
Step 1: Launched dr.fone toolkit on your computer, then select "WhatsApp Transfer" option from the tool list. Then connect your iPhone/iPad to the PC.
Step 2: Navigate to the WhatsApp tab and you can opt "Transfer WhatsApp messages" to transfer/send WhatsApp messages from iOS devices to another iOS device or Android devices.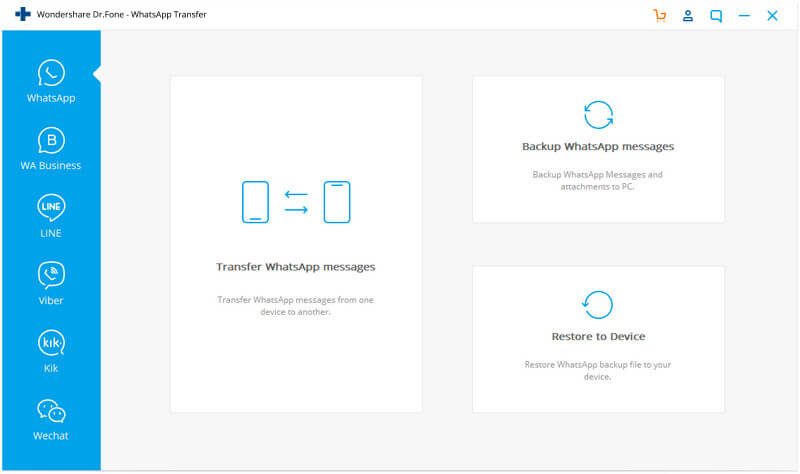 Step 3: Connect your iOS devices or Android device to your computer. You will get the window as follows once the program detects them.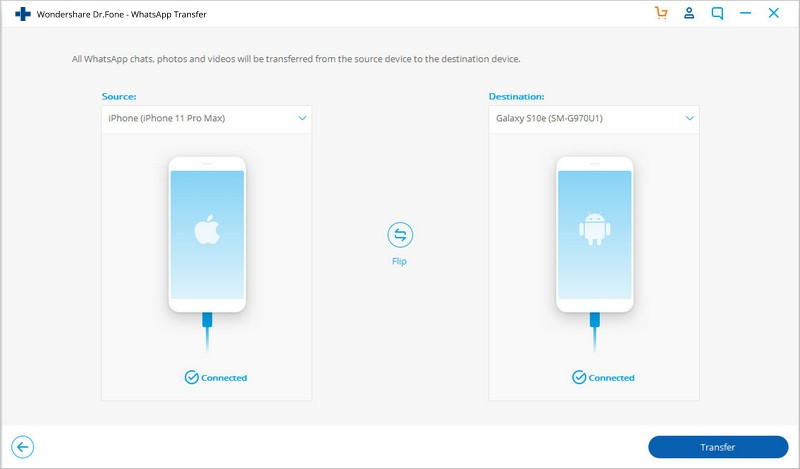 Step 4: Now that you've done the above processes, click on "Transfer" to commence the WhatsApp message transfer. You need to choose to merge data or erase existing WhatsApp messages from the destination device if you want to move forward.
Step 5: Sit back and relax, you don't need to do anything during the transfer. Make sure that you keep both your devices connected well and then wait for the end. You can disconnect your device and view the transferred data on your device when you see the window below.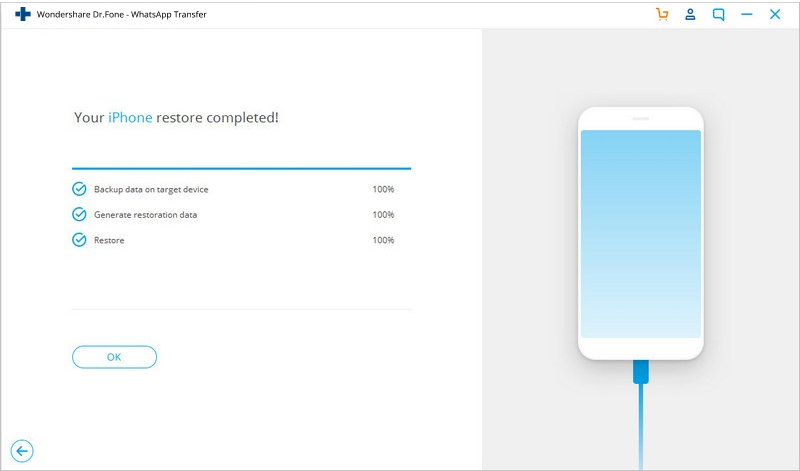 Part 2: Transfer WhatsApp Messages to iPhone by Backuptrans
BackupTrans is a professional kit of various utility tools. In this section, we will talk about Android WhatsApp to iPhone Transfer Tool. As the name suggests, the application can transfer WhatsApp from Samsung to iPhone with all your data quickly. The software's interface will let you preview your conversations as well. You can also move one conversation at a time apart from transferring your data in a batch.
Step 0: Please ensure that you have installed iTunes 11.0 or above on your computer. And make sure that your Android device has USB debugging enabled before you run the software.
Step 1: Install the software on computer and run it. Run Backuptrans Android iPhone WhatsApp Transfer and connect your Android & iPhone to the computer with a USB cable.
Step 2: If a message pop-up on your Android phone's screen, please click the "Back up my data" button without entering the password. After that go back to the software on your computer to click "OK" to continue.
Note: This software will only backup your WhatsApp data from your Android phone.
Step 3: View WhatsApp Chat History on software. After that the software will read all your WhatsApp chat messages from your Android & iPhone and display them on its main interface:
Step 4-a: Transfer all your WhatsApp Messages from Android to iPhone
1) Click the Android in Devices list you wish to transfer WhatsApp Messages from.
2) Turn to the top toolbar and press the "Transfer Messages from Android to iPhone" button or go to File - Transfer Messages from Android to iPhone.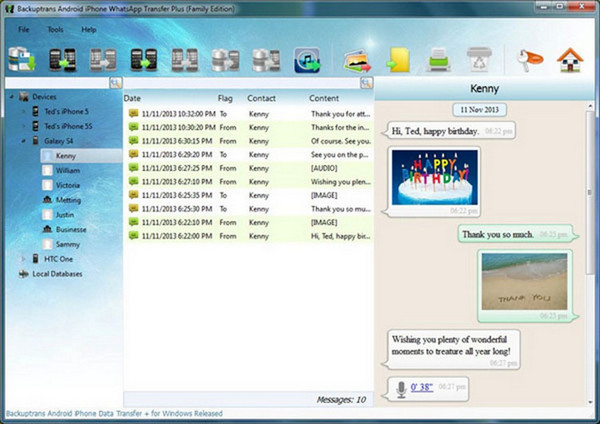 Step 4-b: Transfer WhatsApp Messages having a single contact
1) Click your wanted contact name under the device you want to transfer WhatsApp chats from.
2) Turn to the top toolbar and press the "Transfer Messages from Android to iPhone" button or go to File -> Transfer Messages from Android to iPhone.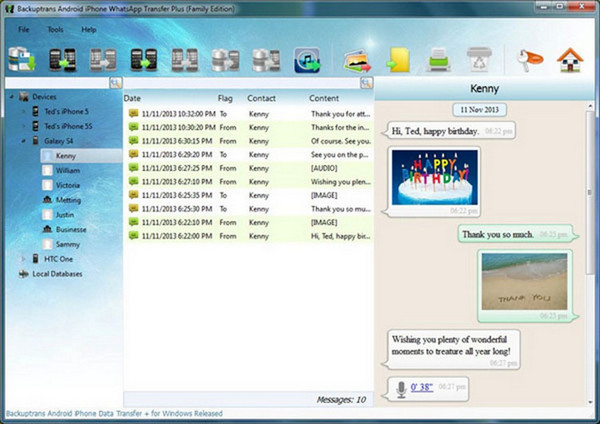 Step 5: Select the iPhone you want to transfer chats to. Choose a target iPhone that you want to transfer WhatsApp chat history to. Click Confirm to continue.
Note: Please close WhatsApp on your iPhone first before transferring WhatsApp chat history to iPhone.
Step 6: Transferred successfully.
Part 3: Transfer WhatsApp Messages to iPhone Using WazzapMigrator
Wazzap Migrator is an excellent app to transfer WhatsApp. It can transfer your chat history as well as the attachments too. First, you have to extract WhatsApp backup from the iTunes backup file using any reliable iTunes backup extractor.
Please note that this app only works for iPhone to Android transfer so we are showing how to extract the WhatsApp messages from iPhone and migrate them to your Android phone by following these steps:
From your Android phone, navigate to Google Play Store and search for Wazzap Migrator.

Install the app and open it. Tap on "Select iPhone Archive" and select the backup file from your phone.
Make sure that you follow the instruction properly and you should be able to see the pop window with "Conversion Successful" message.
Now, you should check WhatsApp on your Android phone and it should view all the messages from your iPhone.
How to choose?
dr.fone - WhatsApp Transfer
Pros:
dr.fone has the most leading recovery rate in the industry.
dr.fone is compatible with all the latest devices and Operating Systems.
dr.fone has a very easy and user-friendly interface.
You can preview your data before performing the recovery.
You can transfer all your photos and videos, including those in your camera roll, photo library, and photostream.
Your privacy is protected with advanced encryption.
Expert support is available by email 24/7.
Cons:
A few users have also reported that some of the recovered photos may be at a lower resolution than the originals.
Backuptrans
Pros:
The app consists of a provision to transfer chats individually and get their preview beforehand.
Users can also export their chats (without attachments and with attachments too) in popular text formats like DOC or TXT.
Cons:
The overall interface is a bit untidy so you might find it hard to navigate.
Several times, users face compatibility issues and the transferred data does not show on their iPhone.
Users have also shown security issues, yet the app has been updated.
No free trial version available, users need to buy it upfront.
WazzapMigrator
Pros:
While WazzapMigrator is usually very simple to use, there are some features that can stump even the most tech-savvy. Therefore, the program has created one of the most user-friendly and effective technical teams to support you when you get stuck.
Aside from easily transferring messages only, the program can also be useful when you want to transfer media files that are often sent and received via WhatsApp such as audio, photos, video, GPS data and more.
Cons:
Some users have reported some messages sent using WazzapMigrator didn't appear at the destination device and were not on the iPhone either.
WazzapMigrator does not allow its users to restore WhatsApp messages from Google Drive.
Final Words
So finally, this article was meant to help those people who are wishing to transfer WhatsApp chats from Samsung to the iPhone and have searched all over the internet. This article consists of all the tried and tested methods that are not only effective but also, they are trusted. All the methods can help you out to get a clearer picture and understand how you can transfer WhatsApp messages from Android to iPhone. In contrast with the other two, dr.fone is more user-friendly and the best choice for you.
Samsung S20
Switch to Samsung S20 from old phone

Transfer WhatsApp to S20

Move from S20 to PC

Remove S20 Lock Screen