How to Use HTC Sync Manager and Its Best Alternative
Got a new HTC phone and can't seem to transfer data from your old iOS or Android mobile to it? Don't worry! There are plenty of solutions for you to sail through the process and achieve HTC sync without facing any setback. Recently, HTC has come up with a dedicated tool – HTC Sync Manager, which makes it easier for users to move from their old phone to the new HTC device without losing any content. Let's learn how to use HTC sync manager software and its best alternative in this guide.
Part 1: What is HTC Sync Manager?
HTC Sync Manager is a free tool designed by HTC to help its users migrate from other smartphones easily. Though its main purpose is to help you sync your HTC phone, but it can be used in other ways as well. Therefore, it can be used to perform a wide range of tasks like taking a backup of your data, managing your multimedia content, syncing your phone timely, and so on.
You can start by performing an HTC Sync Manager download from its official website right here. It also has a dedicated desktop application that can help you sync your contents, documents, calendar, etc. as well. After completing the sync, you can also use the desktop application to manage your files.
Needless to say, it makes it easier for a user to migrate from their old to a new HTC phone. Let's move ahead and learn how to use HTC sync to transfer data.
Part 2: How to use HTC Sync Manager to Transfer Data to HTC
With HTC Sync manager software, you can easily transfer data from any other phone to HTC without facing any trouble. First, let's understand how to transfer content from any other Android phone to HTC using HTC sync manager.
Transfer data from an Android phone
1. To start the process, make sure that you have got the HTC sync manager download on your android phone.
2. Now, turn on your HTC device and go to its "Settings". Scroll all the way down to the option "Get content from another phone".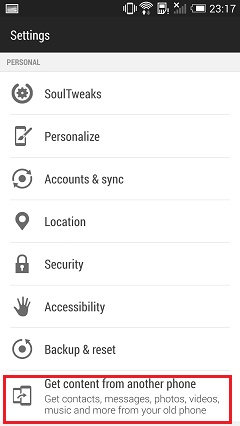 3. There, you can pick the desired option. If you are transferring content from another android phone, then select the option of "Other Android Phone" and choose either of the options (quick or full transfer).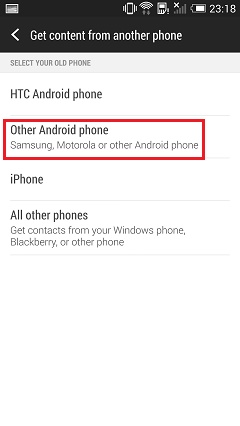 4. Install and open the HTC sync manager software on your source phone. Tap on the "Accept" and subsequently the "next" option to get it started.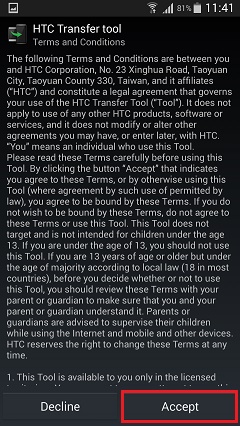 5. You need to select a pin from your source phone and tap on the "confirm" option for the transfer to start. Match the same pin on your HTC phone.
6. Afterward, you would get a list of different kinds of data that can be transferred. Just select them and tap on the "transfer" button. You will get a notification on both the devices. Just tap on the "done" option to finish it.
Transfer data from an iPhone
1. Start by having HTC sync manager download on your system. After installing, launch it and select the "Transfer & Backup" option.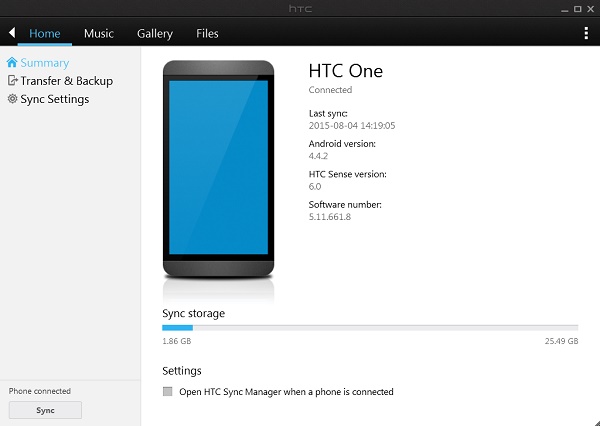 2. From here, you can select if you want to get data from an iPhone or an android device. Under the iPhone section, click on the "Get Started" option.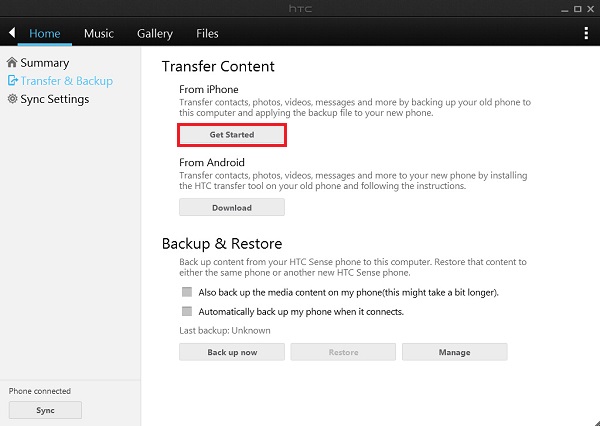 3. Make sure that before transferring data to your HTC device, you have already taken its backup using iTunes. You can do this by connecting your phone to iTunes and taking its backup easily.
4. Just reconnect your iPhone after taking its backup and click on the "next" option for it to proceed. Simply select the iTunes backup file and click on "ok" to start the backup.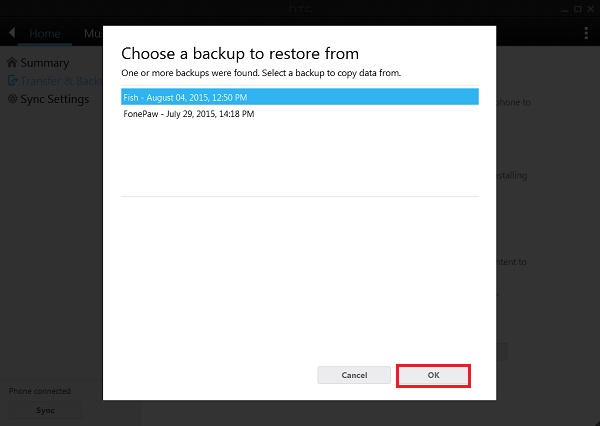 5. You would get a list of different kinds of data that you can transfer to your HTC device. Just check the desired options and click on "Start" to commence the process.
After a while, your data would be transferred without any trouble to your HTC phone.
Part 3: HTC Sync Manager Not Working
Recently, a lot of users have faced problems while using the HTC sync tool. Most of the problems are related to an unstable version of Android. There have been reports related to the software's lack of compatibility with a few versions of Android (particularly Lollipop). If you are facing the same problem, then you can try and upgrade your Android version to a stable one.
Additionally, if it doesn't resolve, then you can always uninstall and reinstall it. If the desktop application is not working, then a reinstallation process would most probably resolve the issue.
There have also been some reports with the USB cable that you use to connect your phone to your system. Make sure that you only use an authentic USB cable to transfer content to and from your phone. Also, make sure that you have enabled the USB debugging option on your phone.
To enable the USB Debugging option on your phone, go to Settings > About Phone > Build Number. Tap the Build Number 7 times to get a "You are now a developer" option. Now, under "Settings", you can go to "Developer Options" and enable USB Debugging.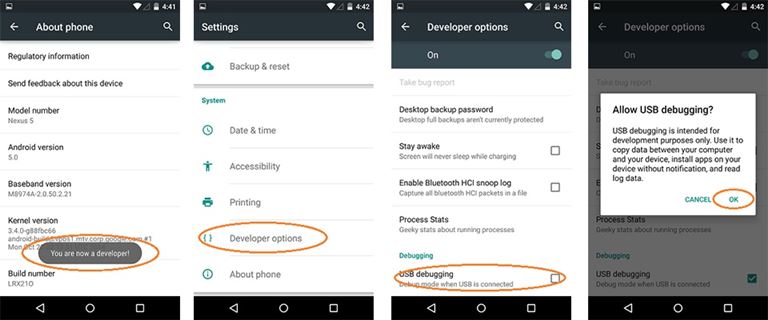 Nevertheless, if you are also having persistent issues with the software, then you can always try its alternative.
Part 4: Best HTC Sync Manager Alternative - MobileTrans Phone Transfer
If you are having trouble using the HTC sync manager, then you can always give MobileTrans Phone Manager a try, which is considered as its best alternative. It will help you transfer content from one mobile to another without any hassle. With a simple click-through process, it will let you transfer almost every kind of content from one device to another.
It is compatible with thousands of devices, including every leading operating system. The process is completely safe and reliable as well. Simply follow these easy instructions to use MobileTrans Phone Transfer.
1-Click Phone to Phone Transfer
Easily transfer photos, videos, calendar, contacts, messages and music from Android to iPhone/iPad.
Takes less than 10 minutes to finish.
Enable to transfer from HTC, Samsung, Nokia, Motorola and more to iPhone 7/SE/6s (Plus)/6 Plus/5s/5c/5/4S/4/3GS that run iOS 10/9/8/7/6/5.
Works perfectly with Apple, Samsung, HTC, LG, Sony, Google, HUAWEI, Motorola, ZTE, Nokia and more smartphones and tablets.
Fully compatible with major providers like AT&T, Verizon, Sprint and T-Mobile.
Fully compatible with Windows 10 or Mac 10.12
3981454 people have downloaded it
How to transfer data to HTC with MobileTrans?
1. Start by downloading the software from its official website right here. Install and launch it on your system. Just select the "Phone to phone transfer" option from it.
2. Now, just connect both the source as well as the destination device with your system. You can always use the "Flip" option to adjust their placement. The software will recognize your devices automatically.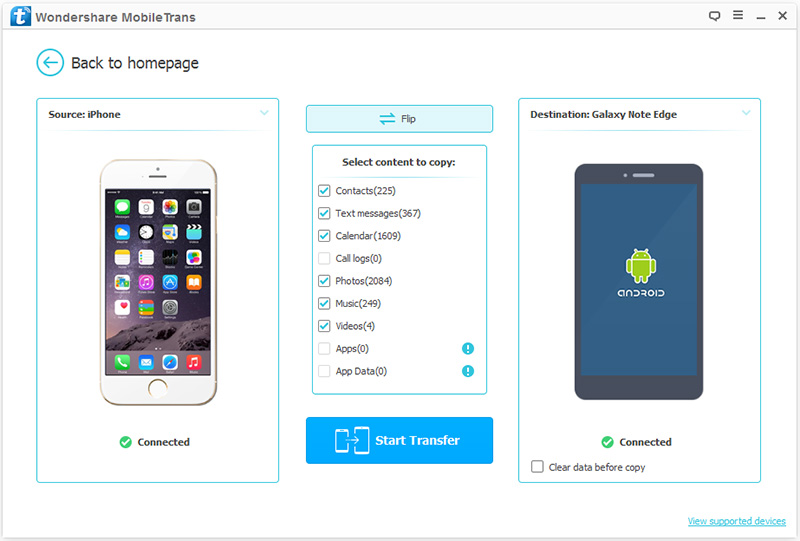 3. Just choose the kind of data you want to transfer and click on the "Start Transfer" option. The application will start transferring the data and will let you know its real-time progress.
That's it! With just one click, you can transfer data from one mobile to another using Phone Transfer. Additionally, you can select the "Clear Data before Copy" to erase any kind of additional data from your destination phone.
We are sure that after following this quick tutorial, you would be able to transfer content from one phone to another using HTC Sync manager. Additionally, you can give MobileTrans Phone Transfer a try and make your job a whole lot easier.
HTC Management

HTC Tips and Tricks